Be your birthday girl's fairy godmother! Get help from our kids birthday party ideas guide for decorating, games, food and more. Happy Bibbidi-Bobbidi-Birthday!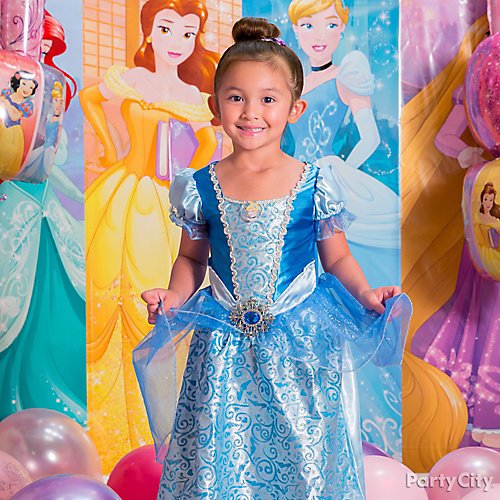 Idea 1: Magic mirror on the wall…get her ready for the ball!
You may already think of your birthday girl as a princess, but help her play the part on her special day by letting her choose a costume to look like her favorite Disney Princess!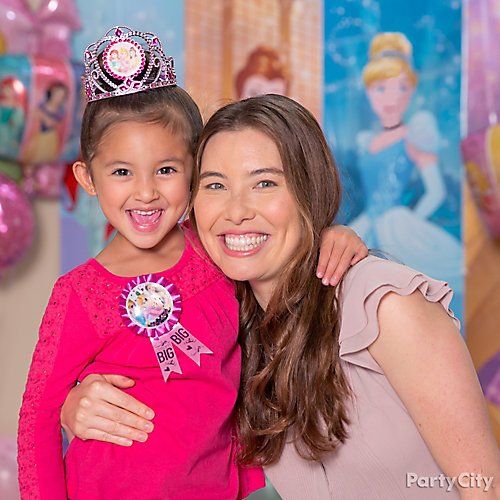 Idea 2: Give her wardrobe the royal treatment
If a subtle look is more your princess's style, adorn her with striking Disney Princess accessories. Perfect the ensemble with a special ribbon letting everyone know she dreams big!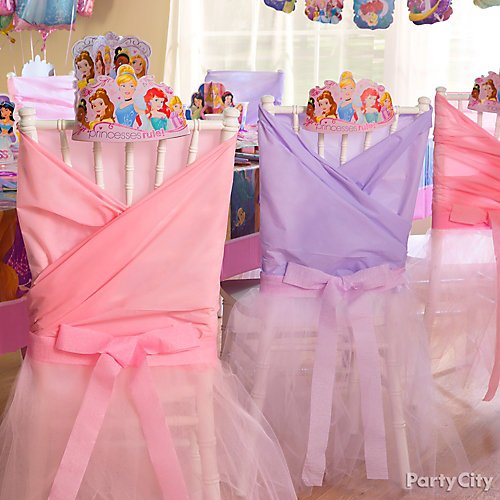 Idea 3: These party chairs are tutu-cute!
Transport the fair maidens to the royal ballroom with these chair decorations inspired by flowing ball gowns! The bottom is pink or purple tulle and the top is half of a table cover, doubled over, folded and secured with tape. Cover the spot where the two materials meet with a pink or purple streamer tied up in a cute bow, and top it off with a paper tiara.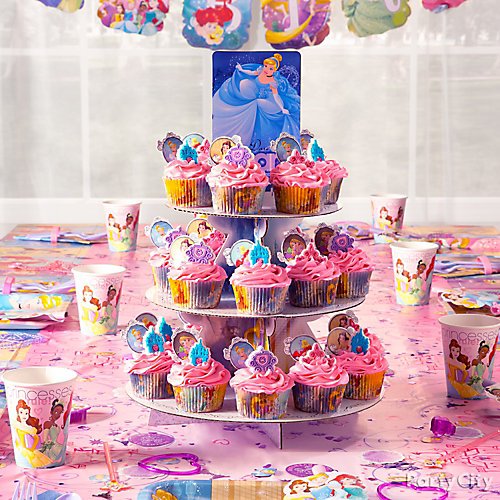 Idea 4: Even Rapunzel would approve of this tower!
Top each of your cupcakes with pink frosting, a darling icing decoration and a princess pick, then display them on a Disney Princess cupcake stand! No cutting required, and the girls will love picking out which one they want!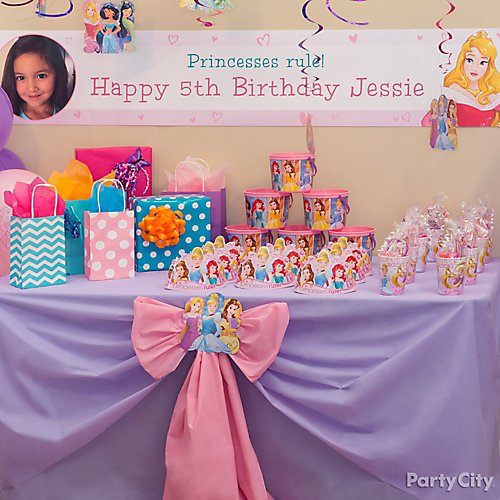 Idea 5: Welcome them to the castle with a royal birthday banner
Welcome your guests with fanfare with an original birthday banner! Easily customize a Disney Princess birthday banner and display your little princess's picture and name to welcome everyone to the party. She'll feel so special seeing her name up on the wall!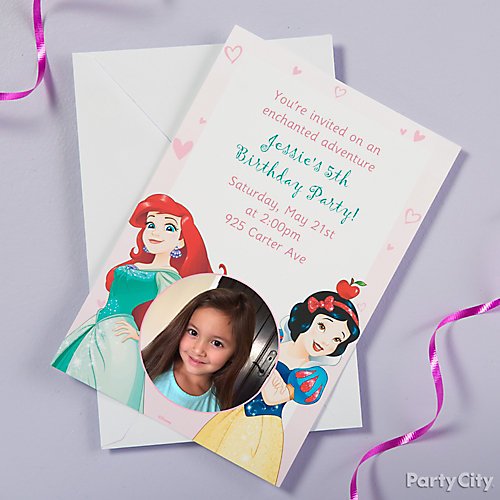 Idea 6: Invite the guests with fanfare!
By royal decree, custom invites are the way to go for a princess party! Choose from several designs and add the name and even a picture of your princess. Soon everyone will be talking about the royal ball!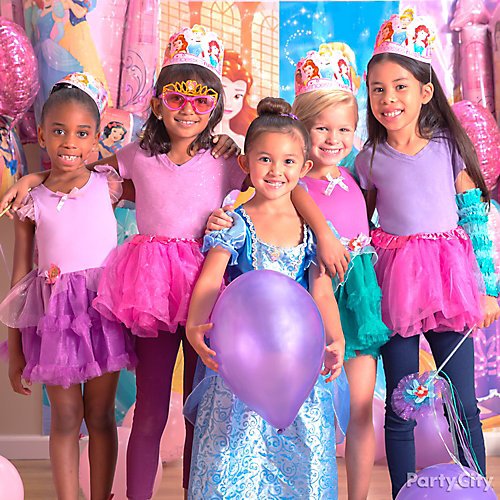 Idea 7: Make it coronation day for all of her friends!
It wouldn't be a princess party without tiaras! Start the party right by giving each of the princesses a special tiara with Disney Princesses on the front!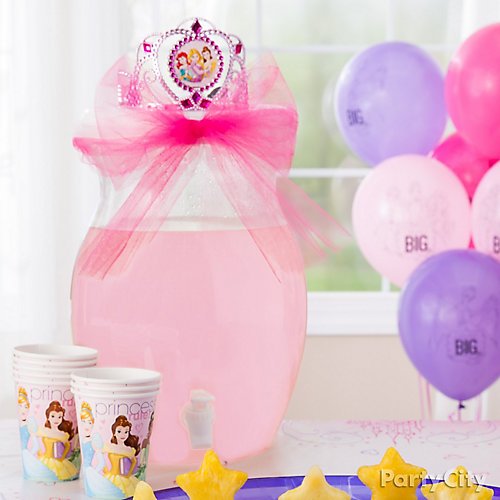 Idea 8: Make "Princess Punch" the crown jewel of the treats table!
For this fun drink idea, all you need is a drink dispenser, a bit of tulle and a princess tiara. Serve your choice of "princess punch" in Disney Princess paper cups. Think pink grapefruit soda, pink vitamin water or pink lemonade!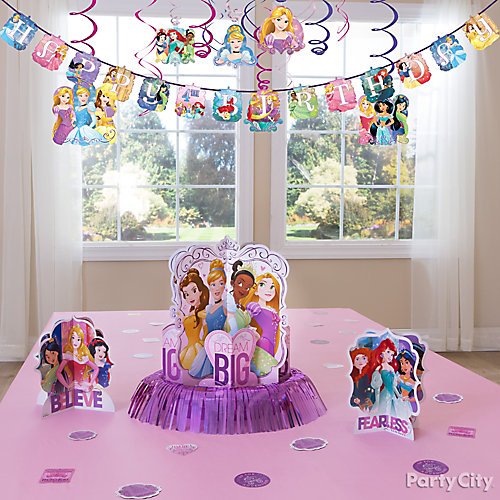 Idea 9: Adorn your table in princess regalia!
Trying to decorate the perfect birthday table is a tale as old as time! Keep things simple with a Disney Princess decorating kit—even adding just a few items to your party room can get your little princesses dreaming. Don't forget to sprinkle princess confetti to make the table sparkle like jewels!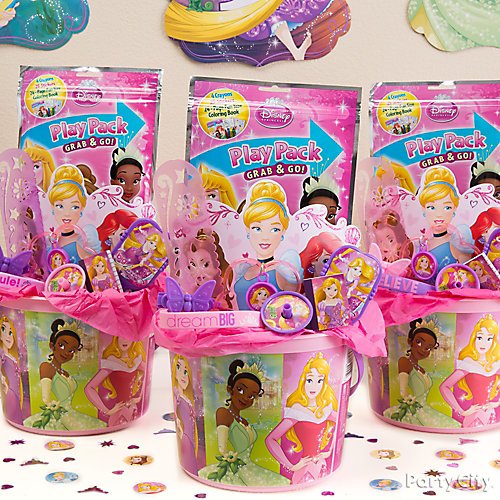 Idea 10: Send friends home with a treasure trove of goodies
Send your guests home with a treasure chest of royal trinkets! Fill favor buckets with a unique variety of favors and see their faces light up when they learn the whole bounty is theirs to keep!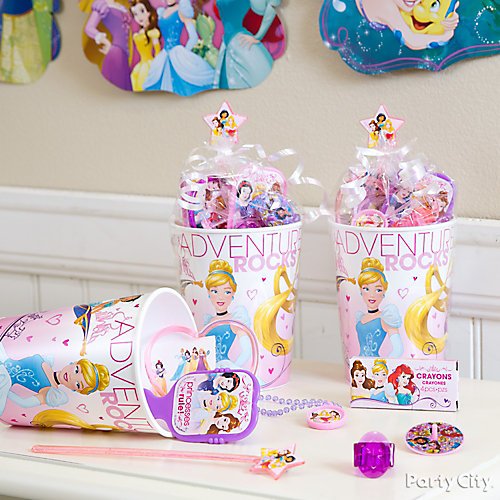 Idea 11: Favor cups to please the royal court
Create an enduring memory of your party by packing goodies inside a favor that lasts: a reusable Disney Princess favor cup! Choosing themed non-candy prizes like tattoos, crayons, and bracelets will bring you favor amongst the reigning Kings and Queens picking up their princesses. Easy embellishments can be made with ribbon for added splendor!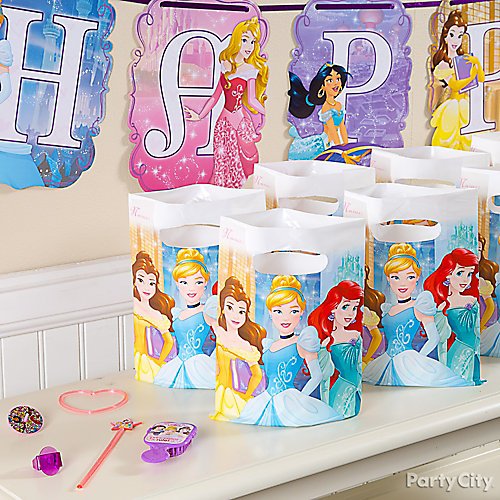 Idea 12: Save time with a royal party pack!
No time to hand-select favors before the clock strikes midnight? Try a basic favor kit with everything you need for eight guests: eight pretty Disney Princess favor bags, plus matching princess accessories and toys!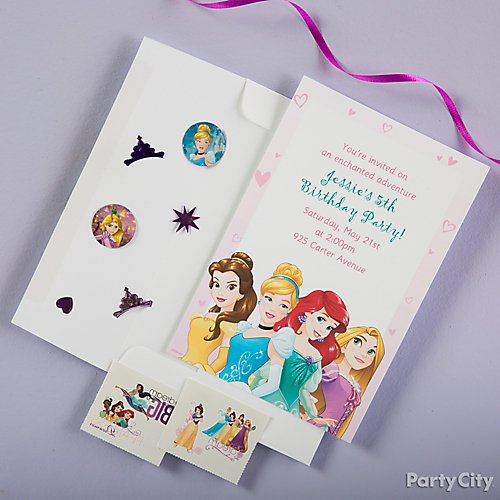 Idea 13: Fill invites with a splendid surprise!
Fill the realm with mirth by accompanying your invitation with an enchanting surprise. Our invitation kit includes colorful confetti and pretty tattoos they can wear on the day of the party!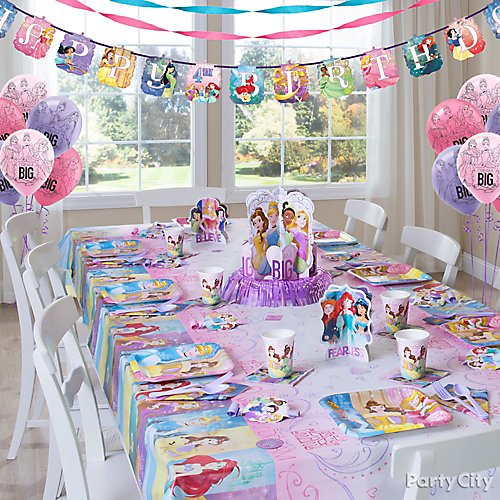 Idea 14: Set up a royal banquet hall!
Let your birthday girl's friends know they can be your guests with a fun party room! Fill pink and purple balloons that remind the little princesses to Dream Big!, spread out a pretty Disney princess tablecover and coordinating plates, and hang a happy birthday banner featuring all of their favorite Disney royalty.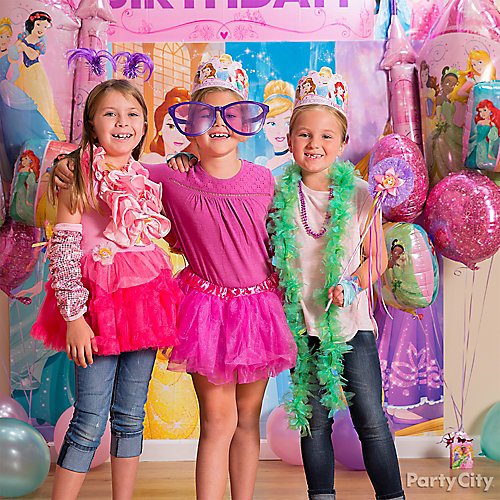 Idea 15: Set up a royal photo booth
To fashion a photo backdrop reminiscent of a fairy tale, start by hanging a Disney Princess scene setter, then add costume pieces and props to keep them giggling. A photo booth is so much fun, and you'll love the silly photos you end up with!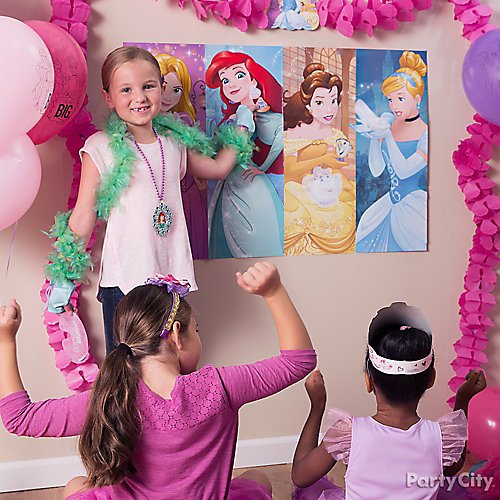 Idea 16: Pin the Tail gets a princess twist!
Close your eyes, do a princess twirl, and match your sticker to the right princess story! Reunite Pascal and Mrs. Potts with Rapunzel and Belle, and help Ariel and Cinderella retrieve their lost objects!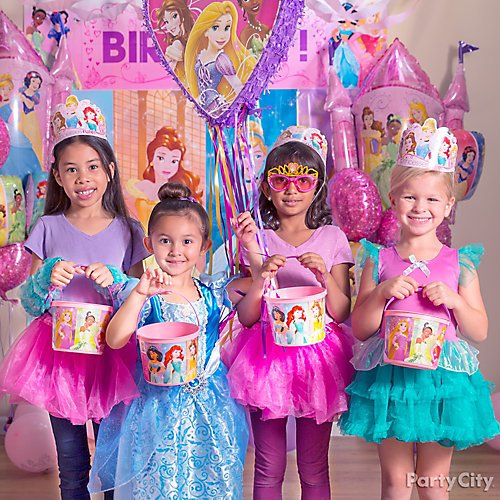 Idea 17: Send them on a quest to find the right ribbon!
Even the littlest princesses can enjoy this pinata! Sparkling ribbons cascade from the bottom, and girls can take turns pulling to discover which ribbon was enchanted to open the trap door and release the treasures kept inside!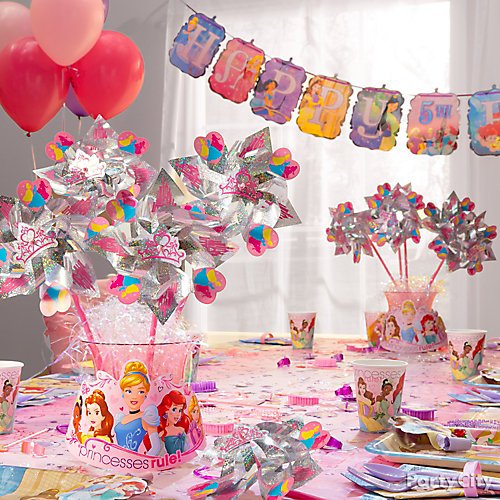 Idea 18: Charm the court with whimsical pinwheels!
Try filling a pretty pink container with iridescent confetti and placing four shiny princess pinwheels inside. Finish by wrapping a paper princess tiara around the base. This centerpiece looks beautiful on the birthday table, and will delight the girls when you let them play with the pinwheels.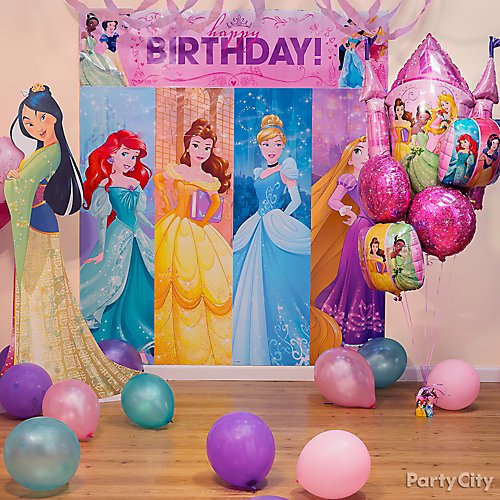 Idea 19: Princess cutouts bring photos to life(size)!
Invite Disney Princesses to your birthday girl's big day! Set up life-size cutouts in front of a scene setter and encourage the girls to pose for pictures with their favorite characters! For an added touch of magic, inflate a giant castle balloon and make it the focus of a shimmery balloon bouquet!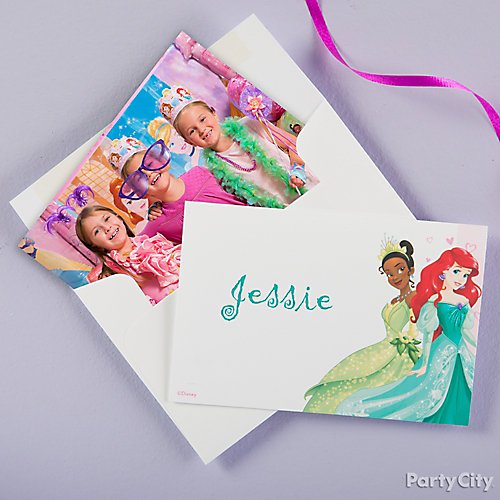 Idea 20: The kingdom will rejoice with this special thank you
Parents and partygoers alike will appreciate this idea. When you send out your thank you cards, include a group photo from the party to remind the princesses of their magical day together!