Make your little one's Spider-Man party the most heroic ever. Swing through easy ideas for invites, favors, cake and more!
Idea 1: Create a space for superheroes to shine!
Give the boys an awesome backdrop for epic play-battles with a Spider-Man scene setter and balloon columns! Have Spider-Man drop in as a giant gliding balloon to participate in the boys' imaginative play.
Idea 2: Transform into Spidey with a mask & gloves!
The birthday hero will be extra-excited when he gets to dress up as his hero! Give him a Spider-Man mask and pair of gloves to go with his birthday outfit.
Idea 3: Give the chair a Spidey-suit to wear!
Even the chairs are super! Whip up this easy chair decor with red and blue streamers and Spider-Man masks – just wrap the streamers around the chairs and hang a mask on the back of each one.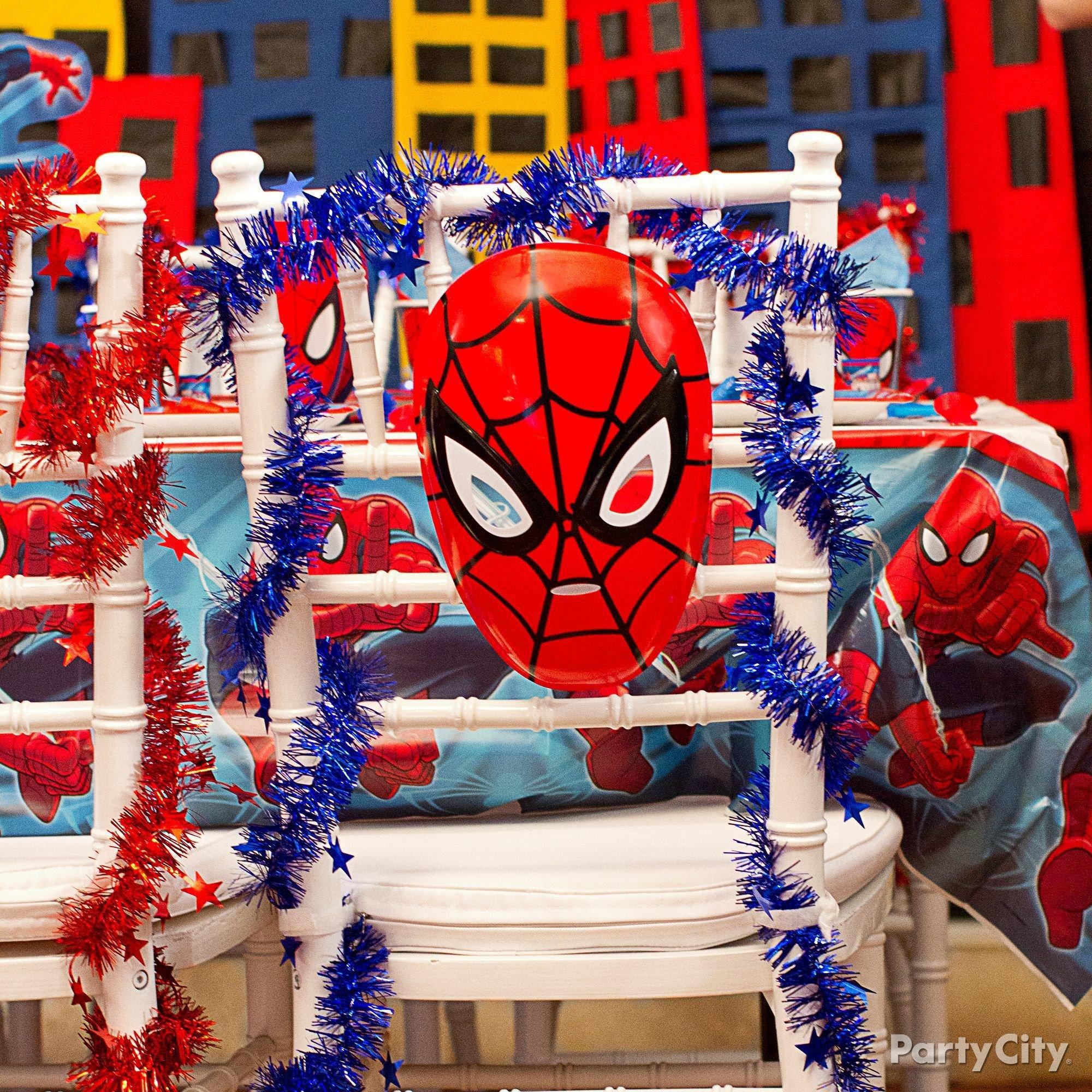 Idea 4: Wow them with containers of Spider-Man goodies!
Send the heroes home with super-good favors! Start with a Spider-Man favor container, line it with shred and top with tattoos, disc shooters, pencils and notepads so your guests can keep having adventures at home!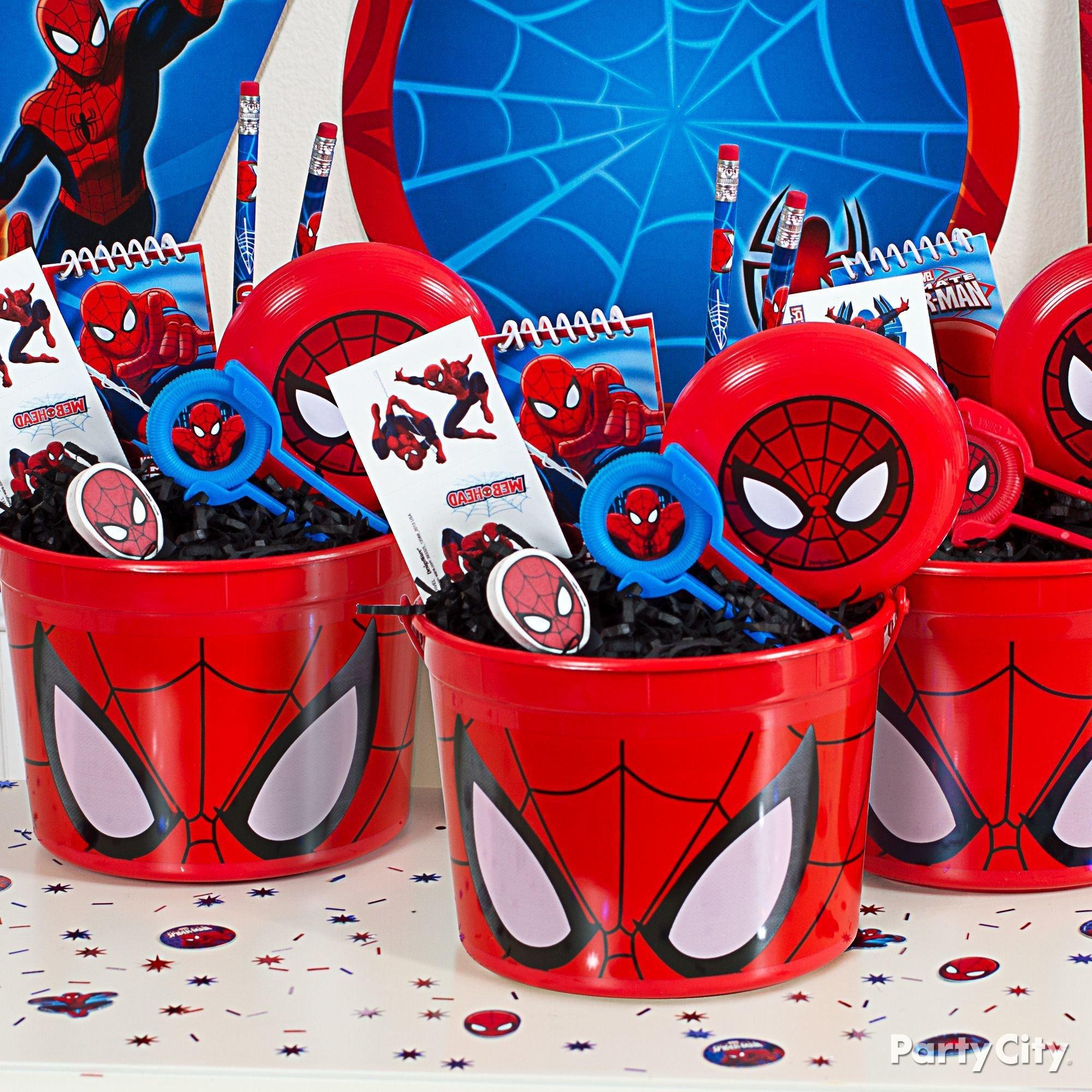 Idea 5: Fill up a cup of Spider-Man favors!
Make some cool favors from reusable Spider-Man favor cups, paper shred and toys. Wrap it all up in a clear bag and some ribbon – the kids will love playing with the goodies and getting to drink from their BPA-free Spidey cup!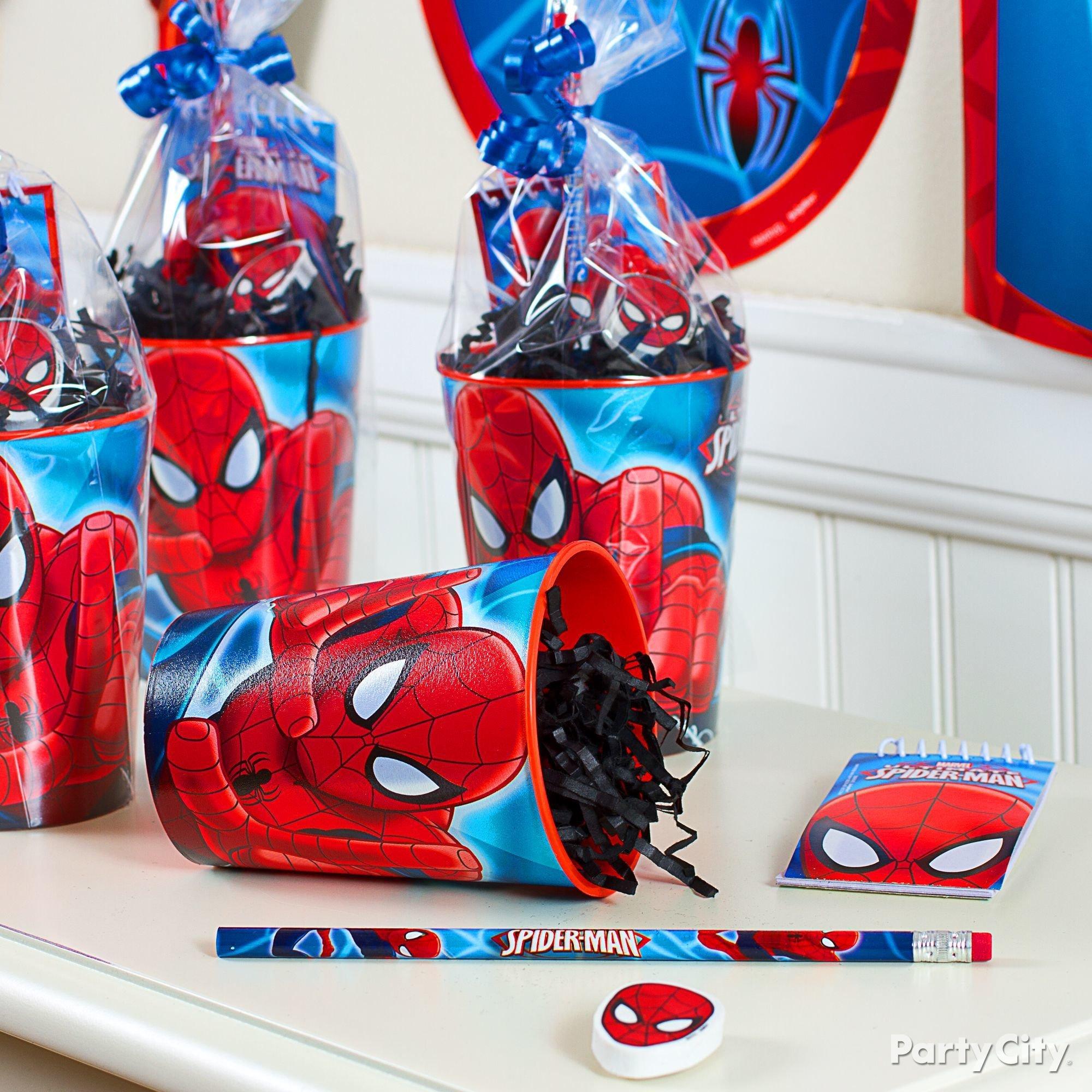 Idea 6: Make Spider-Man favors FAST with a favor pack!
Whip up awesome favor bags for the little heroes faster than Spidey can web-sling! A Spider-Man favor pack comes with enough goodies for up to 8 guests – don't forget matching bags!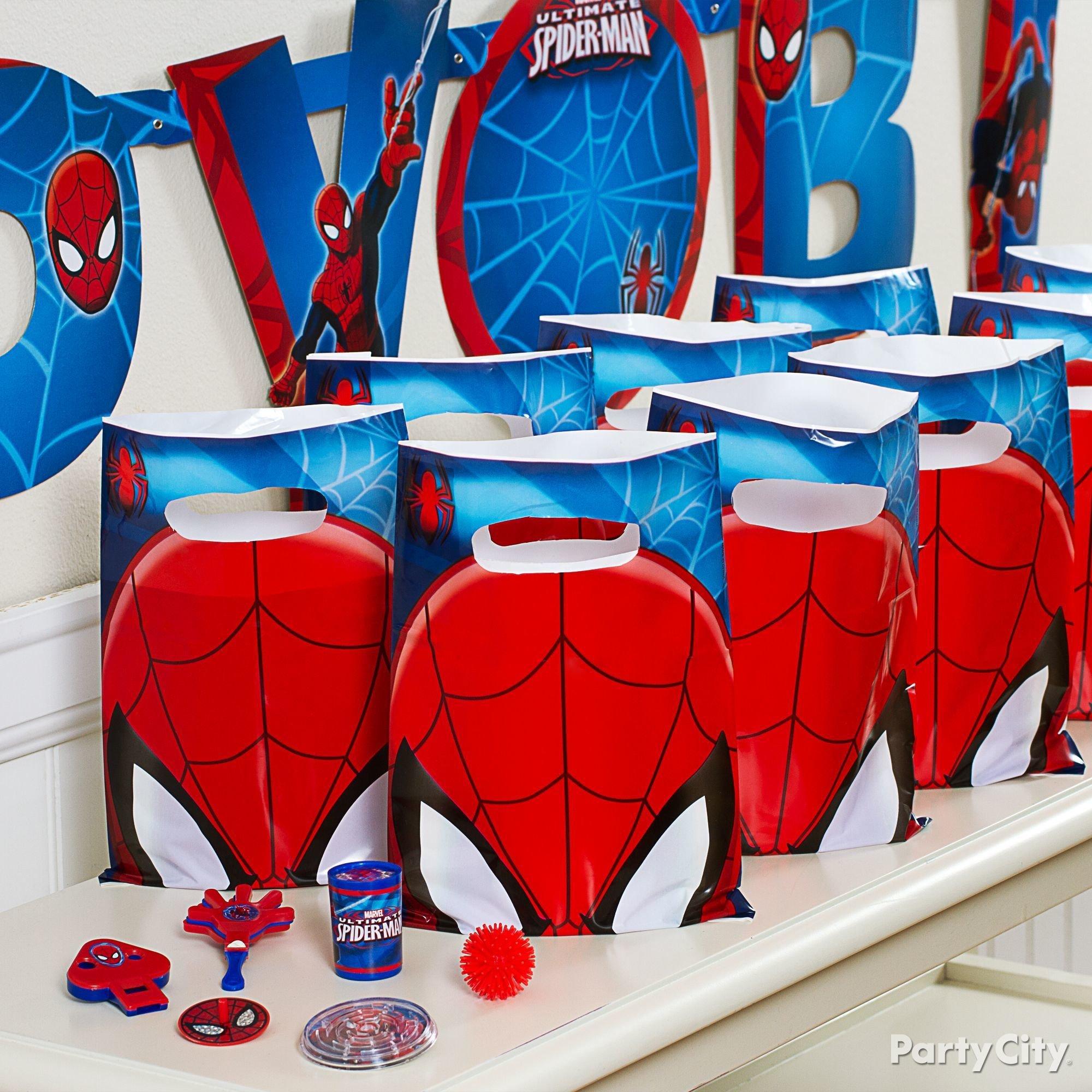 Idea 7: Tie on a favor to Spidey invitations!
If you're hand-delivering invitations, attach a Spider-Man favor like this wristband to the envelope with a little curling ribbon. It's an easy personalized touch that will pump up the little heroes for the party!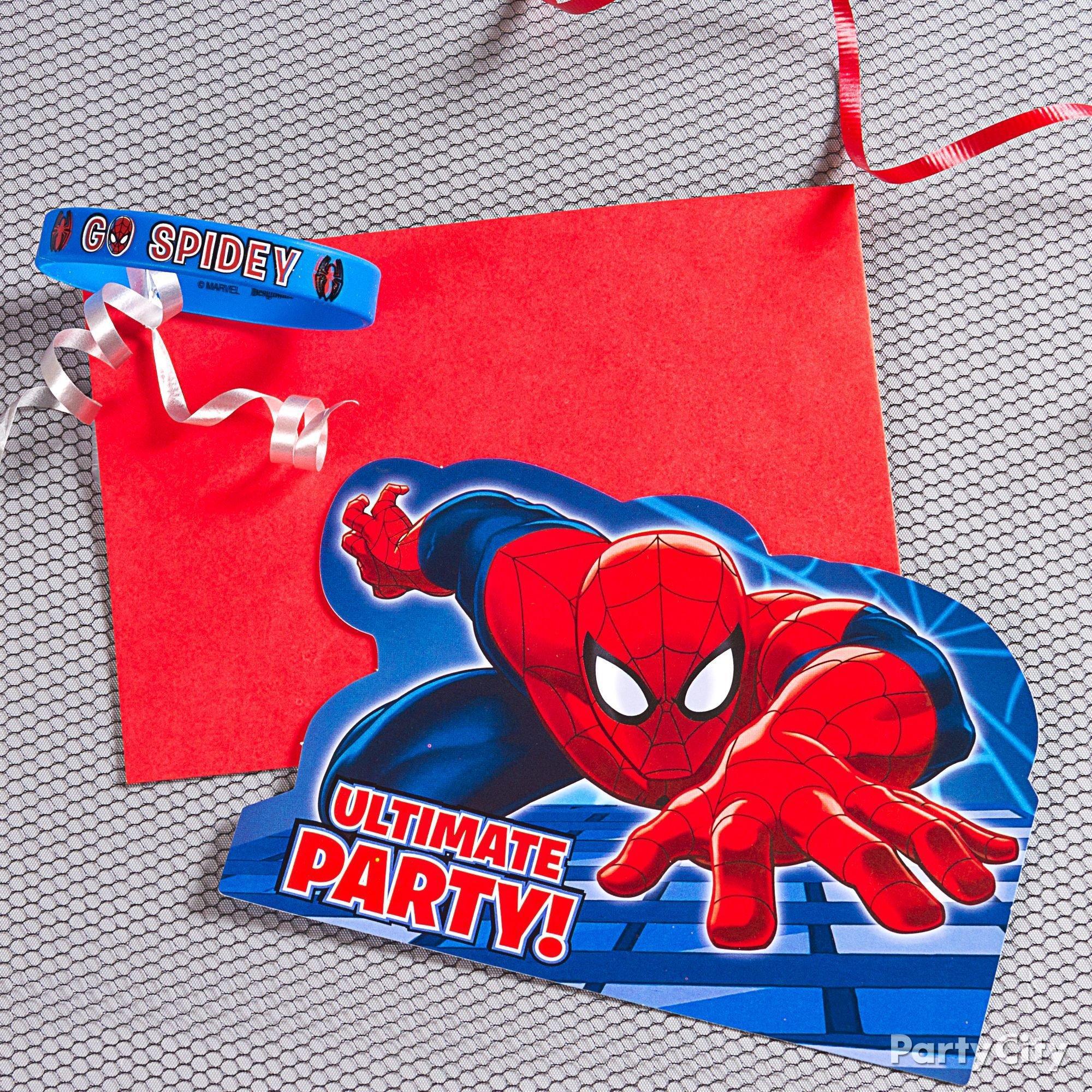 Idea 8: Send a secret Spidey party pass with your invites!
Your superhero wants only the good guys crashing his party! Send his pals a Spider-Man tattoo in their invitations with a note telling them to wear them to the party as a secret pass to get in.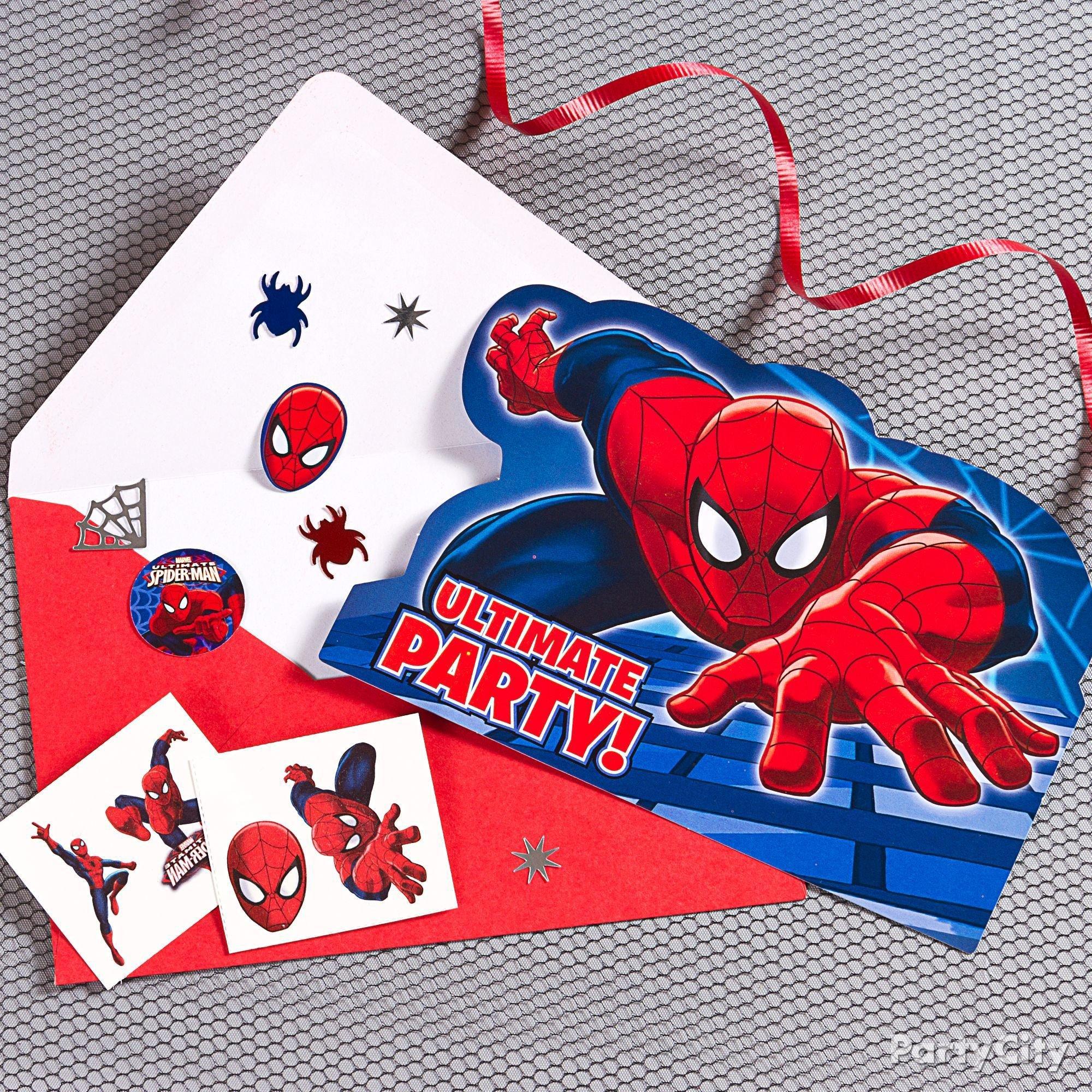 Idea 9: Everyone can feel super in cool accessories!
Get his whole crew in on the fun with exciting accessories the moment they walk in! Spider-Man masks, wristbands and sunglasses will have everyone's Spider Senses tingling!
Idea 10: Set up an amazing table!
No bad guys allowed at this Spidey-approved scene — not when it's filled with amazing fun. Decorate the table in a snap with a sling-tastic centerpiece. Be sure to add red and blue accents to match the superhero's uniform!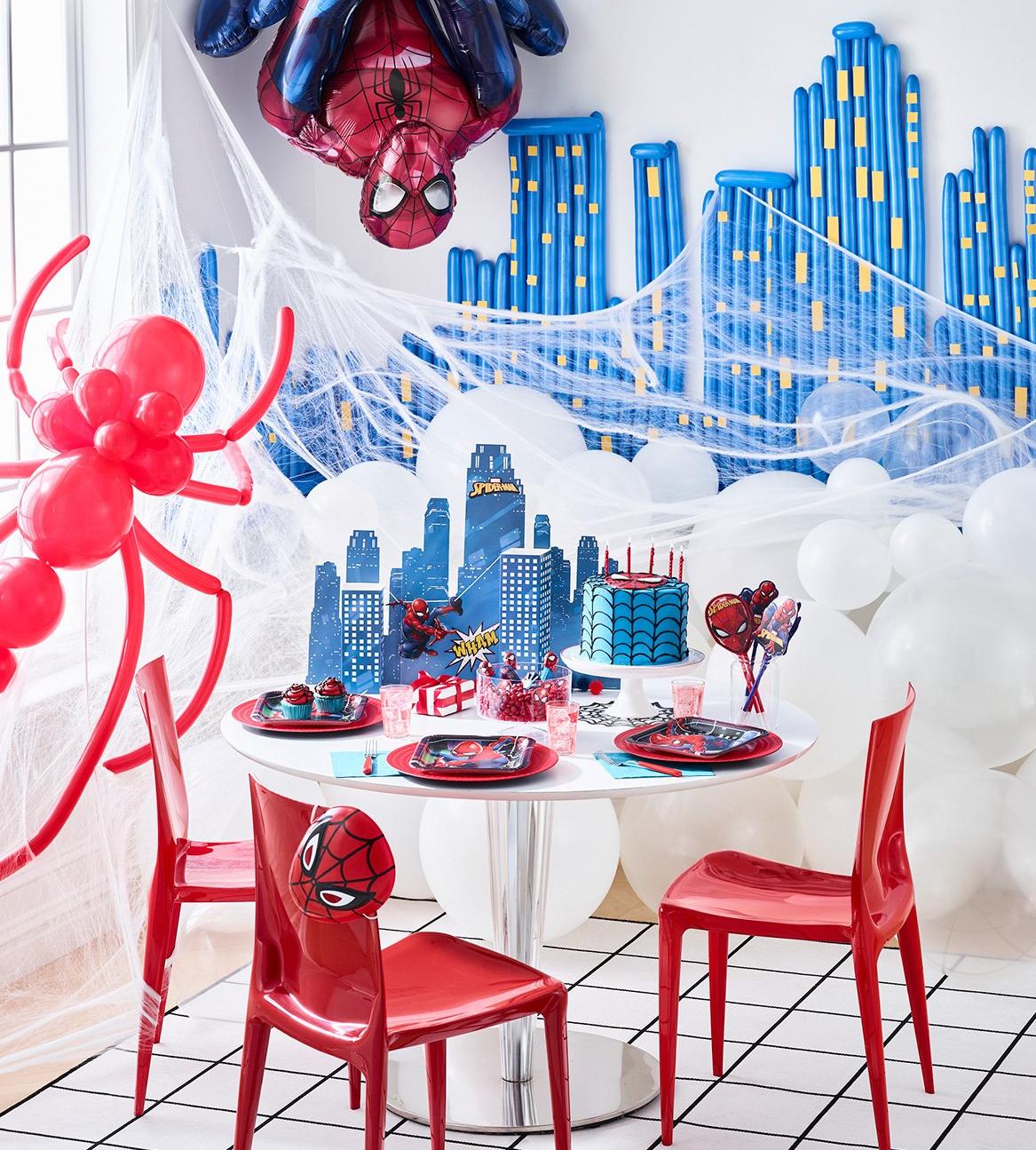 Idea 11: Have a giant balloon Spider-Man make a visit!
Spider-Man can swing into the party to join in on the fun! This giant gliding Spider-Man balloon is the perfect prop for your party decorations and playtime.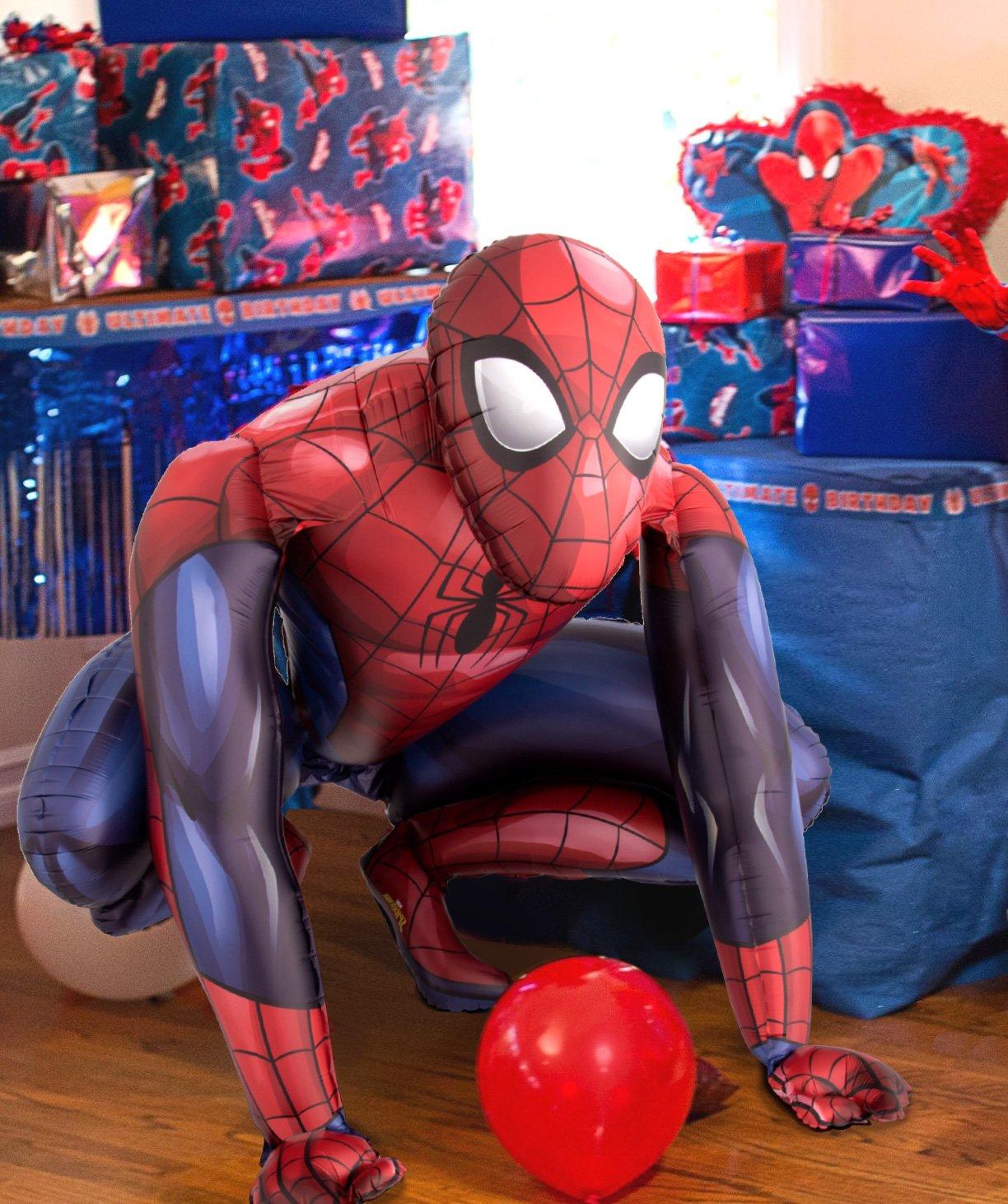 Idea 12: Help Spidey swing into action!
Let the superheroes lend Spidey a hand in this web-slingin' Spider-Man party game! Everyone takes a turn trying to stick on Spider-Man's spider symbol while wearing a mask – a pin-less, superhero take on the classic Pin the Tail on the Donkey game!
Idea 13: Fill a Spider-Man pinata with treats and toys!
What a thrill to break open a Spider-Man pinata and find it filled with favors made just for Spidey fans! Have each child take turns pulling the strings until all the candy and favors fall out. Make sure they're armed with favor buckets and bags to scoop up all the goodies!
Idea 14: Cast a wonderful web of decorations on the table!
Deck out the table in superhero style with themed Spider-Man tableware and decor. Sprinkle confetti next to each place-setting to keep your little heroes entertained and having fun!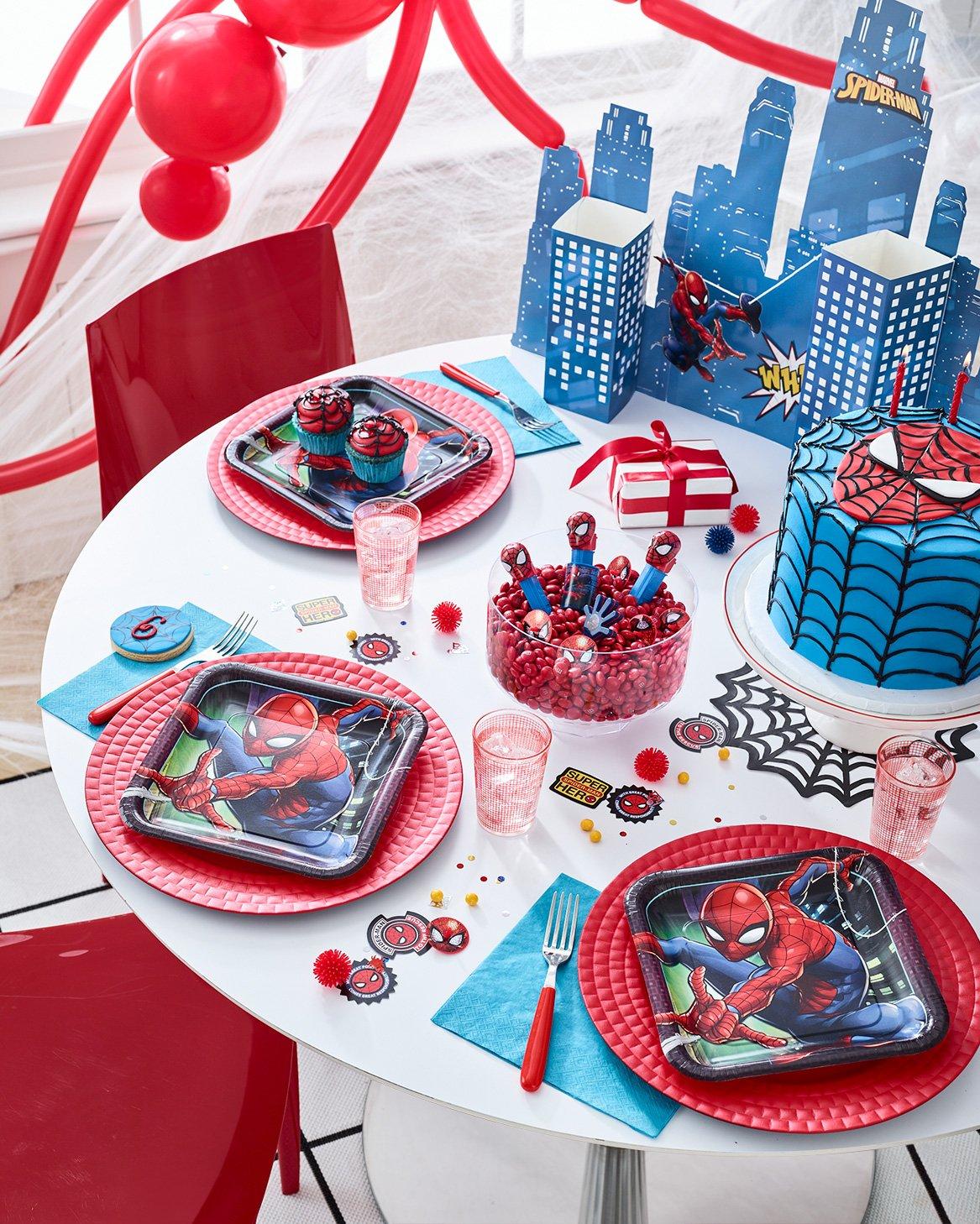 Idea 15: Make web-crawlin' corners in the party room!
Give any corner Spidey's signature web with streamers and the designs from Spider-Man swirl decorations. Cut 4 long streamer strips and make an asterisk shape. Then make the webbed effect by taping smaller strips in between the long strips. Tape your web to the wall or in a corner of the room, like above a gifts table decked out with streamers and fringe garland in Spider-Man colors of red and blue.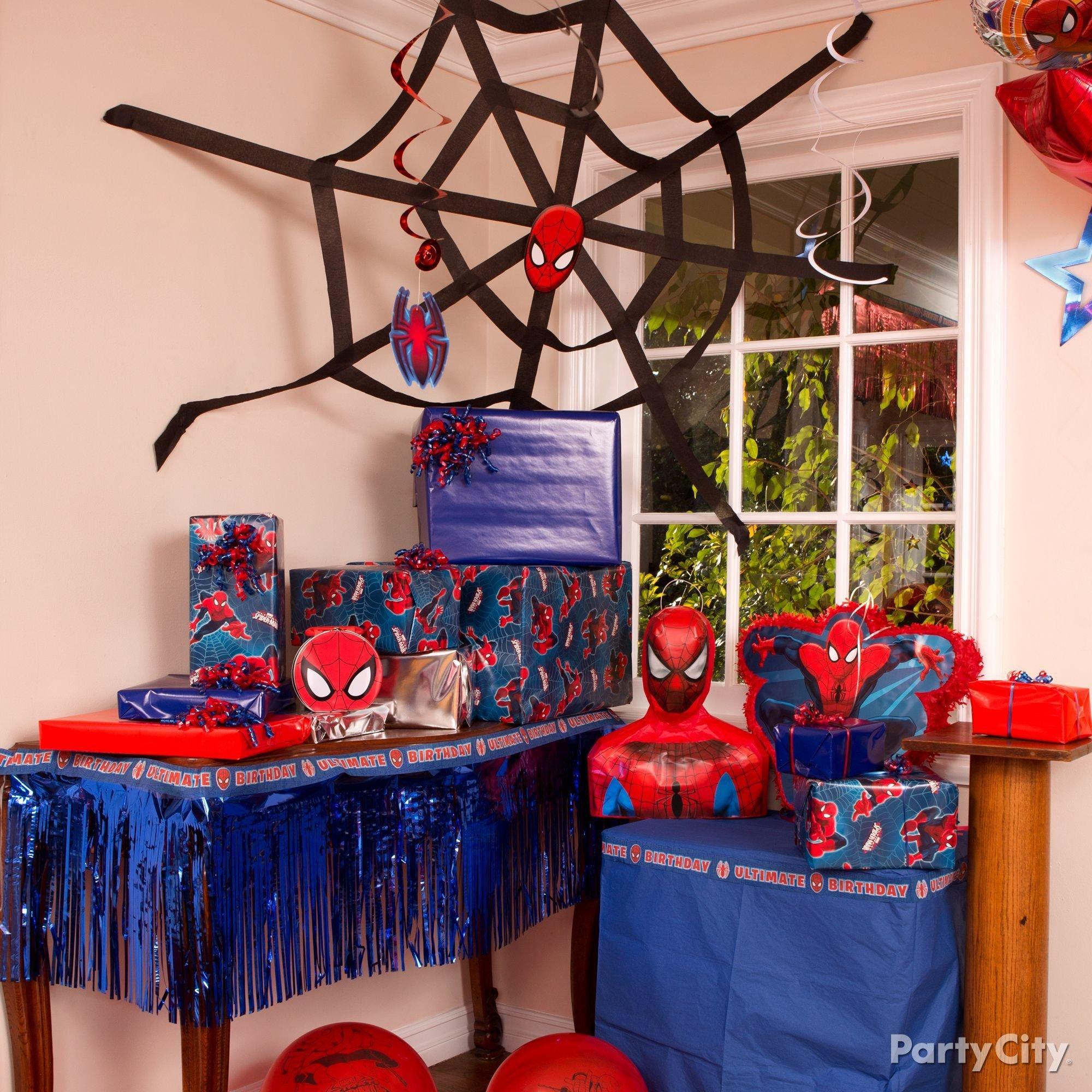 Idea 16: Make a larger-than-life backdrop!
Punch up the favors table with a cityscape made from paper table covers and cardboard! Cut out different sizes of buildings from poster board or cardboard and wrap them in blue, red and yellow table covers. Glue or tape on windows cut out of black table covers, then layer them over the each other against the wall. Make them really pop by covering the wall in black table covers before setting your city scene. The boys will love practicing their web-slinging moves in front of this cool background, too!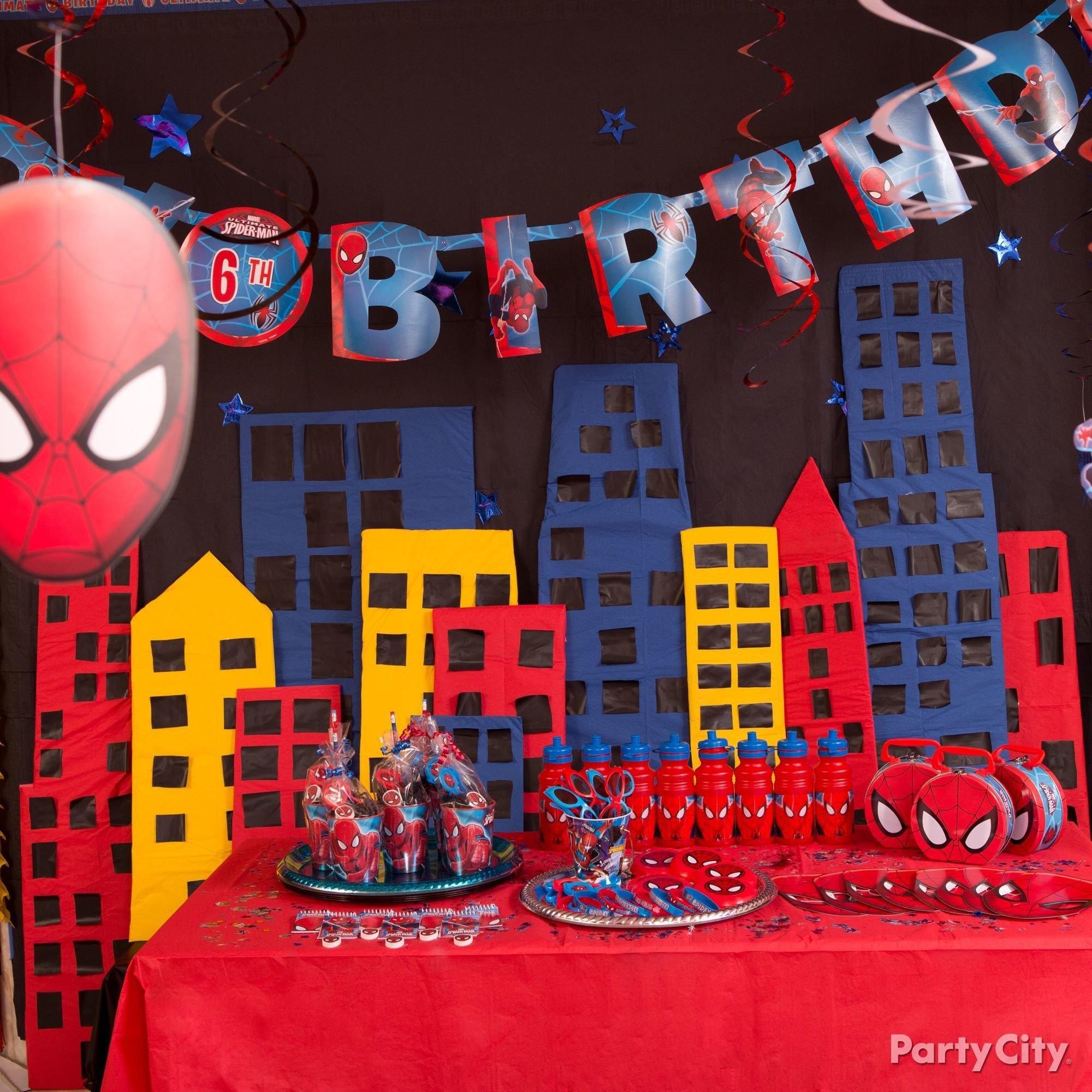 Idea 17: Say thanks for swinging by!
The Daily Bugle would love to get their hands on photos of Spider-Man! The moms of the heroes at your party would love it too, so include a party pic of the heroes having a blast in each Spider-Man thank you notes. Now that's using your Spidey sense!