MOM Patrol is on the job! Your mission: To give the party pups a fun-filled birthday adventure. Get inspired by our PAW Patrol party ideas full of paws-itively adorable decorations, favors and dress-up ideas!
Idea 1: Give him a special birthday outfit to wear!
A PAW Patrol hat, T-shirt and award ribbon are the perfect accessories to help the birthday star stand out. He'll be ready to go just like Ryder and the gang -arooooo!
Idea 2: Give chairs a ruff-ruff rescue!
Your mission: Make the party chairs more fun! Decorate the backs of your chairs with a roll of PAW Patrol streamers, a couple tassels from a garland and a mask of Marshall or one the other pups – easier than rescuing a kitty from a tree!
Idea 3: Decorating for a PAW Patrol party? Marshall's on top of it!
A big Marshall balloon is sure to make your pup's tail wag! Display it on its own, with other PAW Patrol balloons or even on top of a DIY balloon column. (Scroll down to our PAW Patrol Balloon Column How To for step-by-step instructions.) Now, you're on a roll!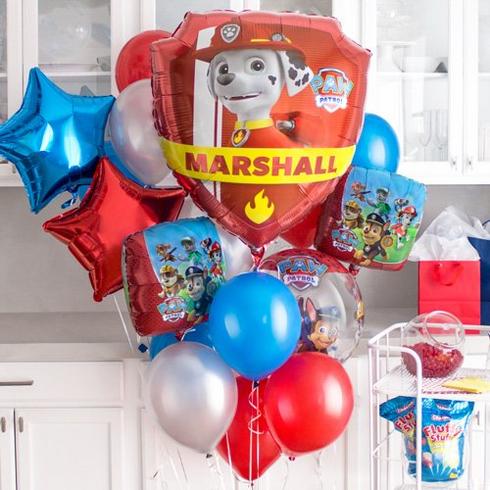 Idea 4: Build an awesome balloon column
How cute would this Paw Patrol balloon column look at your party? We know balloon columns look tough, but they're easier than you might think. Check out our step-by-step guide to learn how to make your own!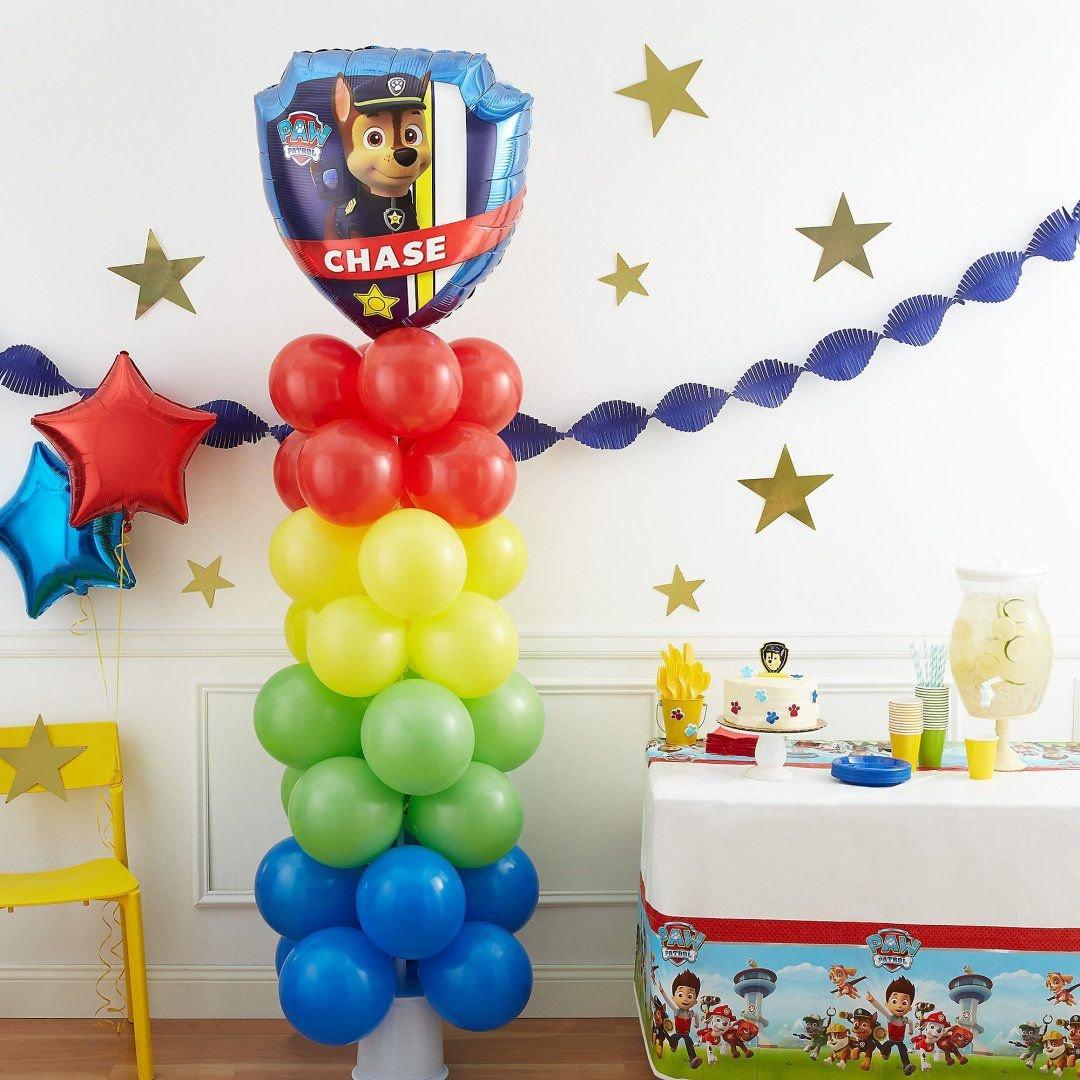 Idea 5: Add a photo of the birthday pup to invites!
Upload a photo of the birthday star with the party details when you order PAW Patrol custom photo invitations. The invitees will wag their tails in excitement when they see their friend's face on the invite! After you complete the order, the cards will be ready to ship in five days. Pups away!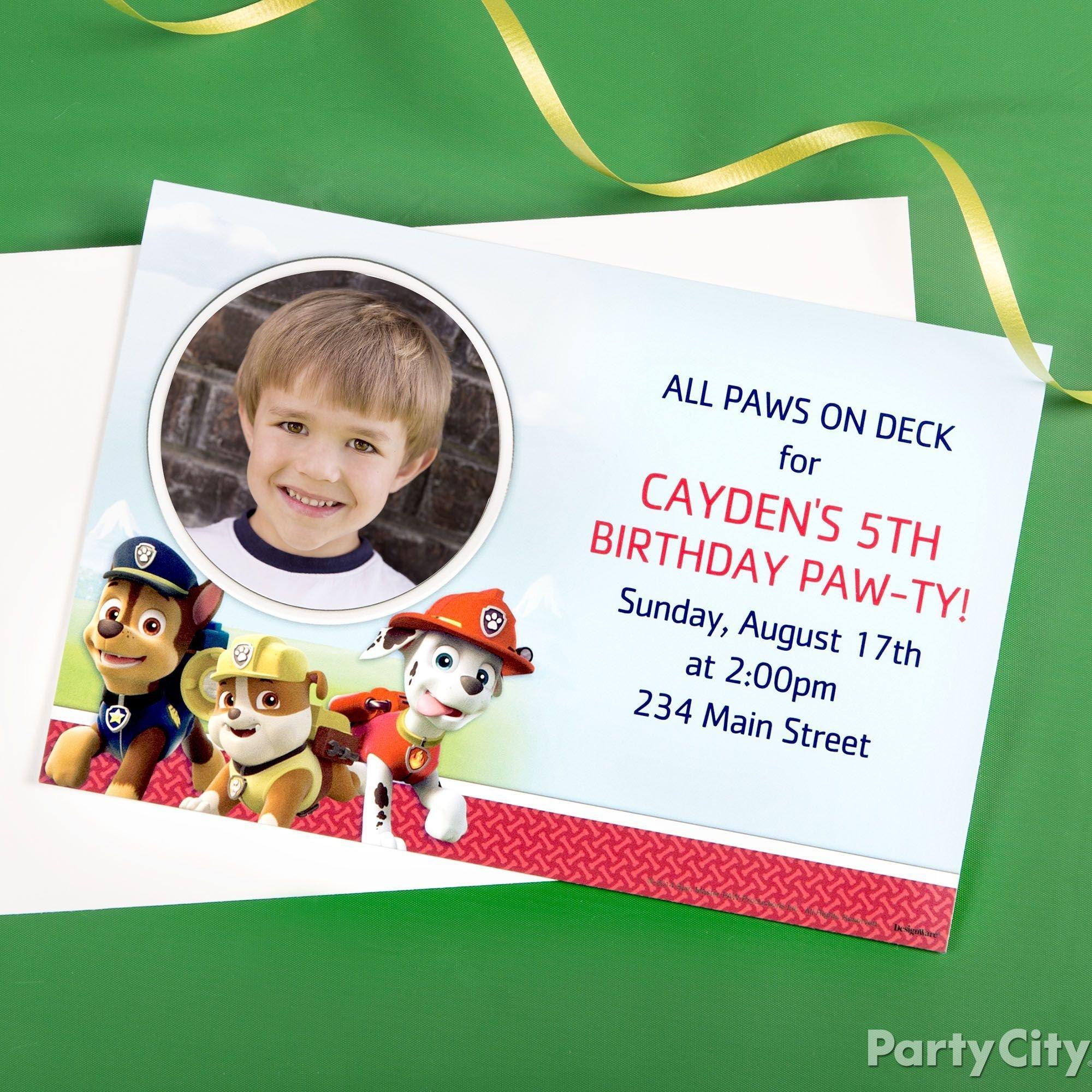 Idea 6: Get everyone in on the fun with accessories
Everyone will feel like part of the team in their own PAW Patrol hats and award medals. Hand them out as soon as they enter party headquarters to get them as fired up as Marshall!
Idea 7: Treat them to fun favor buckets!
These "fetch"-ing favor containers brimming with goodies are the perfect way to send off your rescue crew. Fill the buckets with some colorful paper shred and PAW Patrol favors like whistles, puzzle cubes and crayons so the party pups can continue the adventure at home.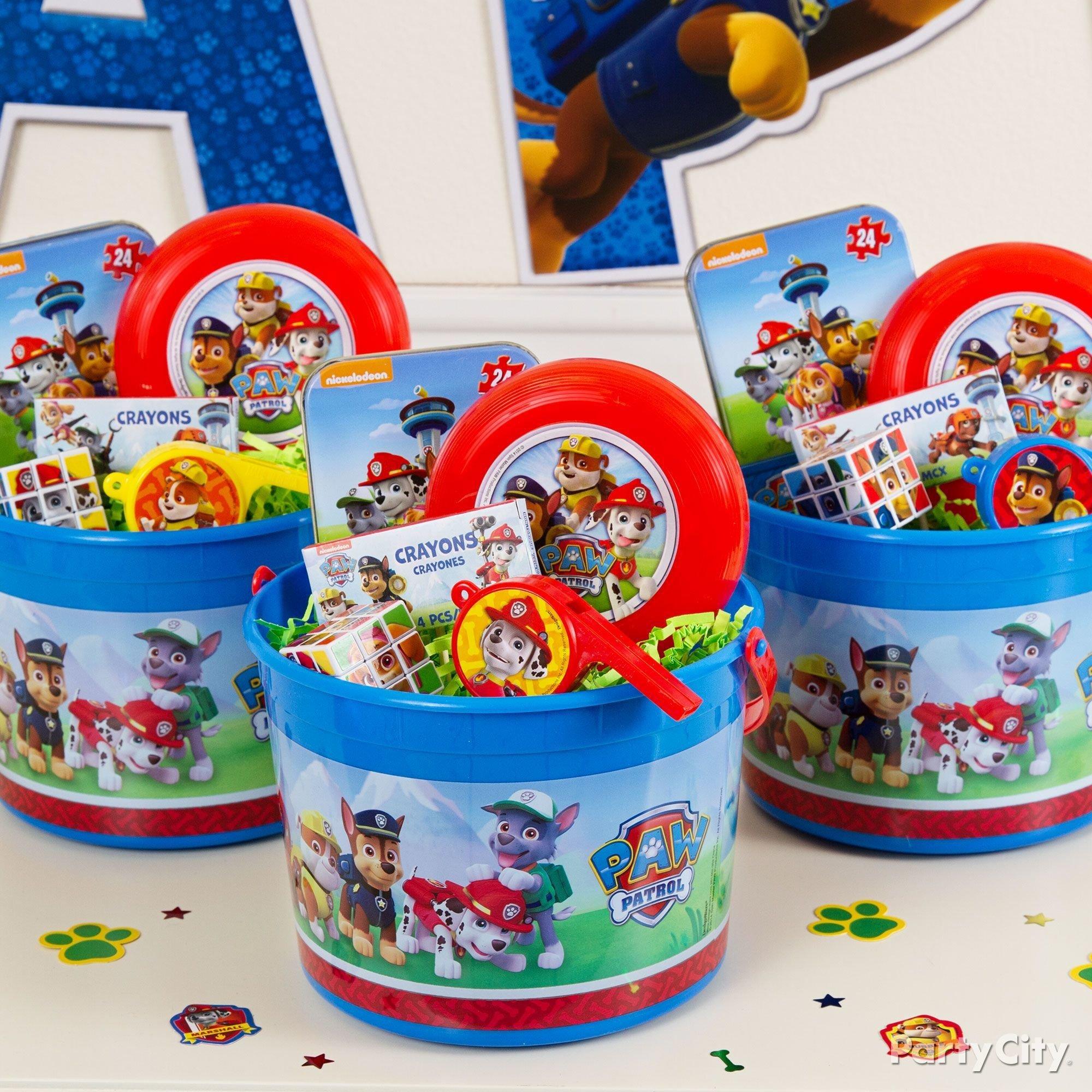 Idea 8: Make them smile with favor-filled pup cups!
What a treat! Fill your cups with paper shred and tuck in PAW Patrol favors, then slip the cup inside a clear bag and tie shut with curling ribbon – easy and oh-so cute!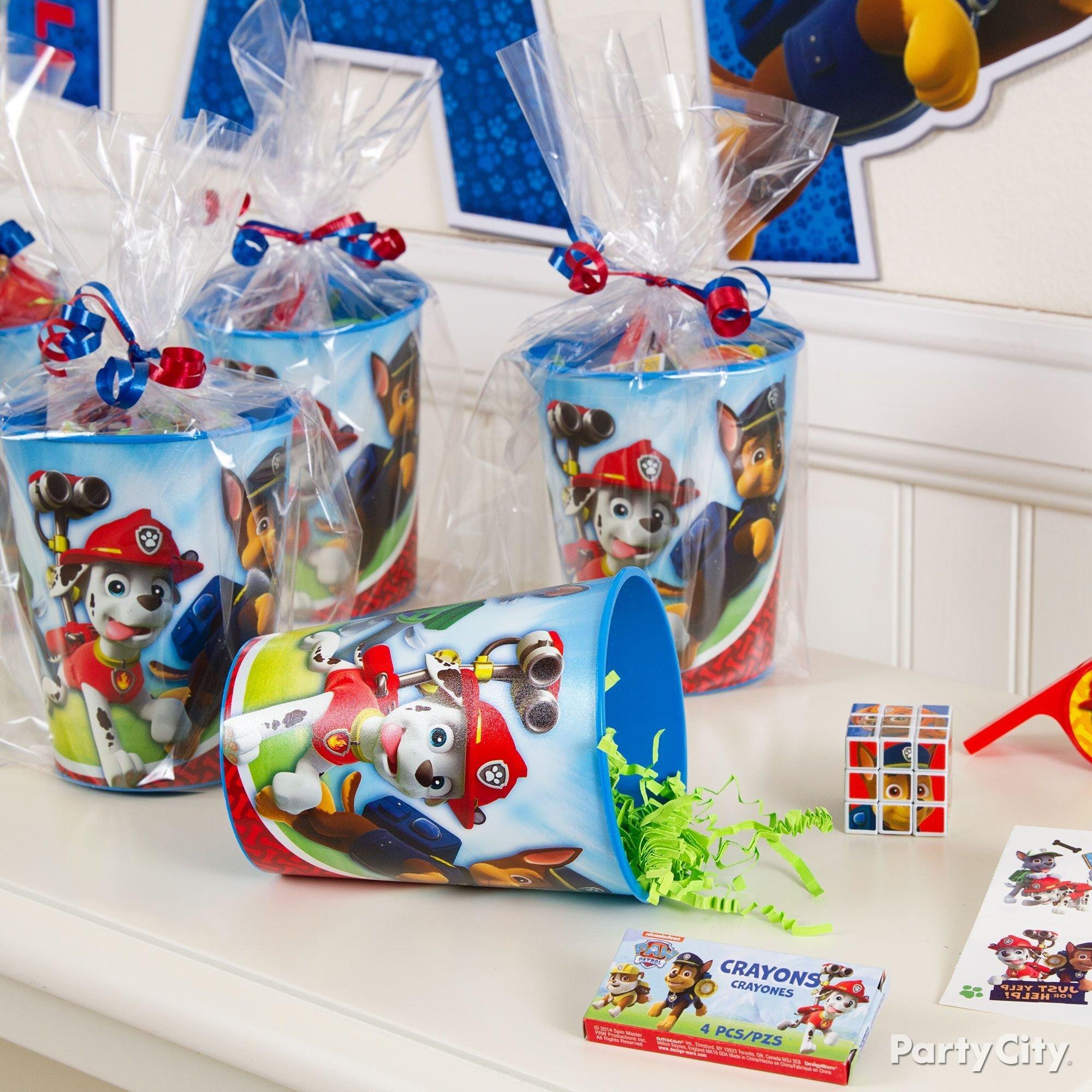 Idea 9: Save time with a PAW Patrol favor pack
Roll out the fun in half the time with a PAW Patrol favor pack full of awesome toys for many adventures to come. Package the goodies in matching PAW Patrol favor bags for the perfect party doggy bags.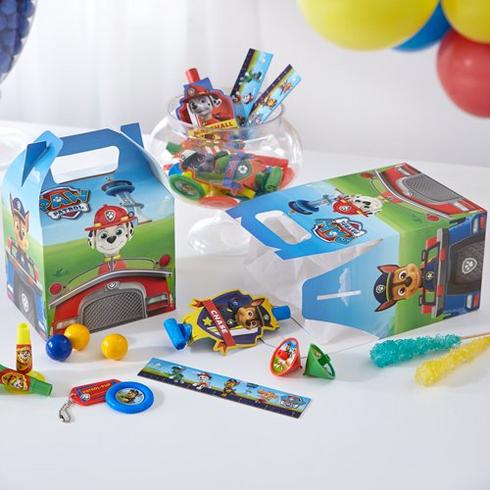 Idea 10: Include a temporary tattoo as a pawty pass!
Get the party pups pumped with an invitation filled with fun! Send each invite with a PAW Patrol tattoo and a sprinkle of confetti inside. Tell the kids to wear the tattoo on the big day as a special VIP (Very Important Pup) pass into the party.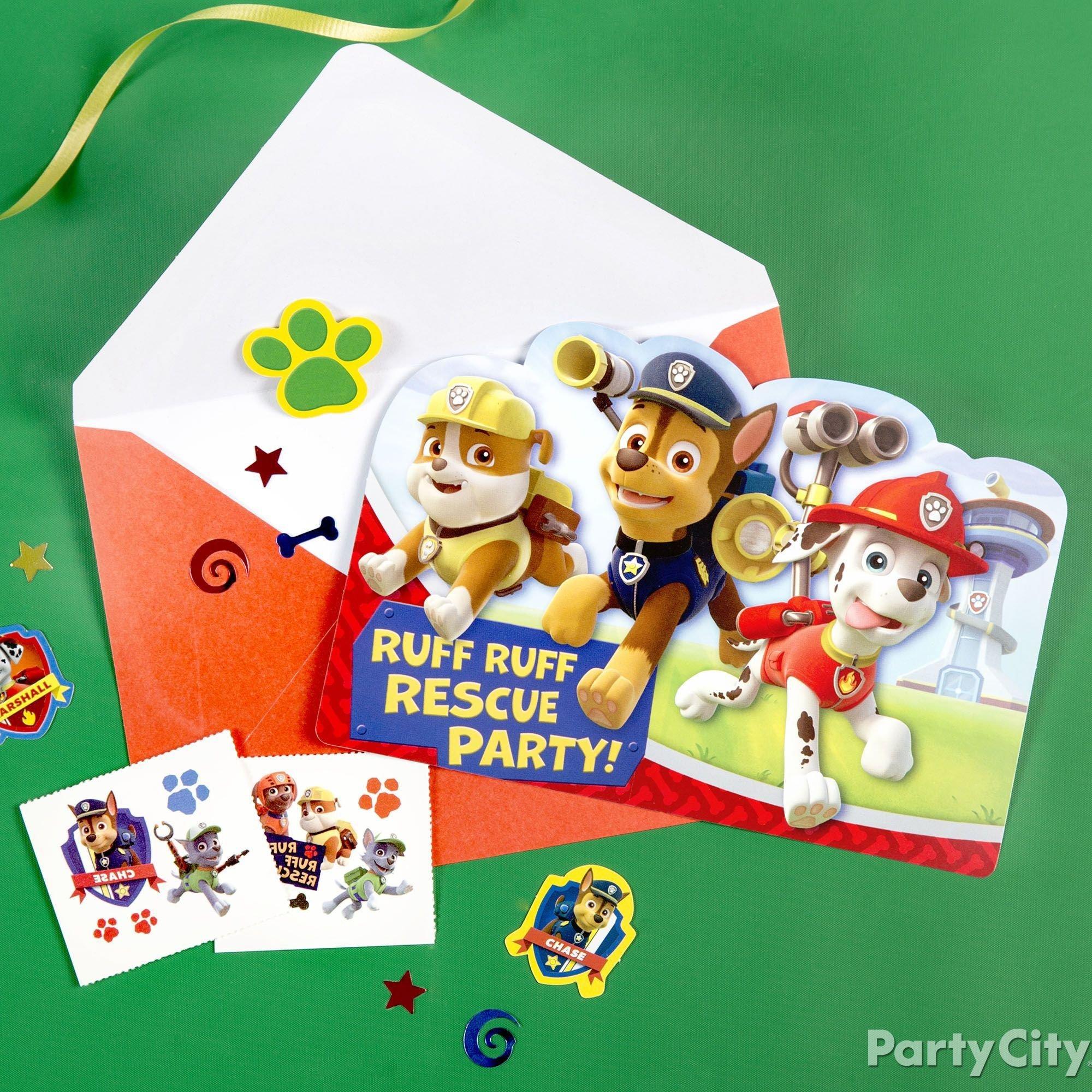 Idea 11: No room is too big, no pup too small!
Get them to yip with glee with a party room decked out like Adventure Bay. A PAW Patrol custom banner is a special treat for the birthday star, especially in a party room filled with decorations featuring Marshall, Chase, Skye and the rest of the gang!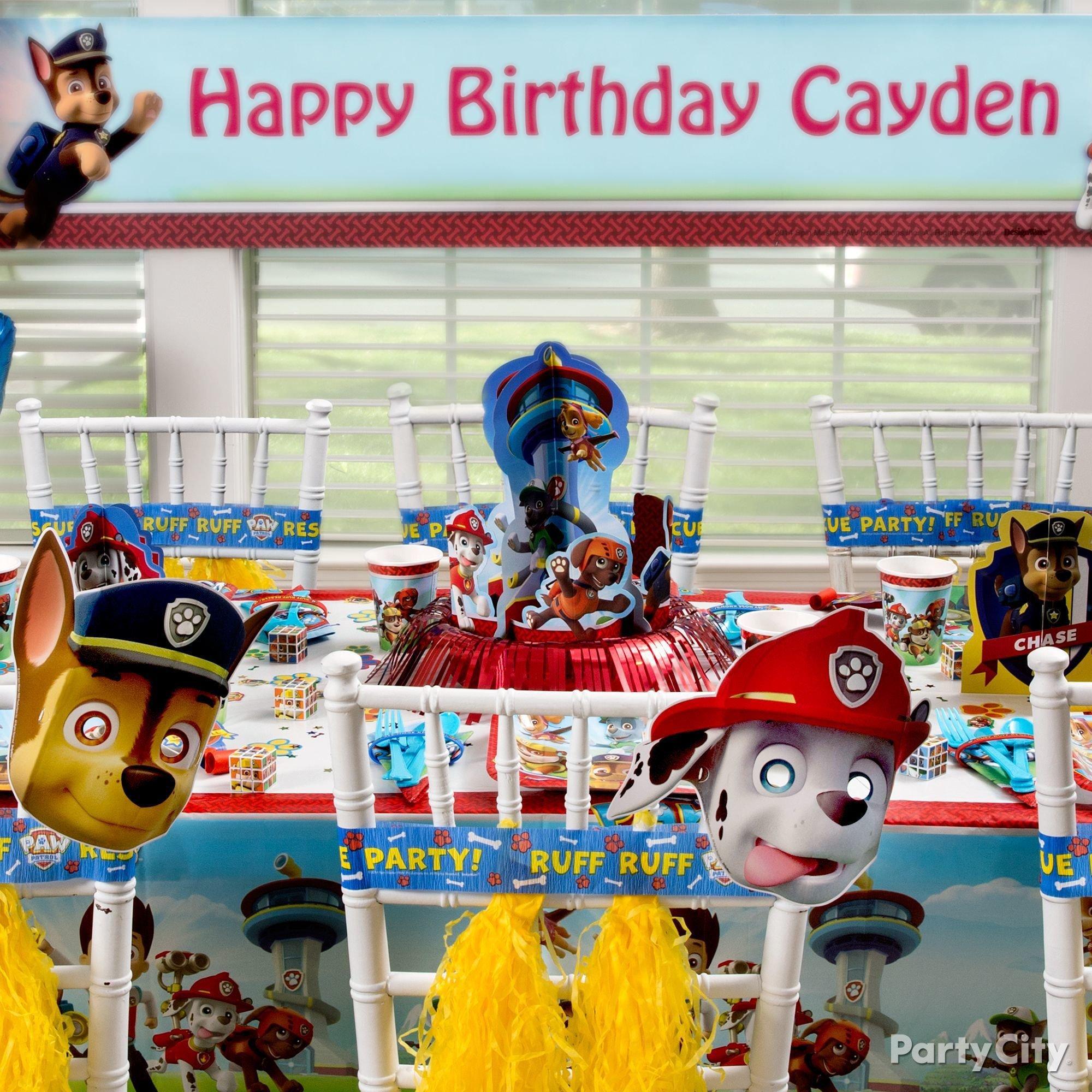 Idea 12: The paw-fect party game for your rescue crew!
Kids can help Chase find his badge in this PAW Patrol party game, a fun, pin-less version of Pin the Tail on the Donkey. They'll love wearing the blindfold and placing their sticker badge in the ruff-ruff right spot!
Idea 13: Great teamwork, pups!
They'll be all smiles taking turns pulling the strings on a PAW Patrol pinata to see which one lets the goodies out. When you're filling it with candy, be sure to add some fun favors to the mix too.
Idea 14: Gather all paws on deck with an awesome party table!
Put the "play" in place-settings with PAW Patrol tableware featuring the whole crew. Add a couple fun favors to each place-setting to keep the pups occupied while you prepare the cake. Here's a PAW Patrol Pro Tip: Wrap bundles of cutlery with a wristband the kids can wear while they snack!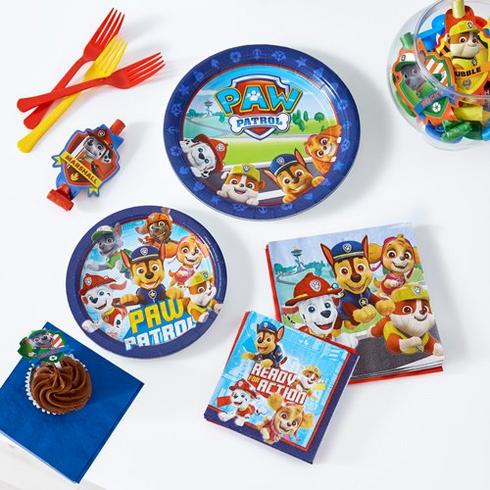 Idea 15: Send a photo of the rescue crew!
Send the ruff-ruff rescue crew a PAW Patrol thank you note with a snapshot of the kids having a great time.