Turn an LOL into a squeal of delight by throwing an L.O.L. Surprise! slumber party. After all, the only thing better than a super awesome birthday party is a super awesome birthday SLEEPOVER. From the dance parties and movie marathons to the late night giggles and whispers, sleepover parties are often where good friends become best friends. Do the kids a favor and make this a birthday slumber party to remember.
Keep reading to learn the best way to set up a blanket fort, how to decide on a slumber party menu, and get the low-down on creative decorating and favor ideas. Your little L.O.L. Surprise! fan will love discovering the details that make her birthday feel oh-so-cute! L.O.L. Surprise! party supplies.
Idea 1: Sleepover fort
If your house is a frequent sleepover spot, you may enjoy investing in a set of indoor A-frame tents, which we decorated with L.O.L. Surprise! swirls over blue pennant garlands. You can also create a large blanket fort using materials you have at home, or help the girls create their own fort as a party activity.
If you decide to make a fort, make sure you have plenty of bed sheets, pillows, clothespins and rubber bands for proper construction. Choose the right location: a blank wall can be used with a projector, or consider building the fort around your TV—they'll love watching movies in their own private theater! Use heavy throw blankets as a base layer to make the floor extra comfy, and light bed sheets to create a "roof," using rubber bands, string, or clips to secure them. Invite the girls to bring their own blankets or sleeping bags and pillows to ensure maximum coziness.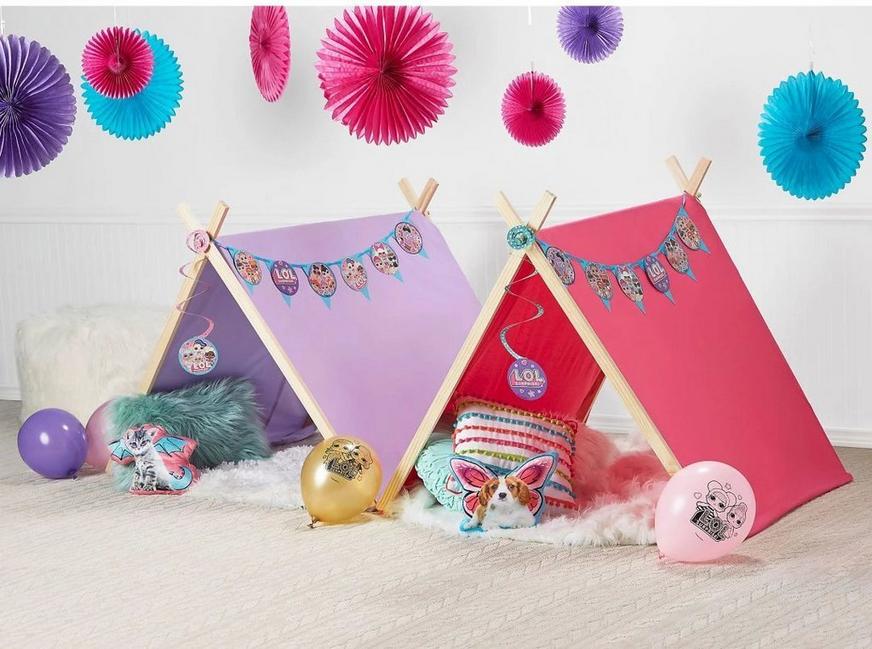 Idea 2: Best slumber party activities
When the kids arrive, start with a high-energy activity. Choose a song and ask the kids to create a dance routine, or set up karaoke. Plan a few hands-on activities for later in the evening like a scavenger hunt, cupcake decorating, or some kind of craft—who doesn't love a good slime kit?
If you want to keep things simple, break out the Mad Libs and board games, or put on an age-appropriate movie. Since this is a birthday party, make sure to leave time for classic birthday traditions like the pinata and cake. Pull-string pinatas are the safest choice for an indoor sleepover party. Candy is always a popular filler, but party favors are a fun addition that can help prevent a sugar crash later in the night.
When deciding on birthday party activities, just remember that the best ones allow everyone the opportunity to participate. Some of the kids may not want to get involved in your planned activities, and that's okay! Encourage, but don't force anyone to play games or do crafts. Instead, keep books and magazine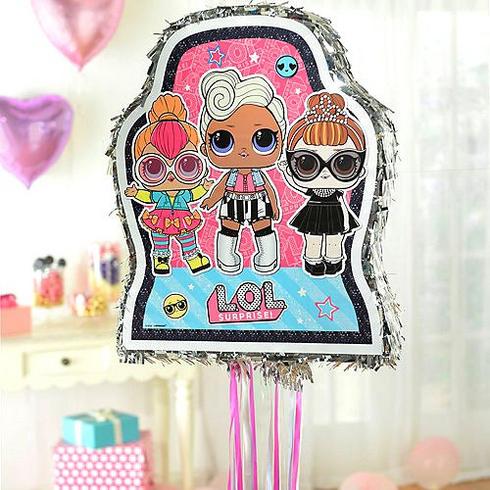 Idea 3: Our favorite sleepover food ideas
For a sleepover party, you'll need to plan for dinner, breakfast, and a few snacks. We've got breakfast covered below, so let's focus on the rest of your sleepover menu.
Your first step: check with parents to learn if your guests have any food allergies or restrictions. It's important to create a menu that works for all guests rather than offering a single option for those with different dietary needs; we want everyone to have fun and feel included!
If pizza comes to mind as a sleepover must-have, turn it into an activity by helping the kids create their own personal pizzas. Buy a pack of mini pizza crusts and set up a pizza-making station with paper plates and spoons for everyone. Set out bowls of pizza sauce, cheese, pepperoni, chopped onions, bacon and any other of your favorite toppings. The kids will have a blast creating their own unique meal, and no one has to decide what kind of pizza to order.
Breakfast for dinner is another fun and easy sleepover dinner idea. Pancakes or waffles are a budget-friendly way to feed a crowd, and you can even offer add-ins like blueberries or chocolate chips. Serve with scrambled eggs and a plate of kid-friendly fruits like strawberries, mandarin oranges and grapes.
For older kids, we love a baked pasta dish (baked mac 'n cheese? Yes please!) with roasted veggies. Sliced zucchini, sweet potatoes, carrots, and potatoes can be roasted in a single sheet pan with just olive oil, salt and pepper for a stress-free side dish.
Since sleepovers are a late-night affair, anticipate growling stomachs a few hours after dinner is served. Keep a bowl of fruit visible during the party to entice party-goers with a healthy snack. Older kids will appreciate a 7-layer dip or creamy queso dip served with crunchy tortilla chips, and a sweet cream dip with fruit and wafer cookies is a sweet way to end the evening if you're not serving cake.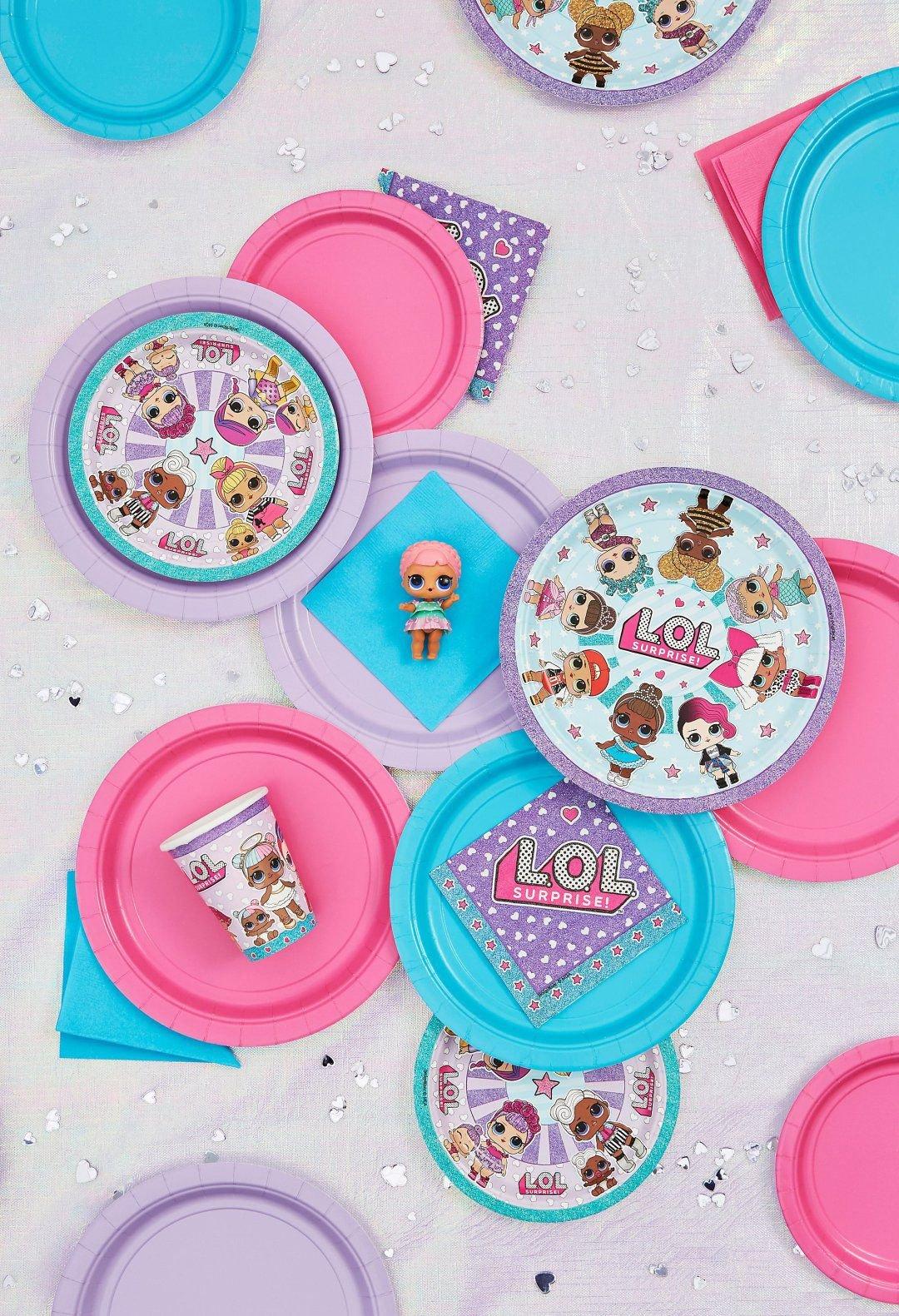 Idea 4: How to set up a breakfast bar
Top off the sleepover fun with a sweet morning wake-up call! We loved creating this on-trend breakfast bar decorated with an eye-catching L.O.L. Surprise! balloon, satin star balloons, and paper decorations in pink, blue and purple.
For a fun take on unboxing, serve "top secret" donuts. At your local donut shop, ask for a variety of custard- and jelly-filled donuts. To find out what's inside, they'll have to take a bite! Expect a lot of laughs with this breakfast activity.
You'll need a few more options to round out your breakfast bar. You can make crispy rice treats with a variety of kid-approved cereals, which can be made the day before the party and stored in an air-tight container until it's time for breakfast. Muffins, bagels and cream cheese, single-serve yogurt packs and fresh fruit skewers are also breakfast faves.
Serve all these yummy breakfast treats with a drink dispenser filled with ice cold milk and L.O.L. Surprise! cups.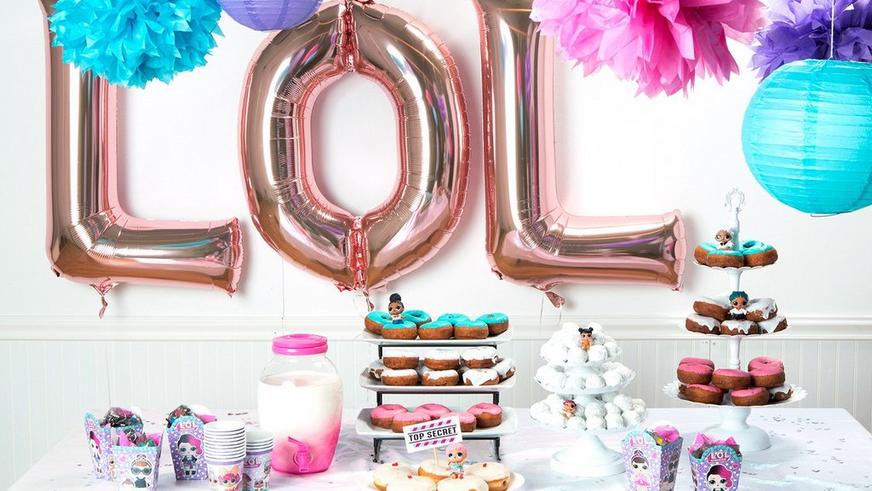 Idea 5: L.O.L. Surprise! favors
When it's time for the sleepover to end, have a parting gift ready as a way to thank their friends for coming. Depending on your budget, you could give each child an L.O.L. Surprise! favor pack or L.O.L. Surprise! fizz to take with them.
For something more budget-friendly, fill L.O.L. favor boxes with candy or L.O.L.-themed favors. Since the fun of L.O.L. Surprise! is in the unboxing, wrap up each individual surprise in mini opaque plastic treat bags or colored tissue paper.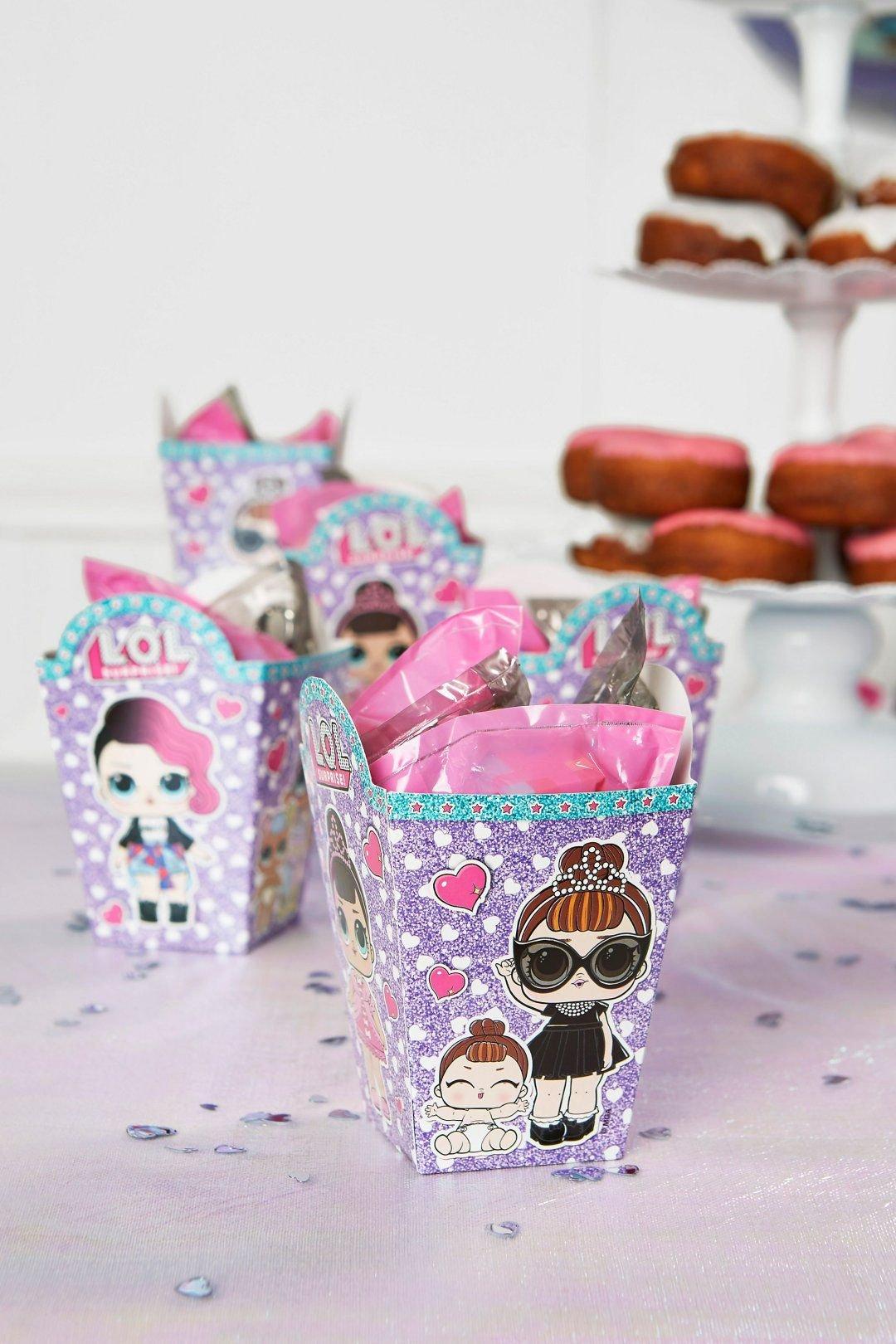 Idea 6: L.O.L. Surprise Balloon Centerpiece
How cute is this DIY balloon centerpiece? Create one of these to brighten up your gift table, or create a bunch to decorate a large birthday party with serving tables!