Mario and Luigi are ready for adventure in the Mushroom Kingdom. With these ideas and decorations it is easy to create a colorful birthday bash in record time.
Idea 1: A super outfit for the birthday boy
Your super star shines on his special day with this super birthday outfit! Your birthday boy will jump like Mario when he sees this Super Mario costume. The overalls, hat, and moustache make him look just like the video game star.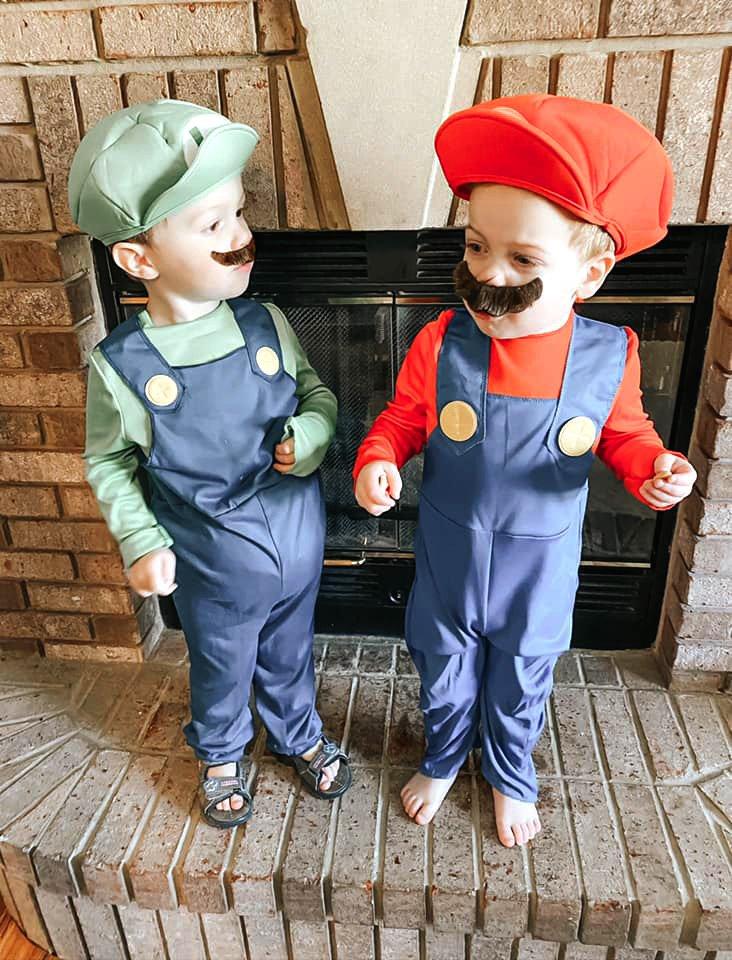 Idea 2: Super accessories for the birthday boy
Want to make him feel extra special? All eyes will be on the birthday boy with this Super Mario T-Shirt and accessories. A Super Mario baseball hat and matching award ribbon are a fun addition to his birthday outfit.
Idea 3: A chair decoration and party favor all in one!
It's-a Mario and Luigi on your chairs! With Mario and Luigi party hats, Super Mario moustaches, and a few swirl decorations you can create 6 super cool chairs. Best of all, the adhesive moustaches and party hats double as party favors that can keep them entertained while they wait for cake!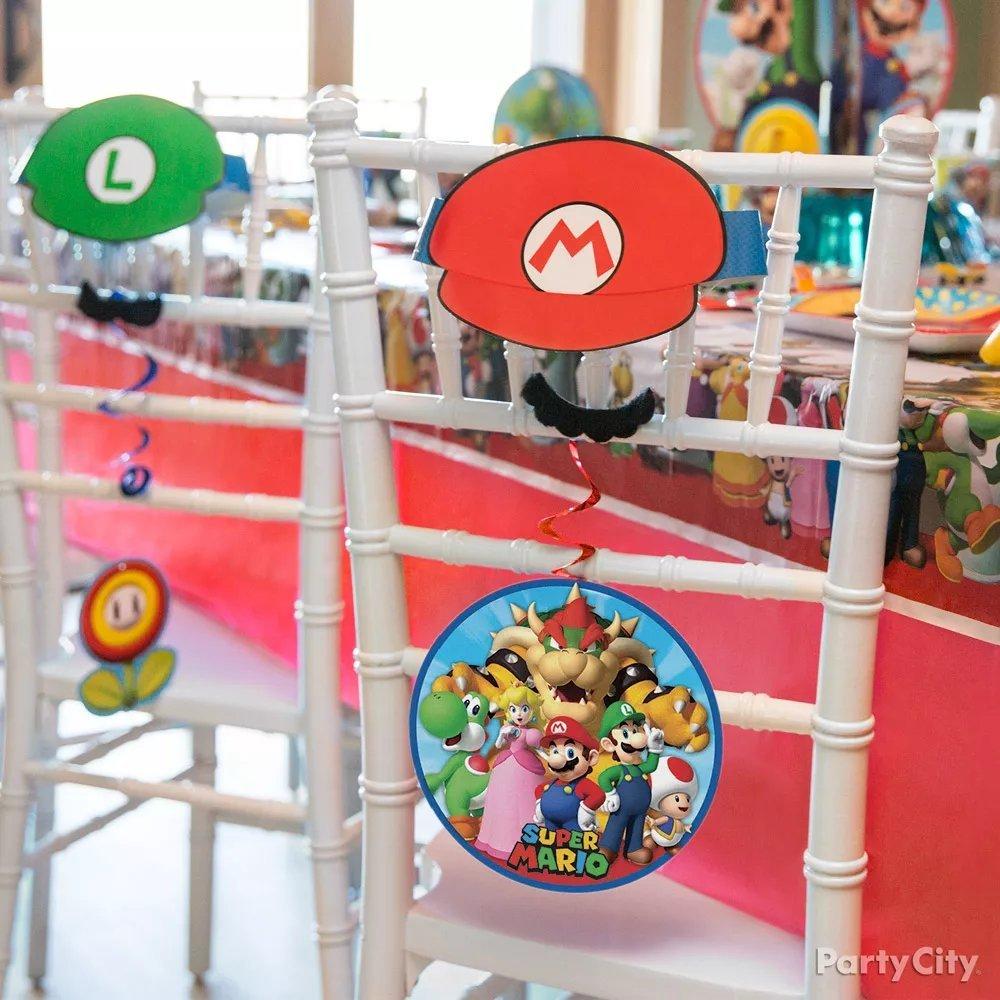 Idea 4: Custom invitations get them powered up
Custom invitations and thank you notes are the way to go in the Mushroom Kingdom! Imagine their friends' excitement when they see their buddy's picture surrounded by Mario and Luigi on this special invite. Their friends will be counting the day till it's Mario Time!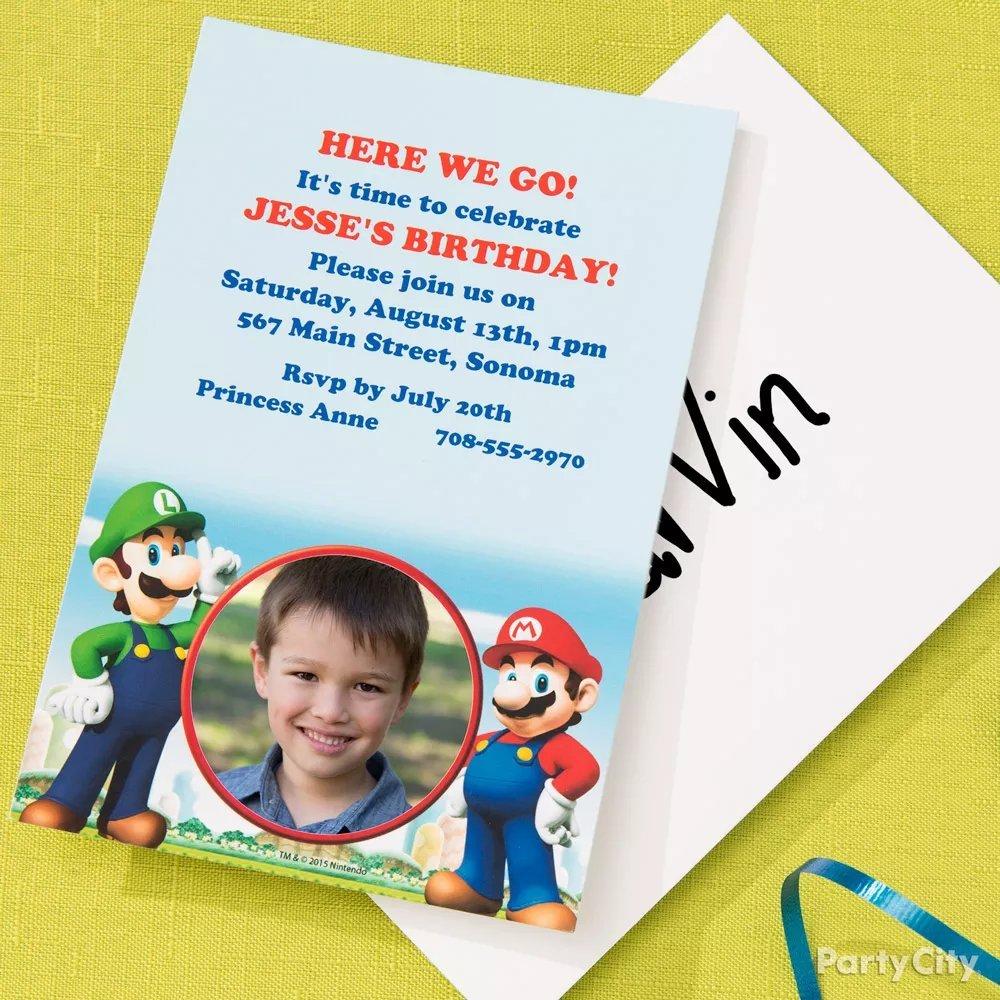 Idea 5: Dress up the whole super crew
Let the adventure begin! Welcome guests to a party adventure with Super Mario accessories. The kiddos will have a blast putting on Super Mario moustaches and hats. Once they see their fun outfits, they'll be running and jumping the whole party through! And the accessories in our kit make super party favors too!
Idea 6: Awesome decorations with all the essentials
You won't need assistance from Luigi to deck out your space — with just a few items you're ready for a party adventure. With a banner, swirl decorations, and a centerpiece kit, Mario, Yoshi, and the whole gang will be dangling from the ceiling covering the tables! Taking your decorations to the next level is even easier with our decorating kit.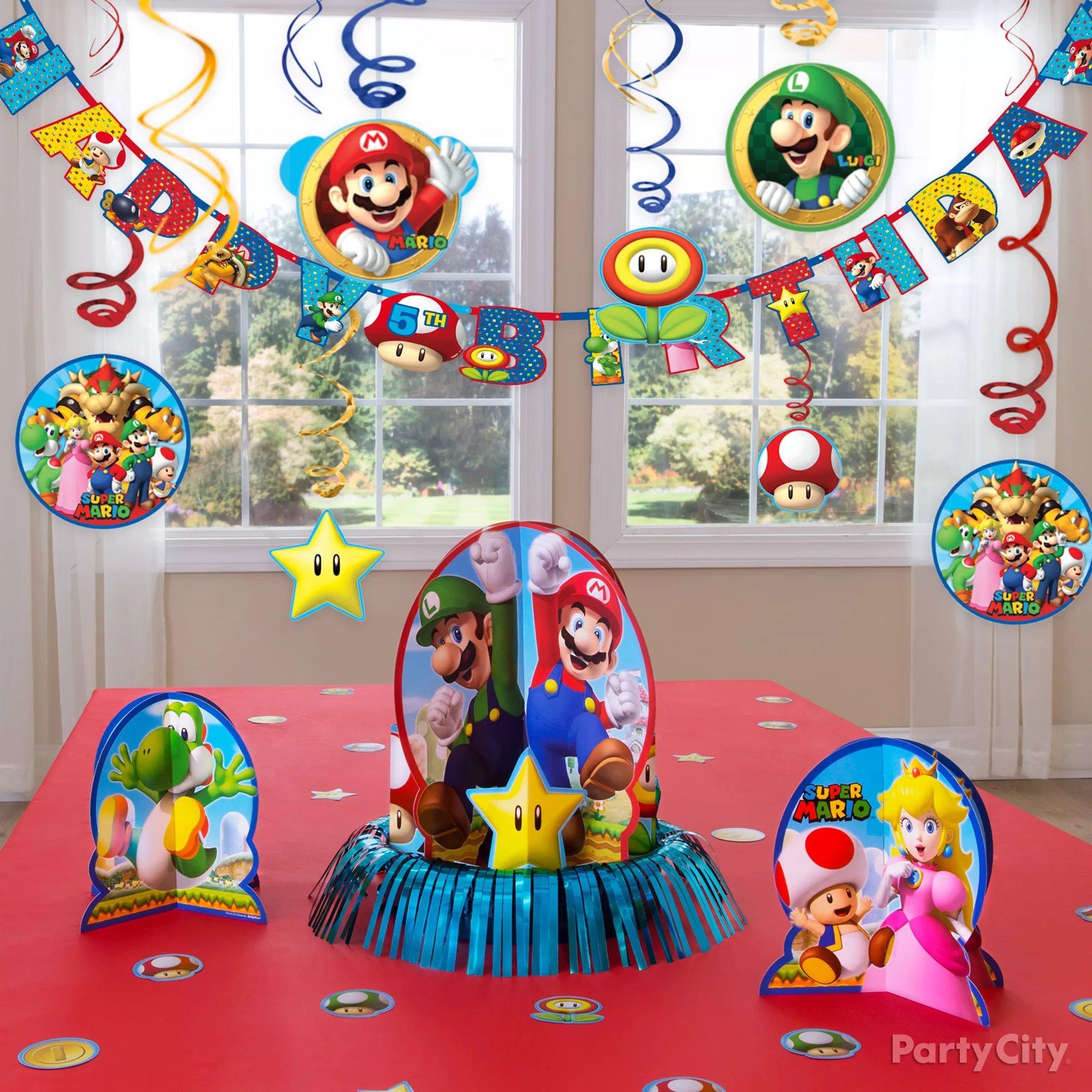 Idea 7: Favor buckets earn you a super star
Power up with Super Mario buckets! These awesome favor kits include power-pails filled with Super Mario favors. These buckets are also awesome for pinata time. They will be soaring higher than Yoshi with these goodies.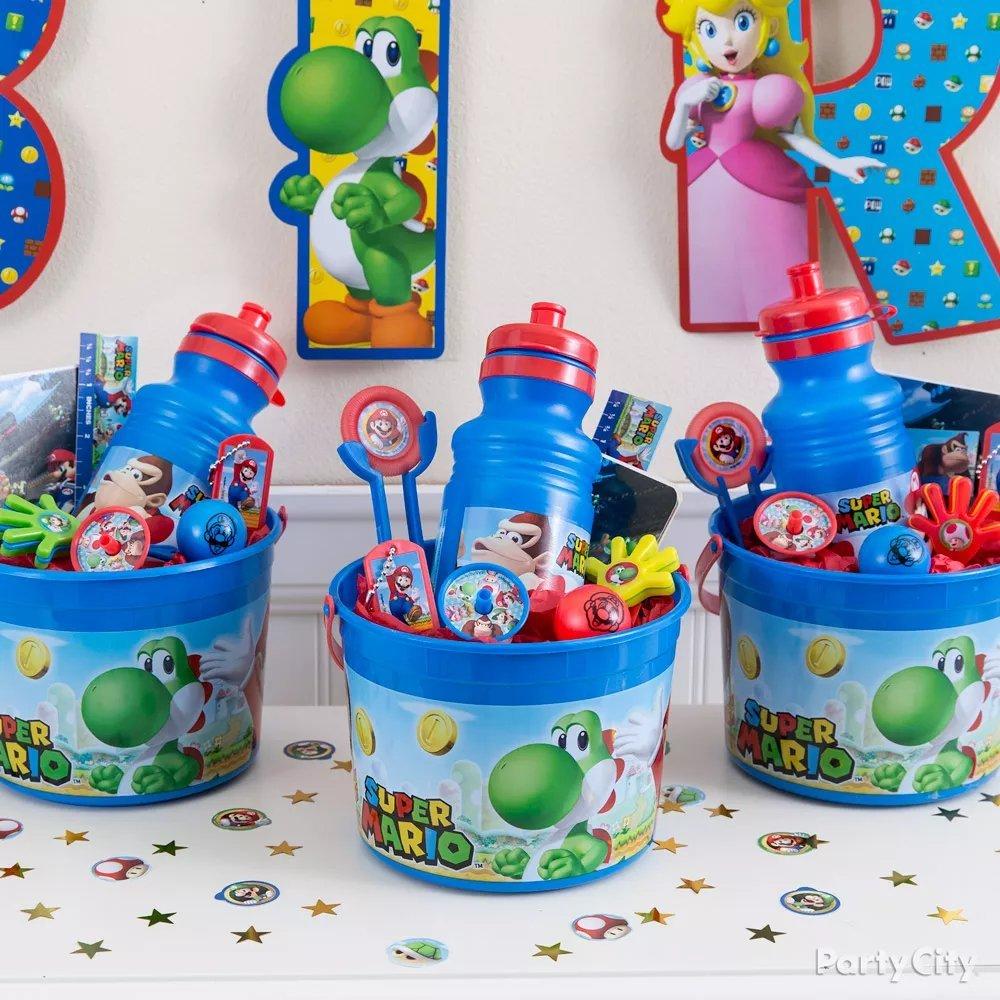 Idea 8: Power up with a favor cup
Bowser wants in on these cups of fun! Level up with a Super Mario party cup kit. All you have to do is fill each plastic cup with Super Mario party favors! After a day of racing around with cool toys they can use the cup to sip on a cool drink. Check out more giveaway ideas that will make the kids jump for joy just like Mario!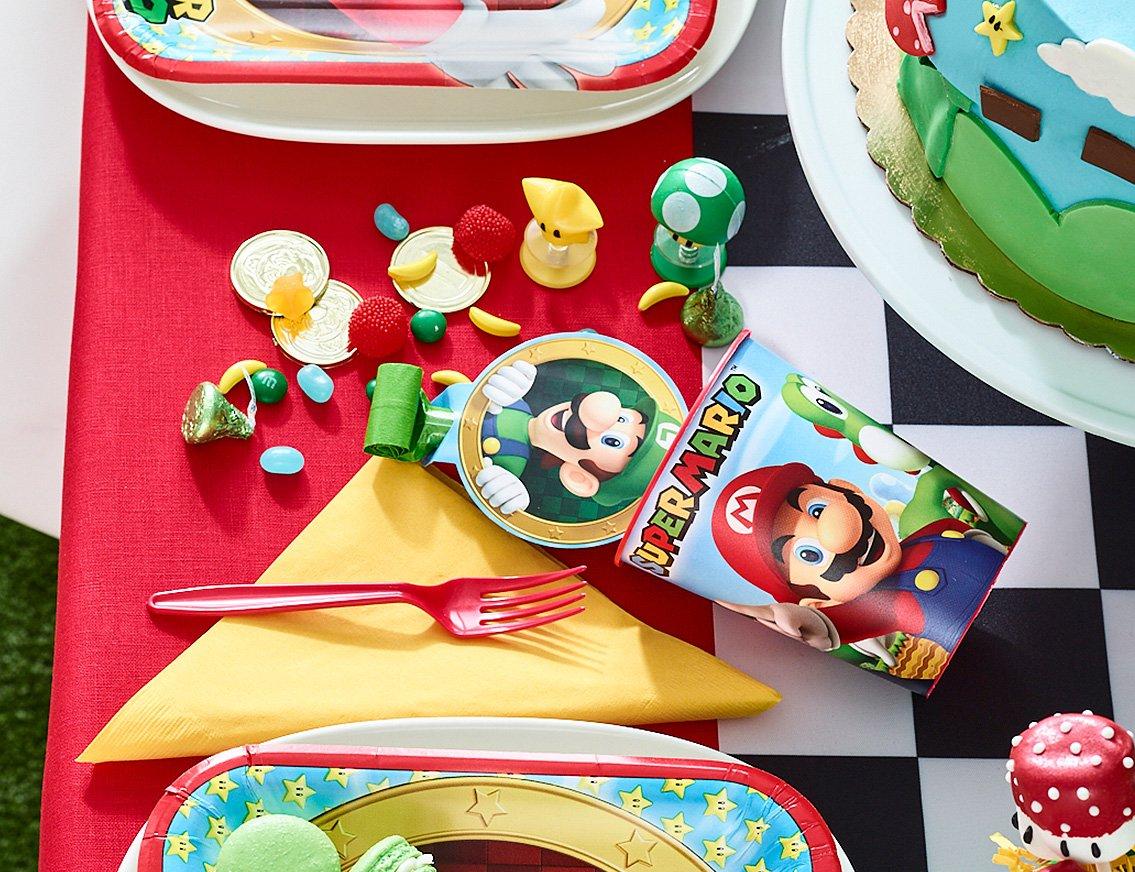 Idea 9: Fill goodie bags in record time with a favor pack
Speed through building goodie bags with a pack of Super Mario party favors. Each kit includes Super Mario favors and toys for eights guests. Just slip them into matching goodie bags and write each superstar's name on the top. What's even better is that they're so effortless to make, you'll feel like you just had a power up!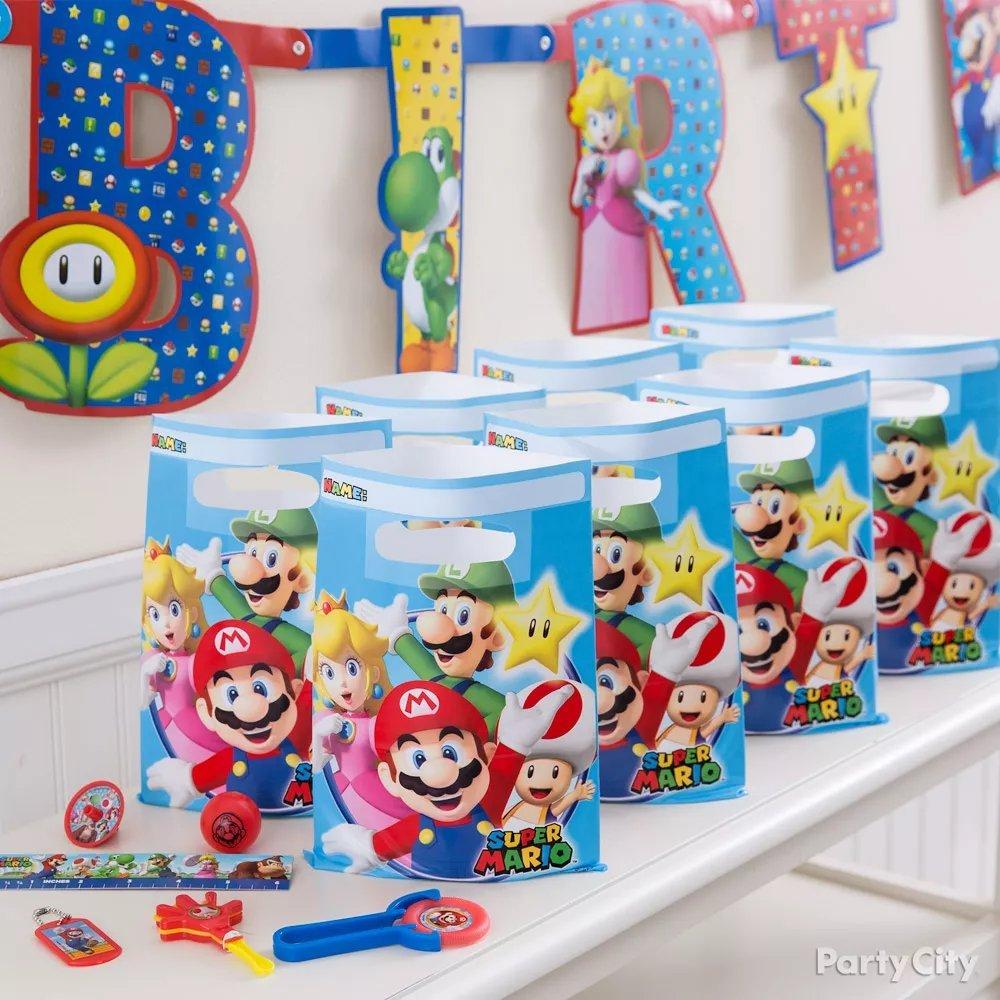 Idea 10: Fill invites with a super surprise
Get everyone excited for the party! Our invitation kit includes cool tattoos and confetti that your little one can help you add to Super Mario invitations. Have guests wear their new tattoos to the party for even more fun! They'll light up once they see the starry surprise in their invites!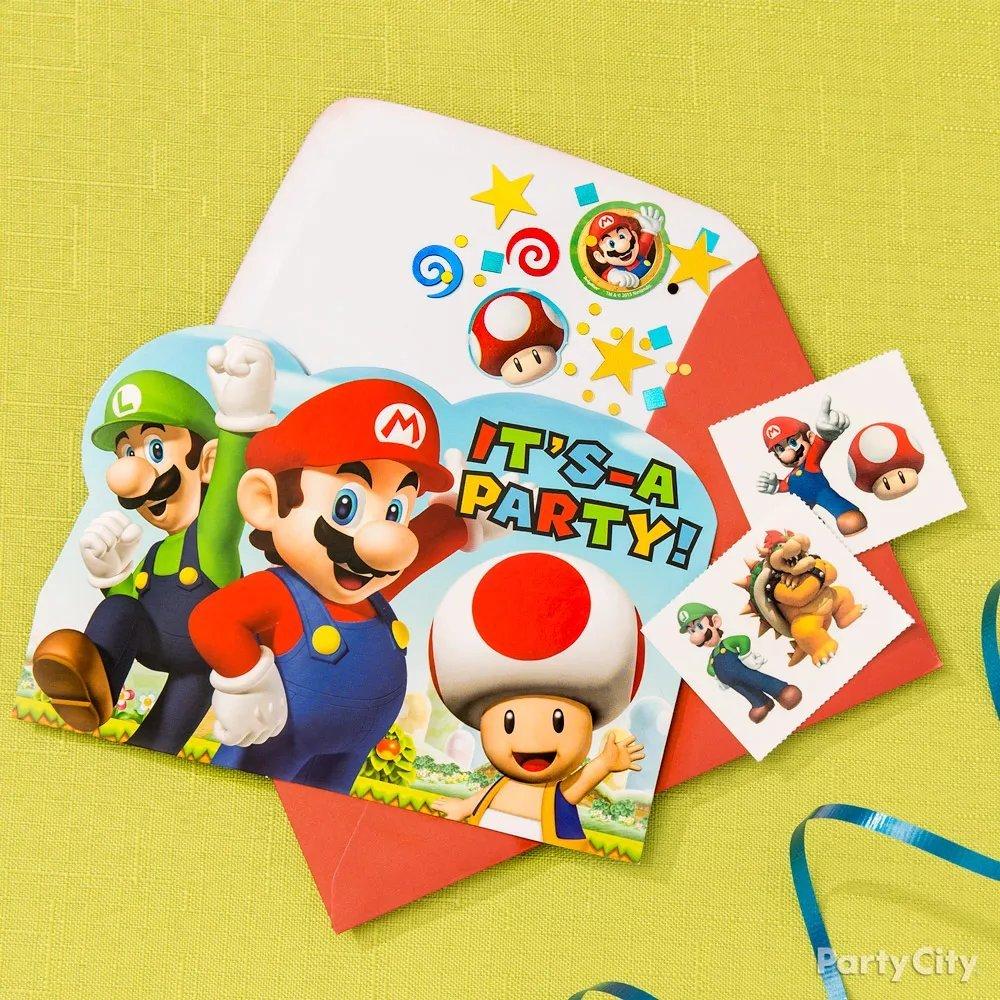 Idea 11: Power-up your table and party room
Step into the Mushroom Kingdom with decorations and tableware that are Mario-approved! You can create the adventurous world of Mario right in your home with our party kits.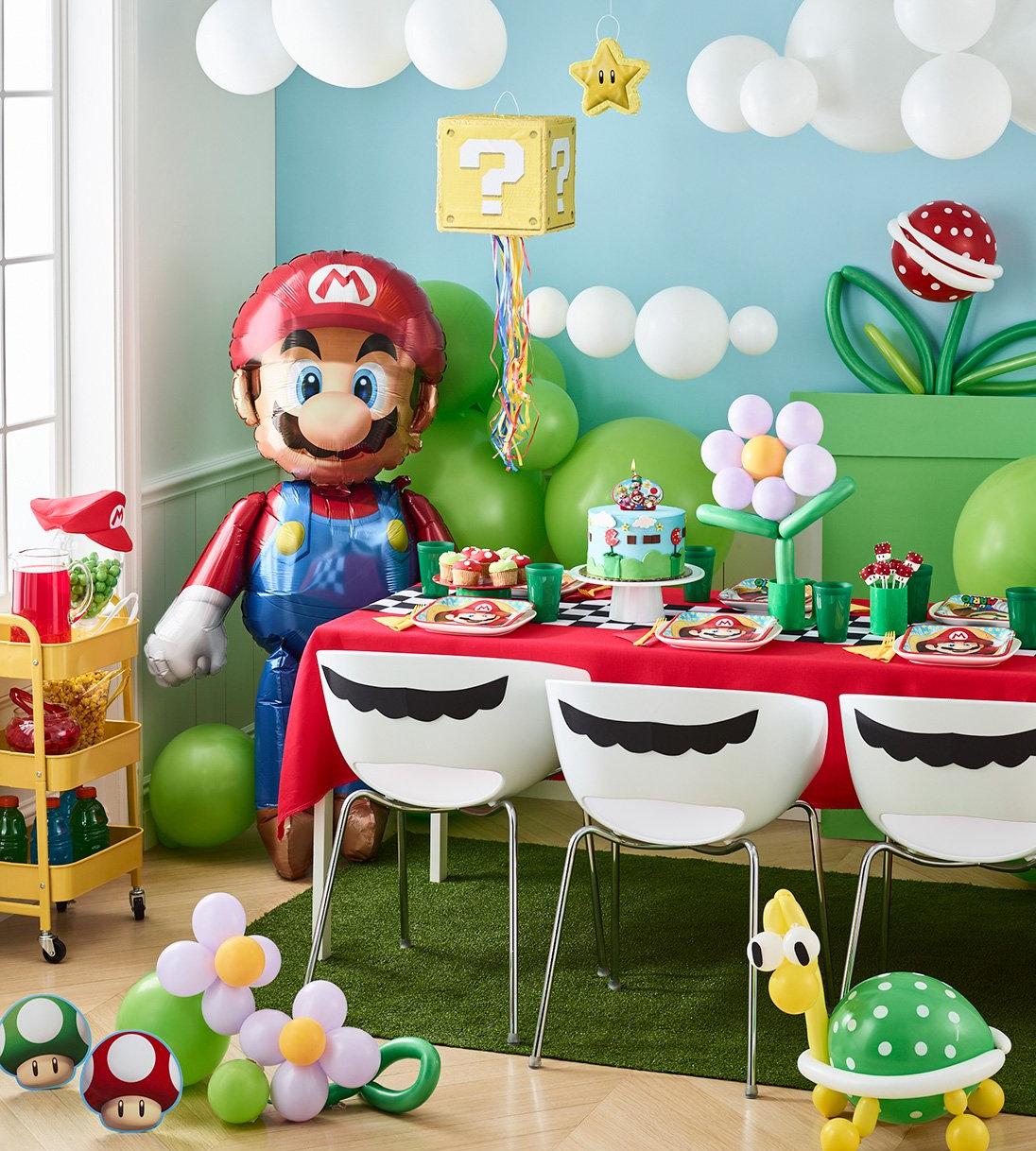 Idea 12: A super star photo booth idea
Take them to the Mushroom Kingdom. Setting the scene for unforgettable memories and photos is easy with our Super Mario photoshoot kit. A scene setter transforms walls into the Mushroom Kingdom. All you have to do is add a few balloons and get ready to take pictures! Sunglasses, head boppers, and beads make great photo booth props.
Idea 13: A party pic is a super way to say thanks!
Keep the magical surprises coming and thank them with a fun memento. Slip an action-packed photo from your party into Super Mario thank you cards for a cool post-party souvenir both parents and kids will love. Don't forget the confetti to add a starry surprise!
Idea 14: Gather the gang for pinata time!
Party-goers will race over for pinata time. With our pre-made kits pinata time is quick and easy. Just pick your pinata — pull-string or traditional — then grab some treat buckets, and game on! You can even make it a contest to see who can collect the most in their bucket. Check out our selection of pinata kits or build your own.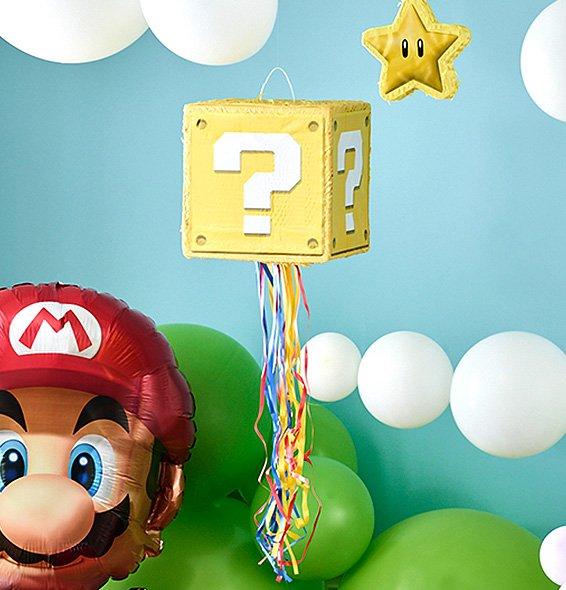 Idea 15: Smoothies as sweet as Princess Peach
Let the Mushroom Kingdom explorers refuel with a healthy treat. Blend up some frozen peaches, juice, and yogurt and you have a Princess Peach Smoothie. Slip in a moustache straw and they are ready to slurp down this cool smoothie. We sprinkled some gold coins on the table for an extra touch of awesome!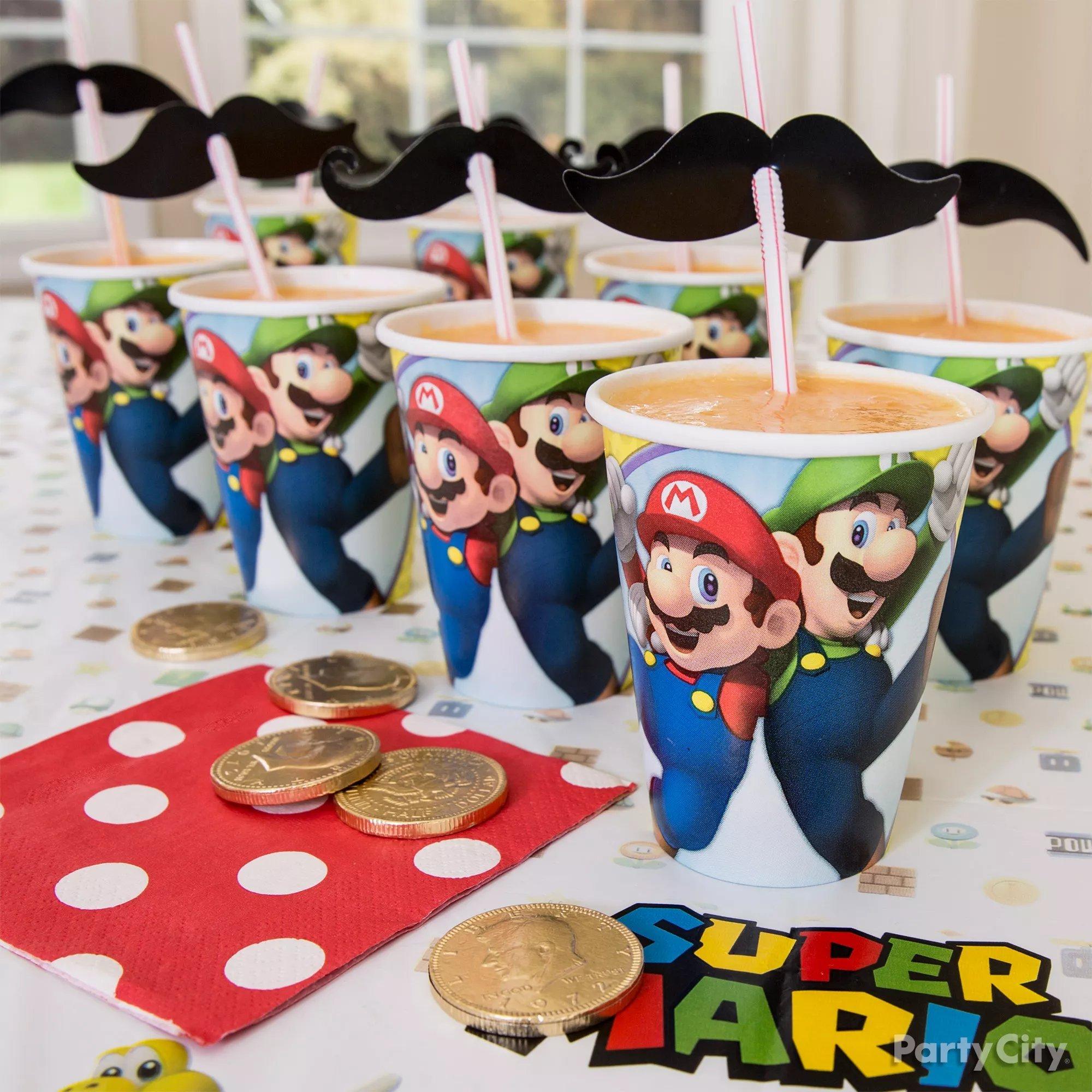 Idea 16: Star pinata + balloons = A decorating victory!
Speed through decorating with this star-worthy idea. All you need is a few balloons and a super star pinata. It's a party decoration and game all in one. When it's pinata time just hang it from a tree and you're ready for action. Use our decorating kit and Mamma Mia! — that was easy!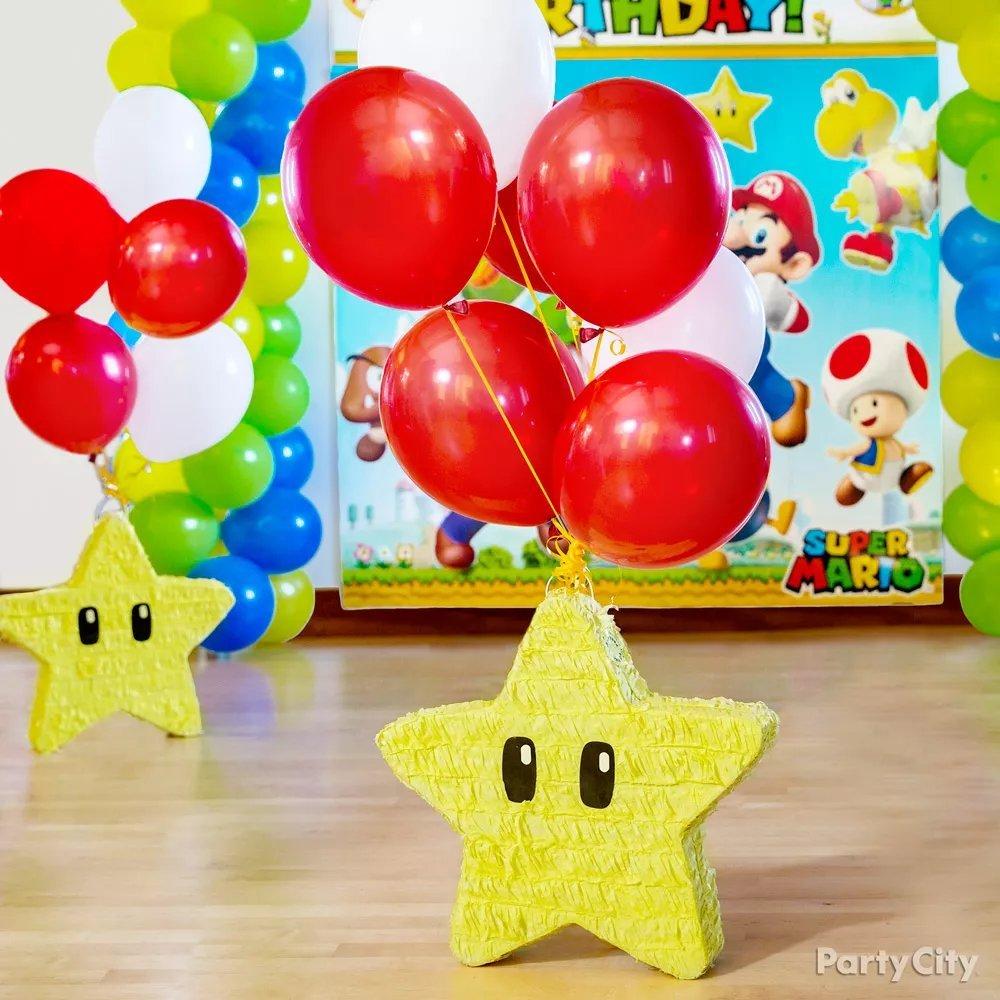 Idea 17: Feel invincible with Super Star Fruit Cups
Just like the Super Star in the game these fruit cups give your little one a boost of energy. It's super easy! Pick out your favorite fruits and fill treat cups — we opted for blueberries and melon balls. Then use a cookie cutter or knife to cut star-shaped pineapple pieces to place on top with a toothpick.