With just a few months of school left, graduation season is officially around the corner. How are you planning to celebrate your grad's big accomplishment? Whether it's grade school graduation, high school, or college, summer will be the perfect time for a backyard graduation party. From graduation party décor, color, and themes, there's lots to think about. To get the brainstorming going, here are some fun outdoor graduation party ideas to get you started and on track to throwing the most epic graduation party.
Shop 2023 Graduation Balloons, Decorations & More. Shop Now!
Oh, The Balloons You'll See!
A quintessential party staple is, of course, balloons. Balloons scream "celebration," which makes it an easy decoration choice. Picking which balloons to get is probably the most fun part of the process. There are so many graduation balloons to choose from, which theme is best for your grad?
Show Off Your School Spirit
It's all about school spirit when it comes to graduation, so why not pick balloons based on the colors of the grad's alma mater? Tie them to chairs, trees, or fences, or place weighted balloon bouquets on tables.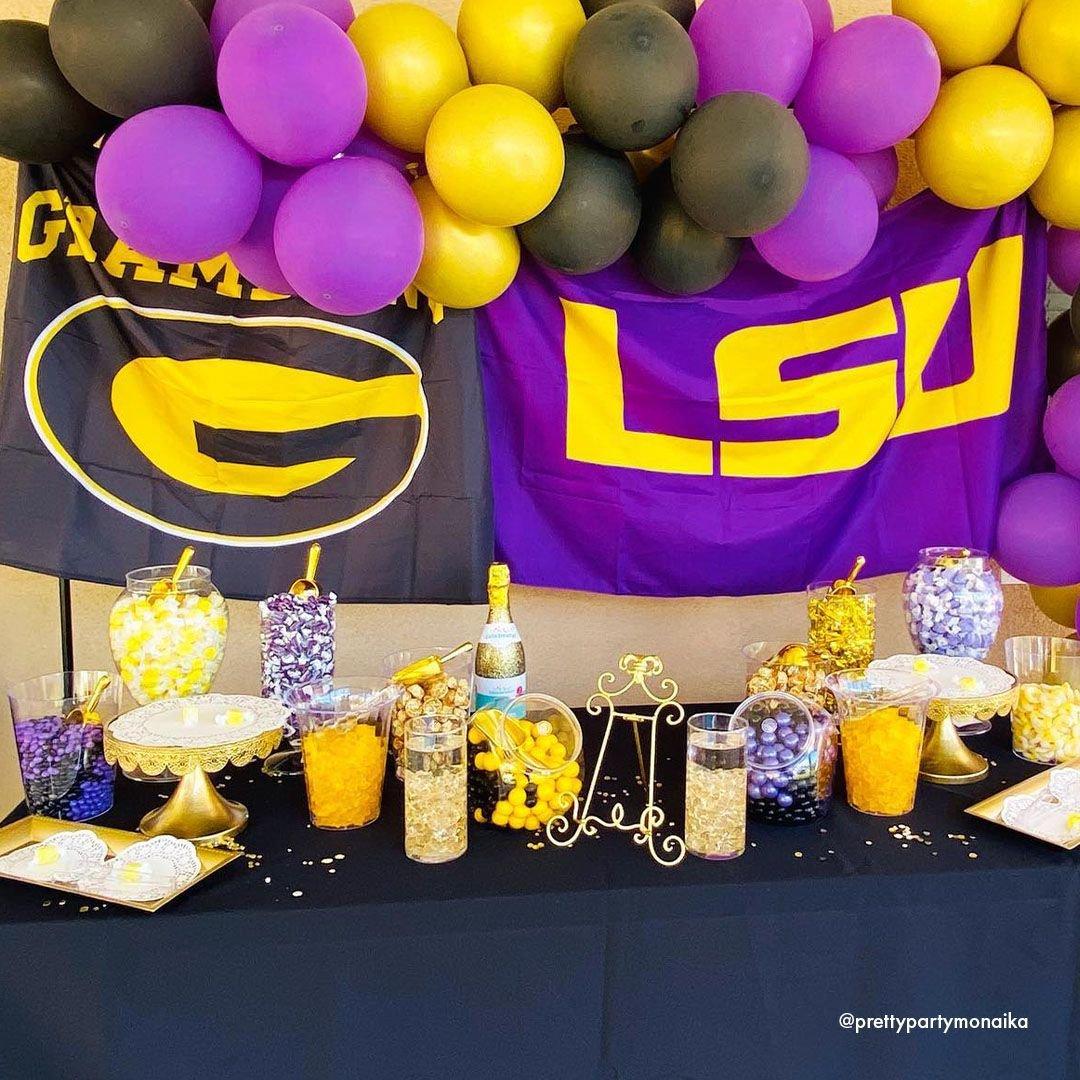 Numbered Balloons
The Class of 2023 will be the center of attention this summer. Make them stand out even more with 2023 number balloon, perfect for photo-ops and party décor.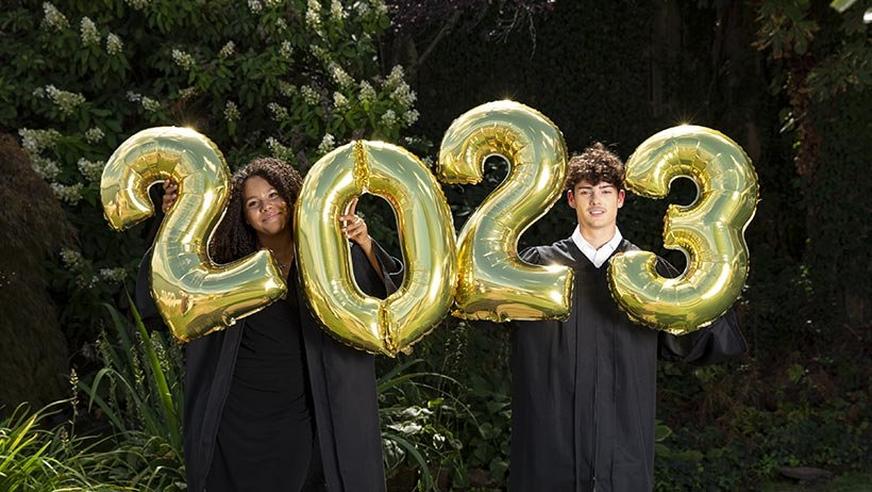 Balloon Décor Kits
If you need a little assistance with your balloon décor game, get yourself the right décor kit for your backyard celebration. You can create a festive balloon arch for guests to walk through as they arrive or make a balloon garland to really impress. The kits are already set up for you to successfully assemble a true work of art, made from balloons.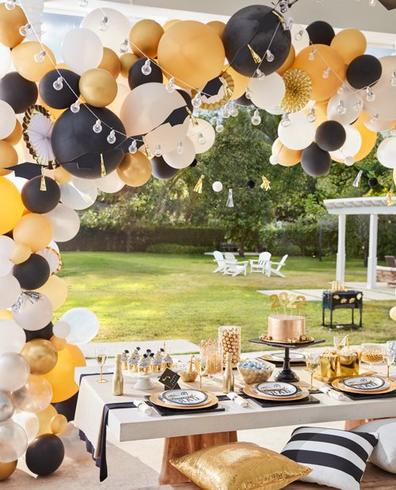 Backyard Grad Party Table Decorations
When you host a backyard party, you've got to have awesome table decor. A simple, outdoor graduation party idea is to string outdoor party lights at the edges of the tables or wrap them up and down the legs. Graduation party tableware like themed "Congrats Grad" plates and napkins add even more attention to detail and are another subtle reminder of why you're celebrating the day.
Graduation-Themed Centerpieces & Table Signs
Every party table needs a great focal point. Whether it's a DIY "Congrats Grad" balloon centerpiece or a fun "Believe" unicorn centerpiece, graduation party centerpieces can really pull your theme together.
Chalkboard table signs are also a great option! You can customize them to label food items or have guests write messages of congrats to the grad at the table. Another engaging table decoration is an "Advice for the Grad" cardholder. Place it at the tables where guests will be seated or at the table where the gifts go.
Outdoor Grad Party Photo Backdrop Ideas
Take advantage of the natural lighting outside by setting up an area for guests to take pictures at the backyard graduation party. Create a photo backdrop with a sheet, scene setters, or a fringe door curtain (perhaps hung between two trees with a grad photo garland) and add graduation decorations like garland, graduation cutouts, and swirl decorations. Provide photo booth props and custom standees of the graduate for a fun photoshoot that will surely be a hit throughout the entire party.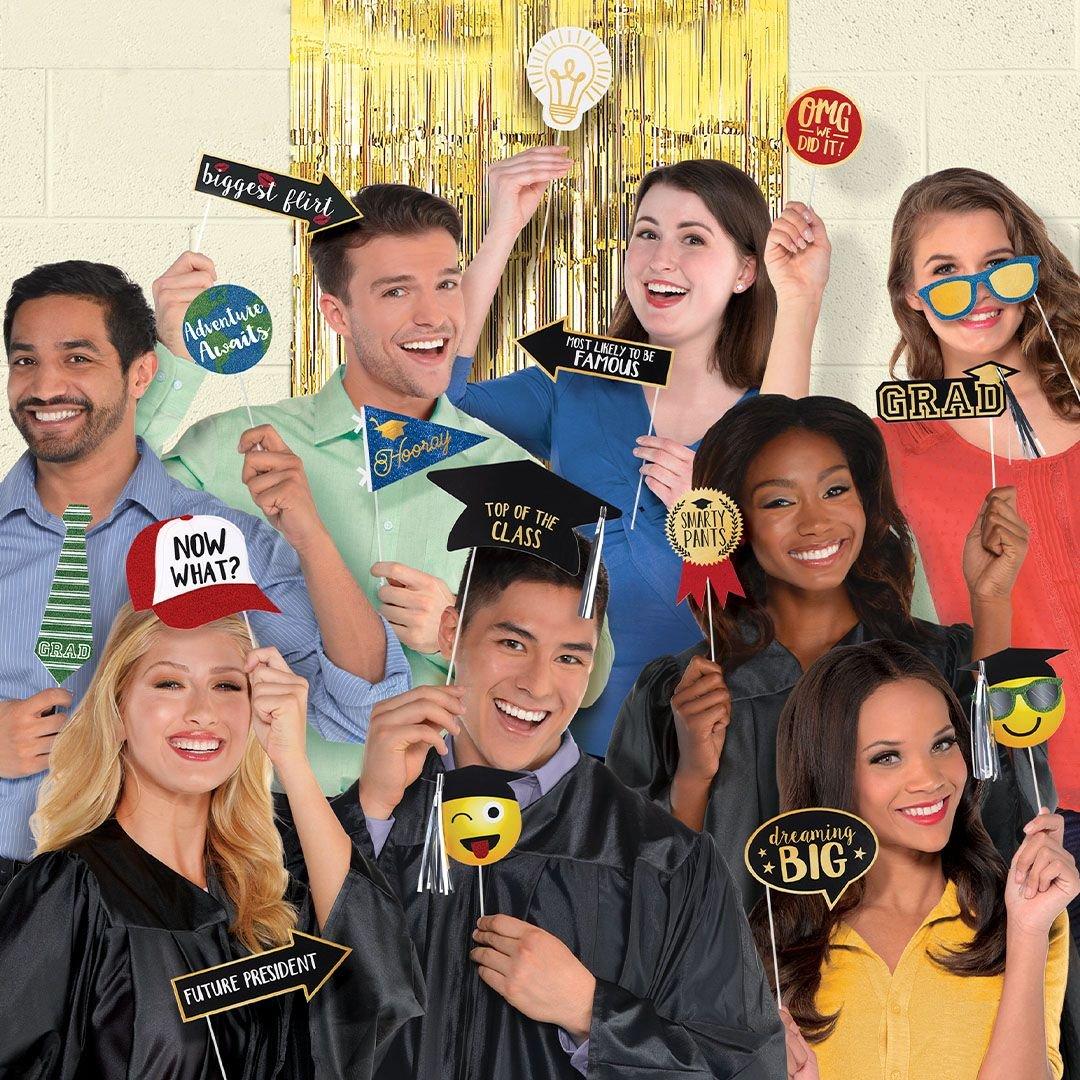 Personalized & Outdoor Graduation Decoration Essentials
Take your backyard graduation party to the next level by incorporating personalized graduation party supplies. Custom graduation fan faces add a funny and fun touch to the party and immortalize your grad as a fan (like an actual fan).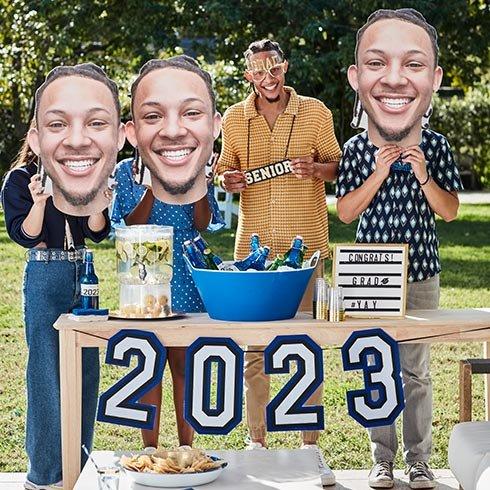 Be sure to grab a few graduation lawn decorations like customized graduation yard signs in the front of the house and throughout the yard to let the whole neighborhood know you have a graduate you're celebrating! You can also place custom school spirit standees all around. They can display the best moments of your grad, whether it be a game-winning shot from a basketball game or playing the trombone.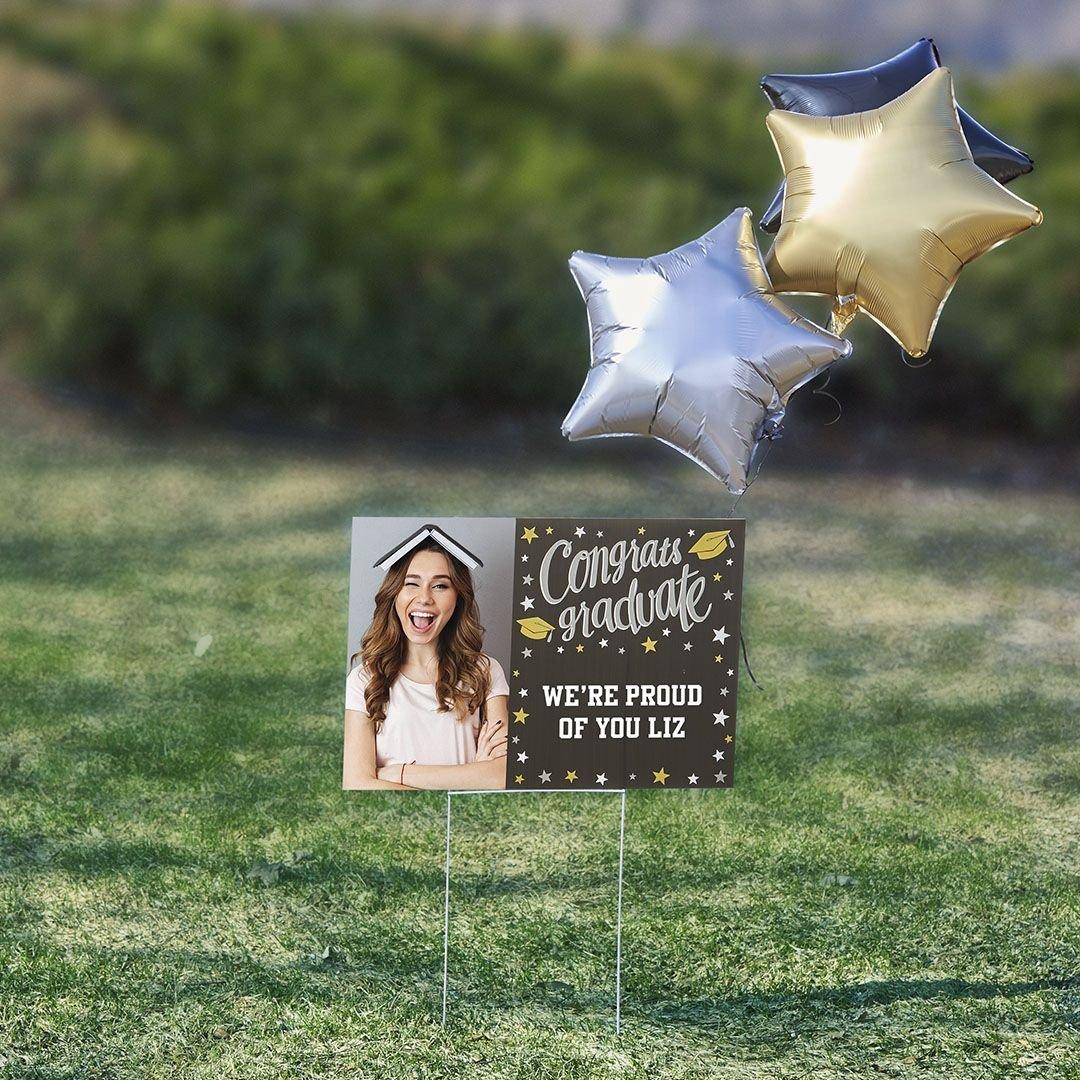 On top of personalized graduation-themed party ideas, don't forget some other outdoor decorations you'll want to have for this day of celebration. Whether you're going for full decorative coverage or you want to show your pride for the whole block to see, a few of the staples you may want to consider includes graduation yard signs and hanging banners.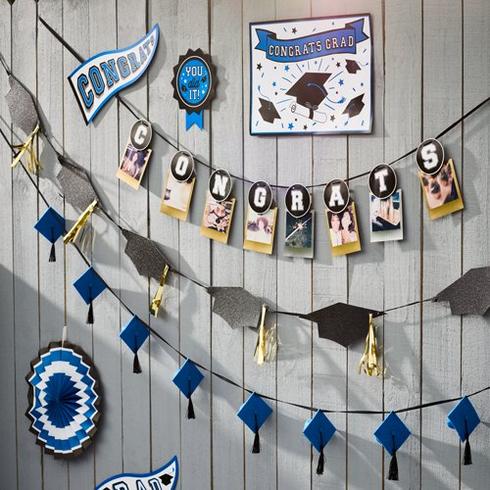 Must-Have Graduation Party Games
What's a well-rounded outdoor celebration without a few games to keep things fun? Your next outdoor graduation party is no exception and something to remember to make sure all your guests are engaged and having a great time.
Any outdoor games you can play on the lawn are great, especially in the spring and summer months. Some good examples include flag football, kickball, wiffle ball, horseshoes, croquet, badminton – the list goes on. If you decide to have one of these go-to outdoor games at your backyard graduation party, consider organizing a tournament and crown a final winner at the conclusion.
But, if you want to take things to the next level, the best games to select are those that are relatively easy to play and can appeal to guests of almost any age. Here are two must-have games if you want to plan a fun and memorable backyard graduation party.
Bean Bag Toss Game — Call it corn hole, bags, or bean bag toss, this is a casual, fun game that guests can play with a bag in one hand a drink in another. No party game is more essential to the college gameday tailgate experience than this one.
Kan Jam — A similar concept to the traditional bean bag toss, Kan Jam is all about getting your projectile, in this case a frisbee, into your opponent's goal. Let your competitive side run wild because unlike bean bag toss, you're encouraged to deflect incoming frisbees from your opponent.
Food & Drink Ideas for a Backyard Graduation Party
Aside from decorations, food and drinks are what really bring people together at any fun and memorable party. There are many outdoor graduation party food ideas that can be served with matching graduation-themed serving plates and utensils. Click here to check out all the drink and food serving essentials you'll need for their party.
Other Outdoor Grad Party Considerations
In planning your upcoming outdoor graduation bash, you have tons of freedom to craft the kind of party you want to make a truly memorable experience for your guests. But, there are lots of other things to keep in mind to guarantee everything goes off without a hitch.
Planning an Outdoor Party Around the Weather
As you plan the most epic gathering to celebrate such an epic feat as graduation, there are a few other considerations to take. First, weather can play a key role in a party's success. While summer is more conducive to holding outdoor parties, you should have a plan B in case a summer shower comes your way. Check the weather forecast leading up to the party so you are extra prepared if plans need to shift. You can plan a "rain delay" or even have a back-up party tent ready in the wings. That way no one can rain on your grad's parade.
Staying Safe During 2023
Graduation 2023 is definitely unlike any other. The circumstances and concerns that have risen due to the pandemic make social distancing and gathering outdoors instead of inside a primary concern for many. Make sure you emphasize to guests that the party will be held outdoors and make them comfortable if they choose to wear masks. You can even provide graduation-themed masks. By making everyone feel safe and comfortable, the party can go on without a hitch.
Using the Guest List to Plan Finer Details
Another factor to keep in mind is who all is invited to the party. Since graduation celebrations tend to bring together family and friends of all ages, consider this when you're planning the food and drinks, along with the activities and music. Picking a middle ground on activities and music is usually the best route, and as long as the two are focused on what the graduate would want, then it's a fool-proof way to make most everyone happy.
These backyard graduation party ideas are just a start to what will be a wonderful celebration. Paying attention to the details and grabbing the best graduation-themed décor from us is the key to throwing a successful graduation bash. Your graduate has just achieved a huge milestone and deserves all the best as you cheers to the Class of 2023 this year.
Shop 2023 Graduation Balloons, Decorations & More. Shop Now!