Avengers assemble! Our party hacks will teach you how to throw an epic birthday party with the likes of Black Panther, Star-Lord, Iron Man and Captain America. Think big with a giant balloon tower using new geometric metallic balloons, or keep it simple with a DIY garland of balloons strung on curling ribbon. Get our best tips for party fun like a gigantic Iron Man balloon, action-oriented favors like silly string and bubbles, and crowd-pleasing food ideas from pizza to cookies. Shop Avengers party supplies!
Idea 1: Avenge the fallen with Endgame tableware
Your little Marvel fanatic will notice the small details of their Avengers party, so make sure your place settings keep up with the latest from the Marvel Cinematic Universe. Coordinate official Avengers: Endgame plates and cups on top of a Marvel-ous matching tablecover, then add utensils wrapped in napkins that match key characters from the film. Use purple and green for Hulk; black, gold and red for Iron Man; red, gold and blue for Captain Marvel; and red, white and blue for Captain America.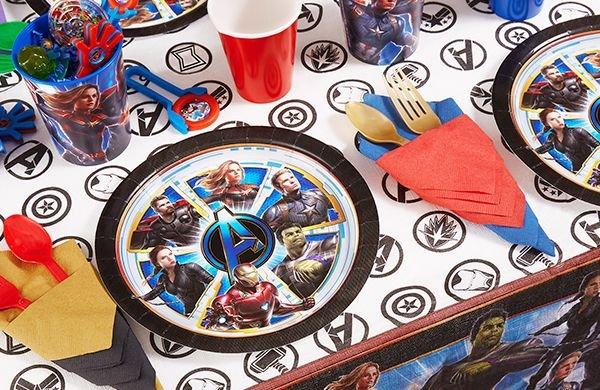 Idea 2: Think BIG with Avengers balloon ideas
If you're decorating a garage or other sizable space, you can use balloons to create large, eye-catching displays. Fill globe-shaped Orbz balloons with air (no helium needed!) and position in an arc over a scene setter using strong tape. This makes a sensational backdrop for photos, and you can even inflate an Iron-Man gliding balloon as the perfect photo prop!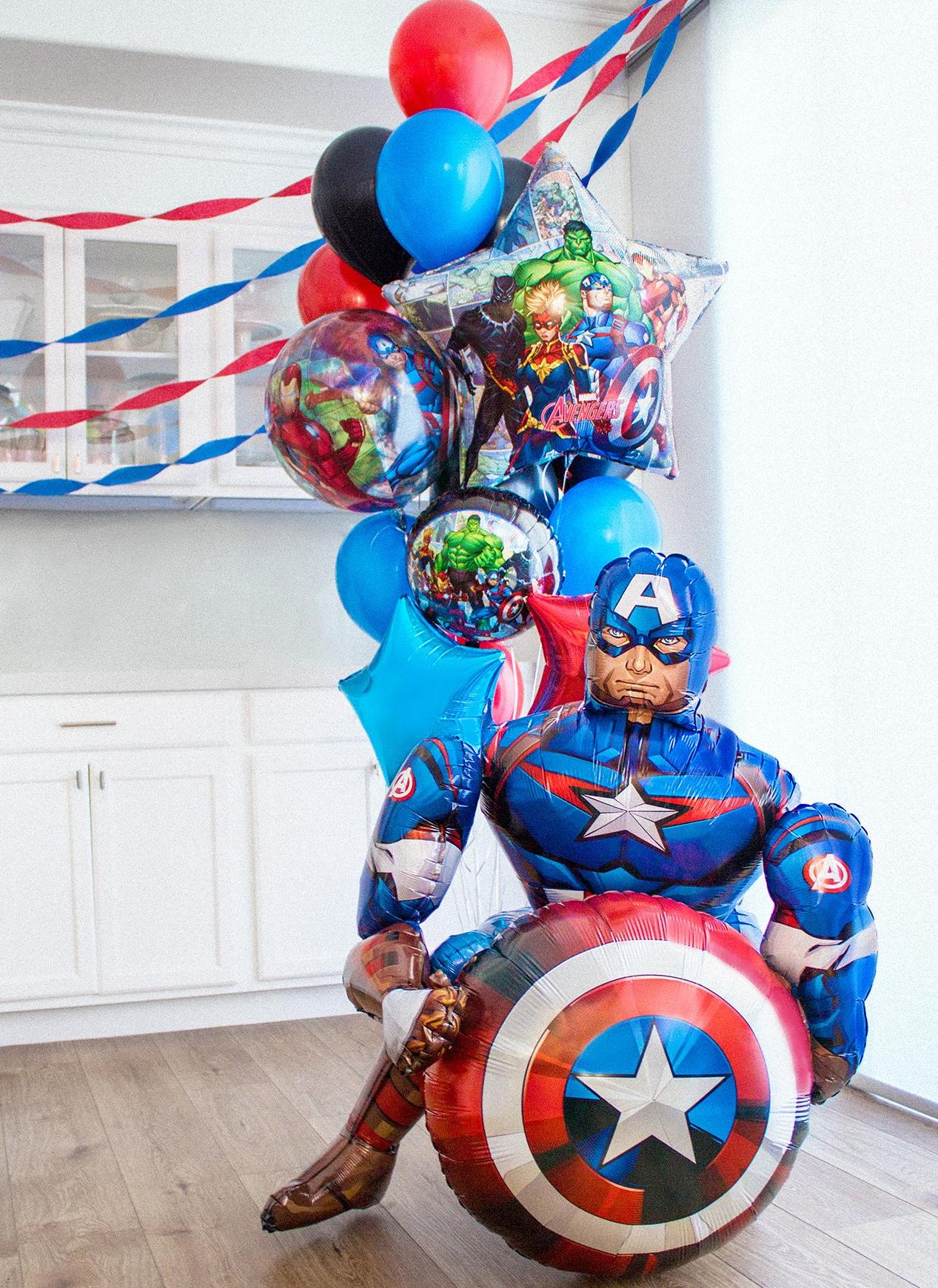 Idea 3: Suit up for birthday fun
Invite party guests to come dressed as a member of the super squad. They can suit up in Iron Man's classic yellow and red armor, fight for justice with Captain America's shield, or protect the streets as the amazing Spider-man. Since the Avengers love teaming up with friends, they can also form an alliance with new favorites like Guardians of the Galaxy's Star-Lord or Black Panther.
Idea 4: Creative ways to pack up favors
Tired of traditional treat bags and buckets? Choose trendy metal favor containers like mini lunch boxes or pails, then fill 'em up with candy or small toys. Since these containers have all of their favorite Avengers on the front, you can set them out on a special table with larger take-home items, like Avengers sunglasses.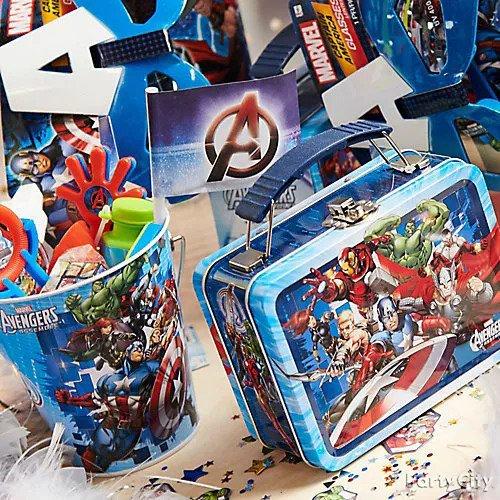 Idea 5: Unique favors the team will love!
Favor packs are a great place to start, but you can really up the party ante by including larger favors to play with. Aim to include at least one larger, stand-out favor: while they're a bit more expensive, the kids will play with these long after the party ends. Think fidget spinners, splat balls, art sets, putty…and you can expect some epic fight scenes with these awesome glow swords!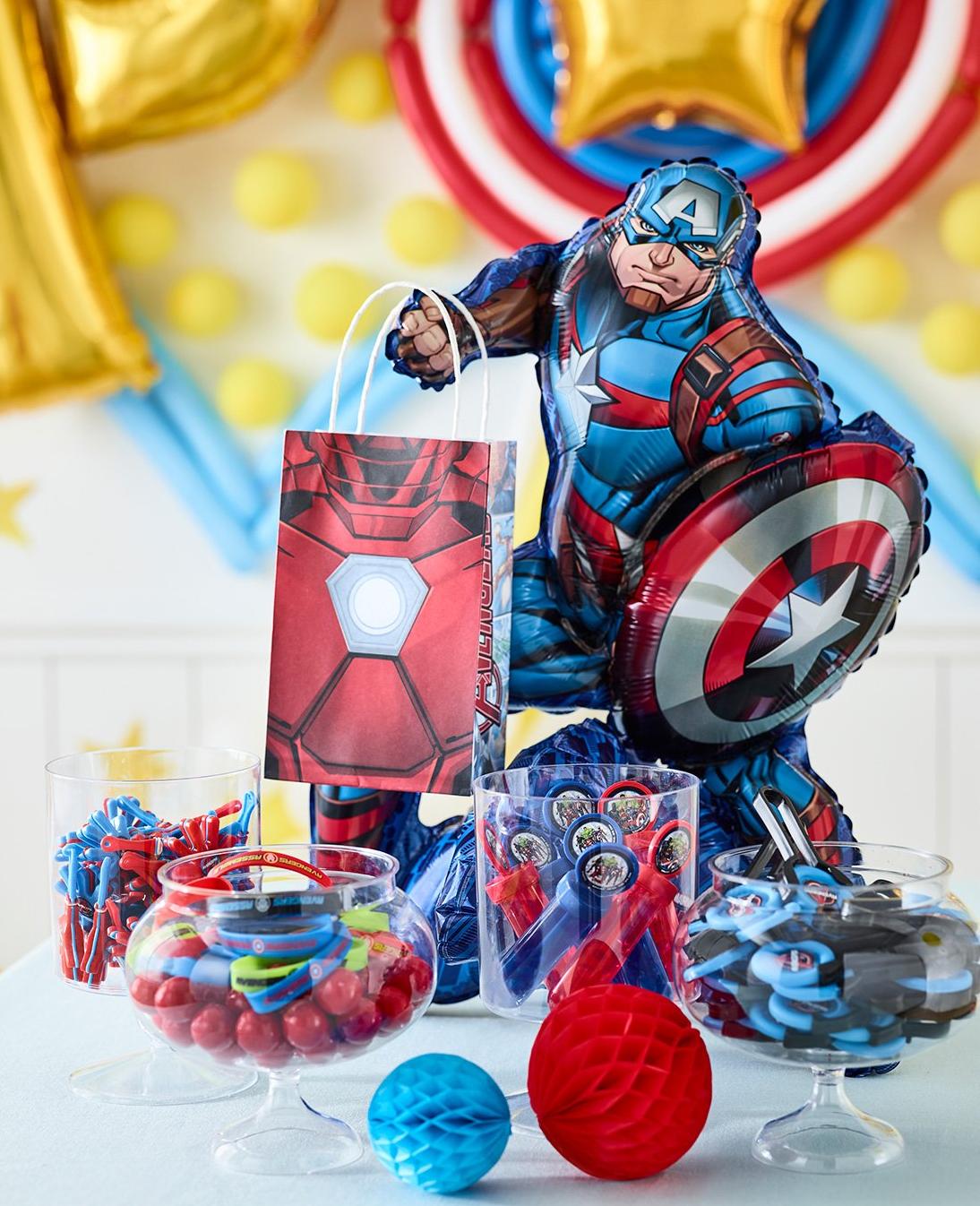 Idea 6: How to set up a candy buffet
A candy buffet should be a banquet of sweets, but also a feast for the eyes. Choose a variety of differently-shaped clear containers to let the bright colors of the candies shine. Since the Avengers party pattern has so many colors, go wild with your candy selections—just make sure to group similar colors together on your display. Place grab-and-go treats at the front, like twisty lollipops or rock candy displayed in mini flutes. Then add scoopable bulk candy further back, and don't forget scoops for each container! To keep things visually appealing, vary height levels with cake stands or wooden boxes.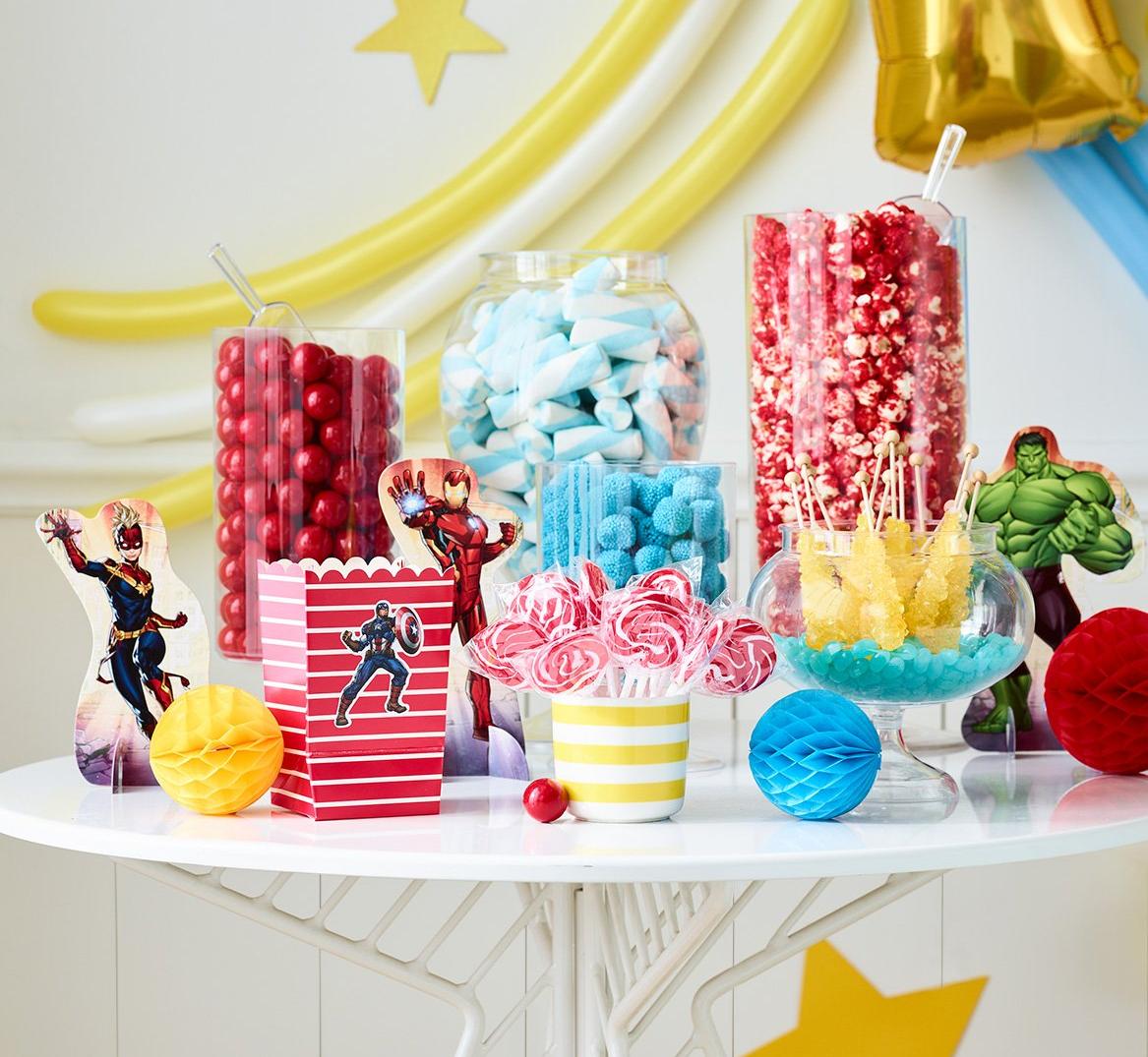 Idea 7: Activity ideas to keep them moving!
Keep the party action-packed with games and activities that remind the kids how to have fun without screens! Start with some time-honored birthday party favorites, like a pin-it game or piñata, and set up a photo booth station with tons of props and costumes for the kids to play and pose with. But don't stop there! Slime, bubbles and water balloons are all great options, but our favorite activity for an Avengers party is a full-on streamer string battle!
Idea 8: Hero-approved party food ideas
The team will need to fuel up after their mission, so serve kid-friendly party food favorites. Finger foods mean fewer utensils and opportunities for big spills, so pizza, pre-cut sandwiches, sliced fruit and popcorn are just a few hassle-free kids party food options.
Idea 9: Assemble a balloon column!
Creating a balloon column is not difficult, trust us on this one! All you need to do is stack the balloons and secure with tape. Plus they are air-filled; no helium is needed. Columns are very convenient because you can order balloons ahead and create your balloon column the night before the party or day of. We recommend using an electric pump; they are worth the investment and come in handy for future projects.

Instructions: Build the base first layer by adhering the corners of four Diamondz balloons together with loops of packing tape. Place an orb-shaped balloon in the center and reinforce with tape. Build 3 more layers. We used 8 silver Diamondz, 8 red Diamondz, and 4 blue Orbz balloons.
Idea 10: Create a balloon garland in your party colors
Whip up an awesome balloon garland – no helium necessary! Use a balloon pump to inflate red and white 9" balloons. Tie or use a sewing needle to string them up on a piece of ribbon. Hook an Avengers swirl cutout between each balloon for a super-powered punch, and this easy garland is ready to save the day.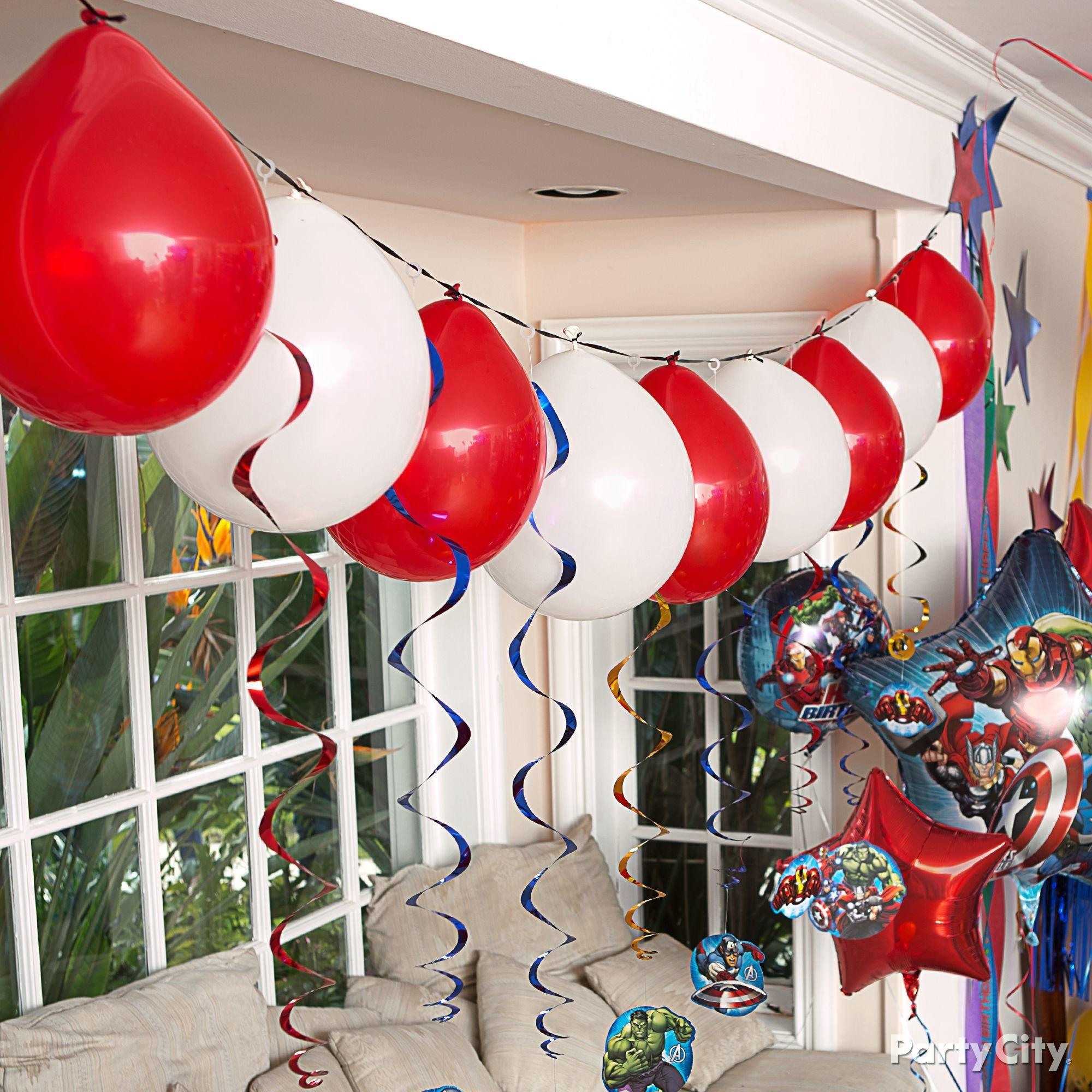 Idea 11: Create a sweet cookie "shield"
Feeling star-struck by this intimidating treat idea? It's way easier than you think. Use star cookie cutters to bake sugar cookies in various sizes and frost them in red, white and blue. Arrange your cookies on a round platter to make Captain America's shield. Cap would be proud!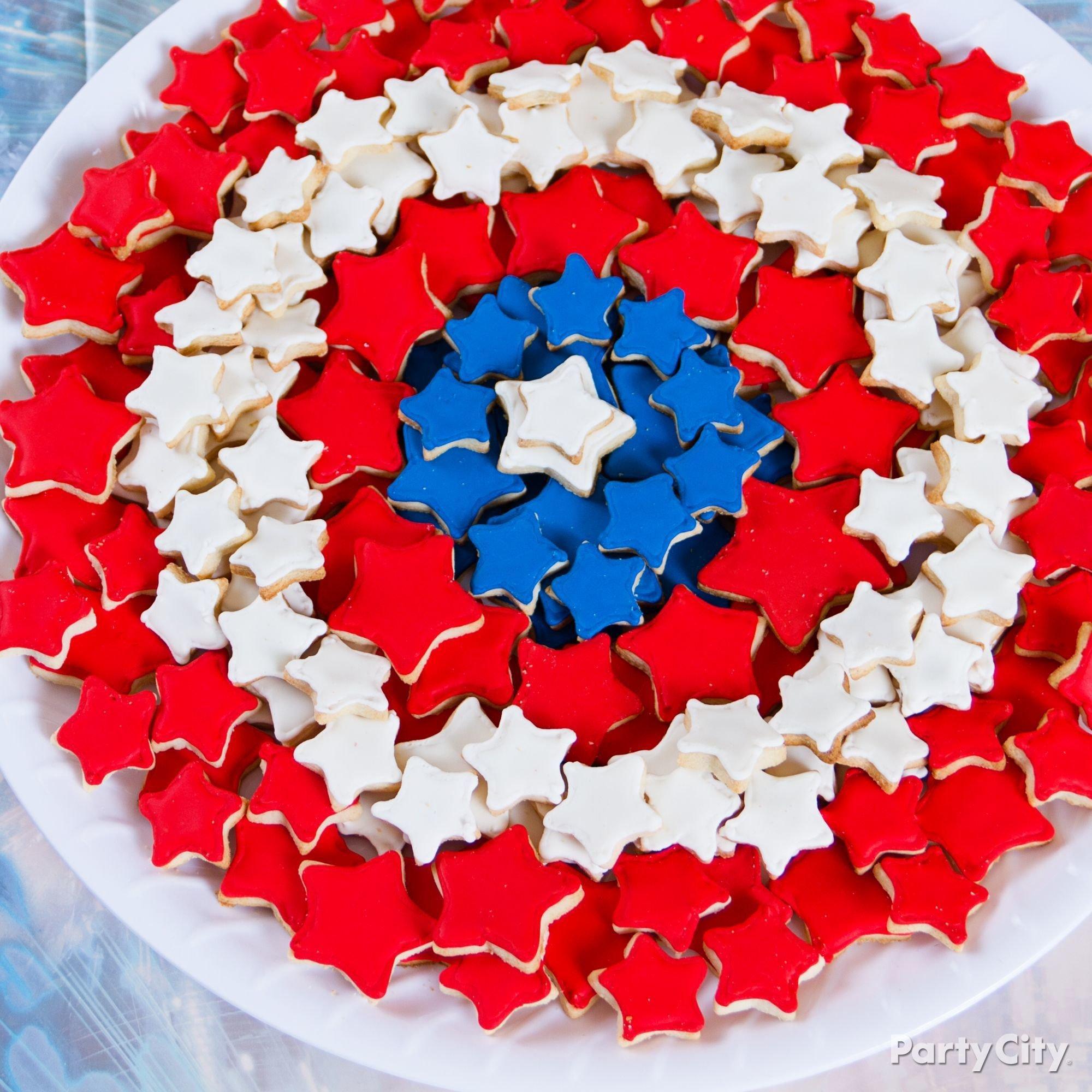 Idea 12: Invite a life-size Avenger to your party
Capture the excitement of your party on camera with photos of the birthday boy and his friends with Iron Man. Have guests pose individually with a giant gliding Iron Man balloon, or do fun group photos that will make the memories last 'til the next time the heroes meet up!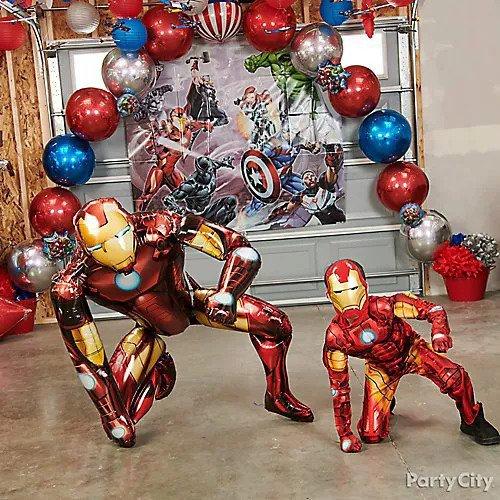 Idea 13: Turn any outfit into a superhero costume!
Just a few accessories can transform the birthday boy into his favorite Avenger. He'll feel ready to take on the world in a Captain America mask, shield and ribbon!
Idea 14: Make chairs more heroic with Avengers masks
The party heroes will love taking a seat in a chair decorated with their favorite Avenger. Make them faster than you can say "Avengers Assemble" by wrapping chairs in red or blue foil garland and hanging an Avengers mask on the back – easy!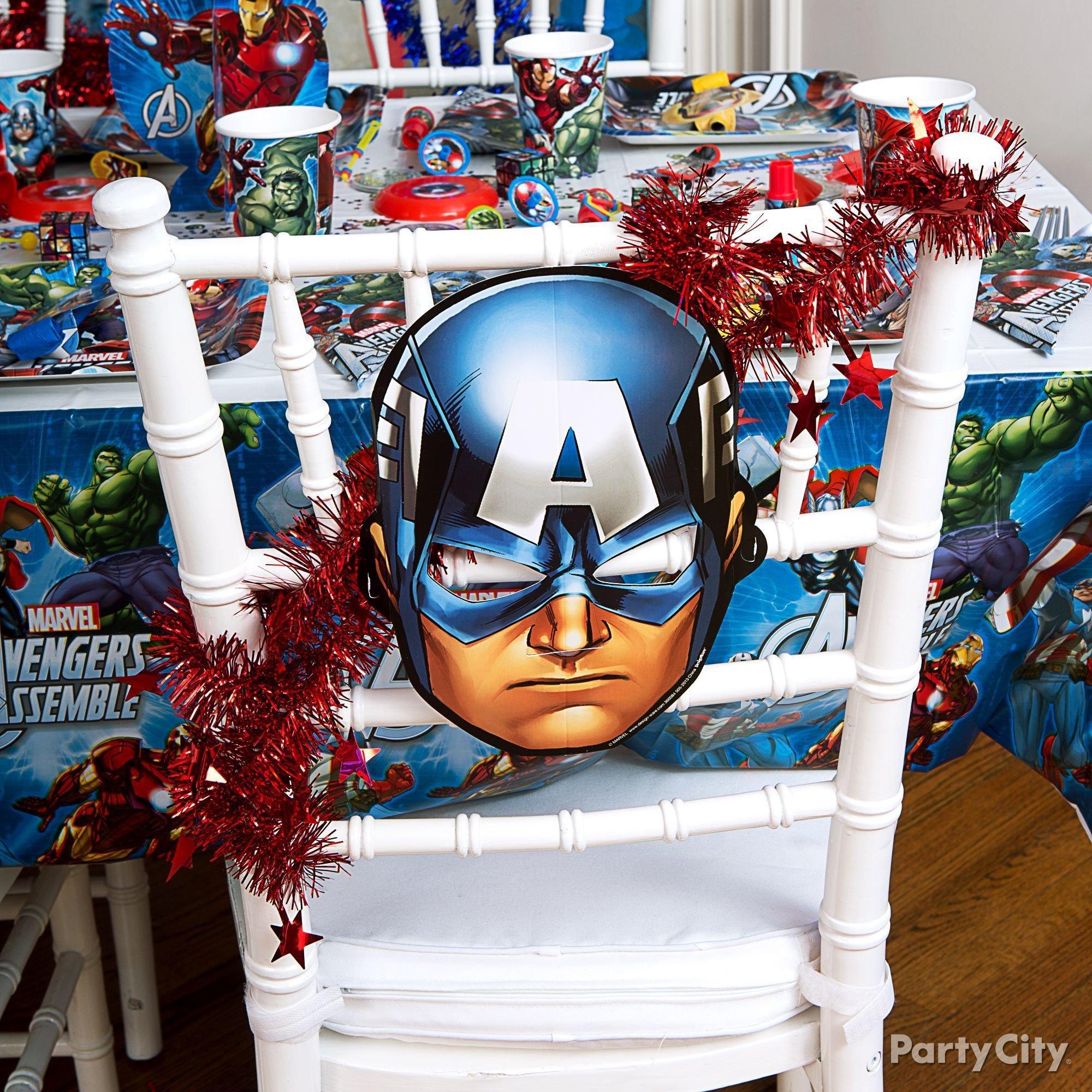 Idea 15: Get everyone in on the action with heroic accessories
Unite the whole team by giving everyone a fun superhero wearable when they first arrive. Avengers masks and wristbands make sure no guest is left behind! Snap a pic of the boys in their hero gear in front of an epic battle scene with Avengers decorations like a scene setter, balloons and swirl decorations!
Idea 16: Everyone's an Avenger with a bucket full of goodies!
Let your guests continue the adventure even after the party is over with an Avengers favor container! Just fill the bucket with special Avengers treats and your Iron Men and Incredible Hulks are sure to go home happy.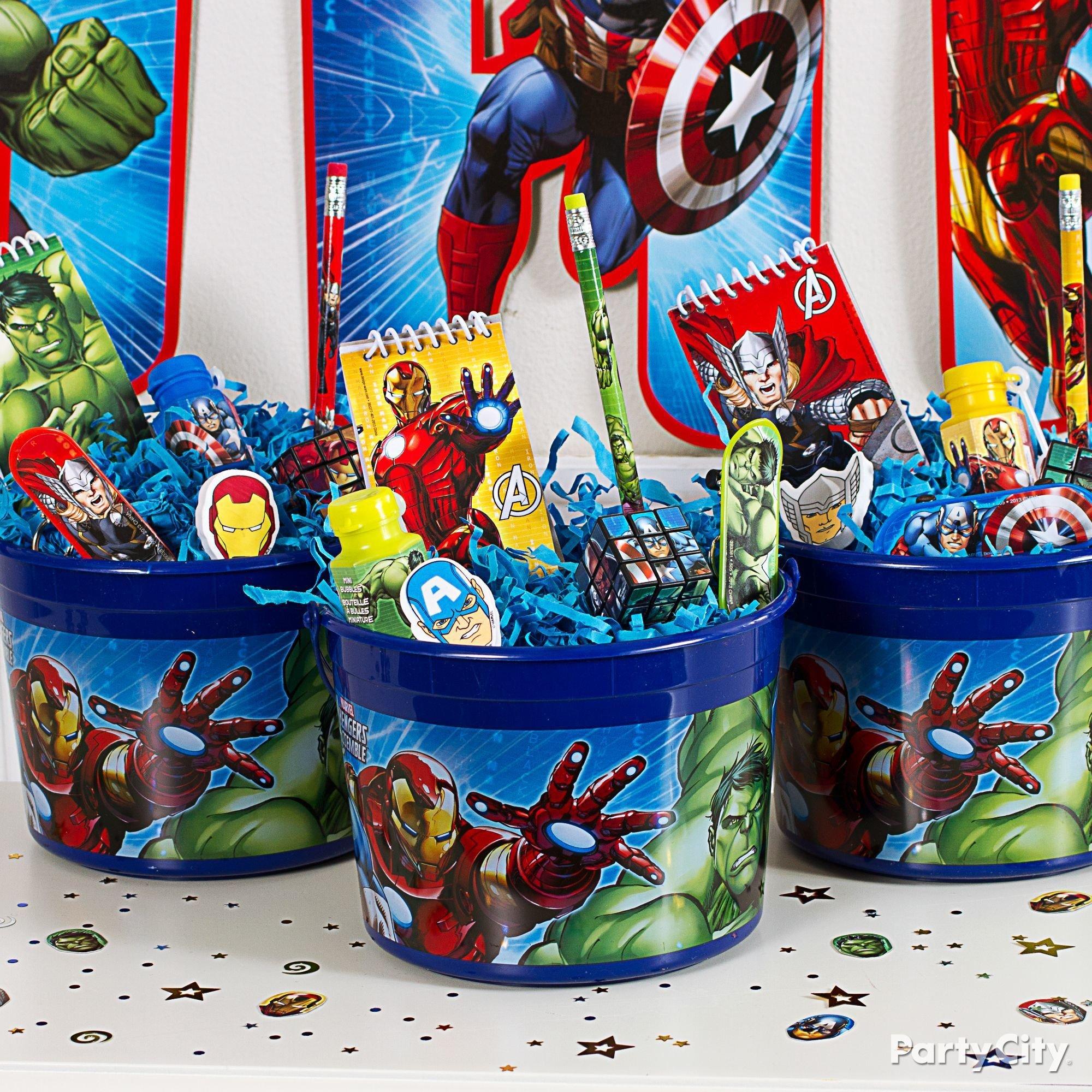 Idea 17: Make Avengers favors in no time with a value pack
Save the day – and some time – with an Avengers favor value pack! After a quick assembly you'll have enough goodies for eight guests to take home. Pow!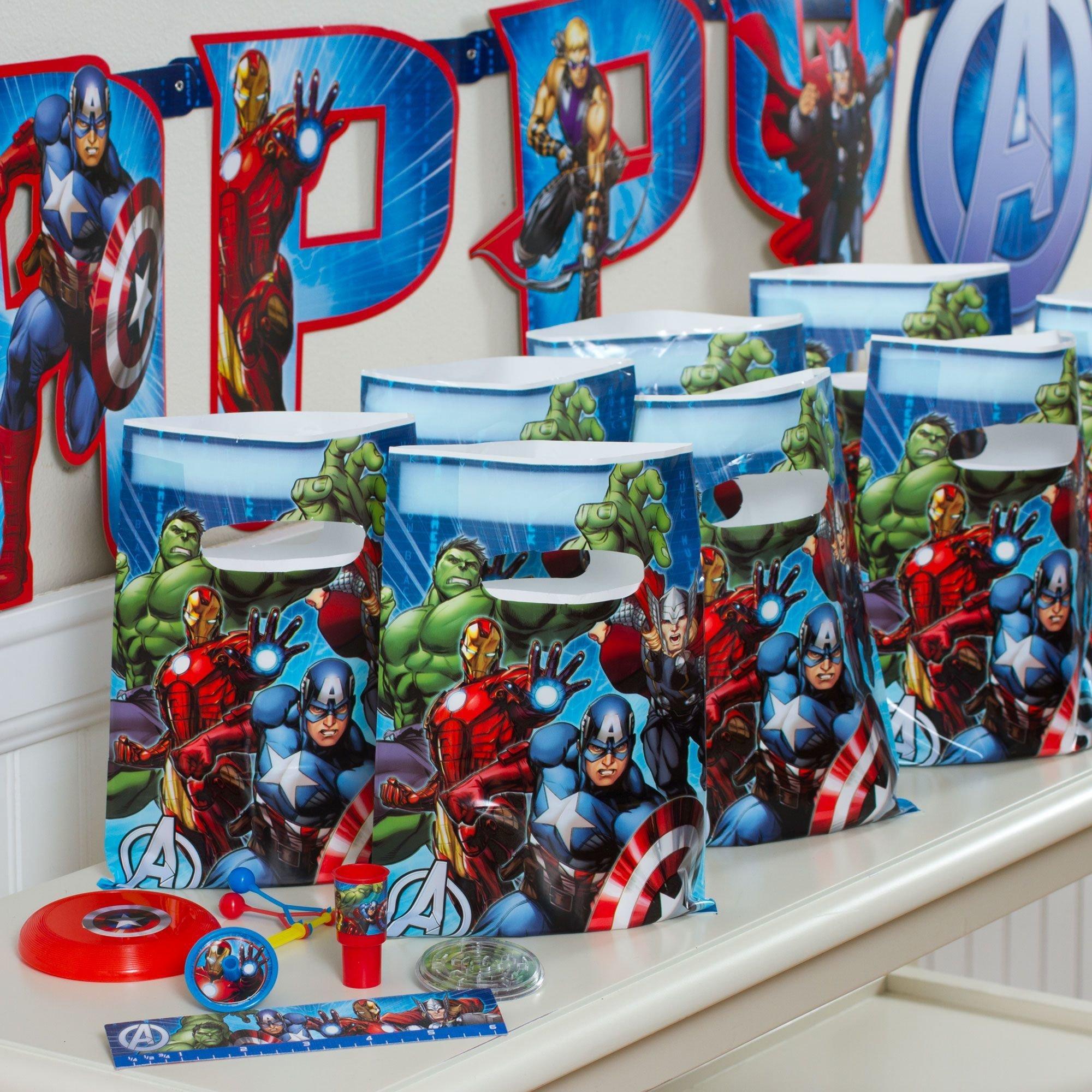 Idea 18: Fill up a cup with Avengers favors!
Reward your heroes with an Avengers favor cup filled with themed goodies. Fill your cups with paper shred and tuck in favors, then slip the cup inside a clear bag and tie shut with curling ribbon. Arrange them on a cool favor bar with sunglasses and skateboard key chains the heroes can play with right away!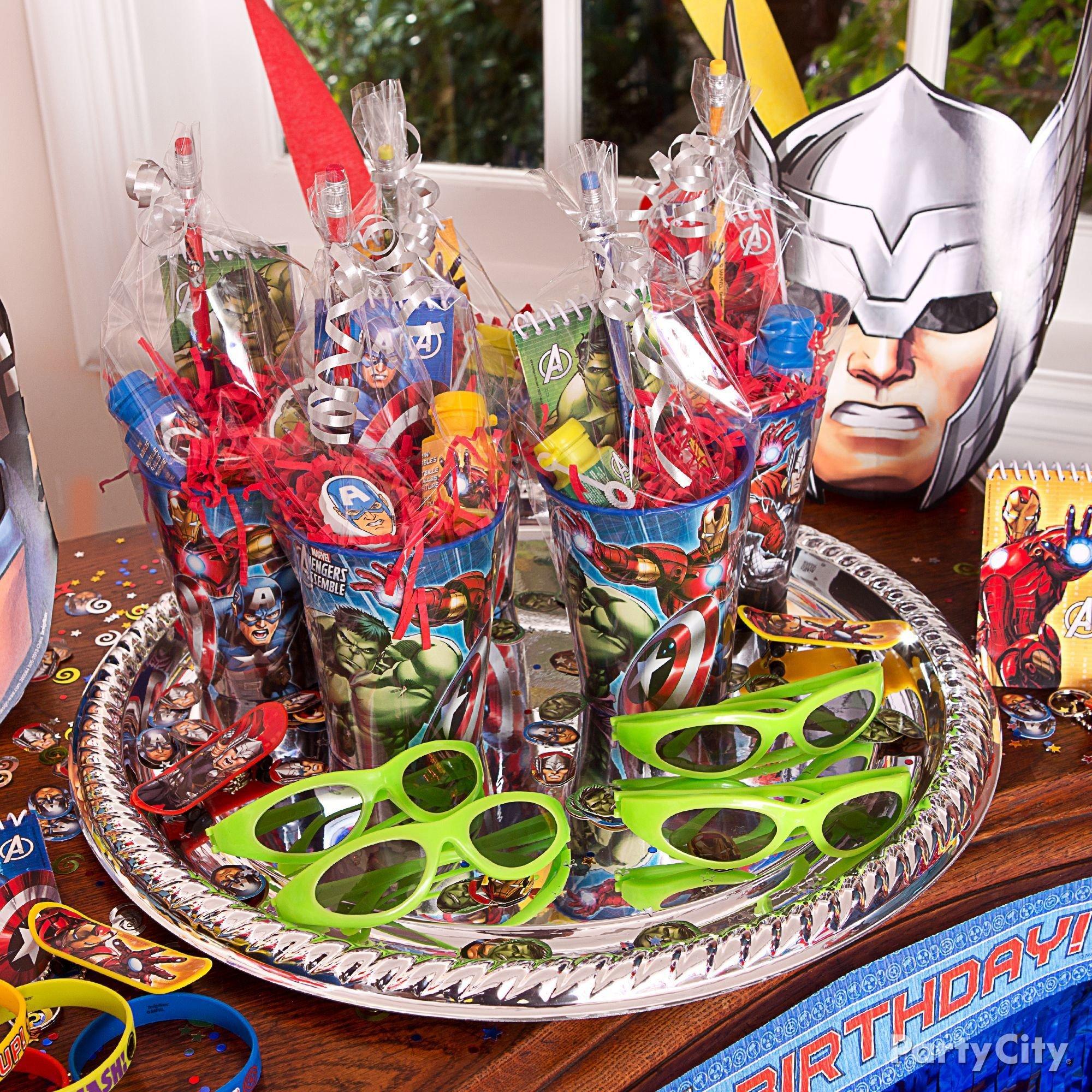 Idea 19: Hand-deliver invites with an Avengers favor attached!
Rally the troops in person by hand-delivering your invites and adding a tie-on favor that your guests can wear to the party! Just punch a hole in the corner of the envelope, then attach an Avengers key chain with curling ribbon.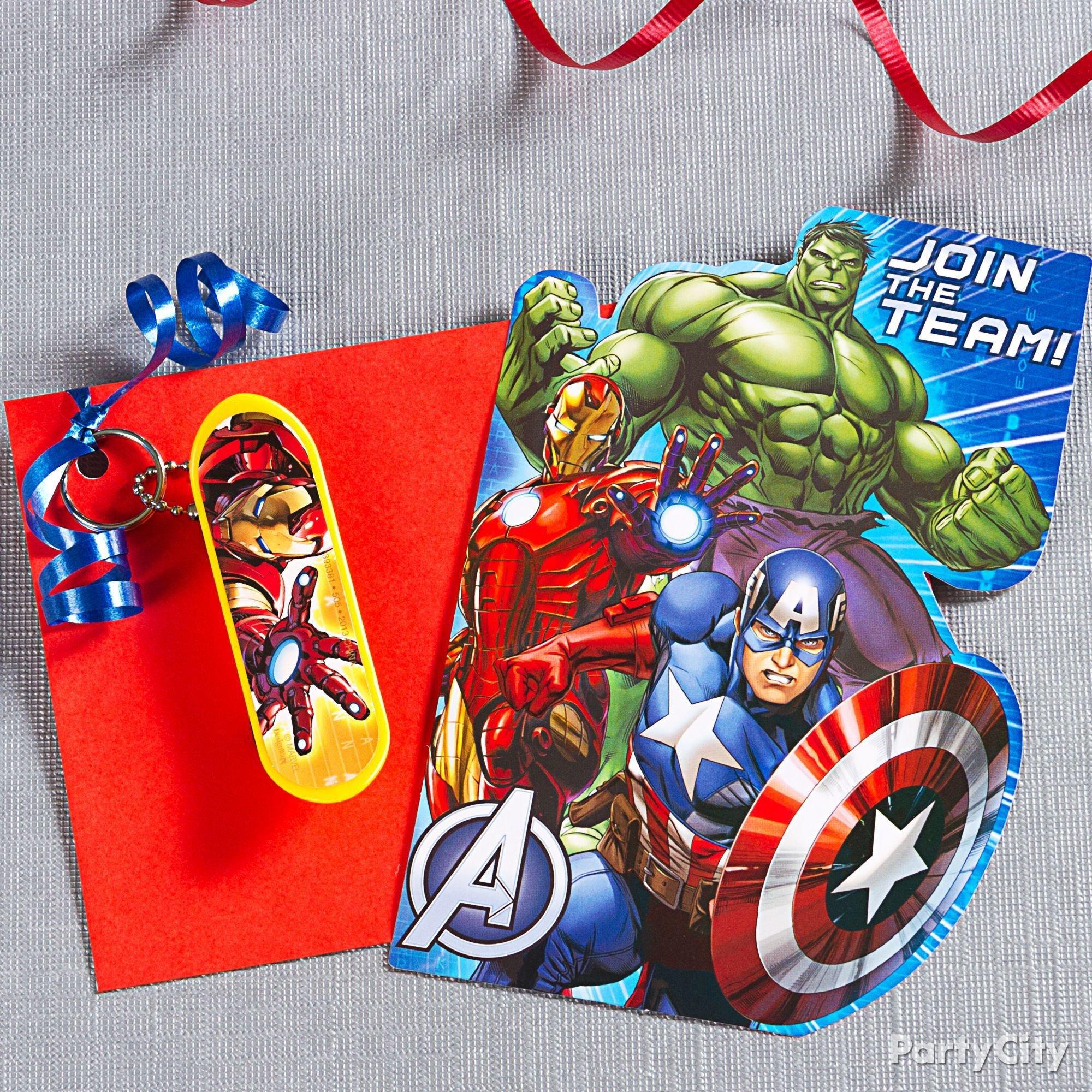 Idea 20: Add a secret party pass to your invites
Add some Avengers confetti and tattoos to the inside of the envelopes to get the kids pumped for the party! Tell your guests the tattoos are secret passes they need to wear to the birthday bash.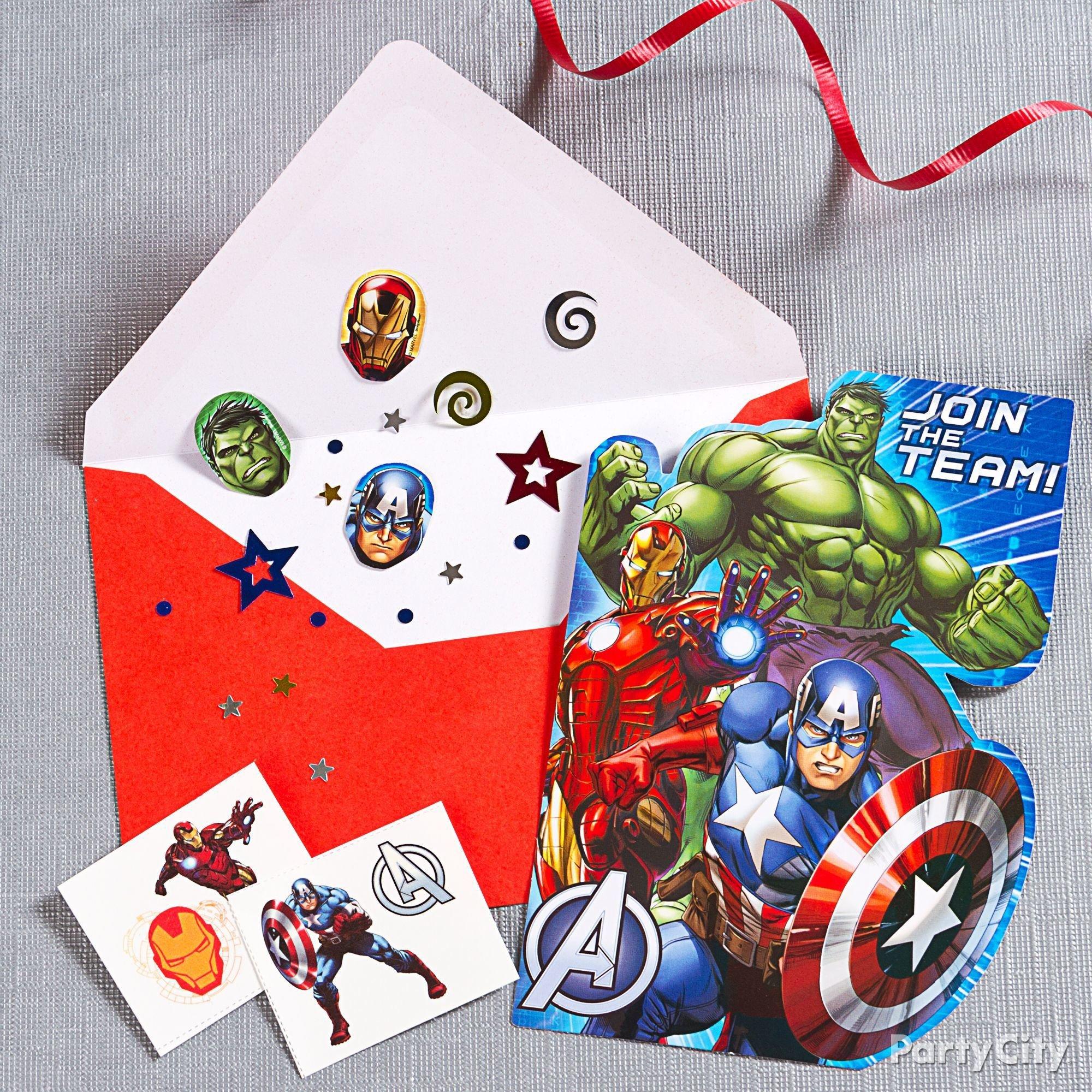 Idea 21: Surprise your superheroes with fun decorations!
Deck out your home with Avengers decorations to take the party to a new level of awesome! Make your superhero team feel right at home with an explosion of balloons, streamers, and larger-than-life character balloons.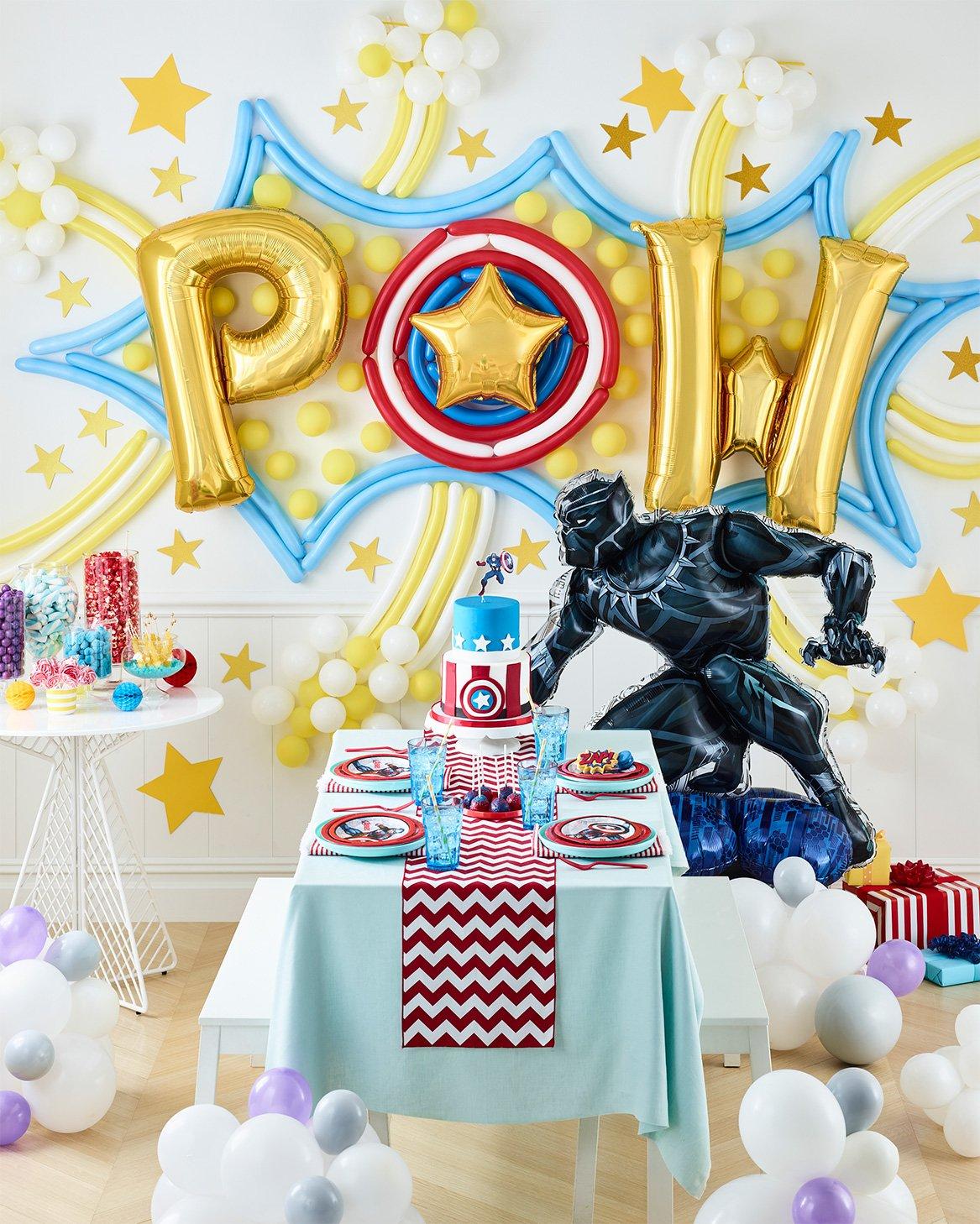 Idea 22: Let the heroes practice their moves on an Avengers pinata!
It's a battle of good vs. pinata! Let kids practice their attack moves on an Avengers pinata that will explode with the sweet treats and toys you tuck inside. Smaller kids can take turns pulling the strings to see which one releases the treats.
Idea 23: Send a photo of the heroes with your thank you notes
Say thanks for the heroic help with Avengers thank you notes. In each card, include a photo of the birthday boy and his heroic friends together! Guests will love having a memento from the party to remind them of the fun time they had.