Spoil your sweeties with a Valentine's Day class party! Get ideas for decorating, super-fun activities, teacher gift ideas, and yummy treats. Easy-peasy ways to get their hearts racing. Set little hearts aflutter with ideas for making your child's Valentine's Day class party a blast! Put together a classroom Valentine's party that everyone will love.
Idea 1: V-day cards with a
li'l
gift that's better than candy!
Give a candy-less Valentine card that's still super sweet! These exchange cards come with little presents like mini pens, straws and erasers. Got kids as crafty as you? Let them make their own DIY Valentine's Day exchange cards with candy-heart cutouts and glittery pencils.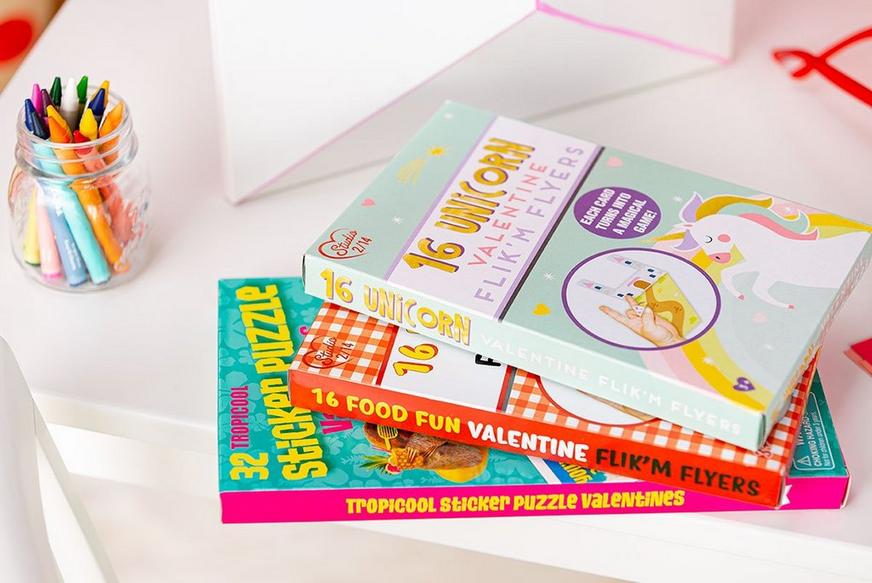 Idea 2: Make a heartfelt board for love notes!
Teachers will love this cute Valentine's Day message board! It's easy to make with a chalkboard ,crepe streamers, ribbon and place cards. Cut out a heart shape from poster board, then criss-cross red and pink streamers across it until every inch is covered. Give the kids place cards to decorate with a cute message and stickers, then hang on curling ribbon across the front of the decoration. The sweet notes are sure to melt any teacher's heart!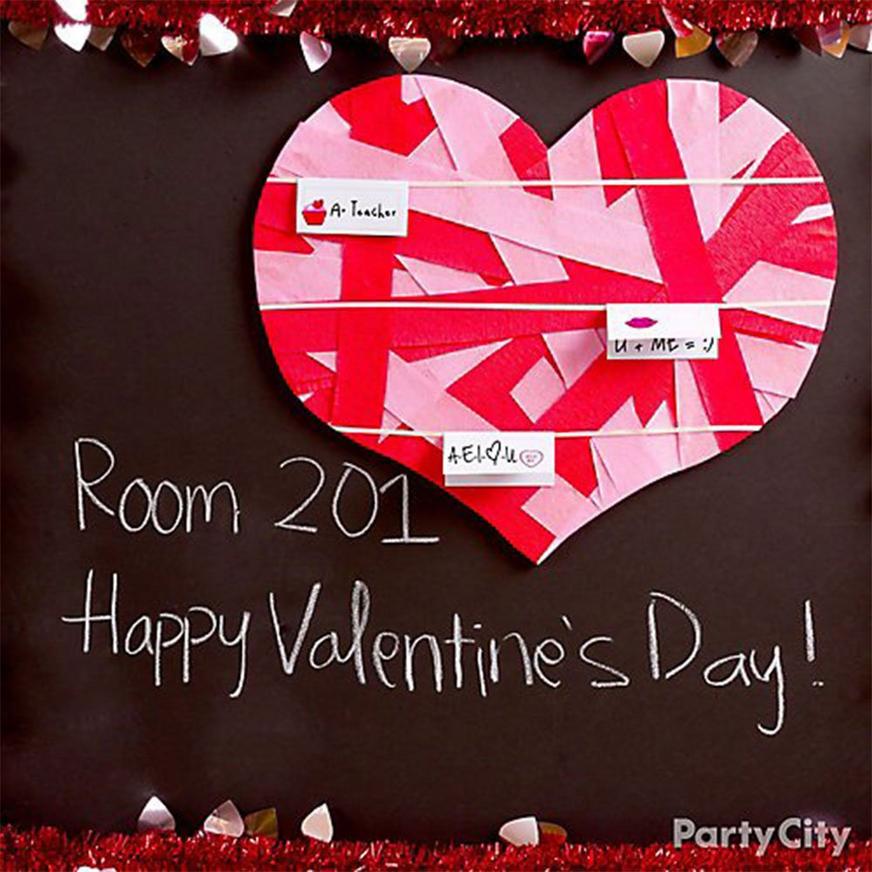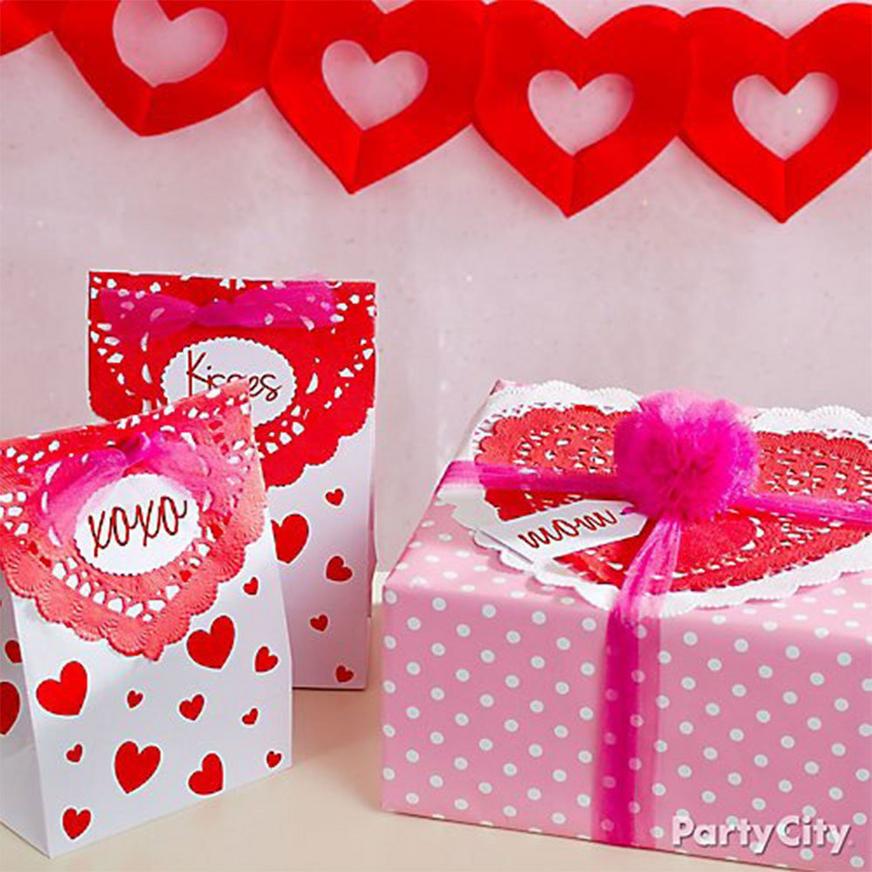 Idea 4: A DIY wreath Cupid would love!
Make a sparkly heart wreath to decorate your door! Just grab a foam wreath, a package of white beverage napkins, a tinsel heart decoration, heart-shaped doilies and some ribbon. Dangle the tinsel heart from the top of the wreath with a piece of ribbon and a dangling doily heart in front for your "Welc♥me" message. For the white "rose" trim, poke holes into the foam wreath with a pencil and stuff in rolled white napkins until you make a full bouquet.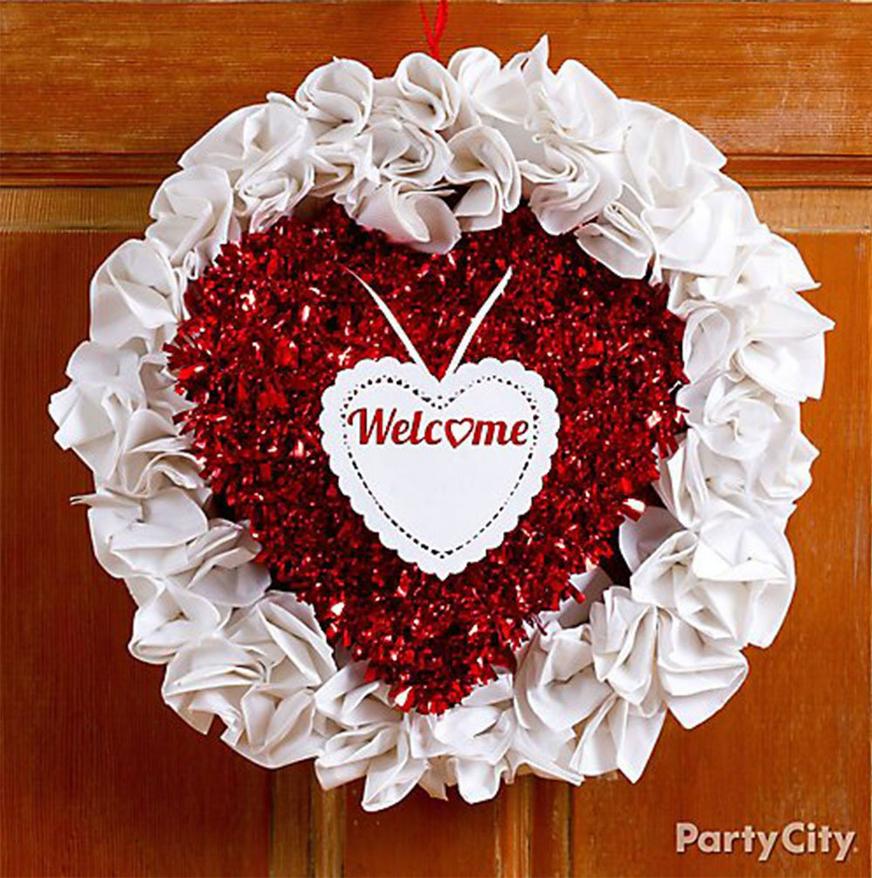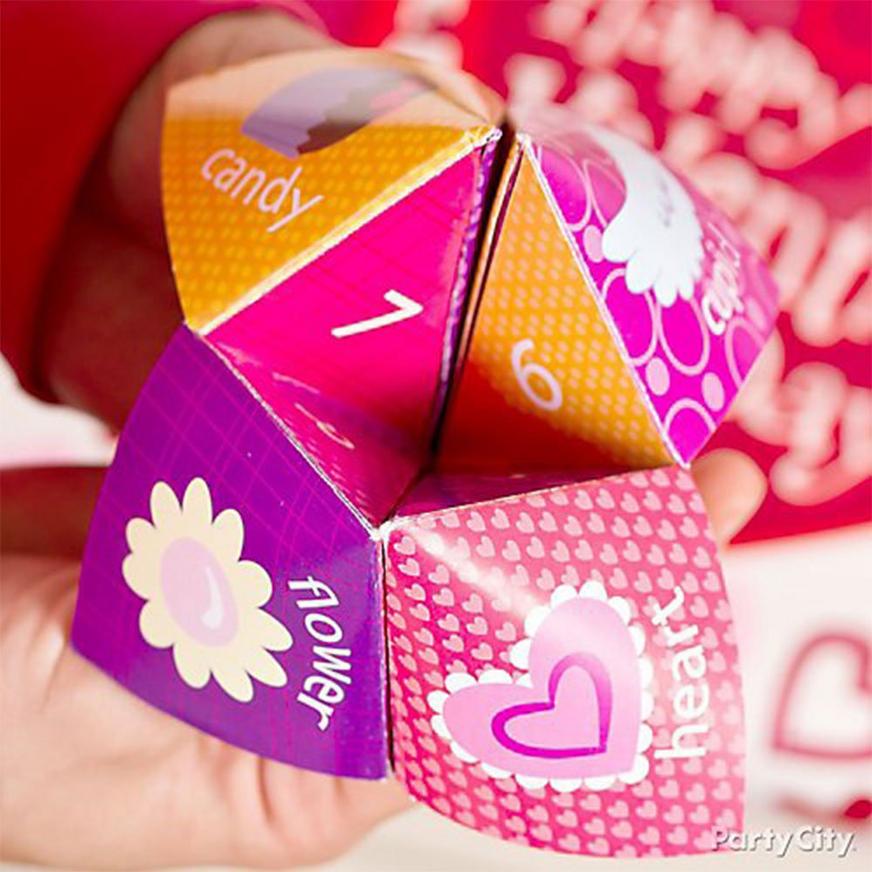 Idea 6: Filled with love
The candy in these pretty organza bags is even more tempting because the goodies inside show through! Fill them up with sweet mixes of red gumballs, wrapped hard candies and chocolates. The kids who receive these for Valentine's Day will feel extra-special. Yum!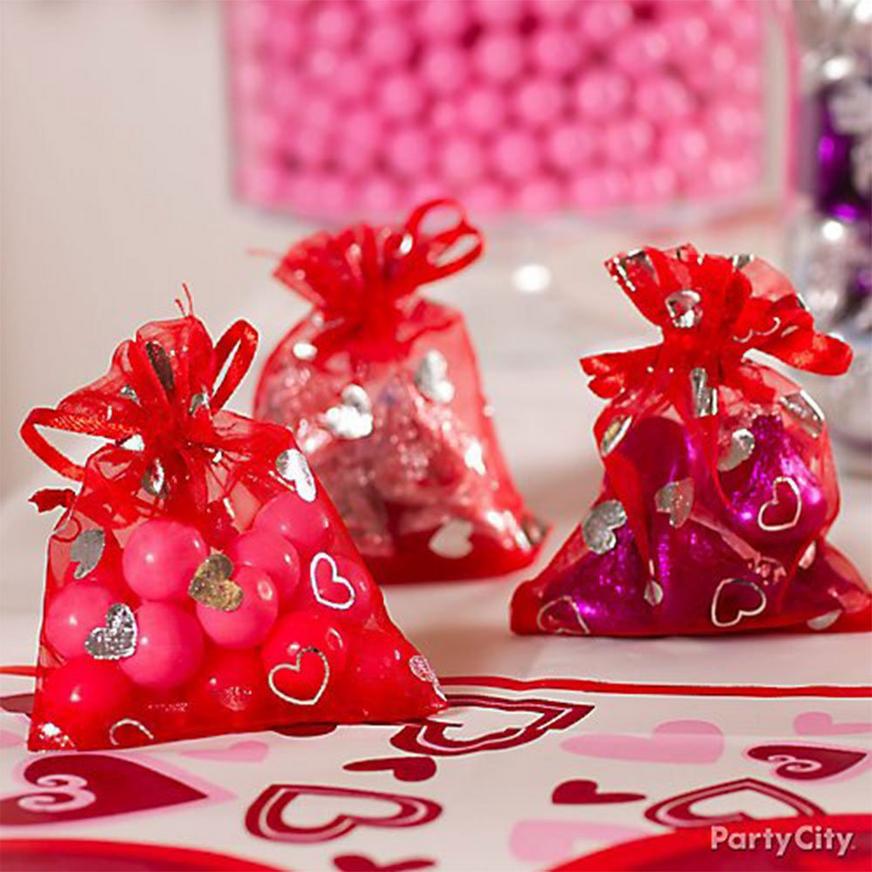 Idea 7: Here's a fun twist on the idea of Air Mail!
Teachers or parent helpers can make all the kids feel special with a balloon valentine attached to their seat. Just tie helium-inflated conversation-heart balloons to each child's chair or use a balloon weight.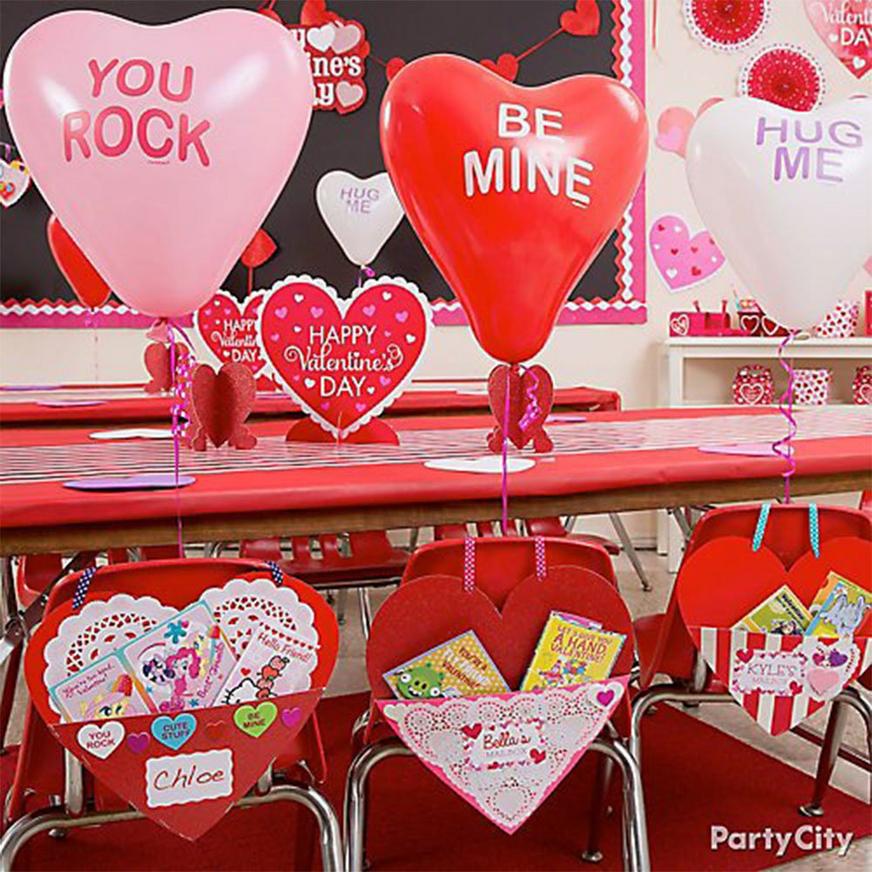 Idea 8: Lovely-looking little cherubs
No wings? Get a Cupid-cute look with red and pink accessories! When you set out buckets of necklaces and bracelets, heart-shaped sunglasses, body stickers, and headwear and hair accessories, the kiddos can dress themselves up for Valentine's Day. Be sure to have your camera ready — parents will love candid shots of their little cherubs!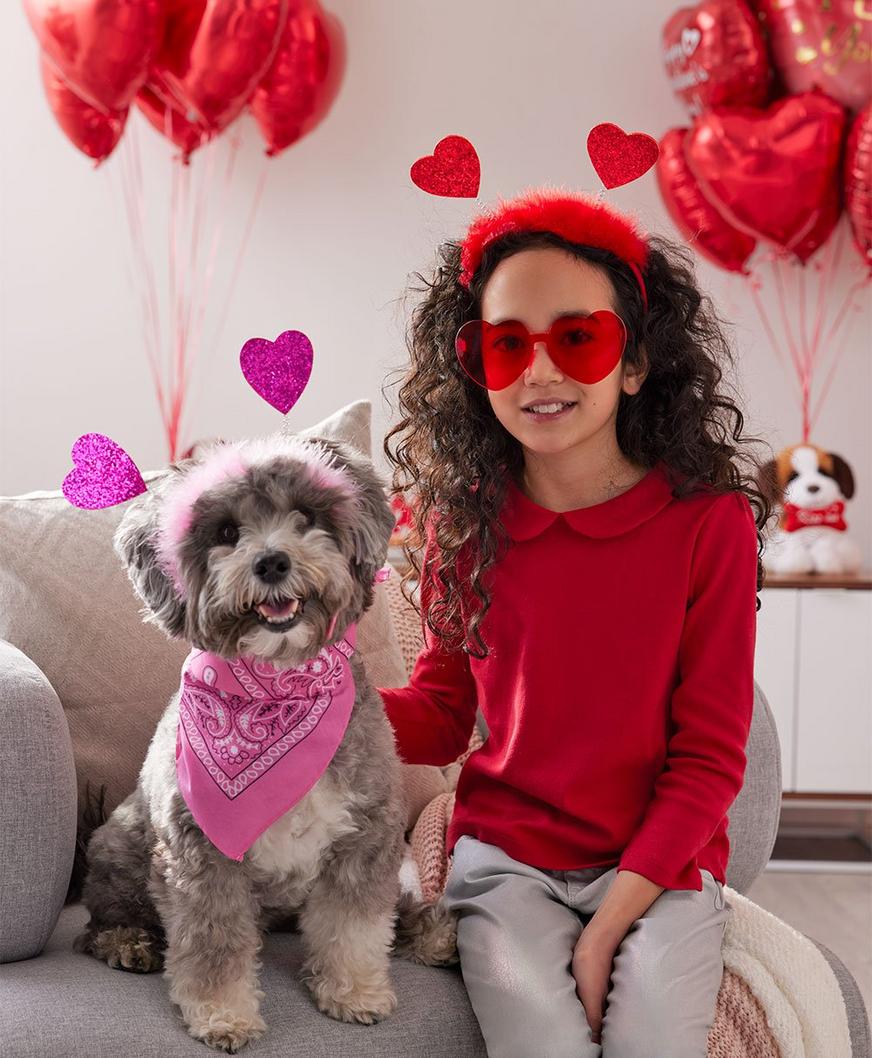 Idea 9: Put your heart into a DIY card mailbox!
They'll ♥ catching love notes in mailboxes they made themselves! It's easy as 1-2-3 with a couple of large glittery hearts, a paper doily, and some stickers. Paste a heart-shaped doily to the inside of one of the hearts, then cut the other glitter heart in half and staple to the bottom of the full heart to make a pouch. Give the kids some stickers to decorate their mailboxes, and then tie the boxes onto chairs with a name sticker.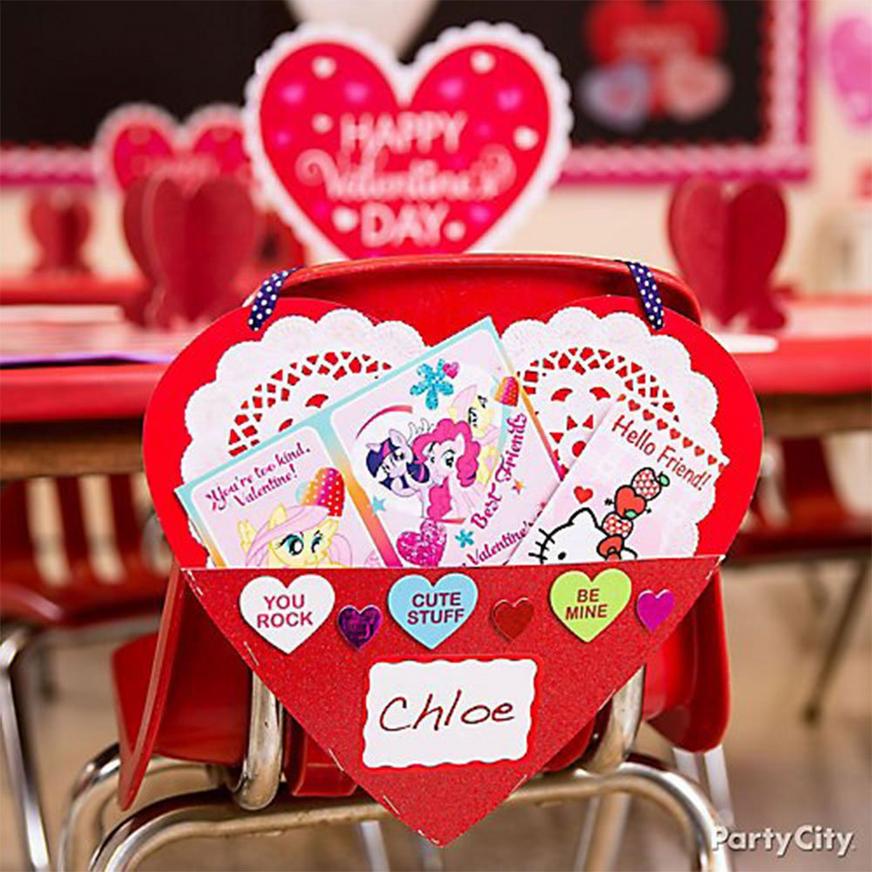 Idea 10: Say cheese! It's a Valentine-
tastic
photo booth
Let your little cupcakes burn off some sugar by posing sweetly in front of a wall of heart balloons – then share the pics with the class parents or make a class poster. You'll need about a dozen balloons to create a nice background. The kids' silly poses will melt hearts, especially when you give everyone themed props to wear, like lovey-dovey sunglasses and too-cute necklaces!