Foil Hacks for Busy Thanksgiving Hosts
Don't make hosting Thanksgiving harder than it has to be. Use these foil hacks to lighten your load so you have more time to enjoy yourself with family and friends.
Bake, Serve, & Store With Foil Trays
A foil tray helps you in every stage of the dinner hosting process. Use a foil tray to bake your food, then take it from the oven and serve. Place it on a rack above chafing fuel to keep it warm. When the dinner's done, cover the pan with tin foil or plastic wrap and store in the fridge for leftovers.
Freeze Your Foil Tray for Cold Dishes
Keep cold dishes cold by serving on frozen foil trays. Simply fill a foil tray half-full with water and freeze it. When you're ready to serve your cold dish, place it in its own tray, then stack it on top of your frozen tray. If prepping last minute, you can also simply pour ice into a tray, then place the tray with your cold dish on top. This frozen foil tray hack will keep your dish cold all dinner long.
Takeout Containers for Leftovers
Don't let a morsel of mashed potatoes go to waste. Use convenient foil or kraft paper takeout containers to give to your guests to take home and pack lunches for the following days.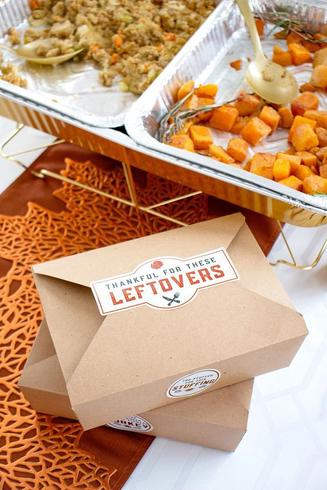 Make These Foil Hacks Happen With Party City
Shop Party City to make all these foil hacks happen. Get foil pans that can be used to bake, as chafing dishes, and to store food in the fridge. Find takeout containers with festive Thanksgiving designs. After the grocery store, Party City has all your Thanksgiving hosting needs covered.