Tips for Setting the Perfect Thanksgiving Table
Hosting Thanksgiving this year? Well, let us give you one less thing to worry about. Setting the perfect Thanksgiving table may sound like a lot of fuss and muss, but it's really quite simple. By keeping just a few guiding principles in mind, and a with little attention to detail, you can create a gorgeous tablescape your guests won't soon forget.
Thanksgiving, more so than most holidays, should have a beautifully laid table. The dinner table is the focal point of the celebration, where everyone gathers together, so it's the one area that really needs dressing up. The goal is to create a tablescape that's equal parts attractive, festive, and inviting. It's all about selecting décor and tableware that sticks to classic Thanksgiving themes, then arranging them for an intimate dinner among family and friends.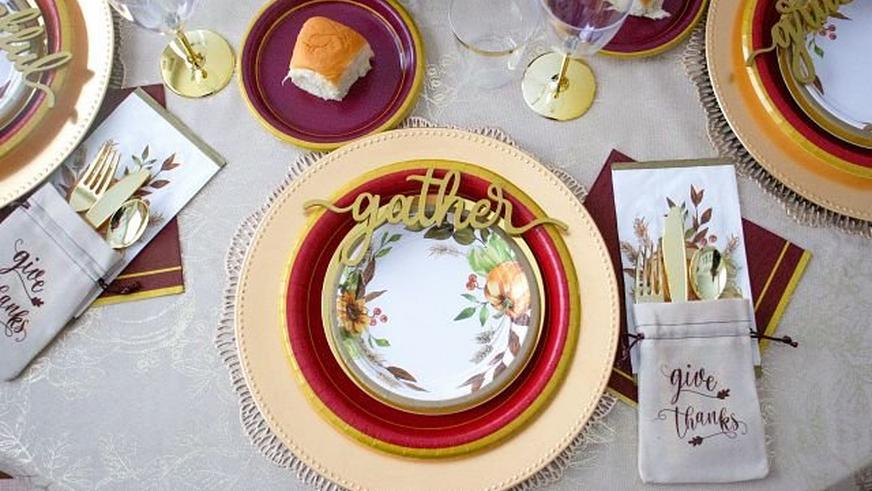 Thanksgiving Themes to Inspire Your Table Settings
If there's one key to setting the perfect Thanksgiving table, it's this: make it all about Thanksgiving! Choose tableware and décor that evoke the themes of the holiday. Below are the major Thanksgiving themes and tips on how to incorporate them in your tablescape.
Fall
When it comes to décor, the most important Thanksgiving theme is fall. At the very least, your tablescape should be rich in fall colors, and don't hesitate to incorporate fall patterns in your tableware. You might also want to add faux fall foliage and other symbols of fall, like miniature pumpkins and flint corn.
Harvesttime
At its core, Thanksgiving is a celebration of the harvest. Nature's bounty is the main thing the original celebrants were giving thanks for. That's why the cornucopia, or horn of plenty, has become one of the central symbols of the holiday. A horn, woven of branches and overflowing with fruits, vegetables, nuts, and grains, is the very idea of an abundant harvest. Set your Thanksgiving table in a way that reflects a bountiful harvest. An ornately layered centerpiece with symbols of the harvest is one of the best ways to achieve this.
Turkeys
What is Thanksgiving without a Turkey or two? Incorporating turkeys is a simple way to make your table décor festive for Thanksgiving. You could use a honeycomb paper turkey, turkey tealight candle holders, or a wood turkey sculpture as part of the centerpiece; you could have a turkey napkin holder or a pilgrim turkey balloon overlooking the table.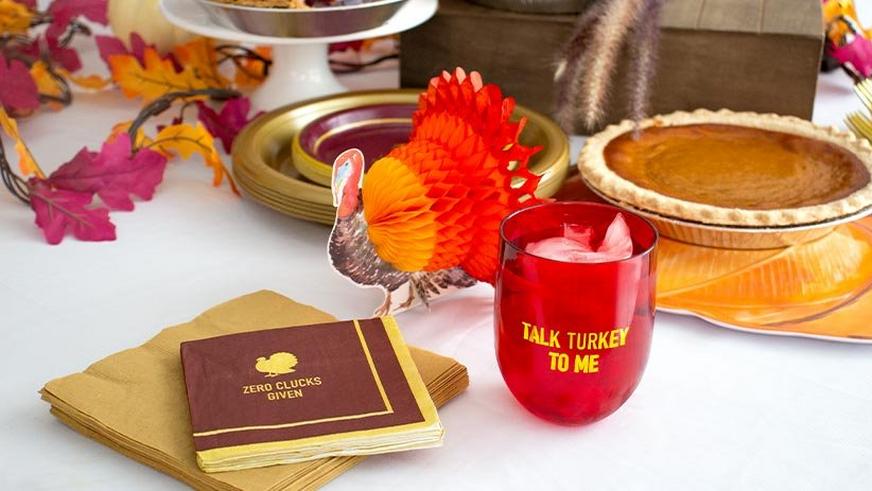 Autumn Glow
It's not just beautifully colored leaves and pumpkins that make fall so lovely a season — it's that particular autumn glow. Whether it's the glow of twilight, golden fields of wheat, or sunshine filtered through orange, red, and yellow leaves, fall is awash in a magical glow. Evoking the golden glow of autumn makes for one enchanting tablescape. Gold-colored candles, pumpkin lanterns, and gold-colored tableware are just a few ways you can evoke that magical autumn glow.
Bring these Thanksgiving Themes to Life
Here are specific ideas for how you can incorporate these Thanksgiving themes and how to put the perfect finishing touches on your Thanksgiving table.
Create a Fall-Themed DIY Centerpiece
The perfect Thanksgiving table needs an eye-catching centerpiece. Here are a couple ideas for centerpieces that incorporate Thanksgiving themes.
Pumpkin Lantern Centerpiece
Beside Turkeys, this pumpkin lantern centerpiece incorporates all our Thanksgiving themes. The centerpiece is full of fall color and uses (artificial) fall leaves, its rich layering and the use of miniature pumpkins captures the theme of abundant harvest, and the lantern and autumn leaf string lights create a warm autumn glow.
Pumpkin Bowl
Fill a dark wooden bowl with miniature pumpkins and add fall leaves as accent. Set a gold taper candle on either side. Go above and beyond by adding a base layer below the bowl, like a fall placemat, bed of leaves, or autumn leaf string lights.
Layer Your Tableware
Layer your tableware, featuring fall colors and gold accents, for a tablescape that evokes autumn harvest gold. Start with a tablecloth in a lighter fall hue so that it complements the palette of your settings. Don't just put plates directly on the tablecloth, but use gold chargers to frame the plates. Use a dinner plate and salad/dessert plate in different fall colors or fall-themed designs, stacking them, in order of size, on top of the charger. Gold silverware is the perfect complement to the plates and helps evoke the golden glow of autumn.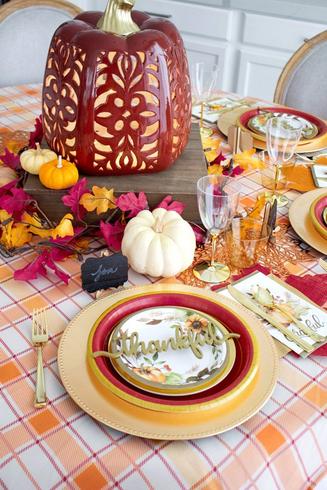 Add the Finishing Touch With Personalized Place Cards
Add a place card with each guest's name to each table setting. Place cards help to elevate the occasion and make each guest feel special. Write each guests name by hand, and go above and beyond by writing a personalized message or Thanksgiving-themed drawing on the card.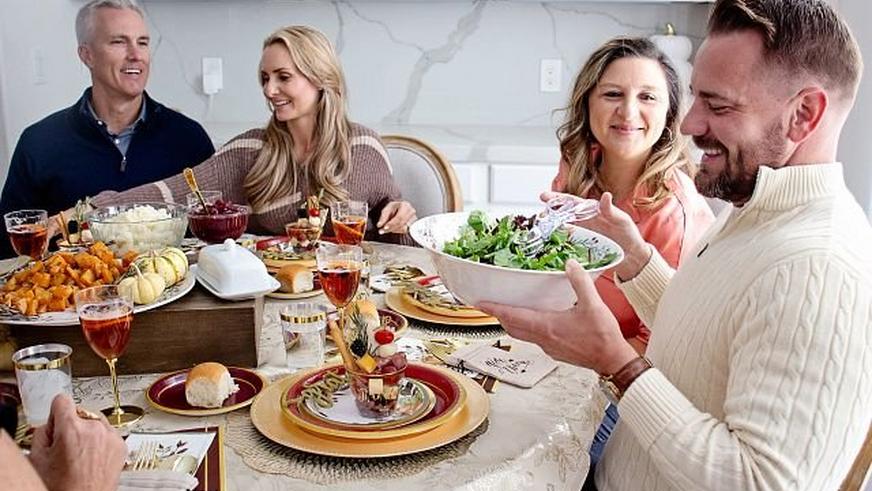 Visit Party City for Your Thanksgiving Hosting Needs
At Party City, we have all the décor, tableware, and serveware you need to host your best Thanksgiving. From decorations to leftovers, Party City can help you with every part of the hosting process this Thanksgiving.