Zombie apocalypse party ideas you'll die for! Hold onto your brains and create a foreboding fallout zone around your mantel with a mix of zombie props, eerie mood lighting and "planks" for boarding up exits. Check out more zombie wasteland decoration ideas to please the horde of zombie-loving friends, then shop all zombie party supplies!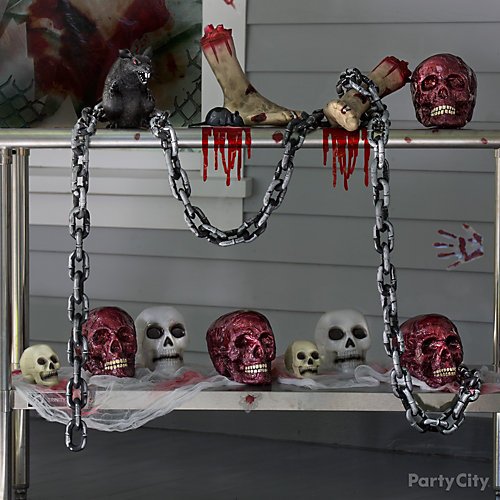 Idea 1: Decorate a Zombie Themed Porch
Show off your collection of body parts! Let the future victims...er, party guests...know they've arrived at the right house by arranging a table of body parts fresh from the asylum morgue. Arrange lobbed-off limbs and an array of skulls on tattered bloody gauze. Chains and a leering rat perched on the table heighten the horrific effect. Just don't get too close – the skulls may get a little bitey!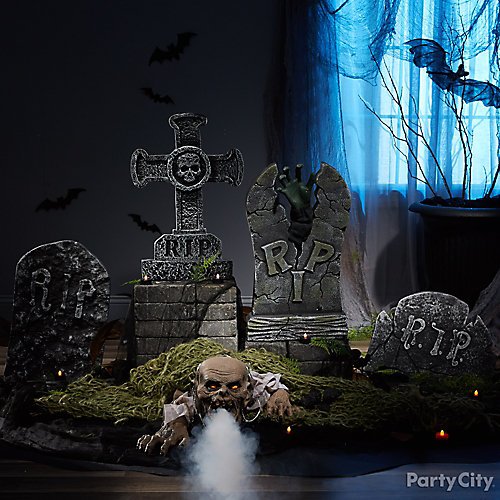 Idea 2: Create an Indoor Graveyard Scene
You can easily conjure up a Halloween cemetery full of freaky fog and the living dead – indoors or out. Start by covering the floors with strips of black table covers and lay down some mossy green jute. Choose some tombstones and stagger their height by stacking paver stones or books. Add a zombie dude that looks like he just escaped from the grave and add spook by scattering flameless tealights and draping black gauze. Finish off the graveyard display with a bat dangling in front of a gauze-covered window for a truly haunting look. See more on how to set up this graveyard scene. So much for resting in peace!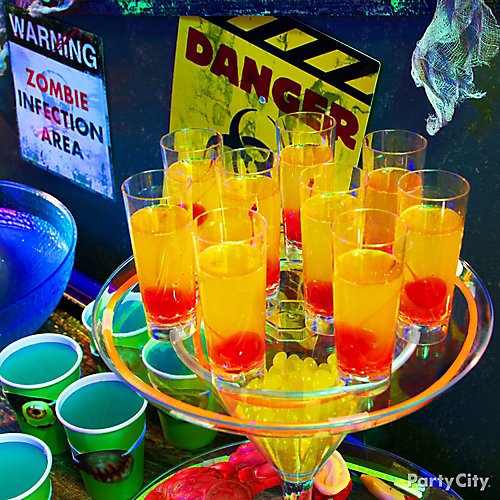 Idea 3: Zombie Themed Cocktails
Keep your eyes peeled for this delish drink! Forget the hair of the dog – serve up Bloody Eyeball Shooters straight from the zombie that bit you! First, shake up tangerine vodka and orange juice in a shaker. Fill the bottom 1/4 of the glasses with grenadine, then pour in the vodka and orange juice mixture. Finally, drop in a cherry to complete the bloody eyeball effect. Make a cool display with a giant martini glass, a cake stand and a couple glow bracelets around the plate rim.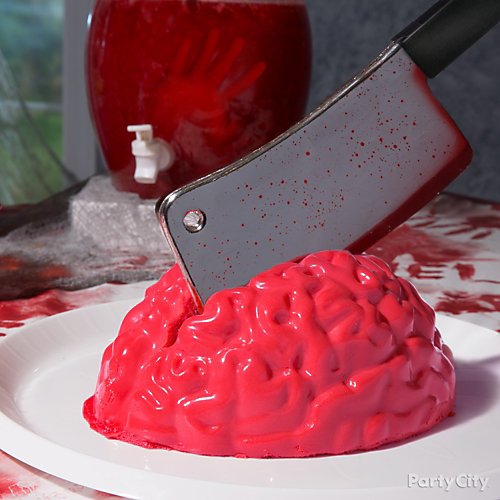 Idea 4: Serve Gelatin Brains For Dinner
Fresh from the morgue to your table! Amaze your guests with this brainy dessert that doubles as decoration. Fill a plastic brain mold with your favorite gelatin flavor, then pop out a squishy brain complete with cerebral ridges. They'll be in awe of your amazing brain decoration until they realize it's on the menu! Arrange it on the table with a butcher knife prop spattered in "blood" until you're ready to cleave into it.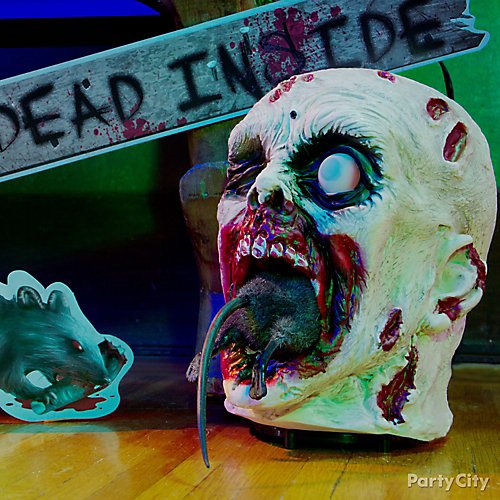 Idea 5: Decorate Using Gross Zombie Props
They've only got eyes for you! Don't lose your head over this decapitated zombie idea! Not only do the zombie heads look terrifying, some of them have… interesting things to say. Try not to run away and take a listen!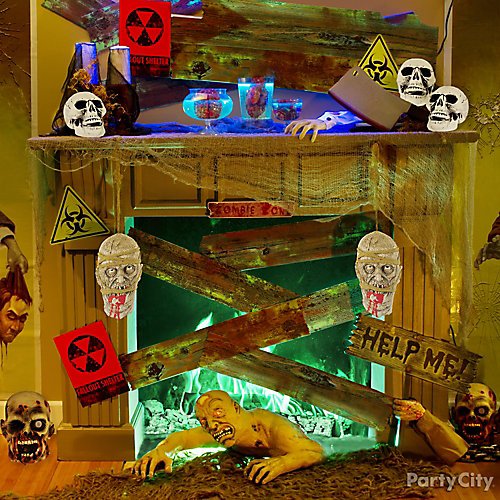 Idea 6: Zombie Mantel Decorations
Hold onto your brains! Create a foreboding fallout zone around your mantel with a mix of zombie props, eerie mood lighting and "planks" for boarding up exits.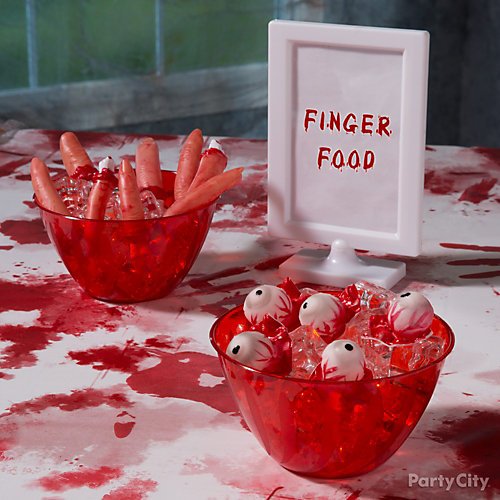 Idea 7: Zombie Finger Food Decoration
Look, don't eat! Add demented decor to the dining experience with gruesome props. Keep fingers and eyeballs "fresh" as they rest in pieces with red bowls of ice for a truly twisted decoration. Freak out guests even more with a sign that has the scribbling of a mad patient – appetizers are served!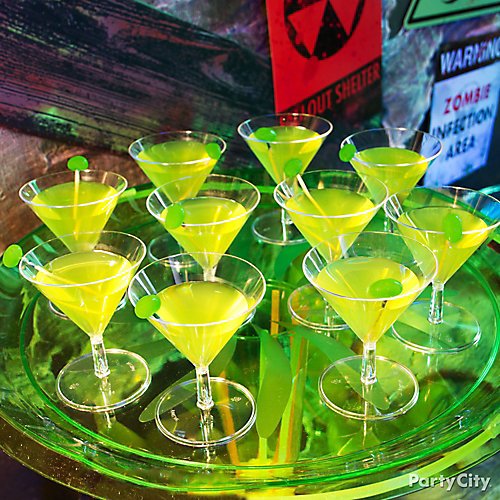 Idea 8: Wake the Undead With Fallout Fizz!
They'll be dying to try these radioactive cocktails with mini brain swizzle sticks! To make this contaminated-looking concoction, mix a shot of Midori and 1/2oz vanilla-flavored vodka in a shaker, then pour into a glass and add a splash of sweet and sour, and a little lemon-lime soda for a glowing fizz. Serve with a jelly bean "brain" garnish and tie glow bracelets around the glass bottoms for radioactive sheen.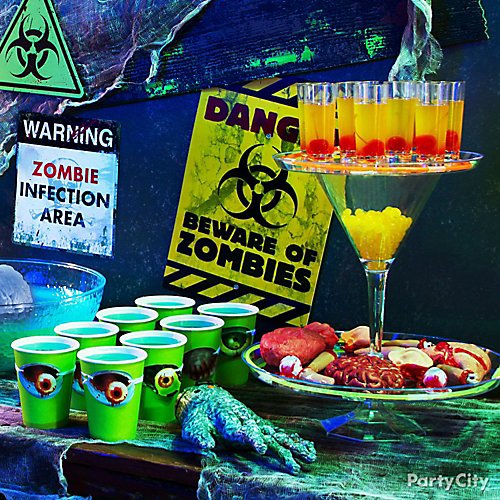 Idea 9: Create a Gross Zombie Cocktail Bar
Display your zombie tonics on a platter of faux finger food! Make a cool display for your cocktails with a cake stand covered in plastic organs, eyeballs and fingers. Top it off with an oversized martini glass filled with yellow jelly beans and rimmed in orange glow bracelets for a toxic touch. Have a bunch of neon green cups on hand for punch and beer with zombie eye patches as drink markers. Now that's using your braiiiins!
More gory supplies for your zombie party: