What's behind the mask? Brownies!
Little ninjas will marvel at discovering the yummy brownie behind the turtle mask! Use any brownie mix topped with green tinted icing and color fondant for the masks.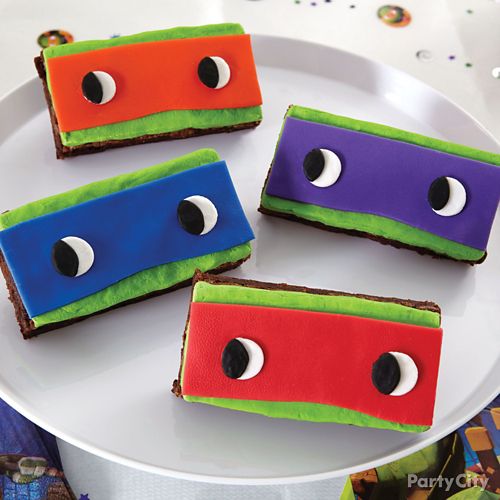 How-To
Ingredients:
Favorite brownie recipe or mix (3 batches used)
Buttercream Icing
Pre-Rolled White Fondant
8 Icing Colors Set (Leaf Green*, Lemon Yellow*, Violet, Blue, Red and Orange used)
White Icing Pouch with Tips
Black Icing Pouch with Tips
*Combine Leaf Green with Lemon Yellow for green shown.
Supplies:
11 in. x 15 in. Sheet Pan
Knife
Spatula
9 in. Fondant Roller (pink guide rings used)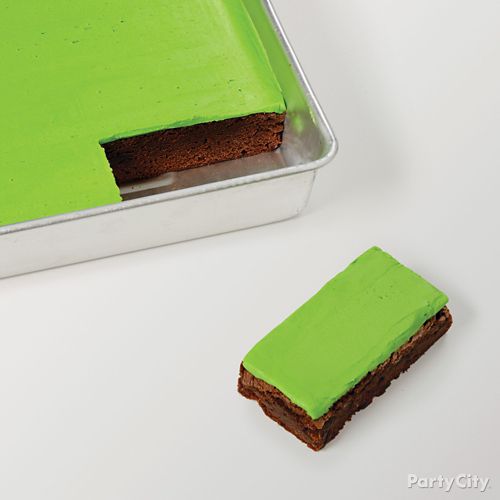 1) Make & ice brownies
Prepare batter following recipe directions. Bake and cool brownies. Tint icing green. Use spatula and green icing to ice brownies smooth. Use knife to cut brownies into 2 in. x 4 in. pieces.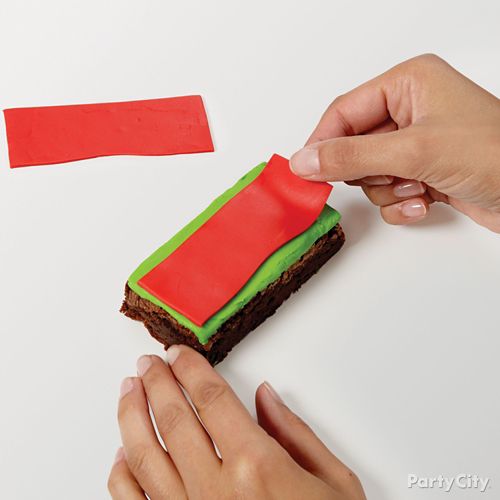 2) Add fondant
Split white fondant into four balls. Color one ball blue and the others red, violet and orange. Knead until color is evenly distributed. Use 9 in. fondant roller with pink guide rings to roll out orange, purple, red and blue fondant, separately, about 1/16 in. thick. Cut fondant into mask shapes, 4 in. long x 1 1/2 in. wide. Position strips on iced brownies.
3) Pipe on eyes
Use white icing pouch with round tip to pipe dot eyeballs. Use black icing pouch with round tip to pipe dot pupils.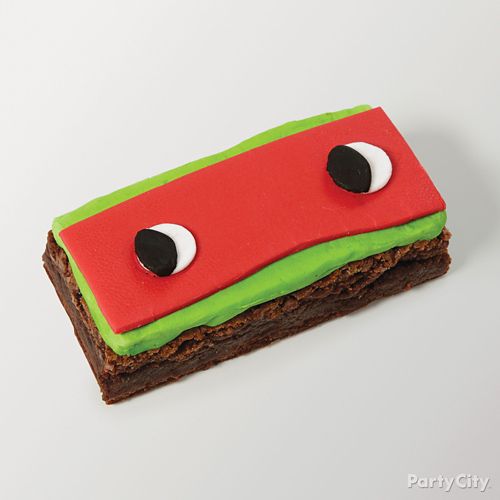 4) Repeat and eat!
Just repeat steps 1 — 3 with different colors of fondant for the masks until the whole turtle team is represented. Then let your hungry ninjas show off their brownie-eating skills!