Throwing a shamrockin' party for St. Paddy's Day? Instead of the ordinary (boring) lager you served last year, think outside the stein! Browse these ideas for an isle's worth of enticing, emerald-hued cocktail, beer and shooter ideas! Your party guests will feel as lucky as a leprechaun when they taste this rainbow of St. Patrick's Day drink ideas. Oh, and you'll definitely want to take a look at our unique collection of St. Patrick's Day drinkware.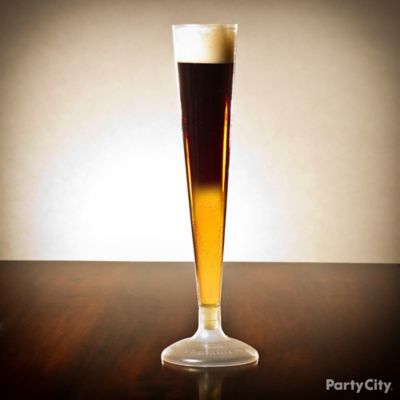 Idea 1: Meet halfway with a Black and Tan
If you want to serve beer in true Irish style, you can't go wrong with a Black and Tan, more politely called a Half and Half in Ireland. This smooth concoction marries, but doesn't mix, light and dark beers – usually Bass ale and the quintessential St. Patrick's Day favorite, Guinness stout. To make yours all Irish, all the time, start with Harp lager or Smithwick's ale, both brewed in Ireland. Pour the lager or ale first, then pour the stout very slowly over the back of a spoon to keep the beers from mingling.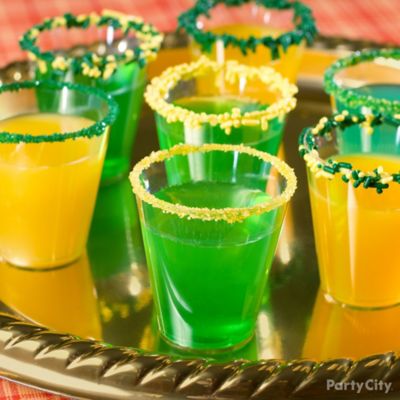 Idea 2: Jump-start a sweet party with Dandy Candy Vodka Shots
"Candy is dandy but liquor is quicker." Why not have both at your St. Pat's bash? To make Dandy Candy Vodka Shots, fill 1/4 of a jar with green or yellow candy – Airheads, Lemon Heads and Jolly Ranchers are good choices. Next, fill the jar with flavored vodka and leave the candy to dissolve for at least two days (the longer you let the candy infuse the vodka, the sweeter it will be). Strain through a piece of cheesecloth and pour into shot glasses rimmed with colored sugar or sprinkles. Now that's an ice breaker!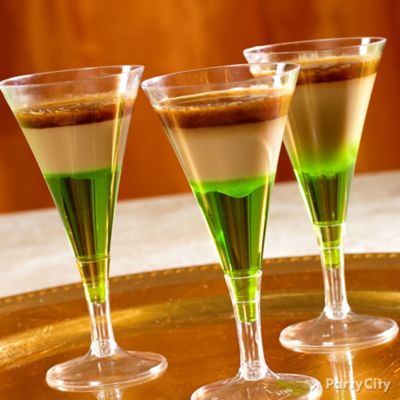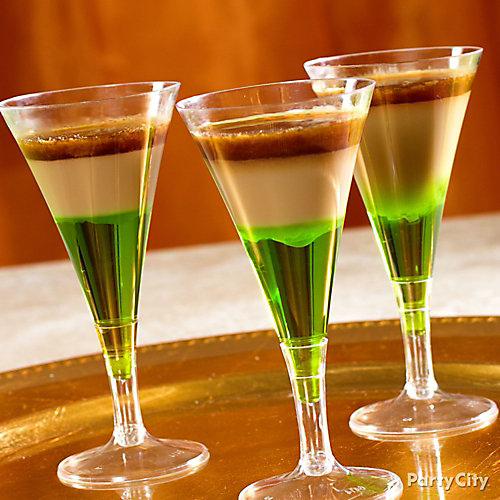 Idea 3: Wrestle with a Dirty Leprechaun
If you enjoy the intense licorice flavor of Jagermeister, you'll love this classic St. Patrick's Day shooter! Dirty Leprechauns are made with Midori, Irish cream liqueur and Jager. Pour each layer very slowly over the back of a spoon to prevent them from mixing – and your cocktail shot will look as if a leprechaun with muddy feet ran across the top of it! For an extra-dirty look, mix the layers together.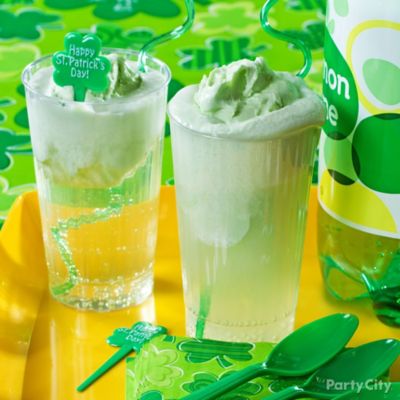 Idea 4: Make little leprechauns happy with a St. Patrick's Day mocktail
If you're expecting little leprechauns at your St. Paddy's Day bash, this bubbly mocktail just might be the drink they've been wishing for on a four leaf clover! Fizzy Patricks, a.k.a. lime sherbet coolers, are super easy to make. All you need is lime sherbet, ginger ale or lemon soda and a tall glass. For extra festive fun, garnish with a green Krazy Straw and a St. Patrick's Day drink pick. The adults at the party will be green with envy!
Idea 5: Break the ice with a Gift of Blarney cocktail!
Blarney is the famed Irish ability to playfully flatter with humor and wit. To mix up a recipe for stimulating conversation at your St. Paddy's bash, start by using candy food coloring (not the regular kind) to dye white chocolate syrup green. Use your green syrup to draw swirls on the inside of your martini glass. Next add 2 oz Irish whiskey, 1 oz Irish cream liqueur, 1/2 oz half n half and 1/2 oz simple syrup into a cocktail shaker. Strain slowly into martini glass. You've got the luck of the Irish!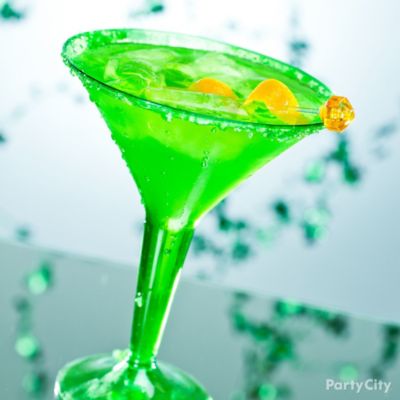 Idea 6: Basic appletini + green glass = Lucky-tini
We crafted this humble appletini with 1-1/2 oz vodka and 1 oz green apple liqueur, after dipping the rim of the glass in a little apple-flavored sugar, of course. A twist of orange peel is a nod to the colors of the Irish flag, and it's way easier to work with than apple peels. (We'd much rather raise a glass than wrestle a peeler.)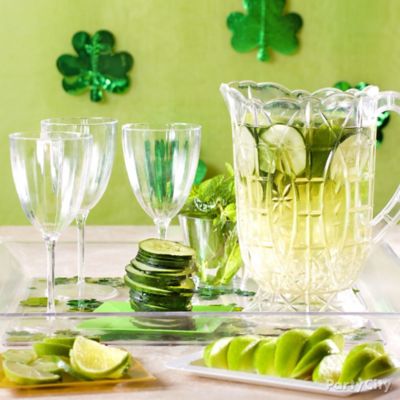 Idea 7: Make a lucky green sangria for wine lovers!
Finally a party drink for wine lovers who want to get their green on! To make Green Sangria, start with a bottle of Pinot Grigio and a large crystal-cut pitcher. Mix in 1 oz of Midori melon liqueur. Add slices of cored green apple, lime and English cucumber to taste and a generous handful of mint leaves. Refrigerate for at least two hours then add club soda and serve. Guaranteed to please a crowd!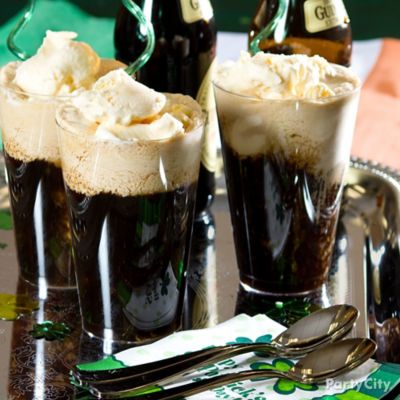 Idea 8: Try your luck at an Irish Beer Float
Just like corned beef and cabbage, Irish dry stout and vanilla ice cream are a match made in heaven! The sweet, rich flavor of the vanilla provides an ideal contrast to the bittersweet, hoppy taste of the stout for a perfectly satisfying finish. Create an impressive display by serving Irish Beer Floats in tall glasses on a pretty silver tray with themed St. Paddy's beverage napkins. Everyone will think it's their lucky day!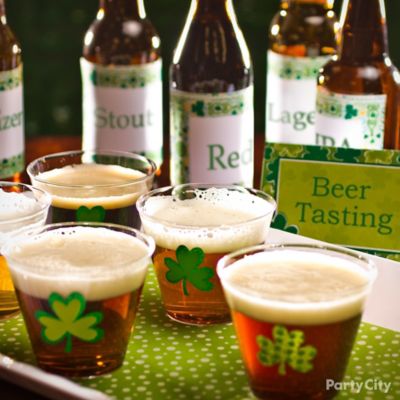 Idea 9: Set up a tour-of-Ireland beer tasting
Some would say there's nothing more Irish than beer, so set up a beer tasting station for a fun take on St. Patrick's Day drinks. This idea makes a great conversation starter, too. We added shamrock stickers to low-profile tumblers and used customizable St. Patrick's Day note cards to identify the types of beers sampled. Set up a personal tasting tray for each guest and ask them to pick their favorites, then do the big reveal.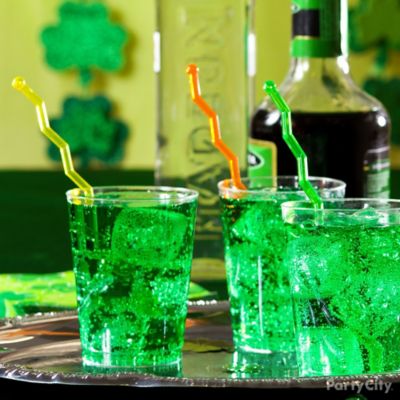 Idea 10: Try a refreshing bonny Irish Brook
If you're not a fan of sweet St. Patty's cocktails, serve the Irish Brook and everyone will be babbling about how refreshing it is! Make the Brook by mixing three parts vodka and two parts green creme de menthe in a clear tumbler. Top with one part club soda. Further decrease the already subtle sweetness by replacing some of the creme de menthe with more vodka and club soda. (Just be warned that the creme de menthe is what gives the drink its gorgeous green hue.)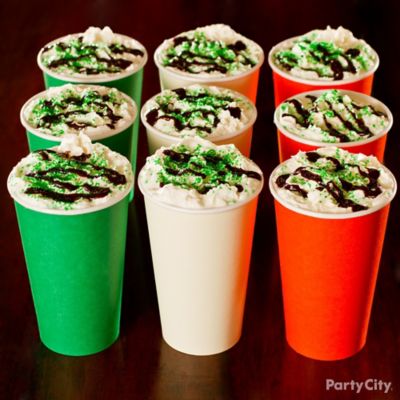 Idea 11: Dress your Irish Coffee in the colors of the Irish flag
Warm hearts start with hot drinks! No lineup of St. Patrick's Day drinks would be complete without Irish Coffee, and colorful coffee cups create a perfectly Irish way to serve yours. Just start with coffee, add Irish whiskey and top with whipped cream and sprinkles for a sweet finishing touch.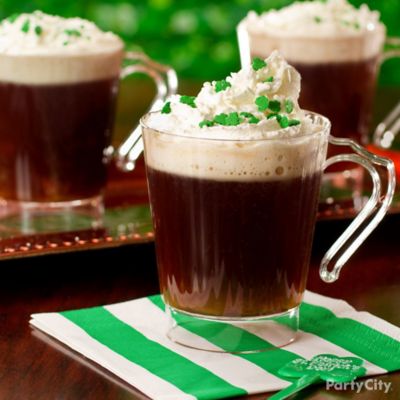 Idea 12: Brew up an Irish Dream in a classic cup
For a more traditional take on the classic combo of coffee and Irish whiskey, serve in clear coffee mugs atop delightfully festive green-and-white-striped napkins. Your fellow St. Patrick's Day revelers will feel just like they're in an old Irish pub. Don't forget the whipped cream and sprinkles!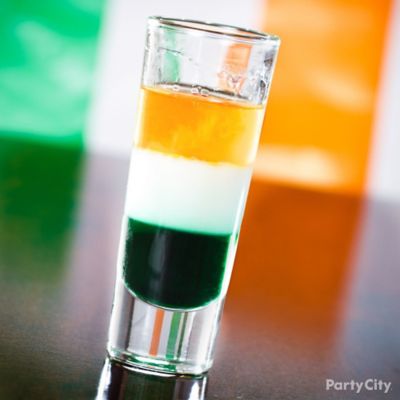 Idea 13: Show your Irish pride!
Hold your Irish Flag high and show the other partygoers you're proud to be Irish; then toss it back and ask for another! This patriotic Irish Flag layered shot starts with 1 part creme de menthe topped with 1 part Baileys Irish Cream (we subbed Godiva White Chocolate Liqueur for whiter color and more yum) and 1 part Grand Marnier. Pour each layer very slowly over the back of a spoon to keep the layers from mixing.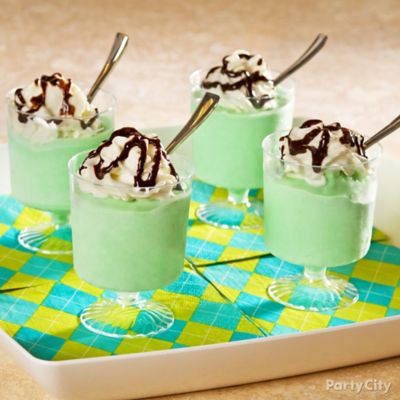 Idea 14: Serve shamrock sundaes to your little leprechauns!
Youngsters will treasure this yummy sundae made with vanilla ice cream, a touch of peppermint extract and a bit of green coloring. Serve the icy treat in leprechaun-sized mini glasses so everyone can admire the emerald color while they dig in with little silver spoons. (For a grown-up version, it's easy to spike these with a touch of Baileys!) For a fun twist on the green color scheme, serve your shakes on a tray lined with argyle-patterned napkins.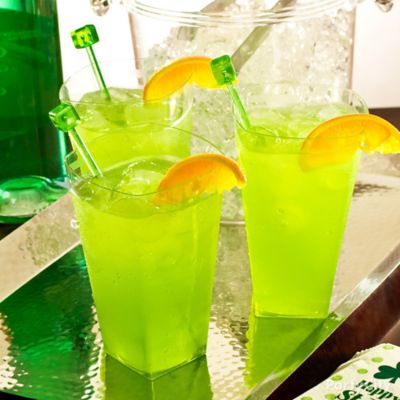 Idea 15: Pucker up for this Kiss Me I'm Irish cocktail
There's an old Irish saying that if you can't kiss the Blarney Stone, the next best thing is to kiss someone Irish. When you serve this drink to your St. Paddy's sweetie, be sure to steal a kiss – after all, everyone is Irish on St. Patrick's Day! To make the Kiss Me I'm Irish Cocktail, mix 1 oz Midori with 2 oz sweet and sour mix and 1 oz lemon juice. Stir with a swizzle stick and garnish with a slice of orange. Lip smacking good!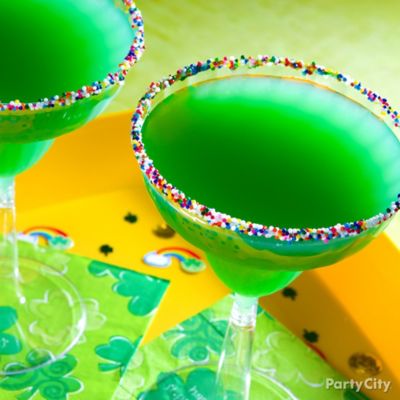 Idea 16: Lucky you — this drink is delish!
Think outside the stein for festive drink options. To make this Lucky Charm, add Cointreau, Blue Curacao, orange juice and ice to a cocktail shaker, shake well and serve in a glass rimmed with rainbow sprinkles. Sláinte!
Idea 17: Toss back a Pickleback
You'll be rewarded for your daring drinking choices if you have the courage to try this unorthodox chaser! A Pickleback is a shot of Irish whiskey with a tall shot of pickle brine piggybacked on top of it. One of the reasons this shot combo is so satisfying is that the intense tanginess of the pickle juice masks the burn of the whiskey. The Pickleback is fast becoming a new St. Patrick's Day tradition!
Idea 18: Make a classic classy by serving green beer in a party pitcher
We understand that for some partygoers St. Patrick's Day just isn't St. Patrick's Day without beer dyed green with food coloring. If you're certain your guests won't be satisfied without this holiday staple, try dressing up the presentation a little. Serve your green beer pre-dyed in a clear pitcher. Set the pitcher out on a festive gold serving tray and serve pub-friendly foods like pretzels and unshelled peanuts in premium clear serving bowls.