This colorful dessert station comes together in minutes. Colorful sweets are sure to make lasting memories and someone's day a little brighter.
Supplies:
Red, Orange, Yellow, Green, Blue, and Purple Jelly Beans
Rainbow Gumballs
Rainbow Rock Candy Sticks
Rainbow Sugar Cookies
Cupcakes
Rainbow Sprinkles
White Gable Boxes
Metallic Rainbow Gift Bow
Table Cloth
Medium White Plastic Rectangular Platter
Clear Premium Plastic Square Cups
Balloon Arch Decorating Strip, 50ft
Assorted Color Mini Balloons, 50ct, 5in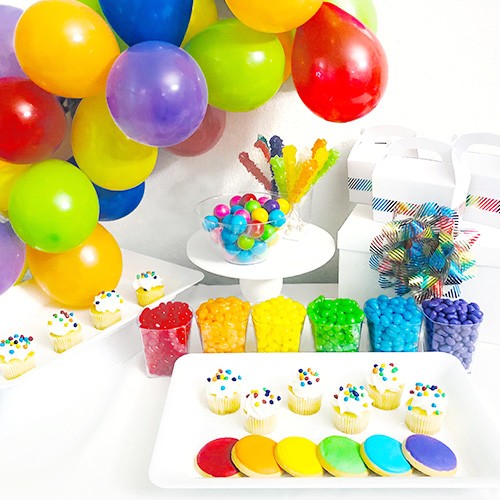 Instructions:
Add balloons to the Balloon Arch Decorating Strip and display it behind the dessert station. We used removable pop dots to adhere balloons to the wall.
Cover the dessert station table with the tablecloth. Display the jelly beans in order of the colors of the rainbow, just behind the cookies and cupcakes.