Salty and sweet is fun to eat!
Cut through the fog on Halloween night with these glowingly good candy-dipped pretzels! That extra splash of color is easy to create using Candy Melts® candy and Halloween Nonpareils.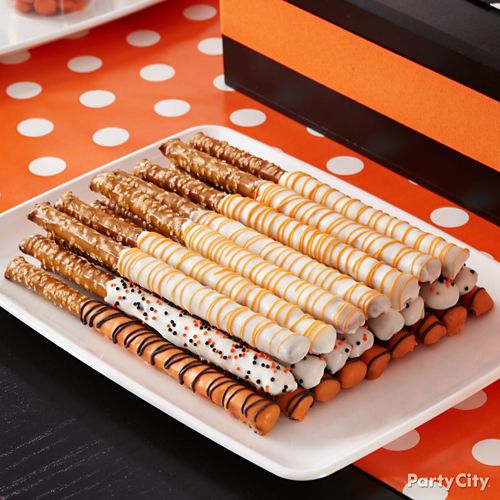 How-To
Ingredients:
White Candy Melts® Candy (12 oz. makes 16 to 18 treats)
Orange Candy Melts Candy (12 oz. makes 16 to 18 treats)
Pretzel rods
Halloween Nonpareils Sprinkles
Black Candy Melts Candy (1 oz. makes 16 to 18 treats)
Supplies:
Microwave-safe containers*
Waxed or parchment paper
Cookie sheet
12 in. Disposable Decorating Bags
Food-safe scissors
1) Dip pretzels
Melt white and orange Candy Melts candy in containers, separately, according to package directions. Dip pretzels about 5 in. deep into melted white or orange candy. Tap lightly to smooth and remove excess candy. Place on waxed paper-covered cookie sheet.
2) Decorate pretzels
For sprinkled design, immediately sprinkle pretzel with nonpareils. Chill all dipped pretzels until firm, about 10 to 15 minutes. Transfer remaining orange candy to disposable decorating bag.
3) Drizzle pretzels
Melt black Candy Melts candy in disposable decorating bag according to package directions. When ready to decorate, use scissors to cut small point off of disposable decorating bags. Use melted black candy and reserved orange candy to drizzle over pretzels. Chill until firm, about 3 to 5 minutes.