Step up to the plate with a baseball spin on party food and decorations! Get all the yummy details and how-to's for a bash that's made for the big leagues! Throwing a party for little sluggers or sports fans? You'll hit it out of the park with our line-up of all-star ideas, including officially licensed MLB team decoration and serveware. Slide from sweet to savory with food ideas for popcorn, mini burgers and more! Run through—and steal!—these ideas for a party home run!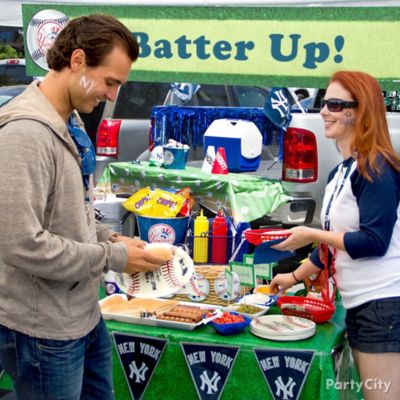 Idea 1: Hit a homerun with a make-your-own hot dog bar
Hot dogs go with baseball! Serve 'em up in a way that lets everyone make their dogs just the way they like, yet is still super-easy to set up, even for tailgating rookies. Start with plates, hot dogs and buns. Then, set out a wide variety of condiments like ketchup, mustard, pickles and even cheese. Finally, make sure there are plenty of napkins and potato chips to go around!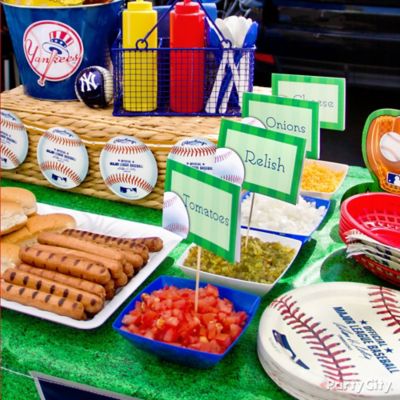 Idea 2: Let printable cards pinch-hit as condiment signs
This idea will be a hit at your party! Easy-to-customize cards with baseball designs make perfect labels for condiments – and make you look like you're in the party-planning big leagues.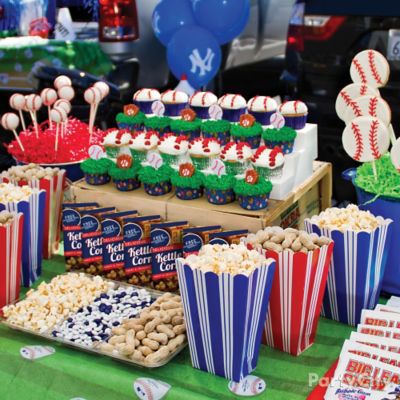 Idea 3: Throw 'em a curveball with a snacks & treats table
Make your party food a double play by serving baseball-themed treats and classic ballpark snacks. Start with containers in your team's colors filled with goodies that will satisfy everyone's hunger.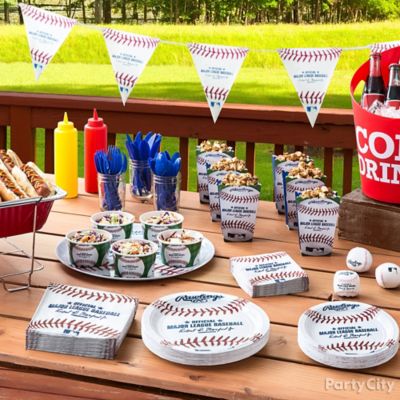 Idea 4: Batter up! Start your party right
Set up for a barbeque or home tailgate with licensed Major League Baseball tableware, so no one can squabble over the best team to rep! Mix royal blue utensils with red chaffing dishes to maintain the MLB color scheme and hang a matching baseball pennant banner.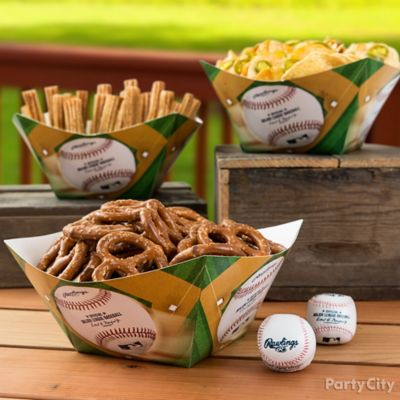 Idea 5: Try this triple play of snack ideas!
Feed your hungry guests big portions in baseball serving bowls. Pile on the stadium snacks like salty pretzels, sweet homemade churros, and satisfying nachos with lots of jalapenos. Expect a cheering crowd!
Idea 6: Perfect ballgame treats!
Remind your guests what it's like to savor classic stadium food with these mini cotton candy treats. Insert a striped paper straw into a section of colorful cotton candy and place in a clear plastic treat bag, securing in the back with tape. Stabilize the straws with shelled peanuts for a perfect salty-sweet pairing!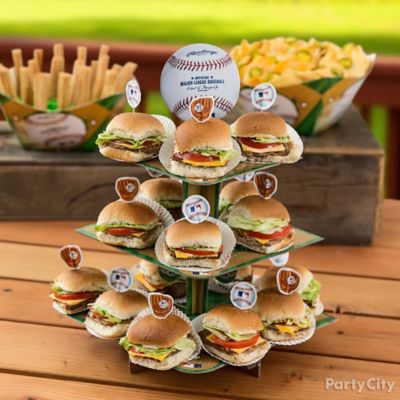 Idea 7: Slide into home with mini burgers
The bases are loaded, and so are these sliders! Serve up fully loaded mini burgers on soft rolls inside of baseball-print cupcake wrappers for some grab-and-go action. Pile on the deliciousness, then hold it all together with MLB ball and glove picks, and display on a fun baseball-themed stand.
Idea 8: A big league game calls for big bubble gum!
Don't blow it! A ball game just isn't the same without bubble gum – so grab some Big League Chew for your tailgaters to take into the stadium at game time!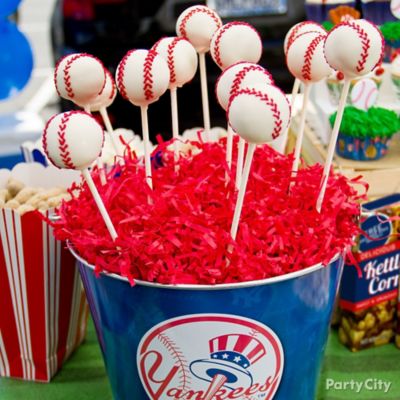 Idea 9: Hit it outta the ballpark with baseball cake pops
Cake pops that look like baseballs? Oh yeah! These tiny treats look so irresistible, no one will be safe. Whether you make yours from scratch or start with a boxed cake mix and a can of frosting, dip your cake balls in white Candy Melts, pipe the stitching on with red icing, and they're ready for the majors!
Idea 10: You won't strike out with these cookie pops
We just love food-on-a-stick, and cookies are one of the easiest foods-on-a-stick to make. Just insert the sticks into cut-out cookie dough before baking. To make these baseball cookie pops, frost cooled cookies with white royal icing and use red cookie icing or a pastry bag with a small round cake decorating tip to make the stitching.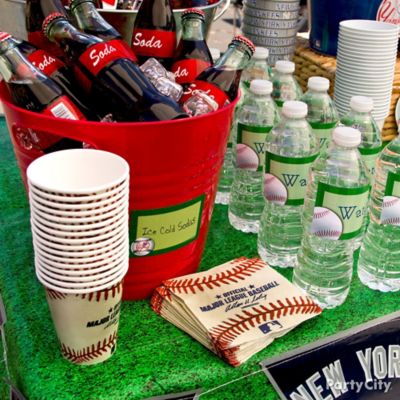 Idea 11: Keep drinks icy-cold and no-fuss with party tubs
Tailgating calls for thirst-quenching, so make it easy for friends to grab a cold one anytime. Set up a drinks station with party tubs and ice buckets to keep drinks chilly yet easy to grab without sloshing through a cooler. Officially licensed Rawlings and MLB team-logo cups are gotta-haves for true fans! (Custom baseball stickers shown are available at some Party City stores.)
Idea 12: Gear up for a great game!
Team colors fan gear will get your fellow baseball lovers into the game, whether you're headed to the ballpark or homegating in fanrageous style. Gear up with wigs, beads, body art and MLB-themed goodies like lanyards and cups! Face paint in team colors available at Party City stores.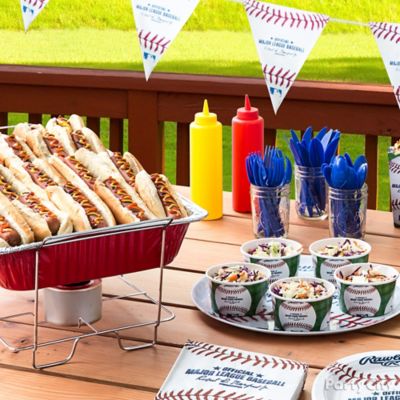 Idea 13: Build the perfect stadium-style hot dog!
Let everyone choose their favorite way to top their 'dogs by setting up a special hot dog station! Every team's stadium serves up specialty hot dogs in their own special way, so cater to the crowd by offering the classics (ketchup and mustard) along with less typical toppings like grilled onions, barbeque sauce, pulled pork, and coleslaw served in MLB snack cups.