Calling all balloon cookie artists!
These quick-to-make treats are just what you need to get a birthday party off the ground! Hello Kitty gets a bright (and tasty!) stage with the help of pre-dyed icing pouches with tips.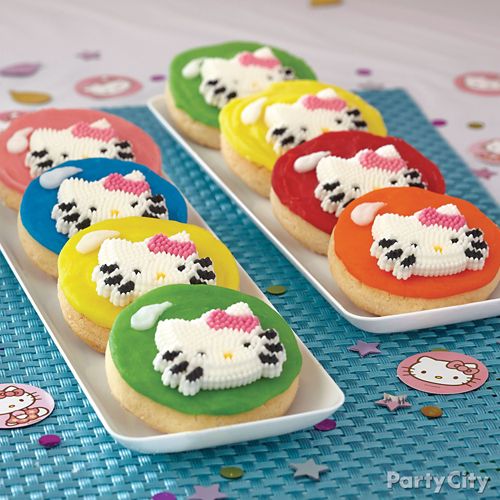 How-To
Ingredients:
Favorite roll-out cookie recipe
Orange Icing Pouch with Tips
Red Icing Pouch with Tips
Yellow Icing Pouch with Tips
Green Icing Pouch with Tips
Blue Icing Pouch with Tips
Pink Icing Pouch with Tips
White Icing Pouch with Tips
Hello Kitty Icing Decorations
Supplies:
Rolling pin
Round Double Cut-Outs Set (cut-out "C" used)
Cookie sheet
Cooling grid
9 in. Angled Spatula
1) Make cookies
Prepare and roll out dough following recipe directions. Use straight side of "C" round cut-out to cut cookies. Bake cookies and cool on cooling grid.
2) Ice cookies
Use orange, red, yellow, green, blue or pink icing pouches with round tip to cover cookies with icing. Use spatula to spread evenly.
3) Decorate cookies
Position icing decoration in center of cookie. Use white icing pouch with round tip to pipe teardrop shape for balloon highlight.