Hosting a fun family movie night at home is easier than ever. There's no need to stress about what to watch, because all the streaming services provide plenty of great options. If your family still has trouble agreeing on what to watch, you can let the kids take turns picking from a pre-approved list.
When it comes to family movie night, it really pays off to make the experience extra special. Party City has great movie night supplies that will surprise and delight your entire family!
Setting up your family room shouldn't take more than a few minutes. Make sure to prepare the popcorn and bring the beverages before everybody makes their way to your home "movie theater," so you can all sit down together to enjoy the film.
After the movie ends, make sure to discuss your favorite parts and answer any questions your kids may have. Films can provide not only tons of entertainment at home, but also great teachable moments.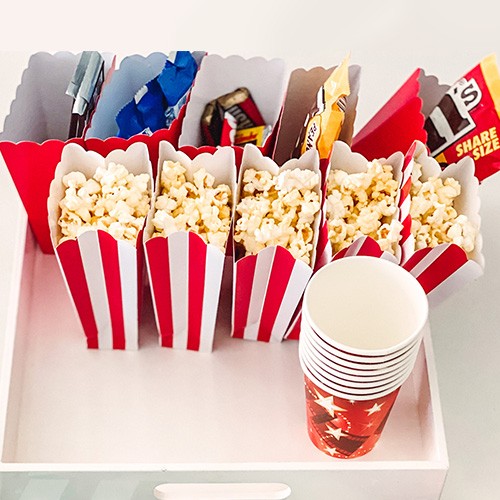 Supplies:
Mini Red Popcorn Treat Boxes
Hollywood Movie Clapboard
Hollywood Movie Night Letter Banner Kit
Hollywood Movie Night Cups
Red Popcorn Favor Boxes
Your family's favorite snacks & beverages
A few tips to help you:
Use props to set the theme, like a clapboard.
A custom banner also helps to set the "movie" mood.
Prep everything in advance so you can also enjoy the movie. Use a tray to make it easier to carry everything.
Serve popcorn in striped treat bags.
Use red treat boxes to serve heavier snacks.
Movie-theme plates and cups also enhance your at-home event.
Have blankets by your couch in case the kids want to snuggle.