Eat this cupcake to your hat's content!
Elf hats are crunchy and sweet! Have a crafty time making these cupcake decorations with air heads, sugar cones, red Candy Melts, red sugar sprinkles and green gumballs. The Elf Cap Christmas Cupcakes How-To has the details.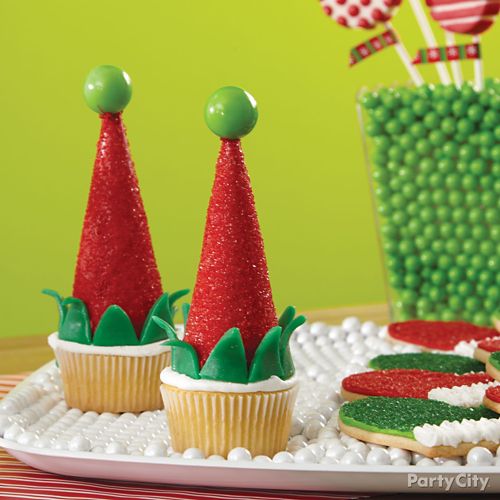 How-To
Ingredients:
Red Candy Melts® Candy (12 oz. makes 8 to 9 treats)
Sugar ice cream cones
Red Colored Sugar
Favorite cupcake recipe or mix
White Icing Pouch with Tips
Watermelon Airheads® candy
Green gumballs
Supplies:
12 in. Disposable Decorating Bags
Food-safe scissors
Waxed or parchment paper
Cookie sheet
White Standard Baking Cups
Standard Muffin Pan
9 in. Angled Spatula
Knife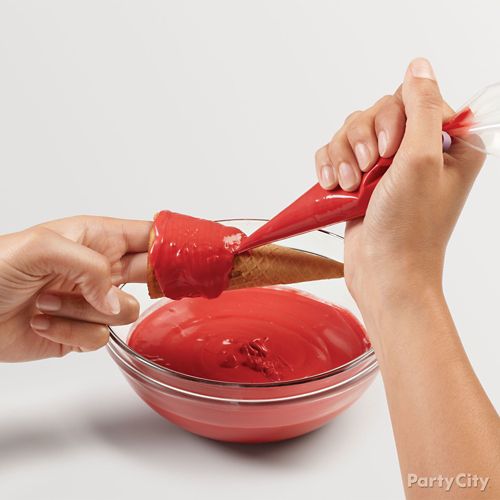 1) Prepare cone elf caps
Melt red Candy Melts candy in disposable decorating bag according to package directions. Cut small point off of bag. Use melted red candy to cover outside of sugar cone.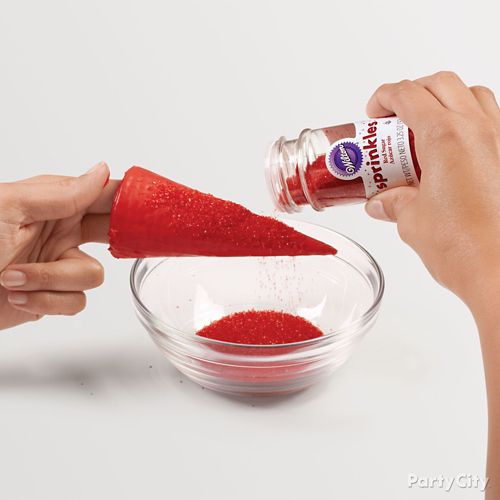 2) Sprinkle caps with sugar
Immediately sprinkle cone in red sugar. Place upright on parchment paper-covered cookie sheet. Chill until firm, about 10 to 15 minutes.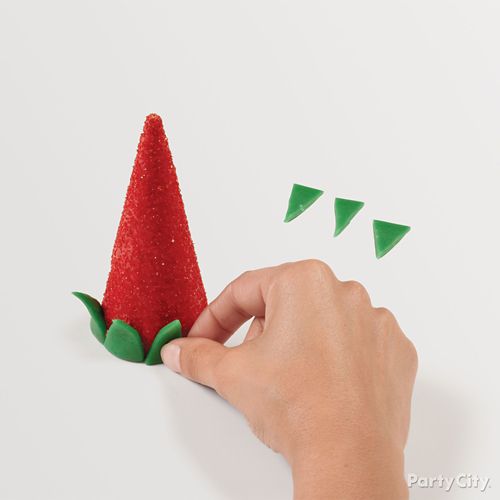 3) Make cupcakes and decorate cap brim
Prepare batter following recipe directions. Bake and cool cupcakes. Use white icing pouch with round tip to ice cupcakes; use spatula to smooth.For brim, use knife and Airheads candy to cut eight triangles for each treat, 3/4 in. wide at base. Use melted red candy to attach triangles around base of cap. Chill until firm, about 3 to 5 minutes.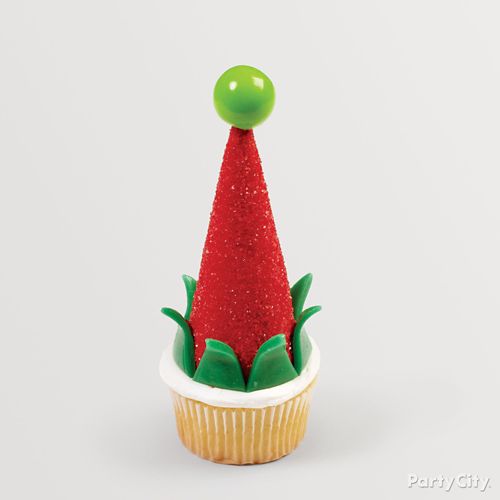 4) Assemble treats
Use knife to cut a small hole in green gumball for pompom. Use melted red candy to attach to point of cap. Chill until firm, about 3 to 5 minutes. Position cap on cupcake.