Hop on fresh ideas for a bunny-lovin' buffet! Get creative with mini apps and sweet bunny decorations. Celebrate Easter Sunday with a bunny-themed brunch! Here you'll find inspiration to host a relaxed meal that combines the best of a family table and a buffet. Nibble on our ideas below for table-setting inspiration, mini appetizer ideas and Easter-themed decorations that make the room as bright as spring!
Idea 1: Bunny figurines add hop to a side table
The table's set and the eggs are hidden – now all you need are accents! Create a vignette using Easter's iconic bunny and an egg basket. It's a cute option for any side table, and, if the bunnies are near a blank wall, try adding a hanging bunny decoration to complete the look. How cute!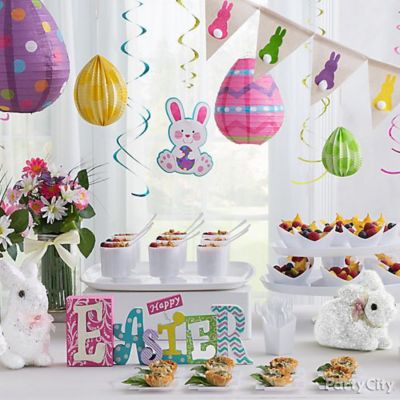 Idea 2: Easily put together an Easter buffet with a fresh look
A bunny-bottom pennant banner is on-trend this year and looks fresh and colorful mixed with a few egg paper lanterns and honeycombs. Use pretty white cake stands to display bowls of mini fruit, mini waffles and mini quiches. Complete this bright and breezy scene with pink-hued mimosas, a bouquet of flowers and a few adorable tinsel bunnies.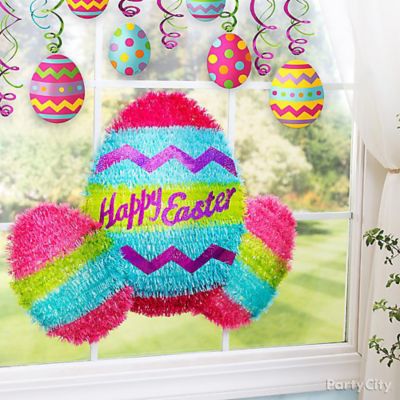 Idea 3: Give the windows a pop of Easter color
These tinsel eggs will brighten up the room! To try this out arrange one large Happy Easter tinsel egg in the center of two smaller tinsel eggs.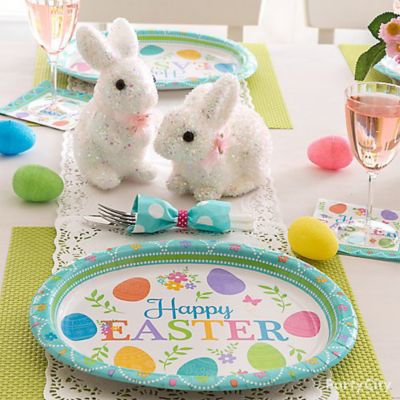 Idea 4: Invite a few bunnies to brunch
This adorable tablescape is brimming with cute ideas. We love grass-green placemats layered with pastel-hued Happy Easter plates. The runner is made with three rectangular doilies. For cutlery, use your fave hue of polka-dot napkins and wrap with a bit of contrasting ribbon. To finish the table, place a few tinsel bunnies and glittered eggs here and there.