Let's creep it real: anyone can throw candy in a bag and tie it. To be the talk of the town this Halloween, you'll need to give the goblins something they'll be gobblin' right up! These take-home treats are perfect for any Halloween activity. Whether it's booing, ghosting, trunk-or-treat, or a more traditional activity, these devilicious favors will satisfy even the crankiest ghosts.
Idea 1: Dangerously Delicious Treat Bags
Witchful thinking that these finger linking Cheddar Puffs will make it all the way home. Cheddar Puffs can also be replaced with tootsie rolls, candy bars, or your little one's favorite Halloween toys!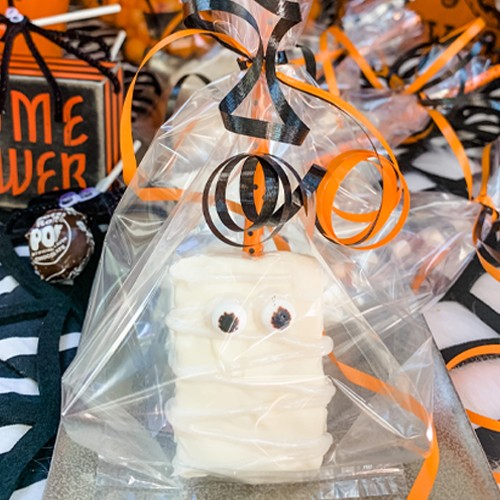 Idea 2: Chocolate Covered Mummy Rice Krispie Pops
Win the award for Mummy of the Year with these yummy little guys. They are almost too cute to spook. Dip traditional Rice Krispie Treats into melted white chocolate, and finish off with shimmering frosting and candy eyes!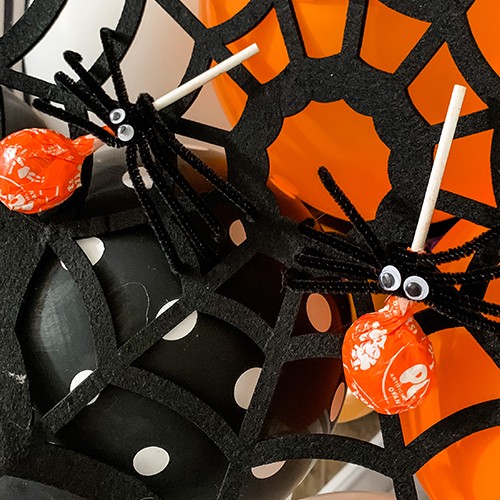 Idea 3: Creepy Crawly Tootsie Pops
CAUTION! These Creepy Crawly Tootsies may become a household pet instead of a delicious treat. Cut 2 pipe cleaners in half and then roll them around the Tootsie Pop's stick making 4 legs on each side. Separate and then bend the ends of each leg so your silky spider can stand on its own. Then glue googley eyes and don't forget to give each a name!
*Tootsie Pop can be replaced with a spooklacular pencil or glow stick for a no treat option!
Idea 4: Boo-tiful Goodie Filled Gloves
You'll want to get your hands in these! Stuff latex gloves with your favorite goodies, candy, stickers, and don't forget to finish it with a spider ring!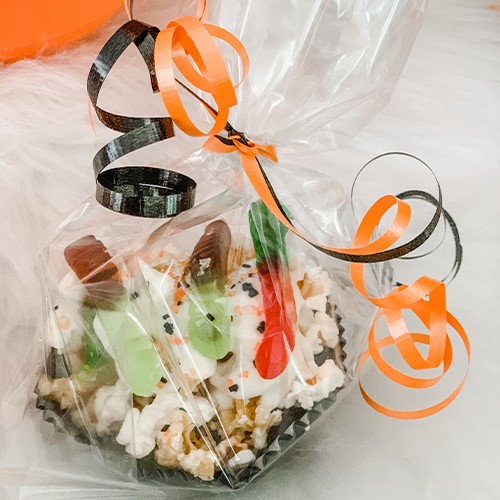 Idea 5: Easy Chocolate Covered Gummy Worm Popcorn Cups
Howl do you spook up traditional Popcorn? Add some ewwie gooey gummy worms and white chocolate to them! Pop a few bags of popcorn and place them in cupcake holders. Then drizzle each cup with white chocolate and top with a gummy worm… or two… or three.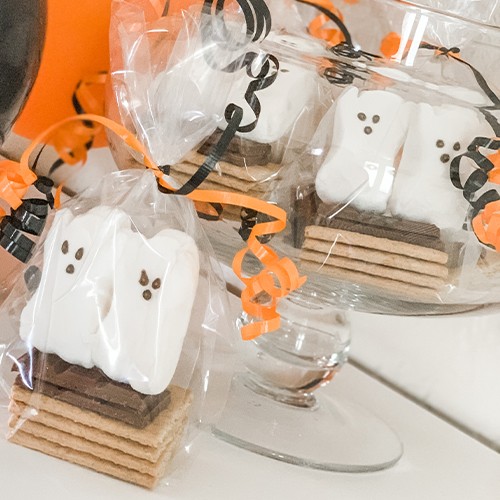 Idea 6: Ghost S'mores
The ghostess with the mostest always sends s'more scares home with her trunk or treaters! The season's favorite outdoor snack gets a facelift switching out the classic marshmallow and subbing in a ghost "peep." Pair with graham crackers and Hershey's chocolate and you've got one yummy take away treat!
Additional Products Used to Create These Ideas