Serve up a crime-fighter cake!
Whip up this super bold Gotham Cityscape Batman cake using our easy Batman Fondant Cake How-to below! Give this cool cake some POW! with a Batman table cover, matching napkins and paper plates to make cake time extra sweet.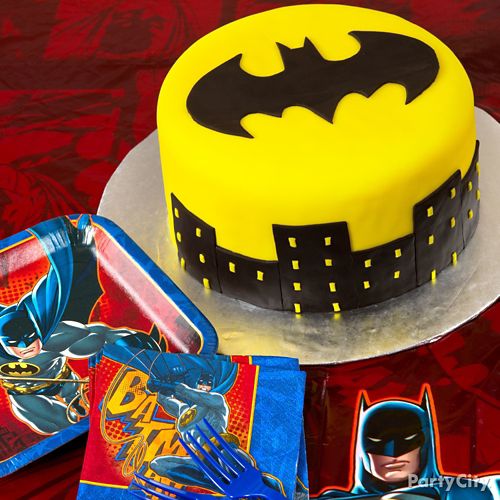 How-To
Ingredients:
2 - 10 in. cake rounds
Buttercream icing mix
Pre-rolled white fondant
Pre-rolled black fondant
Lemon yellow icing color
Supplies:
Fondant roller
Fondant smoother
Pizza cutter or paring knife
16 in. round cardboard platter
Toothpicks
1) Ice cake
Dessert time, bam! First prepare your cake for the fondant by icing it with a thin layer of buttercream icing.
2) Tint fondant
To tint the fondant yellow, take a small ball of white fondant and knead it until soft. Use a toothpick to dot lemon yellow icing color onto the fondant. Knead until the color is evenly distributed.
3) Cover cake with fondant
Roll out and smooth the yellow fondant over the cake and trim off excess with a pizza cutter or paring knife.
4) Create fondant symbols
To create the Gotham City skyline and bat symbol, roll out the black fondant until smooth. With a paring knife, freehand the bat symbol or print out a bat image to use as a pattern and cut the fondant with a paring knife to its shape.
5) Attach symbols
To attach to the cake, dab the black fondant pieces with water. Holy guacamole, Batman, you're almost done!
6) Serve
Place your bat-tastic cake on a cool metallic platter and your little superheroes will eat it up!