Sweeten the deal with a beautiful candy display that guests will gobble up! Treat party guests to a colorful baby shower candy buffet filled with baby-themed treats! Candy buffets are so fun to put together! Whether you're having a boy or girl (or both!), you'll find inspiration for an amazing candy bar to celebrate your bun in the oven. Choose a variety of candies that guests will enjoy, or share your faves!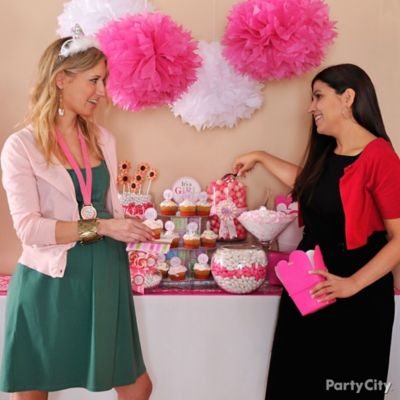 Idea 1: Set out cute candy containers
Let guests take candy with them for after-shower cravings by having cute candy containers on hand. You can even decorate them with baby stickers. Candy scoops make it easy for them to shovel their favorites into colorful take-out boxes. They'll appreciate the goodies they can grab for the journey home.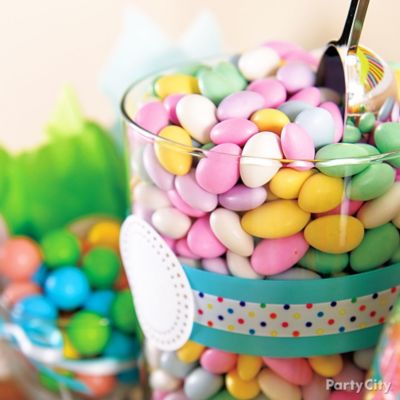 Idea 2: Choose multicolored candies and favor sets for girls or boys
Multicolored pastel candies and baby shower favor kits work well for a gender-neutral baby shower. Coordinate mixed Jordan almonds with baby shower favors in a variety of hues. The colors also can add contrast to a baby shower candy buffet for a girl or a boy.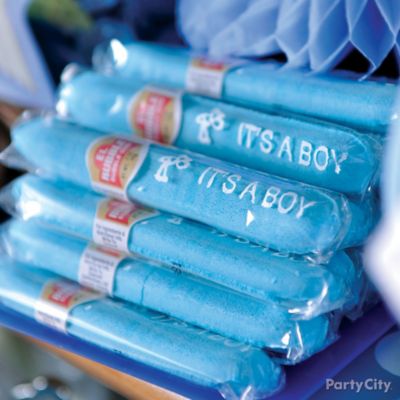 Idea 3: Include novelty sweets to turn up the fun
Think outside the box with your baby shower sweets assortment! Stacks of cute novelty candies like vintage-look bubblegum cigars give your candy buffet a pop of color and are fun conversation starters, too!
Idea 4: Add sweet details with favor charms
Embellish your girl-power candy buffet with adorable extras that make it unique and personal. Baby-motif favors and charms like petite rattles, diaper pins or clothespins add so much when used as accents around your candy display containers. Simply string them along a hot pink ribbon and tie around the container to finish.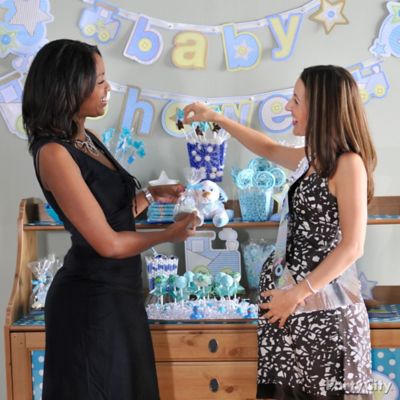 Idea 5: Candy buffet craze!
Candy buffets are so fun to put together! And what better way to delight your guests than with a colorful baby shower candy buffet filled with baby-themed treats? For the very best selection of candies, visit your nearest Party City stores.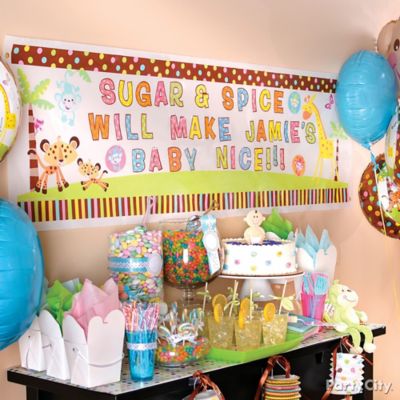 Idea 6: Pastels work for a girl or a boy
If the gender of the baby is going to be a surprise, then create a baby shower candy buffet that works for either gender. The Fisher Price baby animals pattern is a great choice for this idea because it includes traditional pastel colors that will brighten up your display and keep the baby's sex a secret. You can also add cake and beverages to your candy buffet to widen the variety.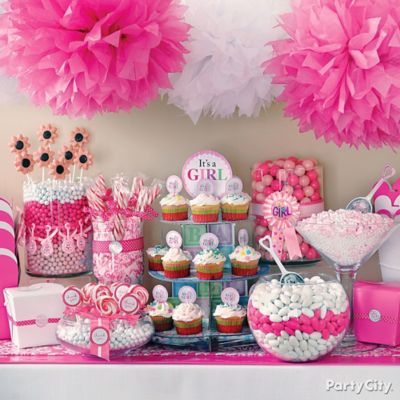 Idea 7: Girl power!
If you know the baby is a girl, go all out with a girly display. Glam out your baby shower candy buffet with pinks and "It's a Girl" decorations. Adding ribbons around your candy containers will spice them up and add more color. If you're adding baked goods to your candy buffet, remember to pick out girly baking supplies too!