The Celebration Must Go On
Get the latest news on our mask guidelines and increased safety measures.
Learn More
×
Reopening stores: Today, we have all stores open for in-store shopping.
We want to spread joy – and not germs. And because nothing is more important than the health and safety of our customers and associates, we have taken several new precautionary steps.
Now, when you walk into our stores, you will find cleaning and sanitation stations for your hands and your shopping carts.
There's an old saying, "Cleanliness is next to Godliness". Well, we believe that too. So while we already routinely clean restrooms, registers, break areas and the salesfloor, we are now doing this even more frequently.
You'll also notice several new signs in our stores to help make social distancing easy to follow. And, when you have everything you need for your party, you'll see that we have altered our checkout queuing process too. Now, there is a "sneeze-guard" or plexiglass partition at all register stations for your safety and ours.
Contactless payment is not just cool, it's safe. That is why every Party City store accepts payment via your mobile phone which reduces the need for exchanging cash or cards.
We host senior shopping hours between 10am and 11am every Tuesday and Thursday for those who may be more vulnerable.
And while we love a big party, it is just plain safer to limit the number of people that gather together. So, our stores now have a 50% occupancy rule, which just means you'll have more room for those overflowing carts!
View Video >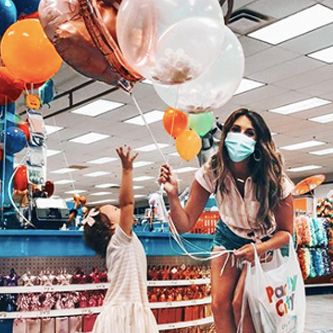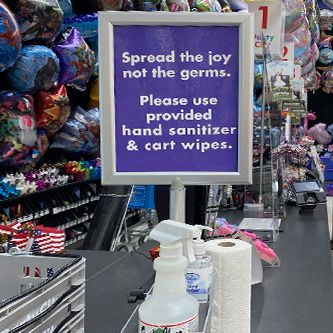 Employee Assistance: Party City is NOTHING without the amazing people who work in our stores.
And while it may be obvious, it should be noted that our store associates have voluntarily opted to return to work.
Everyone loves a good party and our associates love them more than most. So while it is tempting to come to work if you have a little sniffle or a slight fever or cough, we have asked all of our store team members to both check-in with their health every day and to stay home if they have even the slightest symptom or feel even a little bit unwell. Of course, they are also expected to contact their healthcare provider if they feel unwell.
Our associates will be wearing masks and gloves. And we are asking our customers to follow the safety rules and regulations that are set by their towns too.
Finally, all of our associates have been trained on how to use PPE (fancy acronym for personal protective equipment…you know, stuff like masks and gloves). We also held special training on proper hand washing techniques (like scrubbing front, back, and in between all while singing Happy Birthday...twice!) and on the use of special cleaning materials to ensure the safest possible environment for everyone in store.
We're all in this together. So, as we look forward to better days, we also know that the Coronavirus crisis has hit many of our PCHI (Party City Holdings, Inc) family members especially hard. So we do what family does. We created the PCHI Employee Assistance Fund with a million-dollar endowment in hopes that we can help our associates weather this storm.
View Video >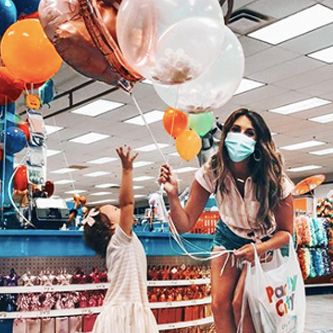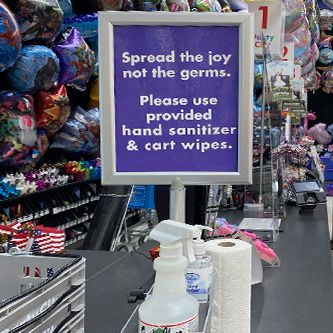 One Day Video
In an effort to express our gratitude for front line Essential Employees, we created a video that reminds us that while it may not be a time to party right now, there are still plenty of things to celebrate – love, comradery, the human spirit. But most importantly, we celebrate those who continue to keep the world safe.
Mask Update & Prioritizing Safety
Based on guidance by the Centers for Disease Control and Prevention (CDC), those who are fully vaccinated* no longer need to wear masks in stores, unless local regulations require them.
*Fully vaccinated: 2 weeks after final vaccine dose.
We remain obsessed about doing the right thing for you and our associates which is why we encourage our store team members to stay home even if they have the slightest symptoms. In addition to our contactless shopping options, here are just a few of things we're doing to help ensure a good and safe in-store shopping experience:
Contactless payment options
Hand sanitizer at cash registers
Frequent deep cleaning and sanitation throughout the store
Regular disinfection of shared common areas
You and your loved ones are the reason you're celebrating, and we are humbled to be part of your occasion. Thanks for partying with us and we look forward to seeing you soon!