Say "you did it!" with a celebratory buffet of cupcakes, candy and more! Reward your grad with an elegant dessert table that celebrates their bright future. A table of desserts with a black, white and gold color scheme is sweet and classic — just like your graduate. Get ideas for a table of classy commencement confections like cupcakes, candy, doughnut pops and more!
Once you're feeling inspired, shop all candy buffet or shop all graduation party supplies.
Idea 1: Dipped pretzels in your party colors!
Go ahead, eat these—you'll have the rest of your life to nibble broccoli! They're made with long pretzel sticks and Candy Melts® in both black and white. Just melt the candy, dip the pretzels, chill, drizzle with the opposite color and chill again. Then color-coordinate them on a bed of either white or black chocolate drops. Easy, cute and yummy!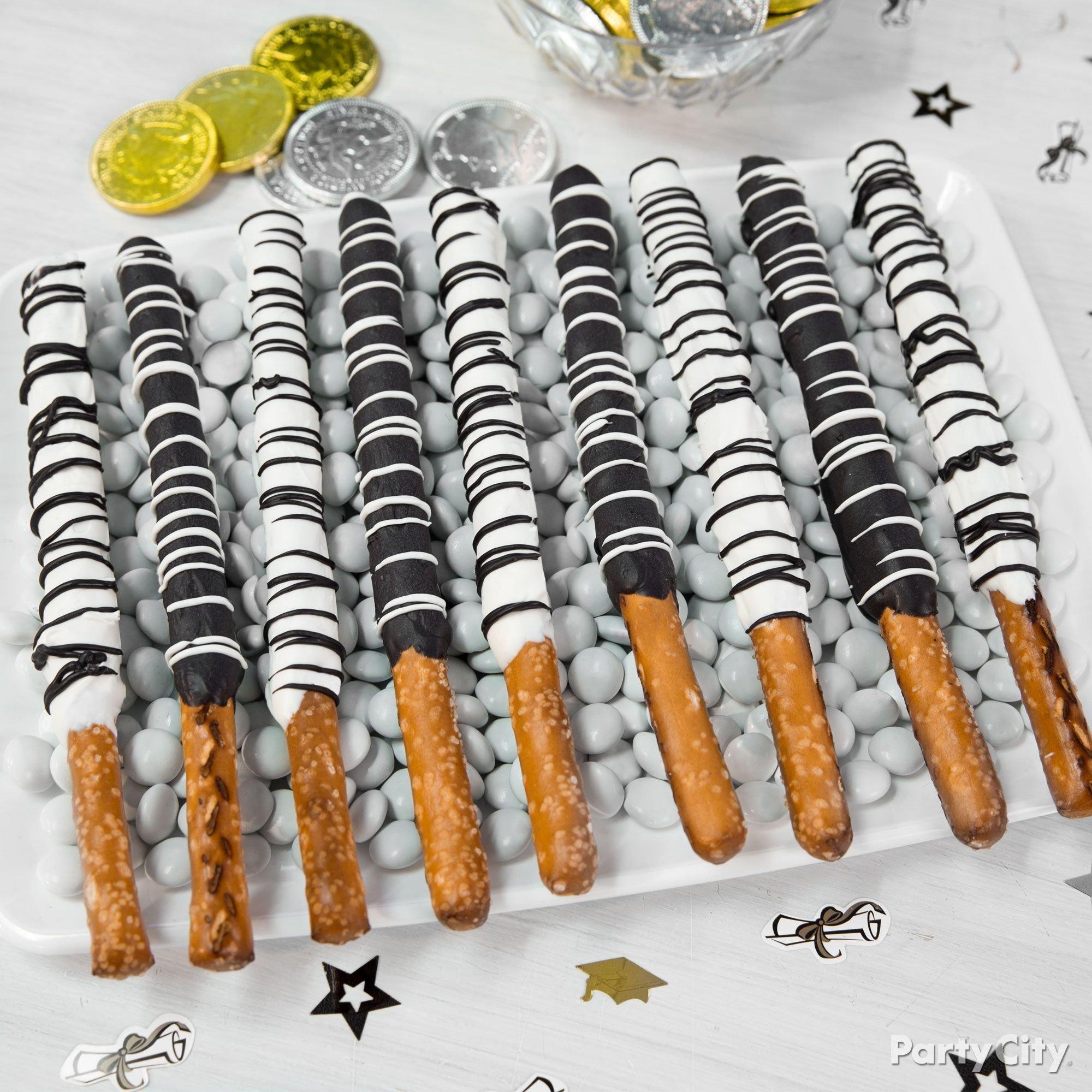 Idea 2: Create a graduation sweets buffet
Celebrate their accomplishment with a sweet spread. It's a cinch with smart ideas for a classy black, silver and gold treats table! Choose your favorite treats and make them grad-tastic with iconic mortarboard cupcake picks and straws, along with a grad cupcake tower and backdrop of grad-themed paper fans. Sheer brilliance!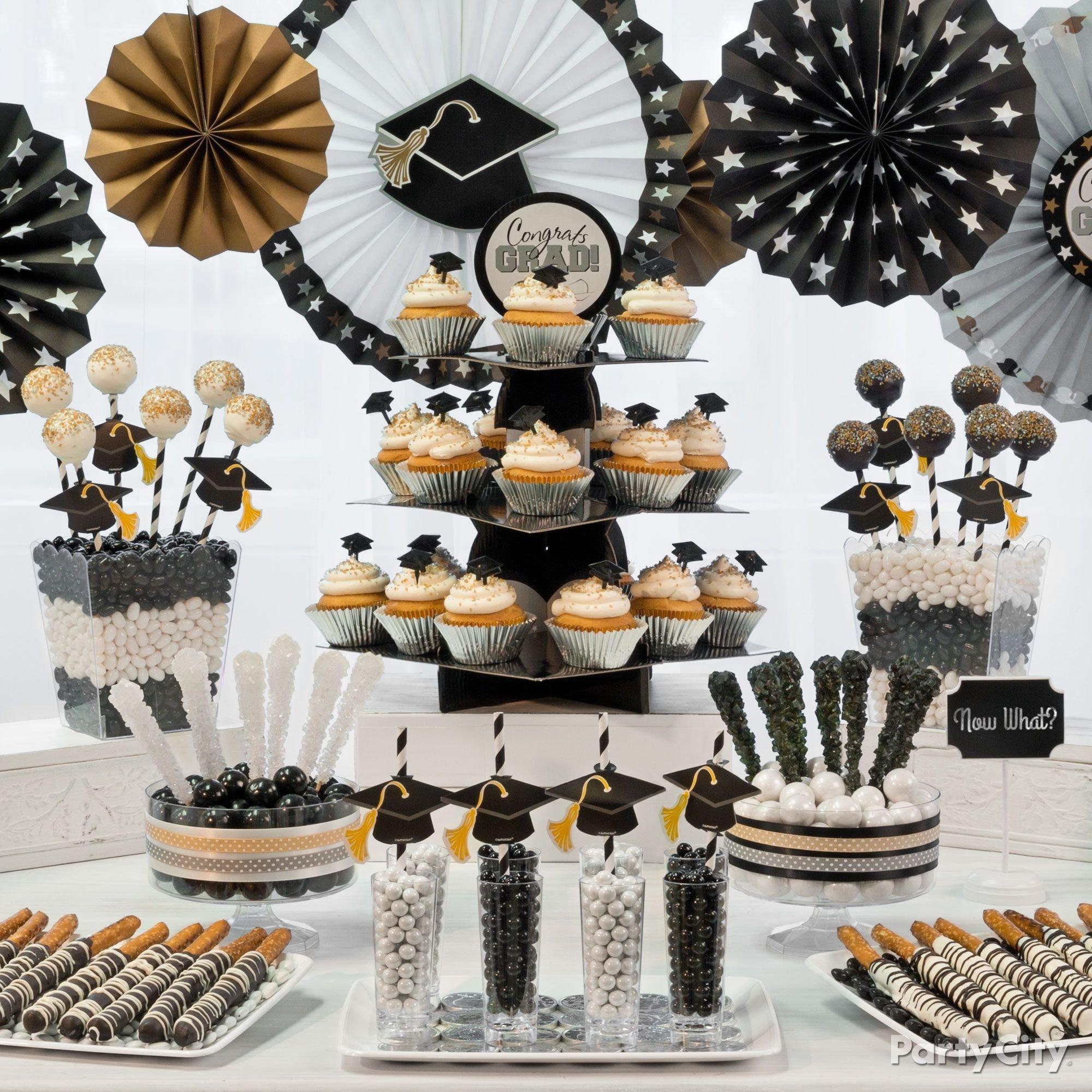 Idea 3: Wish them success with a gold coin graduation centerpiece!
This fabulous graduation party centerpiece works in any school colors. Use a spray centerpiece and combine it with a grad sign cutout on a skewer. Fill a clear container with Sixlets®, gold chocolate coins and the spray centerpiece. A sweet decor idea for a treats buffet and all the party tables!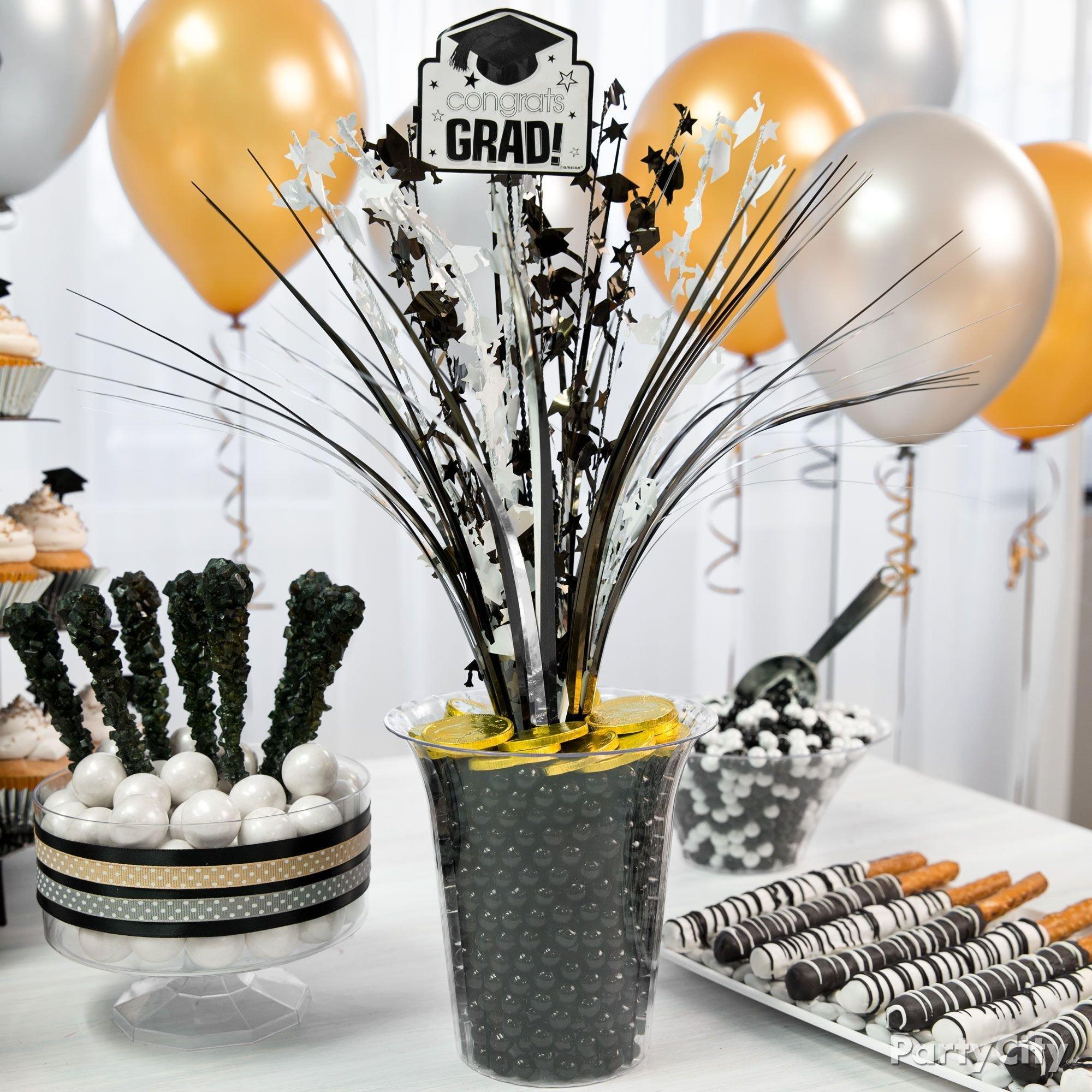 Idea 4: Get schooled on making grad cap anatomy cookies!
If your superstar grad is going to indulge in cookies, why not make them grad cap cookies? Use a grad cap cookie cutter to cut your favorite roll-out cookies, ice them in white with black borders and accent them with golden fondant tassels. The little signs will be the fun part! Use a writing decorator tip to write "tassel" or "string" with arrows pointing to the respective parts.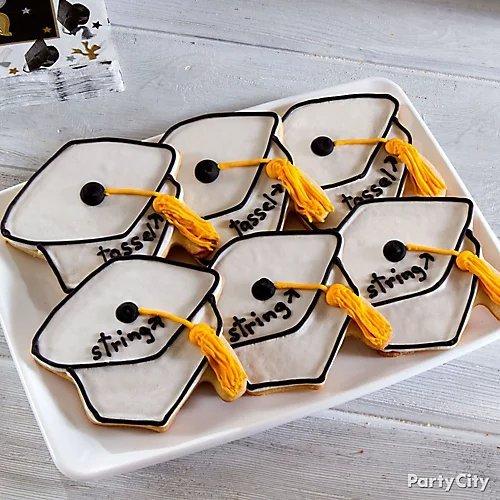 Idea 5: Silver + gold baking cups = super-cute grad cupcakes!
Everyone will devour your delicious cupcakes piled high with buttercream icing and decked out with picks and gold and silver sprinkles. Make your cupcakes look extra-special by baking them in gold metallic baking cups and display each one in a second silver baking cup. These scrumptious treats will have them shouting "OMG I'm done!" between bites!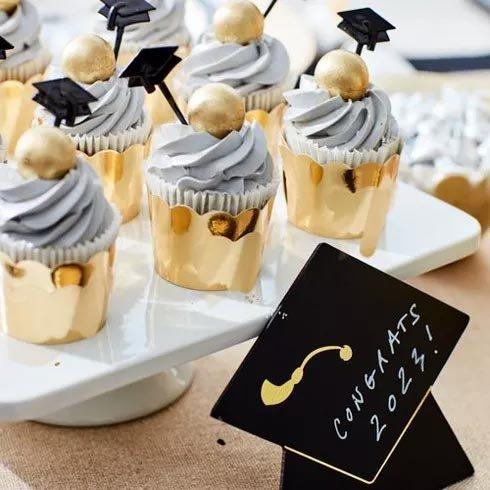 Idea 6: Elegant graduation cupcakes to symbolize their bright future!
A cupcake tower (or three!) makes the grade for big parties. Bake yummy cupcakes in silver foil baking cups and top them with grad cap picks, then stack them into each tier of your cupcake tower. Put the tower at the center of the table to make the commencement confections the star of the show—besides the grads of course!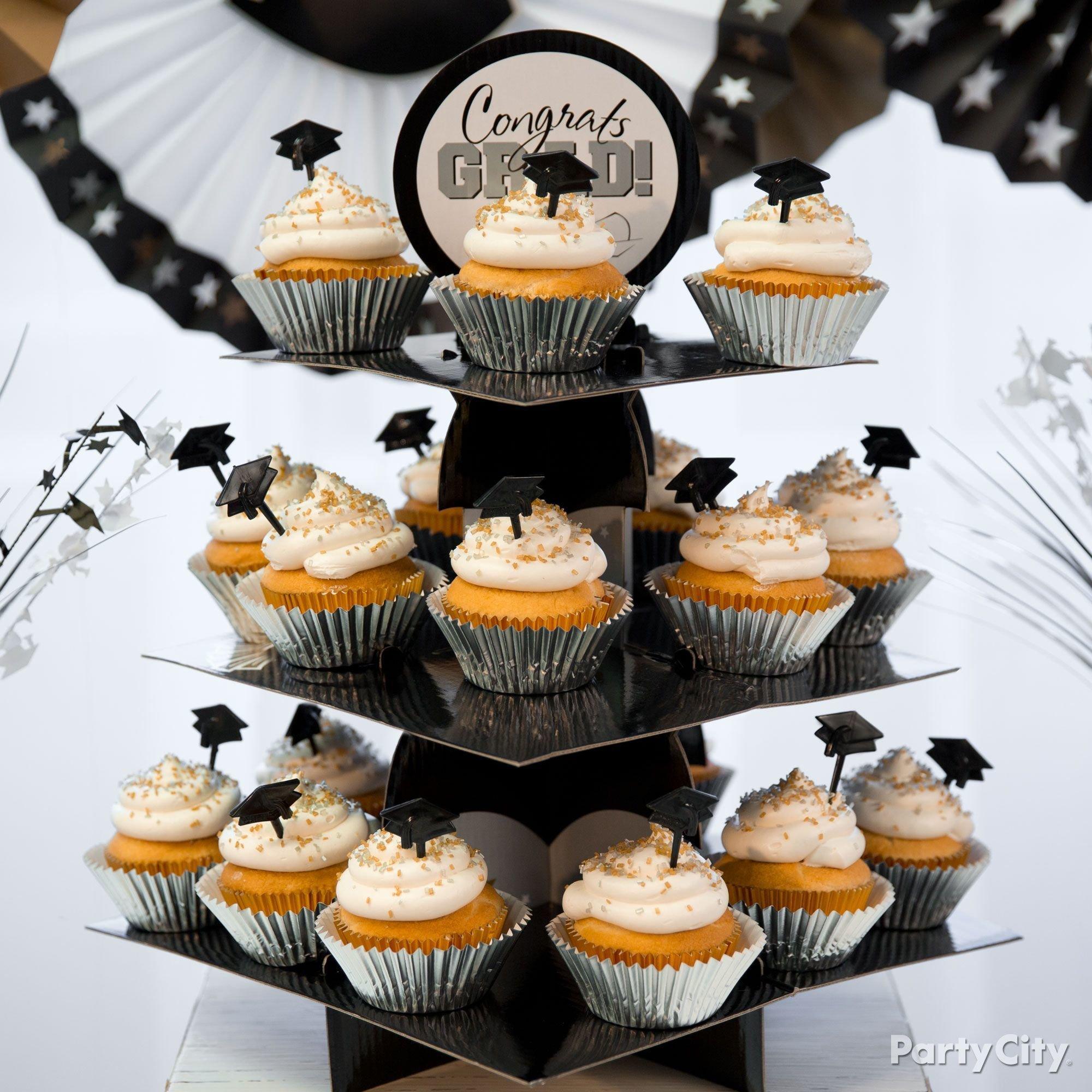 Idea 7: Easy and impressive grad cap doughnut pops!
Grab a box of doughnut holes and white Candy Melts® to create a party-friendly snack. We heart these cool striped straws with grad caps for cake pop "sticks." Just dip the doughnuts in melted candy and roll them in a pinch of gold and silver sprinkles. Pop them into a container of black and white jelly beans for an A+ display!