Whether you're throwing a big party, hosting a small gathering, or simply looking for a sweet way to honor your grad's achievements, a candy buffet is a fun and creative option that's sure to be a hit with guests of all ages.
From personalized candy creations to DIY themes and presentation tips, we've got everything you need to create a memorable and delicious candy buffet. Let's take a look at some graduation candy buffet ideas that your grad will love.
DIY Graduation Candy Buffet Themes
A DIY candy buffet is a fun and creative way to celebrate a graduation, giving your guests the chance to enjoy delicious treats while also adding a decorative element to your celebration. Here are some theme ideas for your DIY graduation candy buffet.
School Spirit Theme
A great way to recognize the graduate's accomplishments is to celebrate their school spirit with a candy buffet themed around their school colors and mascot.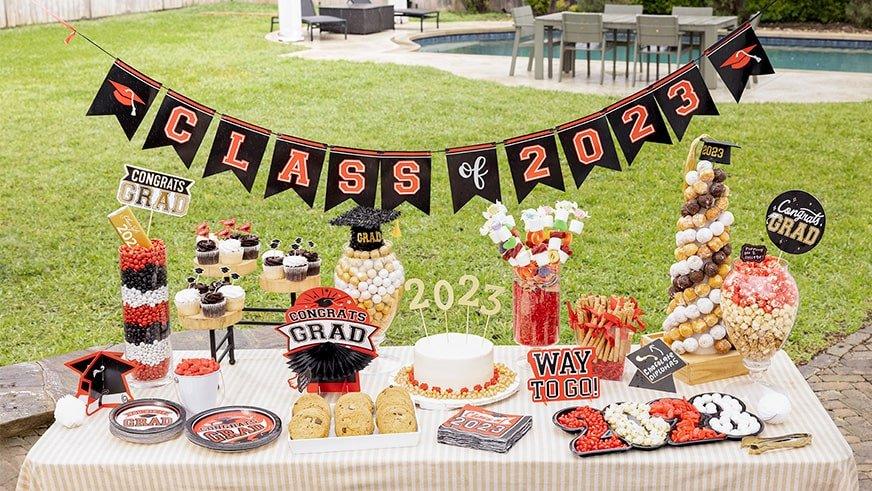 You can easily find bulk candy in a variety of colors to match the school's colors. Arrange the buffet with bowls and jars filled with color-coordinated candy, such as:
Along with the candy, consider incorporating school-themed decorations such as banners, streamers, and balloons in the school's colors. Using decorations with the school's mascot and adding baked treats like cupcakes and cookies in school colors can also help tie the theme together.
Future Career Theme
If the graduate has a specific career in mind or is going into a particular field of study, a future career-themed candy buffet can be a unique way to celebrate their ambitions. For this theme, you can choose candies that represent the graduate's future career. For example:
Business - Chocolate coins or cash-themed candies

Healthcare- The color of their scrubs or common healthcare colors like blue and green.

Art - A colorful assortment of candies, candy paintbrushes
In addition to the themed candies, add some small, table-top decorations to further enhance the theme, such as miniature equipment, tools, or career-related accessories.
College Colors Theme
If the graduate is heading off to college or university, try incorporating their new school's colors into the candy buffet.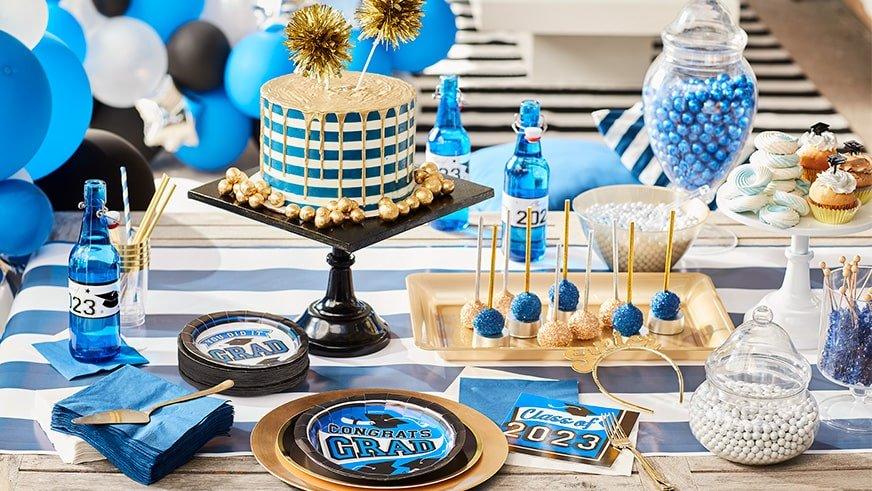 You can use bulk candy in a variety of colors, such as gummy candies, jellybeans, or chocolate candies. Don't forget to add plenty of graduation decorations like flags, banners, or even sports pennants from the college or university.
Personalized Graduation Candy Ideas
Besides having a great candy buffet theme, personalized candies can make your graduation candy buffet a memorable experience for the graduate and their guests.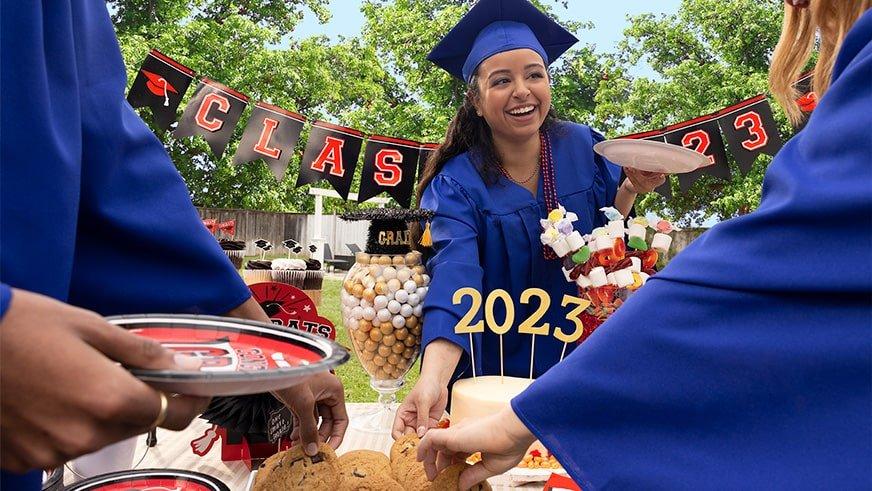 Adding a personalized touch to the candy not only creates a memorable look but adds sentimental value to the celebration. Here are some personalized candy ideas:
Custom Chocolate Bars
One popular option for personalized graduation candy is custom-wrapped chocolate bars. Many companies offer the service of designing and printing custom chocolate bar wrappers with images or text of your choice, such as:
The graduate's name

The graduation year

A personalized message or quote

A photo of the graduate
Consider coordinating the wrapper colors with your candy buffet theme or school colors so that the custom chocolate bars blend seamlessly with the overall presentation.
Monogrammed Mints
Another personalized candy option is monogrammed mints. These mints typically come in small metal tins with a custom label on the lid showcasing the graduate's initials, name, or graduation year. Aside from adding a personal touch to the buffet, these monogrammed mints also make great party favors for guests to take home as a keepsake. Be sure to match the label colors with your chosen theme for a coordinated look.
Photo Candies or Lollipops
A truly unique addition to a graduation candy buffet is custom candies or lollipops featuring a photo of the graduate. Companies that specialize in creating custom photo candies can print high-quality images directly onto the surface of hard candies, chocolate coins, or even large lollipops. These photo candies make a statement on the candy buffet and are sure to impress guests. Pair them with other personalized candies or color-coordinated treats to create a visually stunning display.
Graduation Candy Buffet Presentation Tips
A graduation candy buffet is an exciting way to celebrate the achievements of the special grad in your life. Here are some presentation tips that can help you create an unforgettable candy station at your graduation party.
Decorative Containers and Jars
Choosing the right containers and jars for your candy buffet is essential to create a visually appealing display.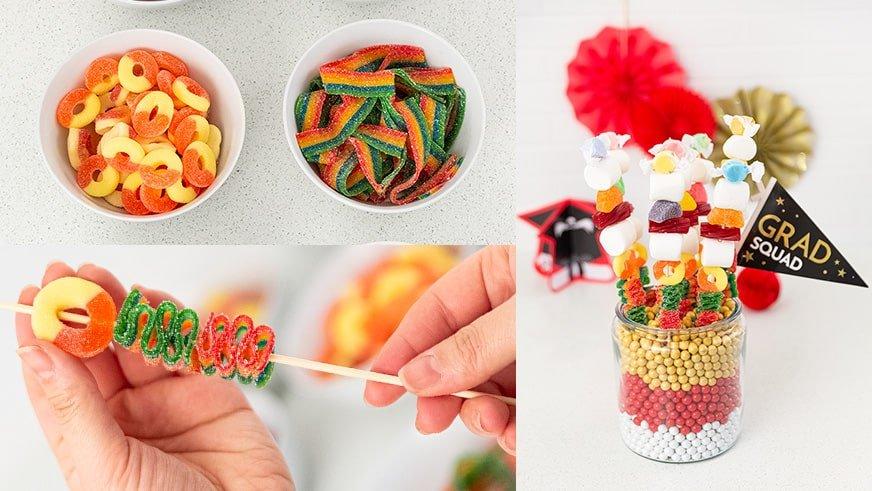 Consider these ideas for selecting the perfect decorative containers:
Opt for glass jars in different shapes and sizes for a sophisticated look. Apothecary jars, mason jars, or even jelly jars can add a touch of visual variety to your table.

Use tiered cake stands or dessert trays to showcase various candy types, making sure to group similar candies together.

Incorporate the graduate's school colors or party theme into the container selection.

Add ribbons, stickers, or labels to personalize the containers.
Remember to place scoops, tongs, or other serving utensils next to each container so guests can easily serve themselves without spreading germs.
Themed Candy Table Linens or Runners
Another essential part of an eye-catching graduation candy buffet is a themed table linen or runner. They not only protect the table but also contribute to the overall appearance of the buffet.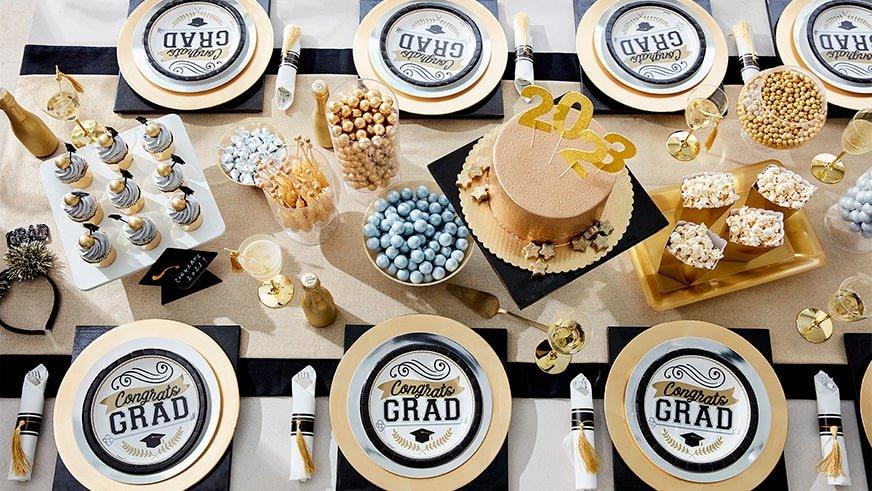 Consider these tips when selecting linens or runners:
Choose a tablecloth or runner in the graduate's school colors, favorite colors, or a color that complements the party theme.

Look for patterned linens to add texture and visual interest to the candy buffet.

If possible, use a fabric that is easy to clean and maintain, since spills may occur during the party.

Accessorize with matching napkins and other table settings, to create a cohesive look.
Graduation-themed Banners, Signs, and Labels
Personalized banners and signs can make your graduation candy buffet stand out. Keep these tips in mind when creating your labels and signs:
Label each container with the type of candy it holds, using decorative tags or stickers.

Create a large sign or banner with the graduate's name, graduation year, or an inspirational quote to hang above the candy buffet.

Use bold fonts and colors that are easy to read and coordinate with the party theme.

If there are dietary restrictions or allergies among guests, make sure to label candies accordingly to help guests make informed choices.
Including these personalized touches not only adds a unique element to the candy buffet but also helps guests navigate the table with ease.
See How Party City Can Help Your Party
Ready to start planning your graduation party? Party City has all the party supplies you need for any occasion, from birthday parties and holidays to game nights and weekend get-togethers. We're here to help you celebrate and enjoy life's many moments. Explore our candy selection or visit our nearest location.
Graduation Candy Buffet FAQs
How much candy do I need for my Graduation Candy Buffet?
One of the biggestl factors in determining the amount of candy for your candy buffet is the number of guests you'll be hosting. As a general rule, a quarter to a half-pound of candy per guest is recommended. For example, if you have 50 guests, you should aim for 12.5 to 25 pounds of candy. Of course, this estimation can vary depending on how many other treats and desserts you plan to serve during the event.
What types of candy should I include in my Graduation Candy Buffet?
When selecting candy for your Graduation Candy Buffet, the options are practically endless. Some popular choices are:
Graduate's Favorites: You can't go wrong with your graduate's favorite candies and sweets.

Theme: Choose candies based on your event's theme or color palette.

Options: Aim for a mix of chocolates, gummies, hard candies, and other candy types to appeal to everyone's tastes.
How can I personalize my Graduation Candy Buffet?
Personalizing your graduation candy buffet not only adds sentimental value but also makes your event more memorable. Here are a few ideas to personalize your candy buffet:
Labels: Customize labels for each candy jar, display, or treat bag with your graduate's name or initials, graduation year, and school colors.

Graduation-Themed Candies: Consider offering graduation-themed candies like chocolate diplomas or candy graduation caps.

Photos: Put up pictures of the graduate's journey through the years, from childhood to their graduation day, around the candy buffet table.