Our WWE party supplies feature WWE Super Stars John Cena, CM Punk and more! Any WWE fan will love Party City's WWE themed tableware, decorations, games, favors and cake ideas!
Idea 1: You're the Faces that Run the Place!
Get everyone geared up in the right ring gear! Let your little Rumblers choose from temporary tattoos and stickers, wristbands and glow necklaces, masks, hats and more. They can take their accessories home as party favors!
Idea 2: Strike a pose with your favorite superstar!
WWE stars are great at creating a scene! Decorate a wall in the party room with a WWE Scene Setter and watch your birthday brawlers show off their best moves in front. Set up some DIY balloon columns around the scene setter; they'll look like ropes around the ring!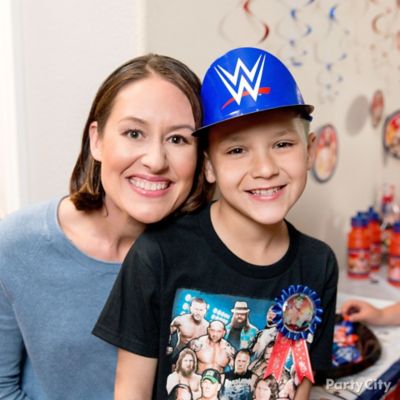 Idea 3: Triumph over any outfit with WWE accessories
Sometimes all it takes is the right move to win a match! In the case of birthdays, it just takes the right accessories. The birthday boy instantly turns into a champ with a WWE hat, T-shirt and ribbon!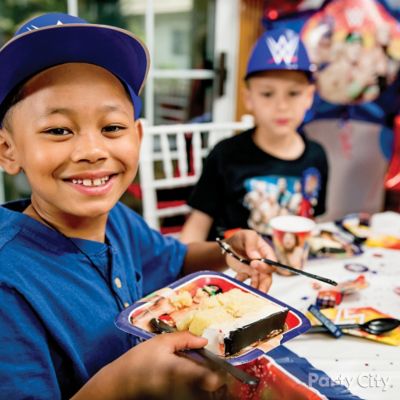 Idea 4: Snap some pics during cake time
Parents will love photos of their kids at your little Rumbler's birthday party! Cake time is the best time to get great candid shots. Plus, you get to show them the cool themed birthday cake!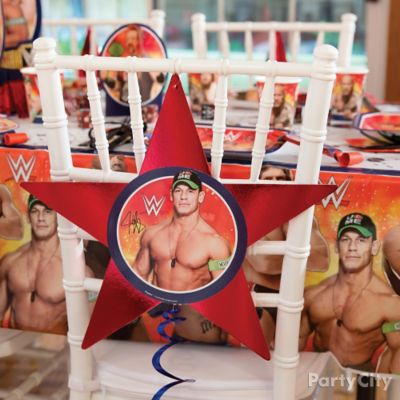 Idea 5: Mark each chair with a superstar decoration!
Make each place at the table feel special by decorating the chairs. To create these WWE-themed decorations, just hot glue or tape a paper cutout from a WWE Swirl Decorations Set to a metallic red star. Everyone will be ready to rumble!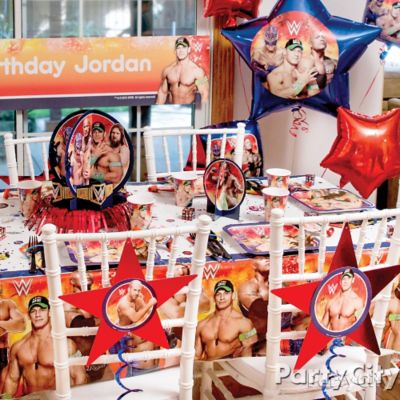 Idea 6: A custom banner makes your superstar feel like a champ!
Using our online editor, you can create a custom birthday banner faster than you can say "Royal Rumble!" Decorate a wall in the party room with a WWE Scene Setter and watch your birthday brawlers show off their best moves in front. Set up some DIY balloon columns around the scene setter; they'll look like ropes around the ring!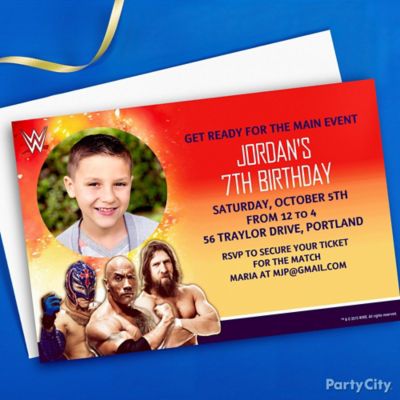 Idea 7: Call your friends into the ring with custom invitations
Snap a pic of your little wrestler to include in your WWE Custom Photo Invitations. Easily add all your party details too, such as date time, and RSVP info. Order your cards online and they'll be ready to ship within five business days. Seal the envelopes by smacking on a WWE sticker.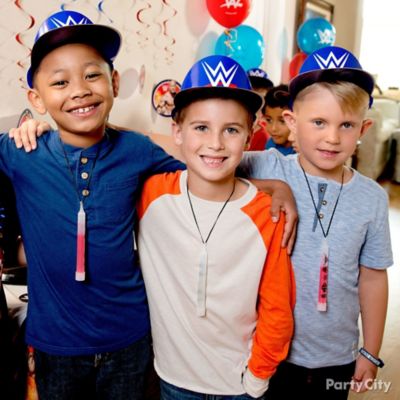 Idea 8: Get guests in on the dress-up fun!
Turn all of the guests into WWE superstars! Have the birthday boy hand out WWE-themed wearables and accessories at the start of the party, like hats, glow sticks and wristbands.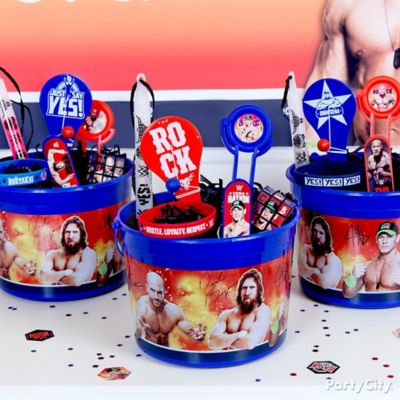 Idea 9: They'll flip for these WWE favor containers!
Clinch the title of "best party ever" with awesome favors that the kids can take home to continue the fun. Fill a WWE Favor Container with goodies like puzzle cubes, wristbands, paddleballs and disc shooters. Nice move!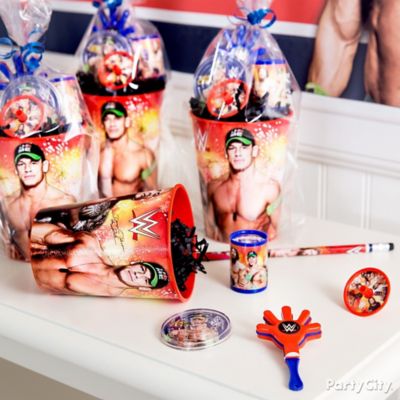 Idea 10: Surprise them with winning favors!
Make the fun last until the final round by handing out WWE favors as the kids leave the party. Fill reusable WWE Favor Cups with goodies, slip them inside clear party bags and tie with ribbon.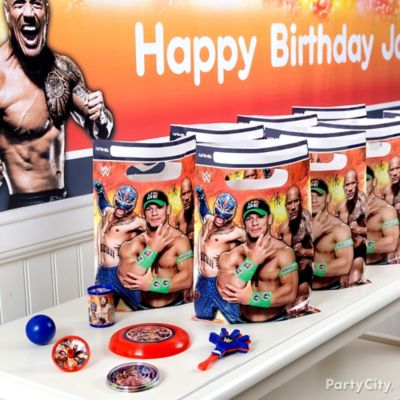 Idea 11: Value pack = favors in a flash
Slammed for time? Grab some WWE favor bags and fill them with themed toys from the WWE Favor Value Pack. You won't even break a sweat!
Idea 12: Give out a party pass with your WWE invitations
Every WWE champ has a secret maneuver – make this invitation idea your own special move! How about getting guests in on the fun early by sending a WWE tattoo with your invites? Tell guests to wear a tattoo as a secret pass for entry to the main event.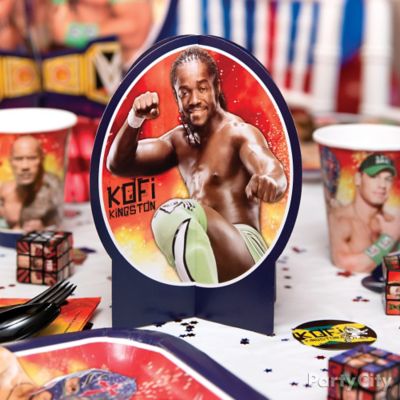 Idea 13: Invite the Boom Squad to the table!
Get the Rumble started with Kofi Kingston-inspired decorations! He and the other WWE Superstars look great on 3D centerpieces, table scatter and confetti. Scatter small WWE toys about to get party guests pumped for birthday action!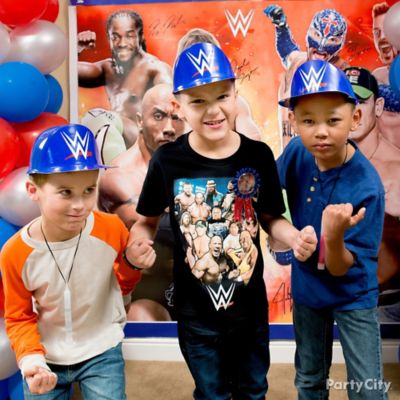 Idea 14: Show your tough side in front of a WWE Scene Setter
Time to face your opponent! Have the little wrestlers strike their toughest poses in front of a WWE Scene Setter and snap away. It's the perfect backdrop for taking pics that capture the party spirit!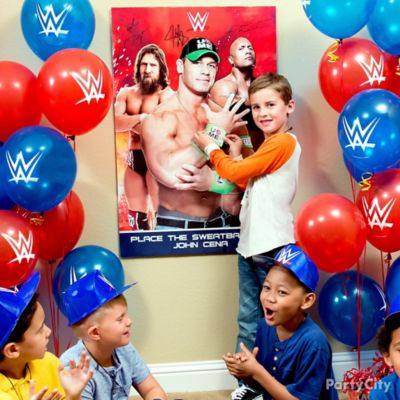 Idea 15: Help John Cena with this rad party game!
Who knows where John Cena's sweatband goes? See who can stick it the closest with this WWE Party Game, a themed twist on classic Pin the Tail on the Donkey. Don't forget the blindfold – are your little wrestlers up for the challenge?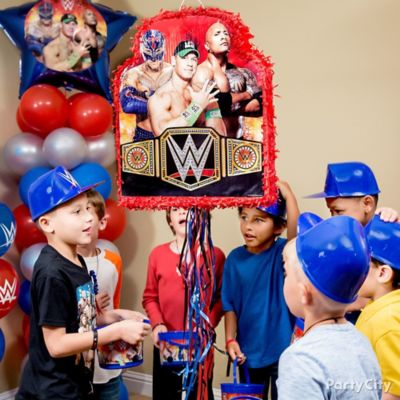 Idea 16: Time to tackle a pinata!
Get ready to go toe to toe with a WWE pinata. Fill it up with toys and candy, then let each superstar take turns pulling a ribbon. One lucky challenger will pull the magic ribbon that releases all the goodies. They'll have a blast scrambling for the treats and trinkets – give 'em WWE favor buckets so they can scoop it all up!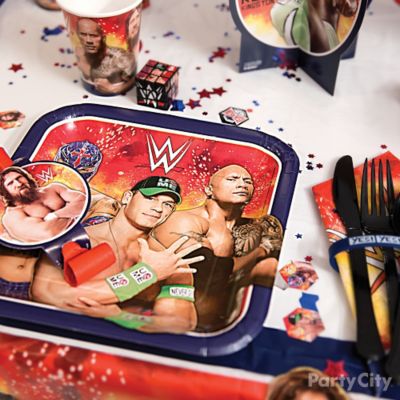 Idea 17: Prepare your table for an onslaught!
Set up WWE place-settings for the birthday superstar and his friends. When your little champs come crashing down after playing, they'll surely end up at the table. Be ready for them with WWE tableware and fun favors like blowouts and puzzle cubes to keep them entertained while they wait for the cake!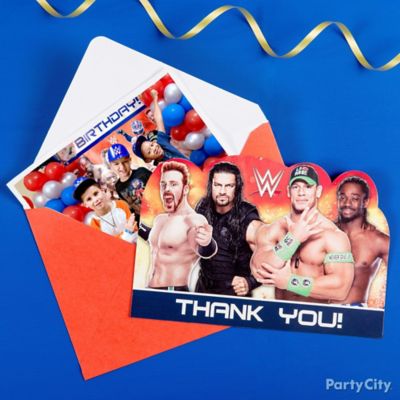 Idea 18: Send a photo of the fun in your thank you notes!
Give your WWE Thank You Notes a personal touch by including a photo of the birthday boy with each guest. Photos are a cool keepsake for the kids to remember the day!