Perfectly tantalizing starters and sweet finishes to your Thanksgiving meal. Browse our delicious and decorative ideas for Thanksgiving appetizers and desserts. The turkey may be the headliner of your Thanksgiving feast, but you need great opening acts! We have fresh and creative appetizers, personal size desserts and even drink ideas to please everyone in your family – kids included. Before you head to the grocery store, check them out below. Happy Thanksgiving!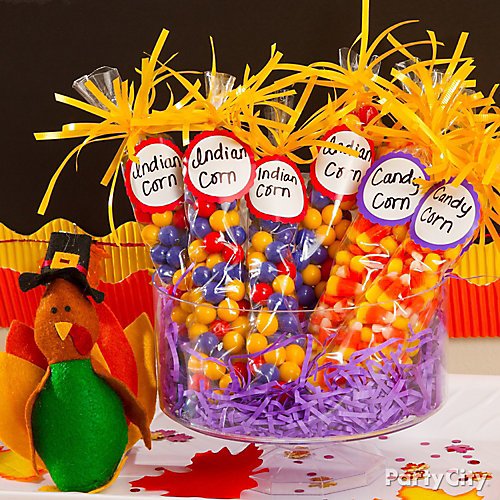 Idea 1: Candy corn on the cob
Fill some small favor bags with candy corn and others with purple, orange and yellow Sixlets chocolates for "Indian corn." Make corn "stalks" with yellow curling ribbon, then stick on a cute favor label — it's a cornucopia of yum!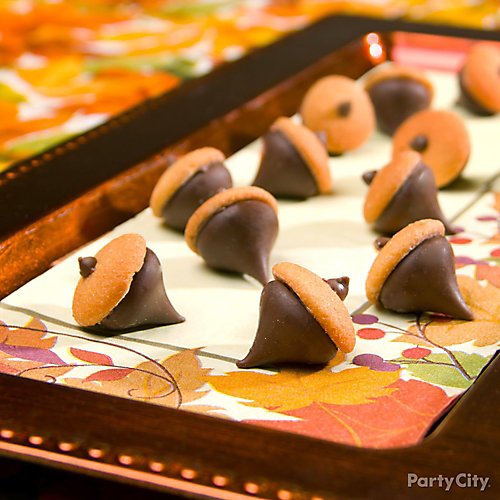 Idea 2: Display chocolate-cookie acorns on a leafy platter
Put together chocolate kisses and wafer cookies to make "acorns" that are so adorable you'll want to squirrel some away for yourself! Use corn syrup or vanilla extract to attach the cookie to the chocolate kiss, then create the acorn "stem" by adding a chocolate chip. For display, choose a napkin with fall foliage on it and layer it on a richly hued serving tray.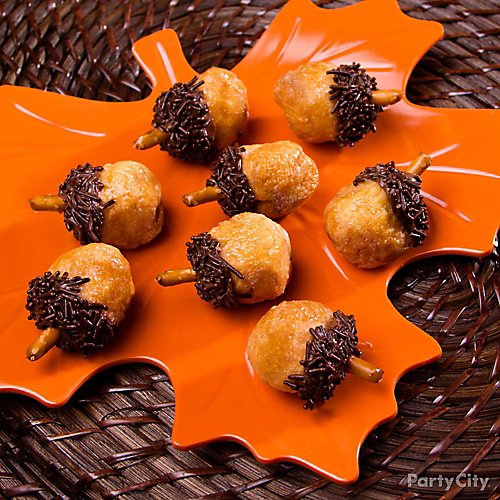 Idea 3: Turn doughnut holes into acorns
Your guests are in for a tasty surprise when they realize that these "acorns" are delectable doughnut holes! To make them, dip each doughnut hole partway in melted chocolate, roll in sprinkles and add a small pretzel stick at the top to make the acorn stem. Scattered on a bright orange plate atop a brown charger, they add seasonal color to a fall-hued Thanksgiving appetizer table.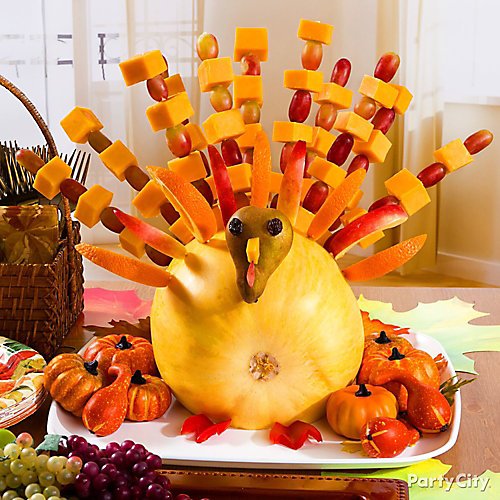 Idea 4: Impress and delight with a fabulous fruit display
To make this bountiful bird, start with a honeydew melon. Add cheese and grape skewers and slices of apples and oranges for feathers. The head is a pear with raisins for eyes, a cheese beak and a bell pepper wattle! Give your feathered friend a "nest" by filling a tray with mini gourds and decorative leaves.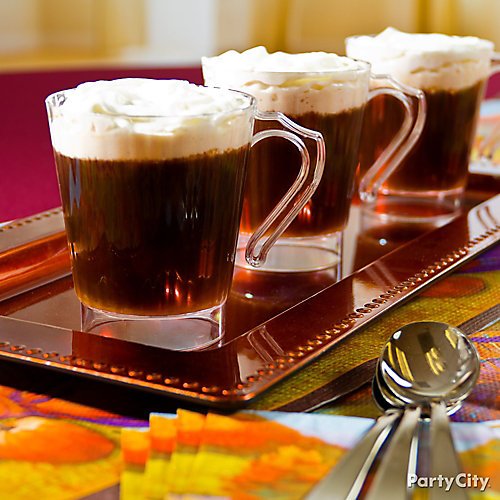 Idea 5: Cap it off with Irish coffee
To make this delicious adult sipper, blend fresh coffee with a shot of Irish whiskey and top with a generous dollop of whipped cream. The little ones in the family will enjoy a tray of hot chocolate or mulled cider — and don't forget Thanksgiving-pattern beverage napkins!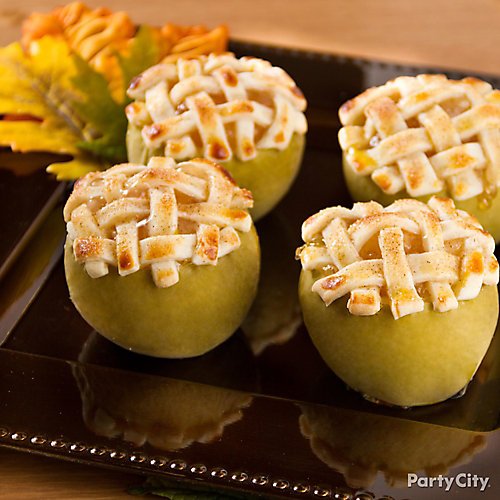 Idea 6: Serve personal apple pies
Here's a new way to make a delicious dessert with style. Gather Granny Smith apples, remove the tops and scoop out the core and flesh. Use the flesh to make a pie filling. Fill each apple, lay pie crust strips across the top, and bake. No tins needed — they cook in their own skin. These treats are almost too gorgeous to eat.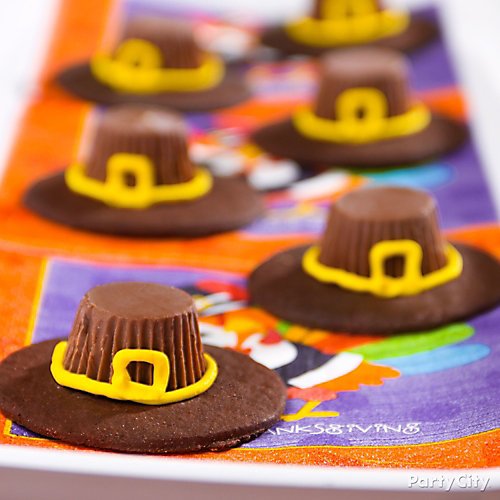 Idea 7: Cookie or candy? Both!
Get ready for oohs and aahs when you add these pilgrim hat treats to your dessert table. All you need to do is put a dollop of frosting onto the center of a chocolate wafer, invert a mini peanut butter cup on top, and finish with a piped frosting hatband and buckle around the base. They'll tip their hats to you for a dessert well done!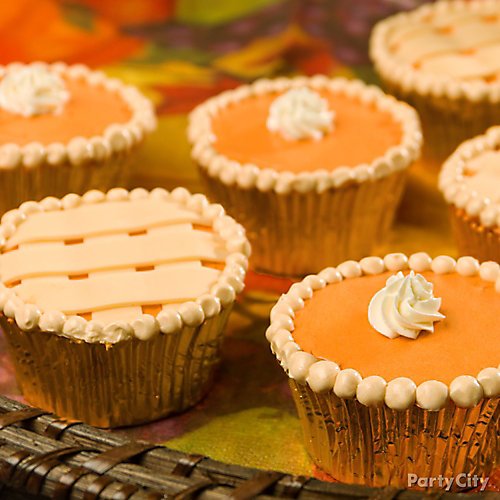 Idea 8: A fresh take on pumpkin pie
Whip up your family's favorite pumpkin pie, only this year, try it in chic miniature. Make baby versions by baking the pie in cupcake tins, then create the "pie crust" by piping frosting on the top. Make a delectable display on a generous serving tray and watch as these trendy treats become the new Thanksgiving classic!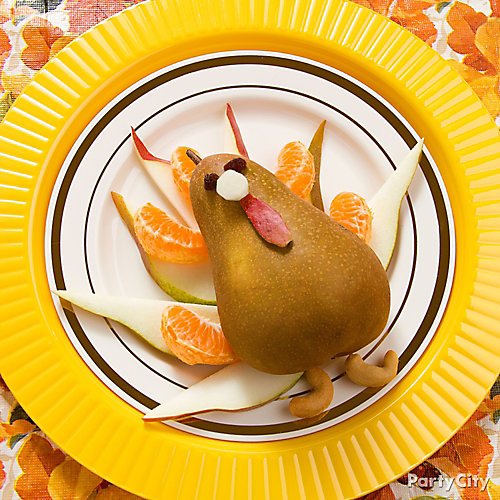 Idea 9: A fun and festive fruit plate
To create the turkey, slice pears in half, remove the cores and thinly slice half the pear halves. Fan out the pear slices and some Clementine orange segments like plumes. Use raisins for eyes, apple for the beak, apple peel for the wattle, and two cashews for feet. Place on colorful plates and this bird is ready to fly!