Go go Power Rangers! Dino Charge your party with fierce ideas for decorations, games, cake and more. They'll have a blast morphing into Rangers for the day!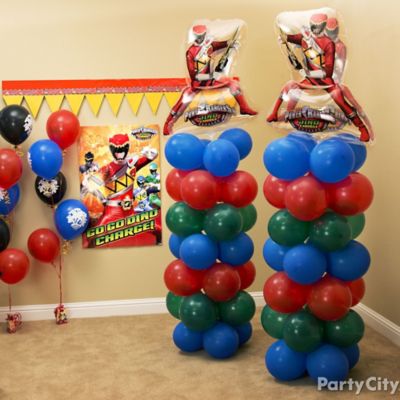 Idea 1: Assemble Red Ranger balloon towers
Balloon Rangers make for a dino den of towering proportions! Create a balloon tower by tying together layers of 4 balloons, alternating between your party colors. Make two towers topped with a Red Ranger balloon, and use them to frame a scene setter or doorway.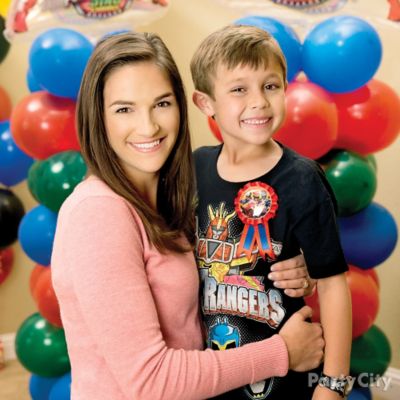 Idea 2: A mighty outfit for your mighty boy!
Give the birthday boy Power Rangers accessories to power up his special outfit! He'll feel up to taking down a whole gang of aliens in an award ribbon, headband or sash.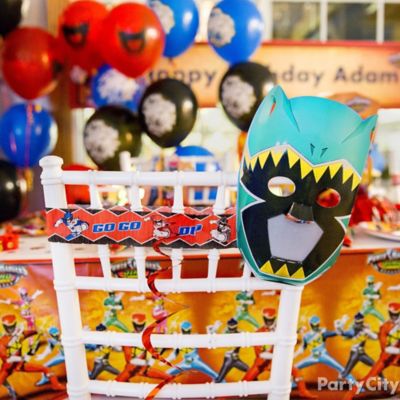 Idea 3: Use masks to Dino Charge the chairs!
Grab Power Rangers mask, streamer and swirl decorations to make these chair wraps for your little heroes. The masks will make them feel like the chair was reserved for both them and their favorite Ranger!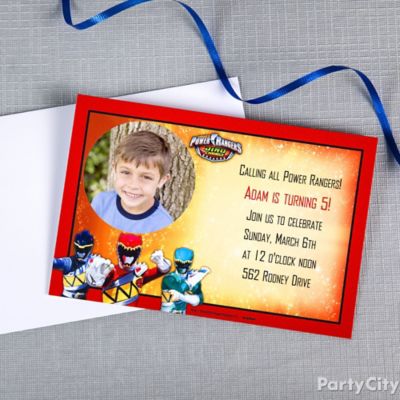 Idea 4: Gather the Rangers with a custom invite!
You'll need everyone to form the Birthday Megazord – so include all Rangers with these smashing Dino Charge Custom Invitations! Personalize the invite with the party details and a snapshot of the birthday hero for a little extra save-the-date style.
Idea 5: Suit up guests in Power Rangers accessories!
Get the whole gang ready to charge with awesome accessories. Give the birthday Ranger a mission to hand out Power Rangers masks, wristbands and glow sticks to arriving friends as a welcoming favor and instant way to get the party going.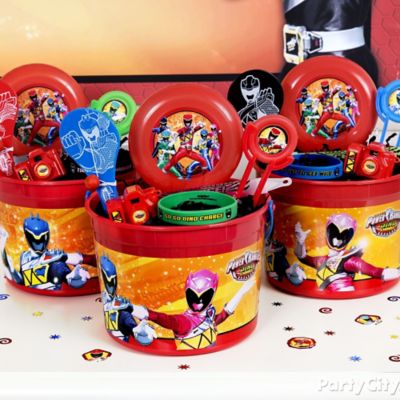 Idea 6: Make the ultimate Dino Charge favors for your Rangers!
Make the excitement last beyond the party with Power Rangers favor buckets full of goodies that will protect Earth from Sledge. With so many favors to choose from, the kids will have hours of fun battling for good!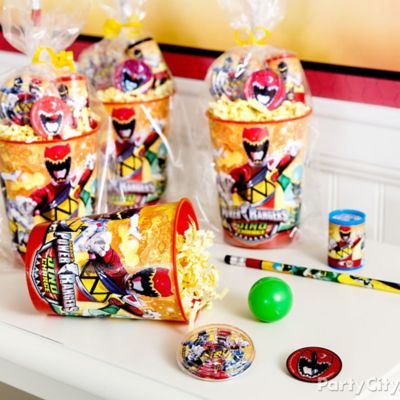 Idea 7: Transform Power Rangers party cups into fierce favors
These reusable Power Rangers favor cups, which you can fill with cool favors, are the perfect way to send your heroes home. Simply stuff the cups with yellow paper shred and your pick of Power Rangers favors and then slip them inside clear party bags. They're sure to knock the socks off Dino Charge fans!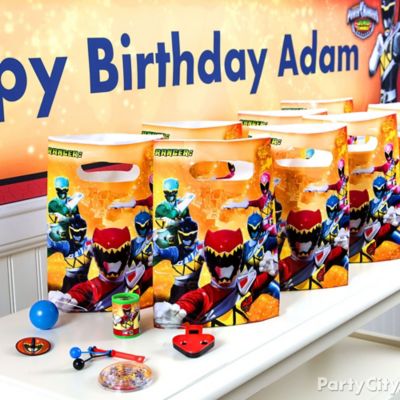 Idea 8: Awesome time-saving grab bags
Put together favor bags faster than the team can form the Megazord! With ourPower Rangers favor pack, you'll feel like the superhero when favors for eight are done in the blink of an eye and every kid leaves with a smile. Don't forget matching favor bags!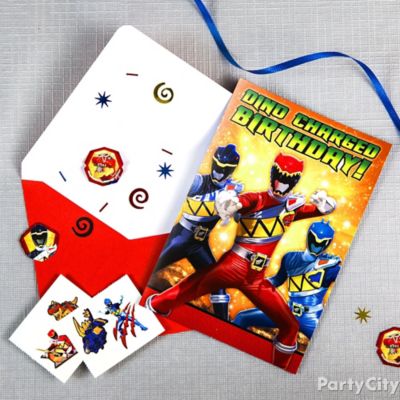 Idea 9: Add a secret party pass to your invites
Pop some Power Rangers tattoos and confetti in the invitations and tell your guests the tattoos are secret passes to get into the birthday bash. Confetti and tattoos? Talk about wild invites!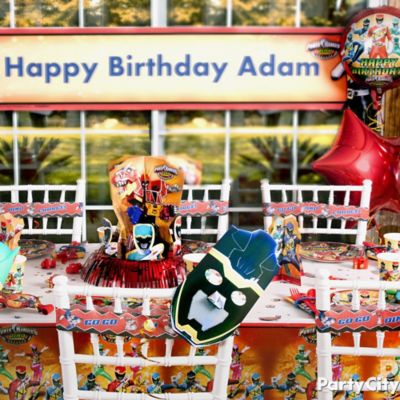 Idea 10: Put up powerful decorations
Give the party room some wild party 'tude with Power Rangers decorations! Make sure the fearless birthday leader is represented through a personalized Power Rangers banner and balloon bouquets on either side. And make sure it's near the dino chow table with a themed centerpiece and more!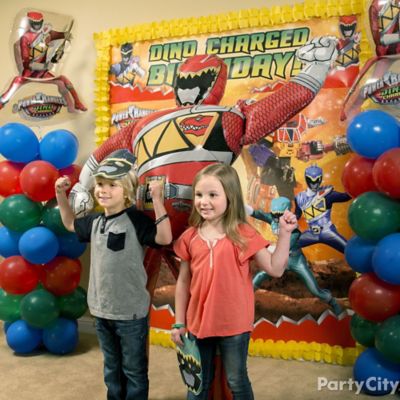 Idea 11: Strike a mega pose
Hand out Power Rangers masks so the kids can have a blast dressing up as their favorite Ranger and posing next to a Dino Charge gliding balloon! It's the perfect time to snap pictures of them in action with their favorite morphin' moves.
Idea 12: Stick to fun with a Power Rangers game
Rethink the classic pin-the-tail game with this cool Energem twist! Guests can take turns donning the blindfold and placing Energem stickers as close to the Red Ranger's outstretched hand as they can with the Power Rangers party game.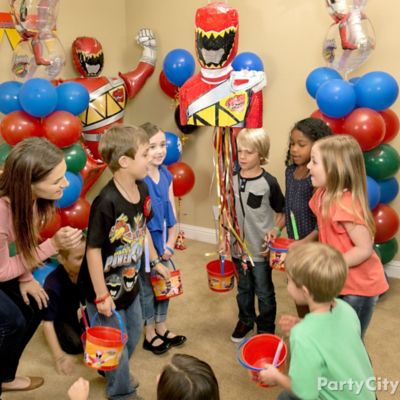 Idea 13: Hang up a Red Ranger pinata for a sweet reward
Give them a chance to show off their mega strength with a Power Rangers pinata! Kids will enjoy taking turns pulling the strings to see which one releases a flood of candy and goodies. They'll need Power Rangers buckets to gather their loot!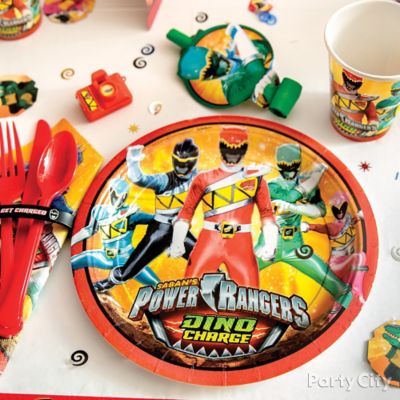 Idea 14: Amp up the table with color and fun favors
Kids will love chowing down snacks when they're served on our Power Rangers plates alongside matching cups, napkins and blowouts. Pair Power Rangers place-settings with coordinating favors to create this vibrant, action-filled look at your party table.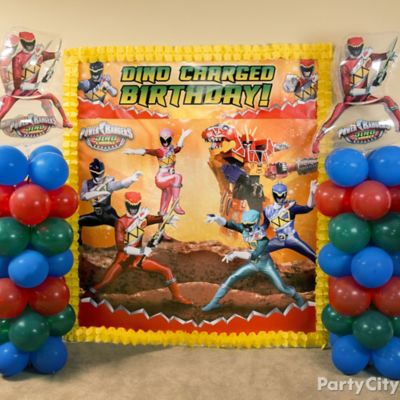 Idea 15: Create an action-packed scene!
Set the stage for an epic play-battle with a Power Rangers scene setter! Create a cool border for the scene setter with a yellow paper garland, and add a little DIY to the digs with balloon towers on either side. Keep scrolling for the balloon tower details.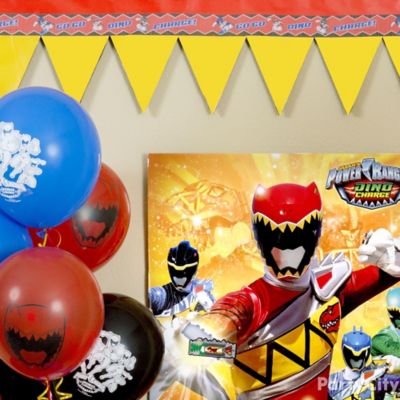 Idea 16: The kids will roar for this fierce dino "teeth" banner
Create a DIY banner with "teeth" for the dino den! To craft this cool take on dinosaur teeth, cover a large strip of poster board with red and yellow wrapping paper. Then to make the teeth, cut out triangles with an Xacto knife. If you aren't crafty, pick up a pre-made yellow pennant banner for the teeth (easy!). Add a Dino Charge streamer and it's party ready!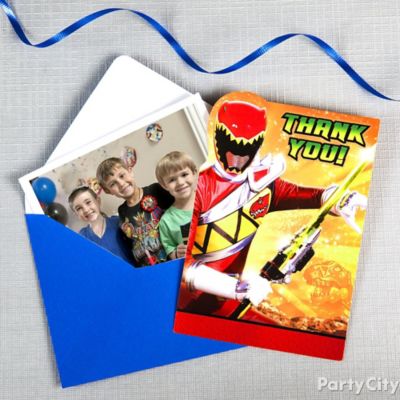 Idea 17: Say thanks with a party photo!
Thank the Rangers for making the party a roaring success! Along with a Power Rangers thank you note, include a photo of the birthday star and his team. Parents and Rangers alike will love having a keepsake from the party to remind them of the good time they had!