When the clock strikes midnight, toast in style!
Party guests won't get their glasses confused when they're in bright colors and labeled with super-cute DIY stickers! Loop a bit of ribbon around a glass stem and secure both ends between a sticker label and a tissue paper round. Create a cool, funky look by "color-clashing" with bright ribbons and swizzle sticks. These colorful champagne glasses look as sweet as their bubbly contents!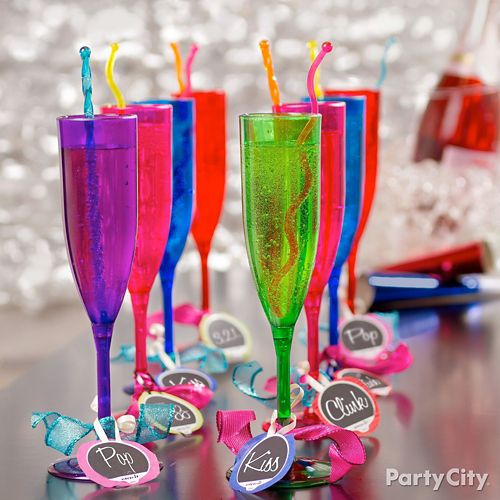 How-To
Supplies:
Colorful champagne flutes
Tissue paper
Etch-It spots
Curling ribbon
Swizzle sticks and colorful ribbon (optional)
1) Cut tissue paper
Cut out circles of tissue paper larger than your etch-it spot. Make sure to use a variety of colors.
2) Etch words
The etch-it spots can be written on using just a fingernail, but for added precision, try a retractable pen with the tip retracted. You can write your guests' names, or cute New Year's words like pop, clink, fizz, kiss or numbers up to 12!
3) Attach ribbon
Cut a small piece of curling ribbon and form it into a loop around a flute stem. Place the ends of the ribbon between a circle of tissue paper and an etch it spot, pressing down on both sides to secure it in place.
4) Add embellishments
For extra color, create a cool, funky look by "color-clashing" with twists of bright ribbon and cocktail stirrers.