Freaky cool — it's a Monster High birthday party! Our Monster High party ideas — such as invites, decorations, treats and more — will make your birthday something to howl about!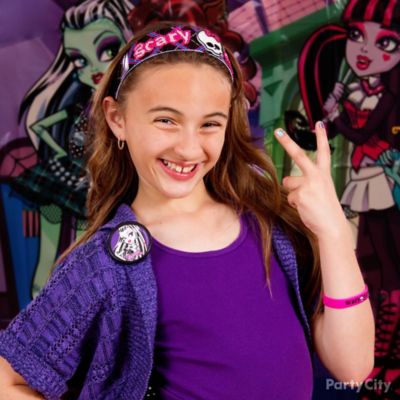 Idea 1: Accessories for the birthday ghoul!
If the birthday ghoul wants to wear her favorite outfit, just throw on a few add-ons like a Monster High headband or bracelet for fashionably fierce attire.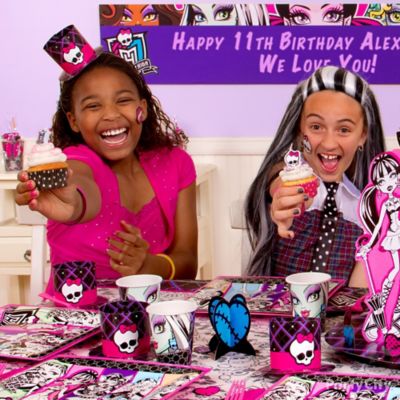 Idea 2: Monster High cupcakes are easy peasy!
The fashionistas will ♥ an array of yummy cupcakes topped with Monster High mini candles, cupcake picks or sugar skullettes! Display them on a fang-tastic Monster High cupcake stand.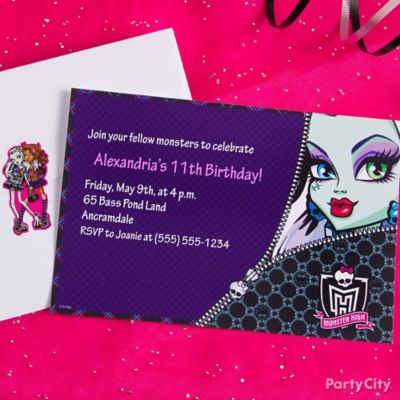 Idea 3: Send custom Monster High invitations!
Monster High custom invitations let you welcome your guests with creepy creativity! You could say, "You're invited to the scary-fun party of the millennium!" We'll print your message on your invites and they'll be ready to ship within five days.
Idea 4: Freaky fabulousness for all!
Everyone can get in on the Monster High spirit with some fun Monster High dress-up accessories.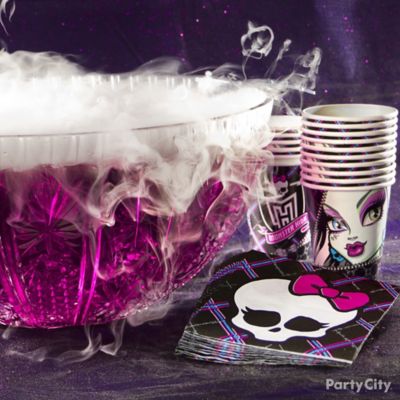 Idea 5: Pour them some fearsome punch!
Your Monster High fan and her ghoulfriends aren't the only ones with tricks up their sleeves. It's scary-easy to add spooky "fog" to a yummy punch of grape juice, lemon-lime soda and ice. Just place your own small chunk of dry ice in a separate dish of water behind a punchbowl right before serving. (Don't place the dry ice directly in the punch, and be sure to tell guests not to handle it or try to eat it.) Serve your punch in Monster High cups with napkins for any spills.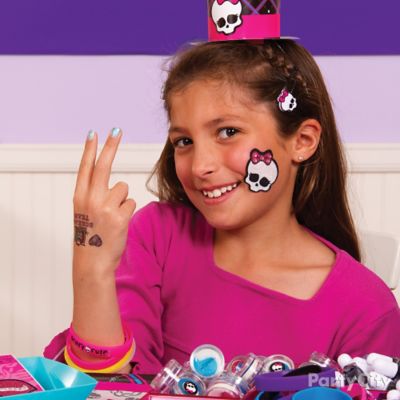 Idea 6: Get freaky chic with a Monster High ghoulish-glam station!
Your Monster High fan and her ghoulfriends can help each other get their monster on with Monster High dress up accessories including lip gloss, nail polish and hair accessories for a scary-cute 'do.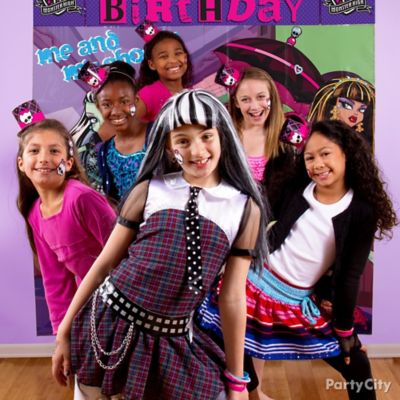 Idea 7: Stage a Monster High photo shoot!
Is it really a myth that vampires and werewolves don't show up in photos? Try it and find out! Once you get the backdrop in place with the Monster High scene setter, all her freaky friends will be ready to ghoul it up!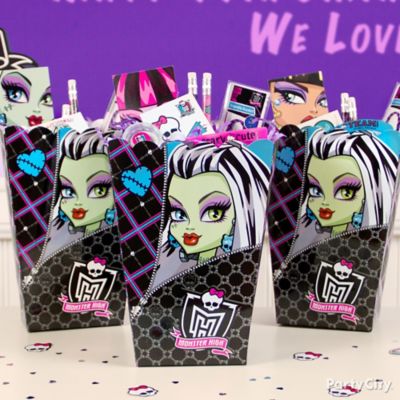 Idea 8: Make Monster High party favors that the ghouls will love
Let the party go on and on by sending all her freaky friends home with their own Monster High favor containers filled with treats (no tricks). They'll *heart* scary-cute bracelets, lip gloss, temporary tattoos and more!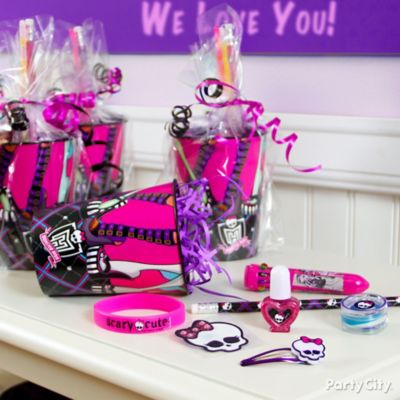 Idea 9: Fill up a cup o' Monster High favors!
Here's a party favor that's as simple as it is scary-cute. Start with a reusable Monster High party cup and fill it with freakishly fabulous favors.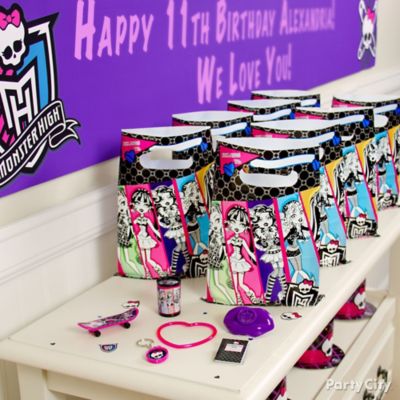 Idea 10: Make favors a snap with a Monster High value pack
If the idea of putting together favors gives you a fright, pick up the Monster High favor value pack. It's an all-in-one fix with notebooks, whistles, kaleidoscopes and more to make eight sets of freakishly fabulous favors.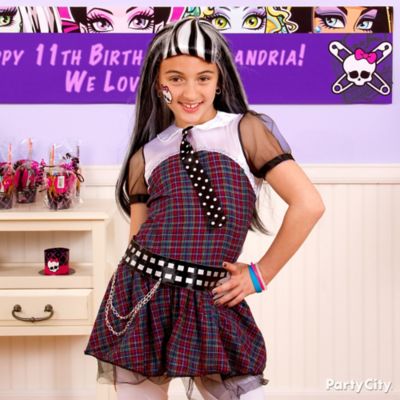 Idea 11: Creep up on a great party outfit with accessories
For the birthday ghoul, killer style is a must on her special day. With the Frankie Stein dress costume, she'll be ready to hit the halls of Monster High in her plaid dress and polka-dot tie.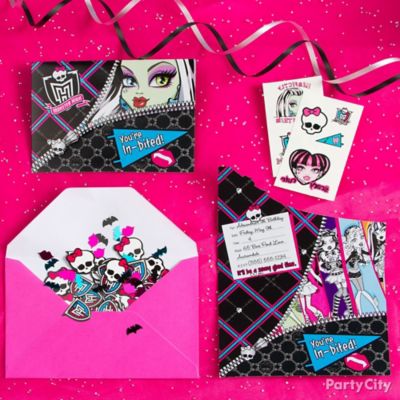 Idea 12: Include a secret party pass in your invites!
Don't know the secret pass to get into the party? Oh, the horror! Send guests a Monster High tattoo in the envelope with your Monster High invitation. It'll add to the freaky fun of your invites.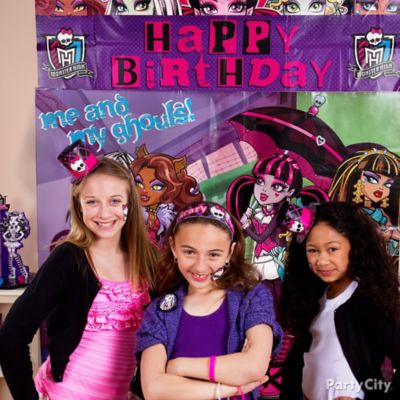 Idea 13: A fang-tastic photo op!
Turn your home into a skullastic sensation with the Monster High scene setter. The five-piece design is easy to apply to any wall, so you get a hauntingly quick transformation. The ghouls can pose next to their favorite monsters for a fang-tastic photo op.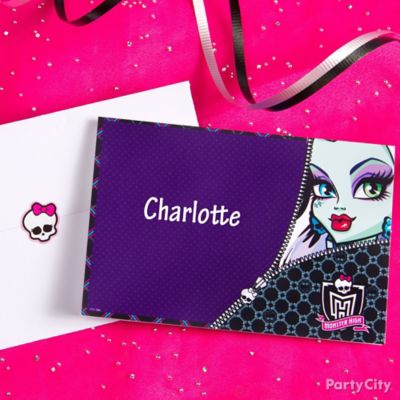 Idea 14: Customize for a fierce thank-you note!
Personalize your Monster High custom thank you notes with the birthday girl's name. We'll print her name or a message on your custom thank you's, and they'll be ready to ship within five days.