Capture Hawaiian-style memories with these island-inspired ideas for party pics. Smile and say "hula!" Capture every aloha moment with our tropical photo op ideas! Guests will be transported to the islands with the photo props "lei'd" out for them in front of tiki-rific backdrops. They'll be saying "lu-WOW" when they see the fun photos!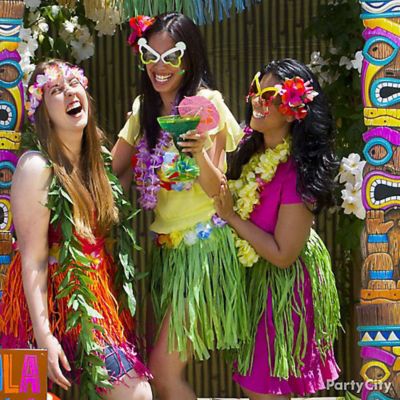 Idea 1: Candid laughs make for great photos
It's hard to keep things serious while you're wearing a grass skirt and funny glasses! Snap candid shots of guests cracking up with their friends. Later you can send out these snapshots in your thank you notes to say mahalo to guests for coming to your luau.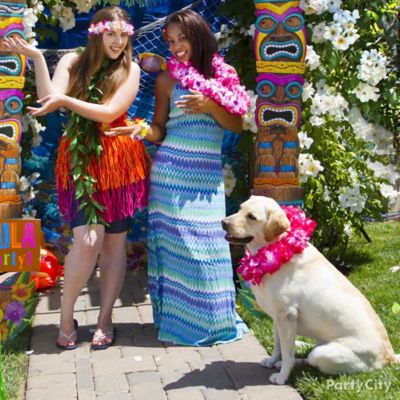 Idea 2: Hula on over with Hawaiian accessories that bring big smiles
Make a sand-sational difference in your party pics by having guests get all dressed up with leis, grass skirts, hair clips and other accessories that quickly turn their summer attire into a hot luau look. Wearable luau favors add so much excitement even your canine guests will want to take part in the fun!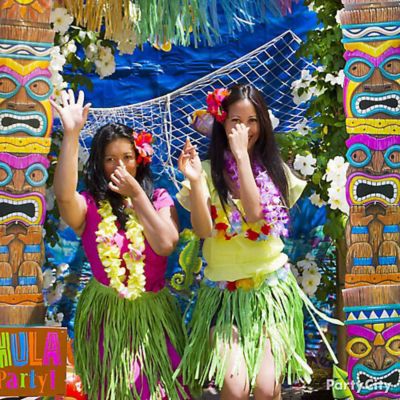 Idea 3: Set the scene for funny photos with beachy backdrops
Catch a wave! Luau scene setters create an instant island atmosphere for your luau party photos. By using fish netting and an ocean backdrop, you can help your guests make a really big splash with swimming dance moves or other silly poses in their pics.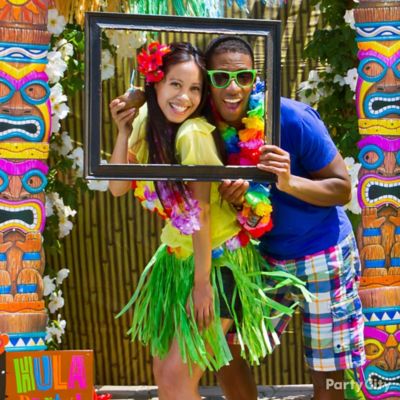 Idea 4: Turn up the tropical heat with a photo op for couples!
Get things sizzlin' with this luau photo booth idea, which is perfect for couples! Stock the photo booth with a picture frame, and have guests frame it up with their sweetie and strike any pose they want! Have plenty of leis, sunglasses, tropical hair clips and hula skirts for everyone to try on for Instragramming.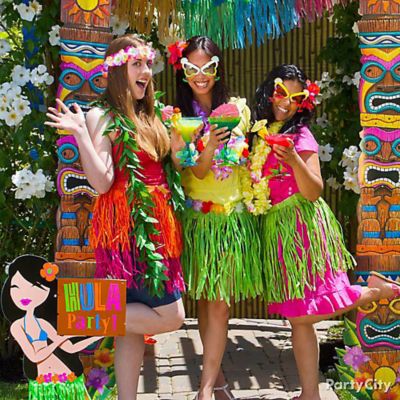 Idea 5: Snap photos full of summer smiles
What's even better than coconut cocktails on a sandy beach? A luau party photo booth that captures all the special moments of your luau party! The good times will be even more memorable when you set up a photo booth that brings the thrill of a trip to a tropical paradise to your party.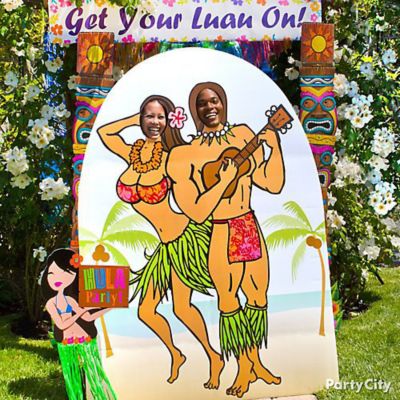 Idea 6: Work it with wacky photo props
They'll be wearing little more than big smiles when you set up this hilarious cardboard photo cutout that transforms everyone into exotic Hawaiian dancers! This large cutout leaves room only for each guest's face to show through, so make sure to get guests to go all out with their facial expressions.