Throw the best party under the sea with our Little Mermaid birthday party ideas! Get ready to turn your house into Atlantica, pose with Ariel in a fun photo booth and blow out the candles on a Little Mermaid birthday cake.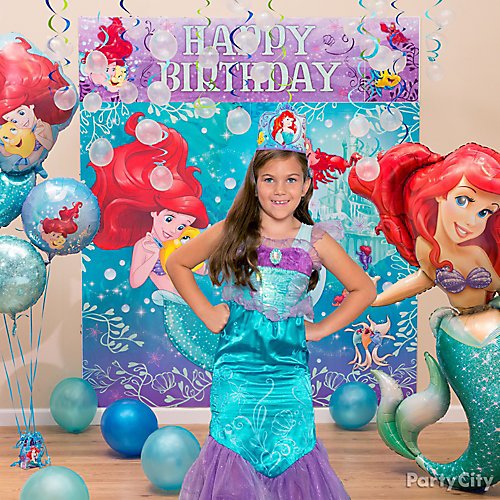 Idea 1: Dress her up for her spe-shell day
A Little Mermaid party is the perfect opportunity for your little princess to dress like her favorite Disney character. She'll love swimming through her party in this pretty Ariel dress!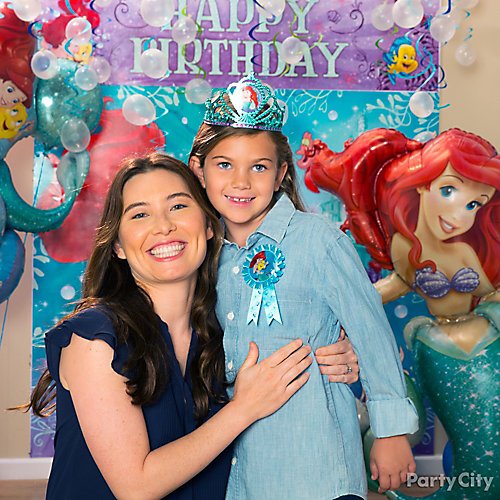 Idea 2: Birthdays are all about tiaras!
If your little mermaid has a special outfit picked for her birthday, add to the look with an Ariel tiara and award ribbon picked especially for the birthday girl.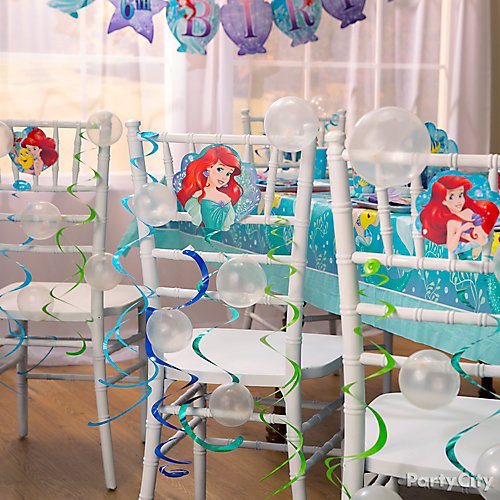 Idea 3: Create cute kelp and bubbles for your party chairs!
The best DIYs look super cute but are really easy. For Ariel party chairs, tape Little Mermaid swirl decorations from the top edge of your chair; if you don't like where the characters hang, cut them off of the strand and retape where you like them! Use double-sided tape to attach mini transparent balloons as bubbles. No need for helium here!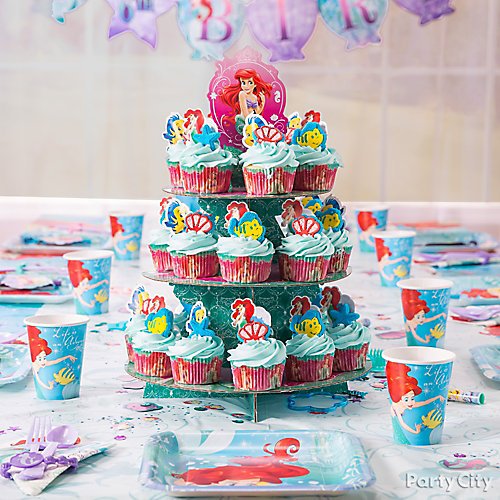 Idea 4: Decorate cupcakes with Ariel and friends!
Bake the birthday girl's favorite kind of cupcake in Little Mermaid baking cups, then create pretty blue waves using blue frosting. Finish by topping them with an Ariel or Flounder cupcake pick and stacking them on a Little Mermaid cupcake tower.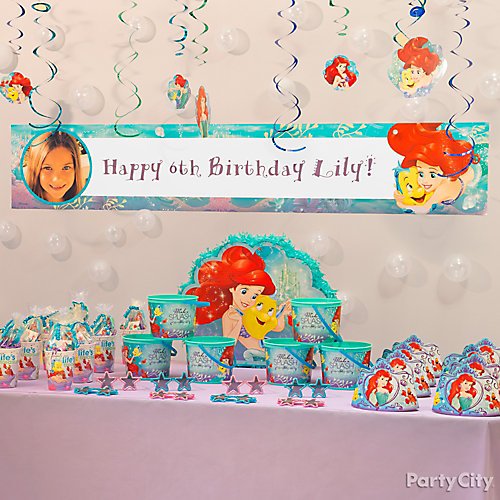 Idea 5: She'll be happy as a clam to see her picture on a banner!
Start your party swimmingly by hanging a custom Little Mermaid birthday banner! She'll be so excited to see her name and photo next to Ariel.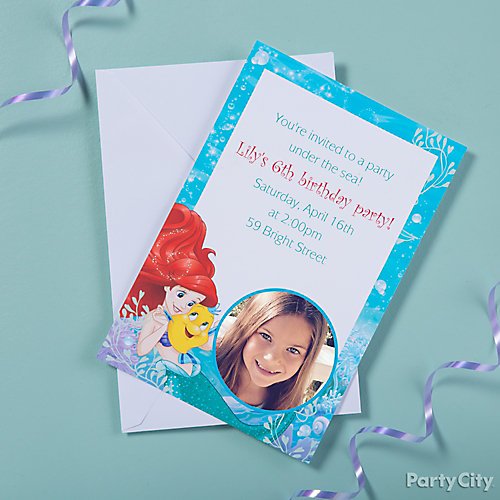 Idea 6: These invites make your child the star!
Sending paper invitations is a thoughtful detail some forget. Take it a step further by personalizing your invitations with your child's picture! You'll want to order one for your scrapbook, too.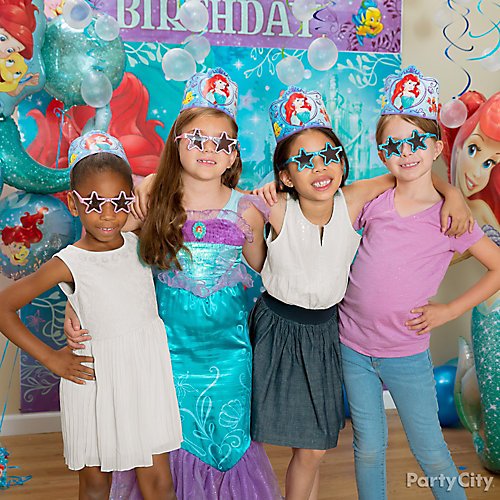 Idea 7: Glamorize with fun accessories!
Welcome the little mermaids with these fun accessories for them to wear during the festivities! Ariel tiaras and glittery star sunglasses get the girls ready to take the plunge into partying.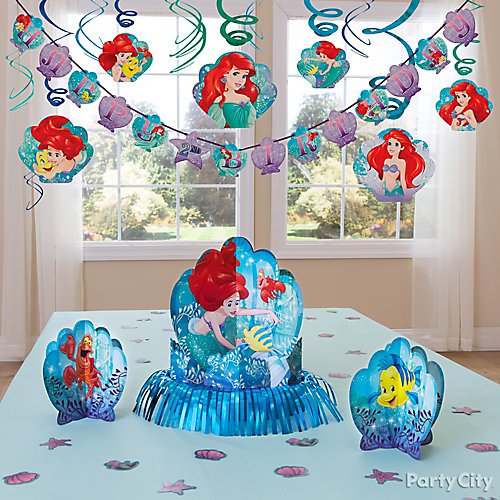 Idea 8: Scatter some seashells and hang some swirls
When you have what you need for the perfect birthday table, life is the bubbles! Our essential decorating kit contains a centerpiece with blue foil "waves", seashell table scatter, a birthday banner and swirl decorations, all decked out with Ariel and friends.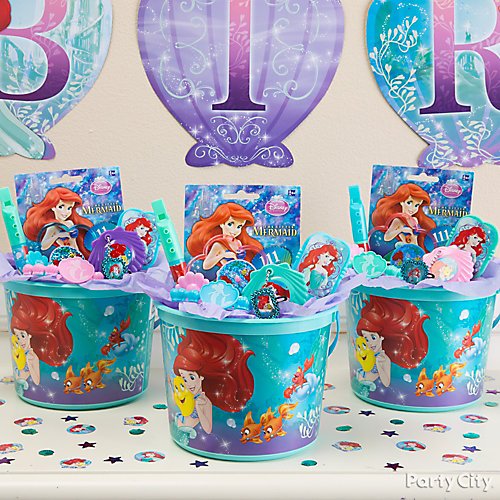 Idea 9: What more is you lookin' for?
After a long day of swimming, send the mermaids home with favor buckets packed with whosits and whatsits galore! They can pack their new Ariel bucket on their next trip to the beach!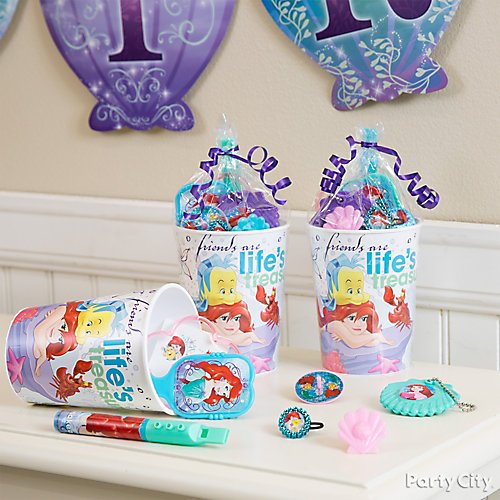 Idea 10: They'll flip for favor cups!
Instead of the usual goodie bags, pack all of their sand-sational favors in a clear bag with colored ribbon, then place inside a cute Ariel cup they can use again and again!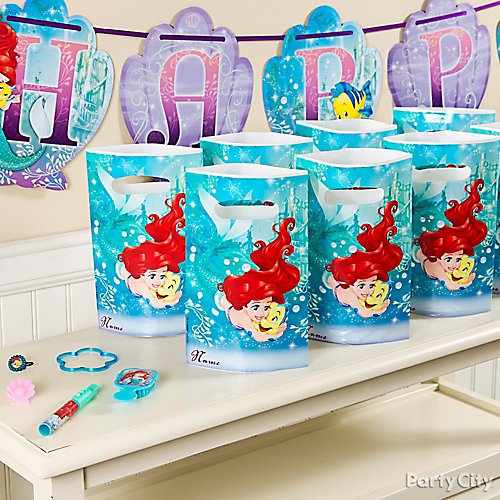 Idea 11: Favor sacks are easy peasy!
If you feel like you're floundering, keep things simple with a favor pack, which includes a school of Little Mermaid favors as well as matching favor bags.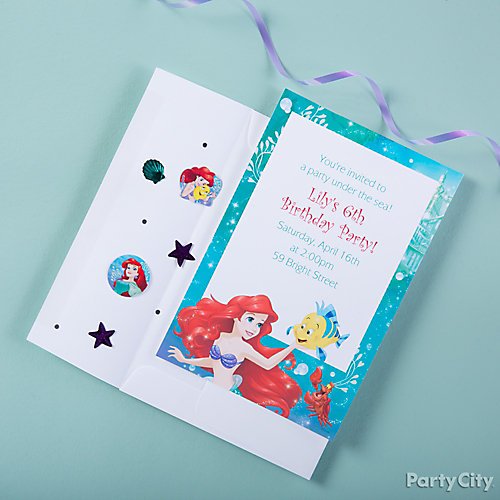 Idea 12: Get the neighborhood fish excited to swim over!
Along with a cute Little Mermaid invitation, include confetti and a special tattoo or other prize inside to get the kids excited for the big day! It's best to pick something they can wear to the party.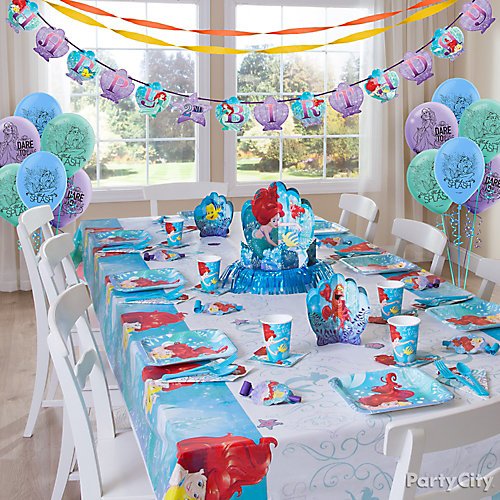 Idea 13: Make your party room part of Ariel's world!
The colors of the day are blue, green and purple, to match Ariel and her hometown Atlantica. Hang a bubbly birthday banner featuring Ariel and Flounder, spread out o-fish-al plates with Ariel's happy face, place Ariel blowouts next to each table setting, and you're ready for birthday cake!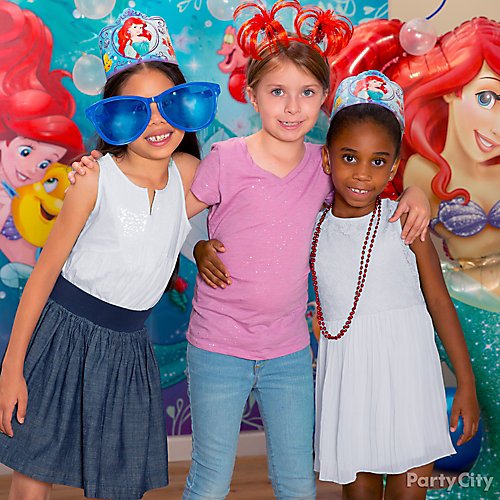 Idea 14: Make waves with a photo booth!
Start with a Little Mermaid scene setter for that perfect backdrop, and add a giant Ariel balloon the girls can swim with! Kids will have a blast posing for pictures wearing goofy head boppers, party hats, giant sunglasses and beads.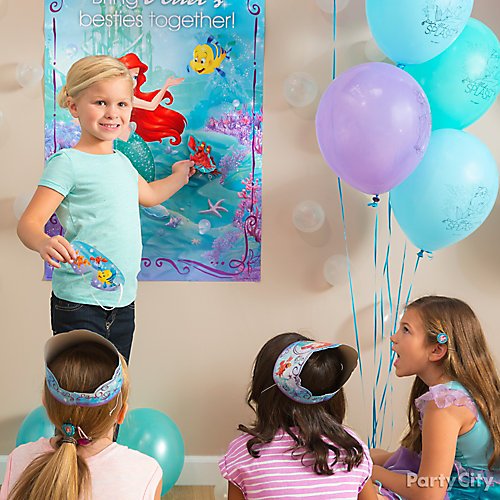 Idea 15: An undersea twist on pin the tail
Hand out Sebastian stickers and blindfold each of your little mermaids. See how close they can place Sebastian to his spot next to Ariel on the poster. Pick out a special prize, like a birthday award ribbon, for the lucky winner!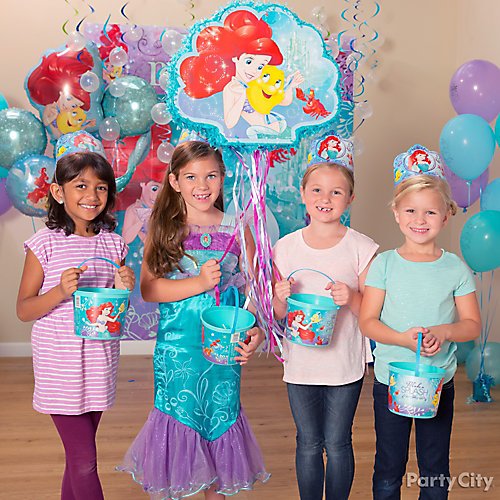 Idea 16: How many wonders can one pinata hold?
A Little Mermaid pinata floating in waters above gets mermaids of all sizes excited to see what's inside. For the littlest mermaids, try a pull string pinata: kids take turns pulling on the ribbons to see which one frees treasures untold!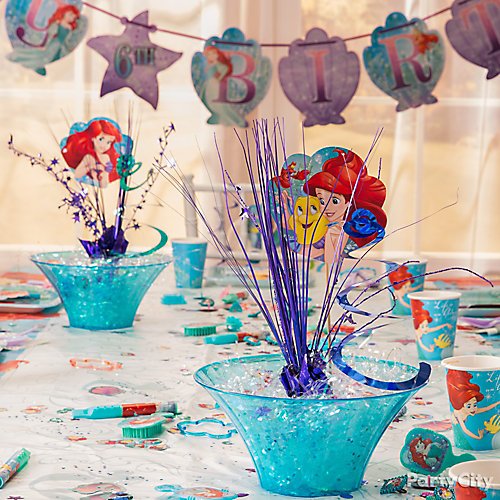 Idea 17: Make a can't-miss Ariel centerpiece
Add more magic with a shimmery centerpiece! Place a purple spray centerpiece in an ocean-blue bowl. Affix an Ariel cutout from a pack of swirl decorations to a craft stick using double-sided tape and place behind the purple foil. Fill the bowl with shiny shred confetti so the base of the foil centerpiece is completely covered.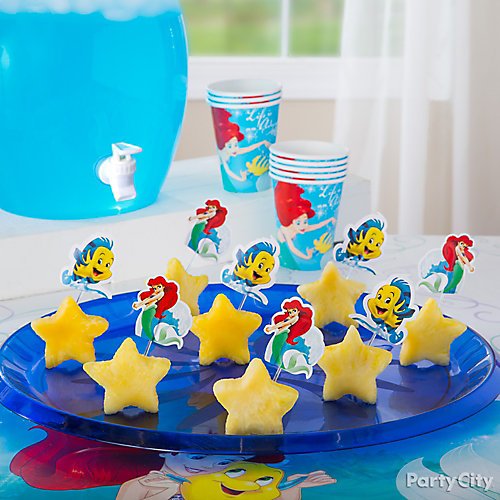 Idea 18: Fresh fruit and so cute!
To shape these cute starfish pineapple skewers, cut pineapple to look like starfish with a star-shaped cookie cutter. Make them into mini kebabs using picks featuring Ariel and Flounder.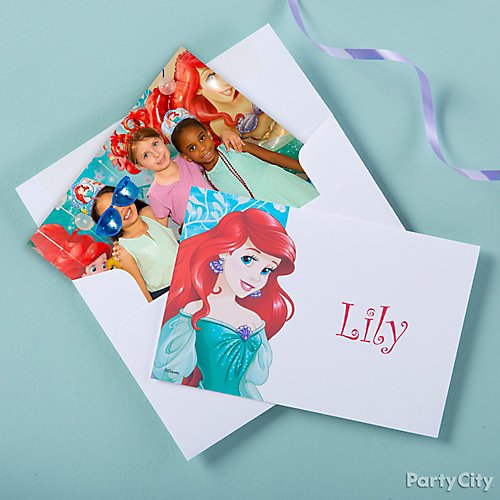 Idea 19: Everyone will appreciate a photo thank you
After the kids have such a great day of adventures under the sea, send out thank you notes with a picture included to cherish later!