While the Covid-19 pandemic has been less than ideal and has interrupted our daily routines, we've learned to adapt in different ways that still allow us to connect with one another. The classes of 2020 and 2021 know first-hand that their senior years have been unlike any other in recent history.
Many students may miss out on the staple events like homecoming, prom, football games, and other unique activities to cap off their years of hard work. But just because a lot of milestone events have been canceled, that doesn't mean you can't make up for it in a safe manner. With graduation season just around the corner, there's a chance for redemption and a way to celebrate while still taking proper precautions.
And even when we can all share indoor spaces again, there's a case to be made that you can still celebrate graduations of all kinds, no matter if we're a few inches or 5,000 miles apart. Whether it's implementing social distancing measures, celebrating virtually, or having a drive-by style party, this is your guide to planning a graduation party at a distance.
The Subtle Art of Virtual Graduation Celebrations
At this point, many of us have gotten our Zoom game down. We're no longer bumbling around trying to figure out how to set up a meeting or video chat, but now come prepared to connect with others in a virtual format. One positive that came out of the world going remote was that we explored new avenues and platforms in which we could connect.
Although not ideal compared to traditional gatherings in person, this is an opportunity to take the skills you've learned to your advantage and host a virtual party on Zoom, Facebook Messenger, Microsoft Teams, WhatsApp, or whatever your favorite video meeting software of choice may be.
Virtual Graduation Ideas: Not Just for Quarantine
A remote graduation party can be a great way for graduates and their loved ones to celebrate. While virtual celebrations have become the norm as of late, celebrating remotely can be a great solution for graduates who attend school far away from immediate and extended family members. Celebrating virtually offers the following benefits:
It lets people avoid unnecessary travel.
It ensures everyone's comfort level with in-person interactions is being met.
Extended family, elderly family members, and friends that live far from the graduate may not be able to make the journey to an in-person celebration, so virtual celebrations give a chance for everyone to participate in the celebration, even from afar.
Students who attend school in a foreign country can still celebrate with their loved ones in an online format that makes them feel at home.
Whether you're trying to follow social distancing guidelines or you can't physically get to someone's graduation, a virtual celebration can be a wonderful way to pay homage to the graduate, especially when you take certain steps in the planning process.
Virtual Graduation Party Ideas for Planning
You can plan an amazing virtual graduation party by implementing certain elements into the remote celebration. The following virtual graduation party ideas should get you set up for an epic time.
Picking Your Video Chat Platform
It's important to choose a video chatting platform that you know how to use well to avoid any technical difficulties as you host. At the same time, it's important to consider if the attendees have familiarity with the software or app, or if they may have difficulties accessing.
For example, if you want to share your screen to show a slideshow honoring the grad's high school moments, Zoom makes it's easy to share your screen with others. Or, if your family is in another country, WhatsApp is a popular video chatting platform in many foreign countries and allows users to connect as long as a Wi-Fi connection is available. For those family members that may only know how to use their phone, a small group Facetime call might be best to say a quick hello and congrats.
Make It Fun with Graduation Zoom Backgrounds
To make the virtual celebration feel like an actual party, add some virtual decorations. You can do this by having attendees put up different backgrounds in their video background that play to the theme of the graduation—be it school colors or premade backgrounds that you've created and sent for them to upload. You can also have them put up candid pictures of the graduate to make the party even more fun!
Decorate Like You Would in Person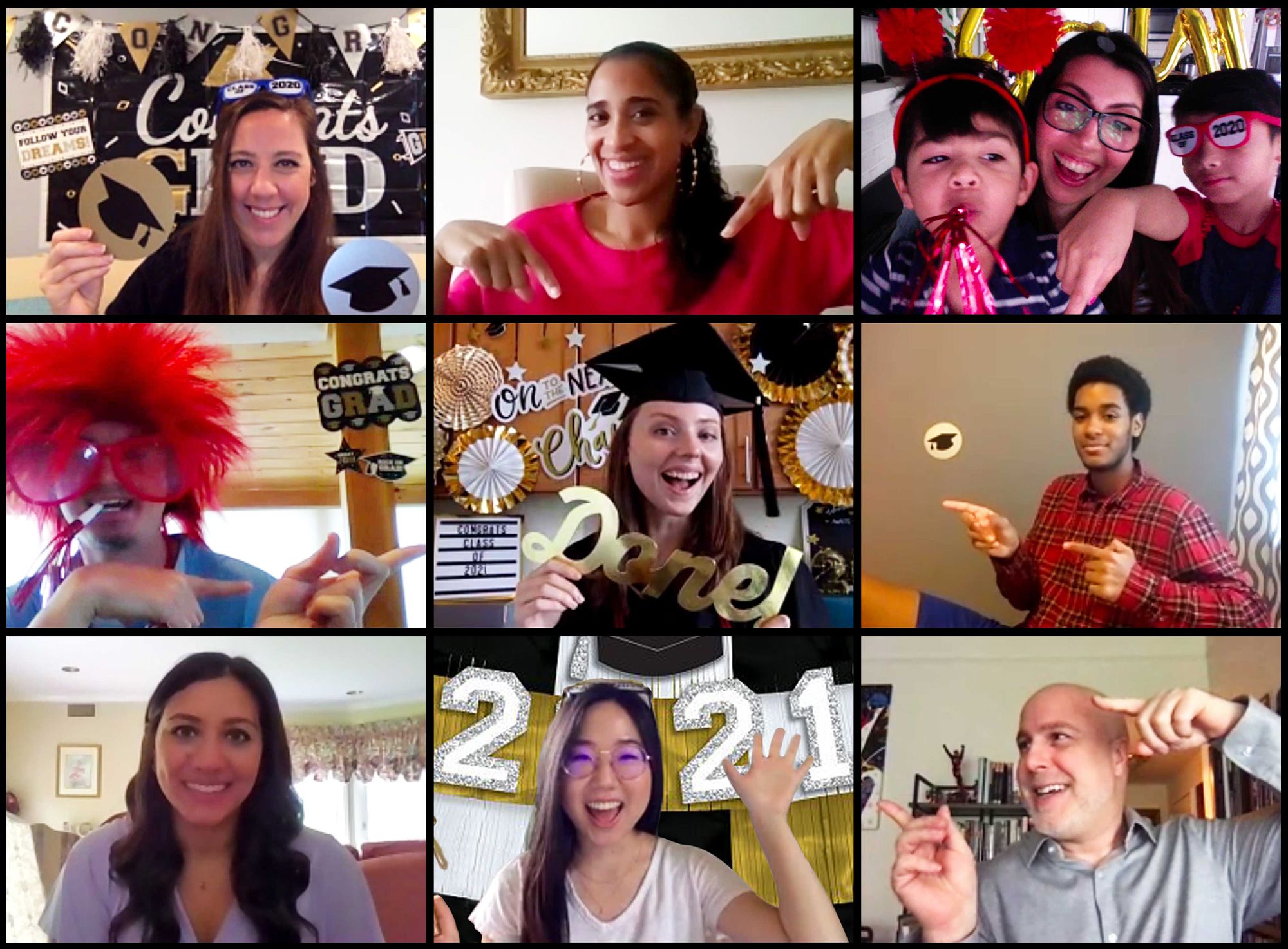 While uploading a background image is a great virtual graduation party idea, you can take it a step further by decorating the physical space as if you were actually at an in-person party. Consider how great different kinds of graduation balloons could look during the virtual party, such as garlands, special kits, or arches. You could even pull out all of the stops and create an amazing balloon backdrop with the right kit—this is the time to let your creative side run wild to leave a lasting memory. The party décor doesn't have to stop at just the graduate's home either. You can ship out celebratory accessories for attendees ahead of time like customized face fans, and other graduation-themed party decorations, or take it a step further by coordinating same-day balloon delivery for each of your virtual guests.
Add an Element of Surprise
If it's possible, plan the party without your grad knowing. Adding this element of surprise can be refreshing and make for an even more joyful occasion. With family video chat sessions and Facetiming becoming all too common this past year, you could play it off like there's a family video call, but catch the grad off guard by making it a virtual graduation party.
Sending Out Virtual Graduation Party Invitations
You may get caught up in planning the different elements of the virtual call, but don't forget one of the most important steps—getting the invites out. If you are coordinating across different time zones, be aware of this and double check that all attendees know what time the festivities start relative to their time zone.
Plan Activities to Encourage Engagement
While talking and catching up is all well and good when it comes to video calls, come prepared with some activities during the party to encourage interaction and engagement between guests and the graduate. You could go around and share stories, memories, and old photos, or talk about future plans for the grad. A few virtual graduation party games that could be played include:
Online multiplayer games like those offered by Jackbox. For example, Quiplash and Fibbage break the ice and get everyone playing laughing and engaging with one another.
A game of trivia is something that everyone can easily participate in and team up for some friendly competition.
Hosting a private room in Scribbl where players draw a word and others have to type what they think the word is in the chat box.
A Case for The Drive-By Graduation Party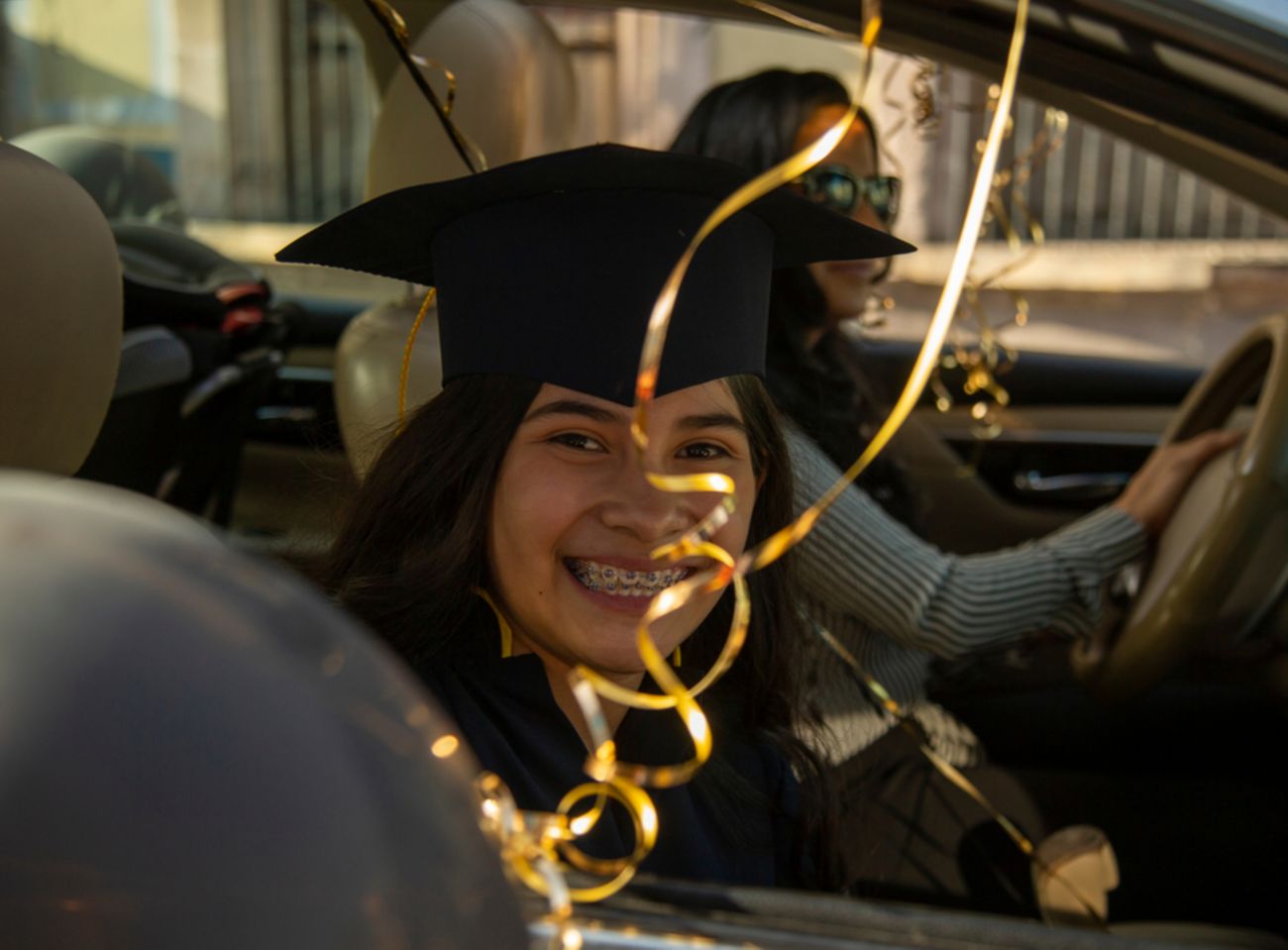 Whether you're trying to social distance or simply want a unique way to celebrate a graduate, a drive-by party is a fun alternative to think about. Consider it a personal parade for the graduate, all the honking in celebration and the sound of constant cheers over and over in their honor can be a great feeling for them. It remains to be seen if these will continue in popularity in the coming years, but they are certainly a memorable party idea you can use right now to celebrate as a community.
How to Pull Off a Great Drive-By Grad Celebration
Chances are that've you've never thrown a drive-by party. The following tips can help you pull off a spectacular mini parade for your graduate and you don't even have to leave the neighborhood.
Coordinate a Massive Drive-By Parade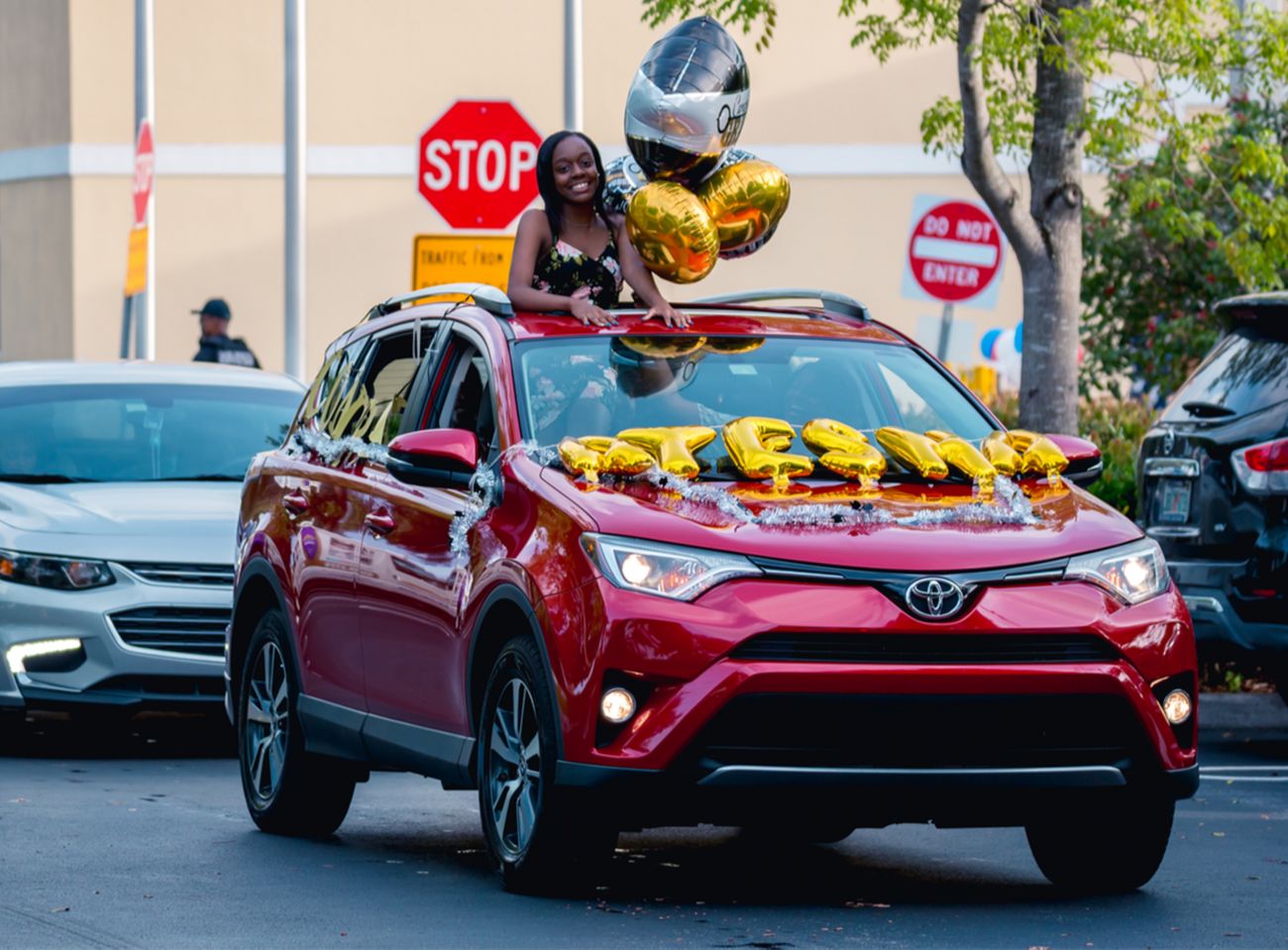 If there are other high school seniors or new grads in the area, a drive-by grad celebration can be a great way for the entire community to celebrate together without risking too close of contact. Try coordinating with other seniors and their families in the neighborhood and get the word out that a celebratory procession of cars will be rolling through to give props to the newly grads.
Choose Between Curbside or Yard Stations
You can go about a drive-by graduation party in a couple of ways. One option is to simply have attendees pull up curbside to say their congrats through the window and maybe hand them any party favors. Another option is to set up a tent or table in the front yard, and camp out with some music for the day while people drive by. Guests can have the option to stay in their cars or hop out for a minute to pick up any snacks or a beverage, and snap a picture with the graduate, so long as everyone is comfortable. There can also be an area for photos where a cardboard cut-out of the grad can be placed and open to take a photo with—it'll make for a good laugh.
Drive-By Graduation Party Essentials
The key to throwing a great drive-by party lies in the decorations. The following are must-have party essentials when going about the unique, socially distanced celebration that'll make it feel extra special.
Custom yard sign and banners: Sticking a customized yard sign and banner in the front lawn let's people know where the drive-by party is and gives extra props to the person of the occasion.
Graduation balloon arch: The graduate can stand under a graduation balloon arch—it's the pedestal they deserve on their big day and can make for a great photo op.
Graduation car decorations: Have guests decorate their cars with balloons or write congratulatory messages using window markers.
Custom Standees: Cardboard props of the graduate can be sprinkled throughout the lawn to stick to the theme and are the perfect party swag to pass out as attendees stop by.
Celebrating Grads While Social Distancing
While virtual celebrations and drive-by parties are ideal options to celebrate a 2021 graduate, the truth is, some people will still want in-person parties. For those who are a little more comfortable with in-person events, there are some options. you can still consider having a socially distanced graduation party.
To stay safe, it's important to remember and implement these and other guidelines for guests when hosting a socially distanced graduation party:
Try your best to keep the gathering small.
The guest list should ideally include only the people living the same house or very close family living within short driving distances.
Encourage frequent hand washing and keep lots of hand sanitizer handy.
Space out chairs and place settings to accommodate 6-foot social distancing.
Providing themed graduation masks can also encourage people who would like to wear them feel more than welcome to mask up.

Keeping the Risks in Mind
With the weather warming up and more vaccinations taking place, we are slowly but surely getting a place where we're one step closer to celebrating like we did pre-pandemic. But while the pandemic is still going, it's important to be mindful of the impact and risks of COVID-19 and do your best to mitigate unnecessary contact with others. According to the CDC, adults with certain medical conditions and the elderly may be more likely to get severely ill from COVID-19, so protecting the most vulnerable to the virus should be top of mind.
How to Celebrate Socially Distanced Grad Parties Safely
This year's class of new graduates can be celebrated in a fun but safe way by following basic COVID-19 safety guidelines of:
Wearing a mask (make it fun with customized graduation-themed masks)
Encouraging guests to wash hands frequently and for at least 20 seconds (hand sanitizer party favors are always an option)
Staying about two arms-lengths (approximately six feet) distance apart from others
Avoiding close face-to-face contact with others (a solid elbow bump can do the trick)
Beyond the typical social distancing guidelines, here are a couple other things to keep in mind for your socially distanced graduation party.
Embrace the Outdoors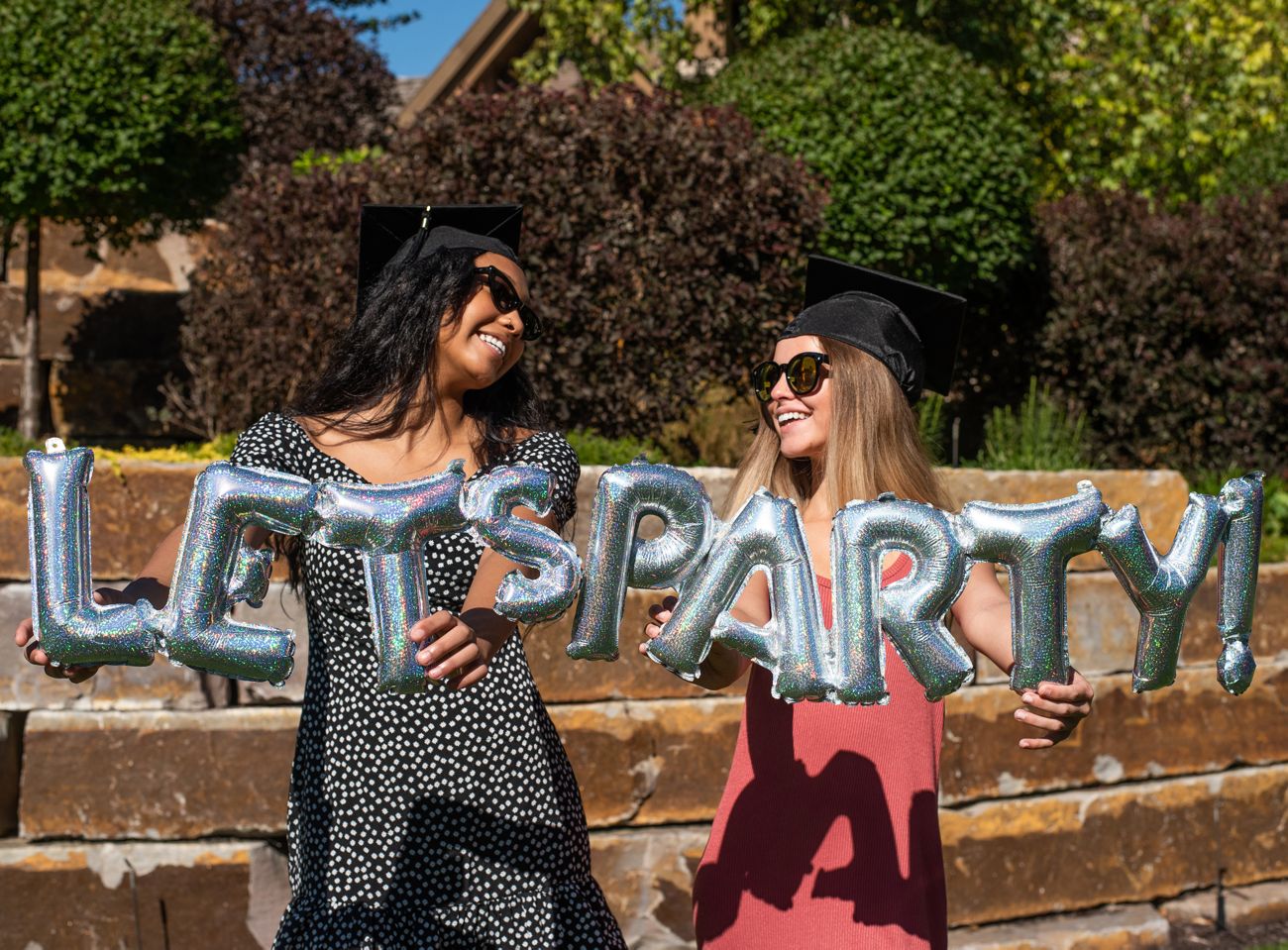 To achieve the best ventilation for an in-person graduation party, a backyard is the best bet for a small gathering. Luckily, graduation typically takes place in late spring or summer, so the weather aligns well for this best practice.
Giving Your Grad A Distanced Celebration to Remember
While there are many reasons we may not be able to gather in large numbers to celebrate graduation, we can make the best of the situation at hand by taking the right considerations and planning different aspects of a distanced celebration with diligence. Whether it's virtual, drive-by, or a small gathering, a well thought out party can make for the perfect graduation celebration. To make sure you cover all the bases for the best 2021 graduation party you can throw, download this handy all-in-one distanced graduation party planning checklist.