Have an icy blast with Frozen cupcakes!
This cupcake tower is as grand as Elsa's ice palace, but way more tasty! Melt hearts by serving these adorable cupcakes at your Frozen-themed party. They're easy to make – just pipe a swirl on top of your favorite cupcakes with the Decorating Tip 1M. Once decorated, assemble the treats on a Frozen cupcake tower for a picture-perfect display worthy of the Ice Queen!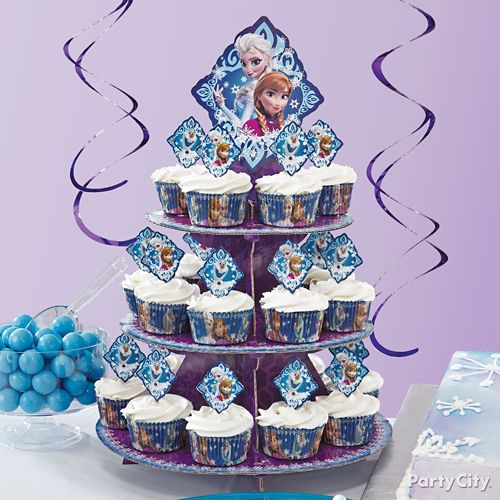 How-To
Ingredients:
Favorite cupcake recipe or mix
Ready-To-Use White Decorator Icing
Sparkling White Sprinkles
Supplies:
Frozen Standard Baking Cups
Recipe Right® 12-Cup Standard Muffin Pan
Cooling grid
Food-safe scissors
12 in. Disposable Decorating Bags
Decorating Tip 1M
Frozen Party Picks
Frozen Cupcake Stand
1) Make cupcakes
Prepare batter following recipe directions. Bake in baking cups and cool cupcakes.
2) Decorate cupcakes
Use tip #1M, a cut disposable decorating bag and white decorator icing to pipe swirl on top of cupcakes. Immediately sprinkle with white sparkling sugar and insert pick.
3) Display cupcakes
Assemble treat stand according to package directions. Place cupcakes on treat stand.