Put your tractor into gear and get ready for some fun on the farm! Whether you're hosting your baby's first birthday party indoors, or want to throw a barnyard bash in your backyard, we have 7 farm fresh ideas for decorating with balloons, deciding on the perfect smash cake and party snacks for kids.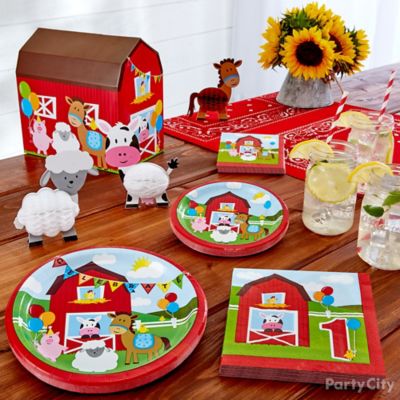 Idea 1: Decorate for fun down on the farm
This first birthday theme is perfect for babies who love Old Macdonald and his barnyard friends. Decorate your table with bandanas and a 3D barn centerpiece with animals that stand up on their own. Don't be surprised if your youngest guests want to play with them! This bright and colorful theme will have your guests ready to party 'til the cows come home.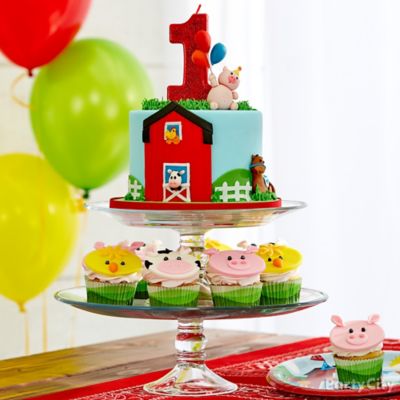 Idea 2: How to decide on the perfect smash cake
Your little one will look as happy as a pig in mud when they make a big mess of their smash cake! You can order a beautiful bakery creation, make your own barnyard scene out of fondant or opt for a simple, smashable cake frosted in buttercream. Finish with a glittery red candle that reminds everyone today is a special day!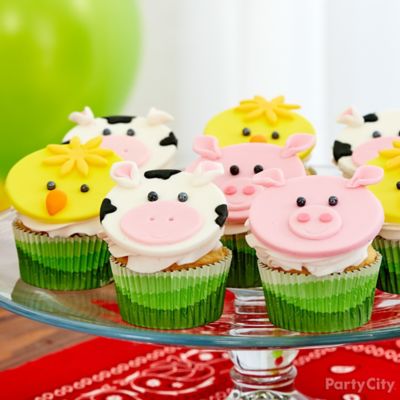 Idea 3: Farm friend cupcakes to pig out on!
For your birthday guests, rustle up these adorable cupcakes. Bake vanilla cake in green cupcake wrappers and top with a swirl of buttercream. Assemble the friendly faces of these barnyard buddies using fondant and black tube icing for eyes and cow prints. These cupcake cuties will charm the adults and kids at the party.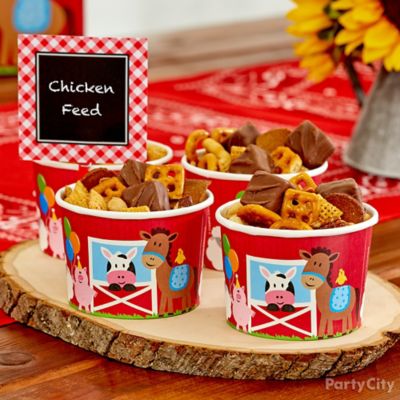 Idea 4: The cutest way to serve party snacks!
These treat cups are perfect for tiny hands, so fill them up with your favorite trail mix or granola. Attach a chalkboard clip to one of the cups and label it "chicken feed." The kids will know you're just horsin' around when they see the cups are filled with a yummy snack!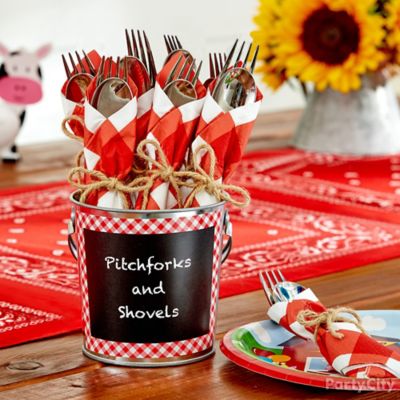 Idea 5: Wrap cutlery in gingham napkins for a rustic farm effect!
Little touches are what make a party the cream of the crop, so present your guests with forks and spoons in DIY cutlery wraps! Create each pack by wrapping a silver-look fork and spoon in a gingham print napkin, then tie a bow using a small length of twine. Stand each pack up in a gingham chalkboard pail and label it pitchforks and shovels.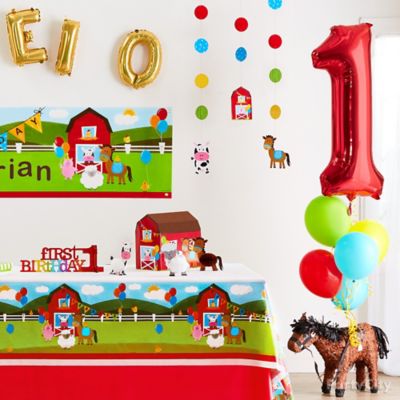 Idea 6: Add character and color to your party with balloons!
Fill space in your party room with a giant statement balloon in the shape of a number one! For more farm fun, trade the usual balloon weight for a farm-themed pinata, like a horse or tractor. You can also call attention to a gift table or snack area by taping air-filled gold letter balloons on the wall to spell out E-I-E-I-O!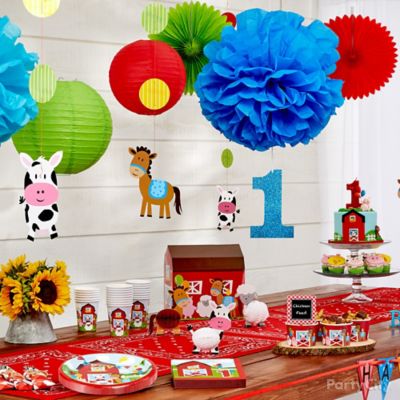 Idea 7: Decorate the perfect party room for your little farmer
Yee-haw! Decorating for a day of Farmhouse Fun is easy with paper decor in joyful primary colors. Hang green and red lanterns and paper fans at various heights over your party table. Next, add blue first birthday fluffies and strands from a string garland featuring smiling animal friends. Your party room will be all ready for a fun day on the farm!