One-of-a-kind decorating ideas with bunnies, baskets and more! Hoppin'-good party ideas for bunnies of all ages! Lead eager egg-hunters to a party brimming with Easter fun! We've got a bushel full of ideas on how to throw a bunny-approved Easter party. Check out inspiration for outdoor and indoor decorating with streamers and balloons, DIY basket ideas and clever ideas for fun egg hunts and neighbor gifts! Shop all Easter baskets and supplies.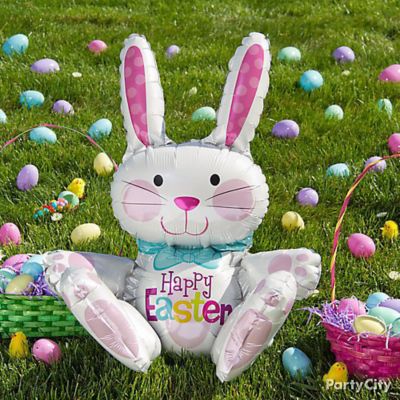 Idea 1: This balloon bunny wants to help with the egg hunt!
Meet your egg hunters on the grass with an adorable Easter Bunny balloon! This li'l balloon buddy is easy to assemble and requires no helium – just blow him up with a few puffs of air and the included straw. Leave him by your child's basket as an extra Easter surprise, or have him lend a paw with the decor!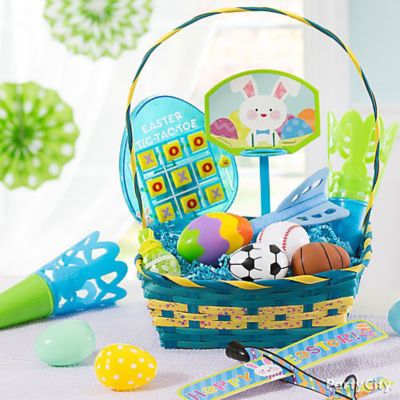 Idea 2: Everybunny likes toys and games
Spring is here, the sky is blue—give your bunny fun things to do! Candy is good, but for many kids, Easter activities are even better! Fill up a basket with games and toys to keep their little paws busy.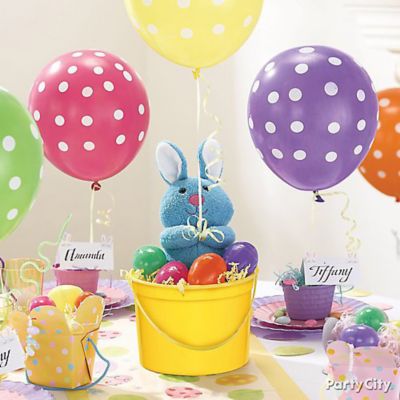 Idea 3: Make a sky of floating Easter eggs with pastel balloons!
Set your egg-hunters' hearts afloat with pretty polka-dot balloons at every place-setting. On each plate, tie a pastel balloon to a little basket filled with Easter grass, jordan almond "eggs" and a personalized placecard. For a centerpiece that pops, nestle your favorite plush bunny in an Easter pail brimming with colorful grass and eggs, with a floating balloon tied to his paws – awww! For the best selection of adorable bunnies, visit your Party City store.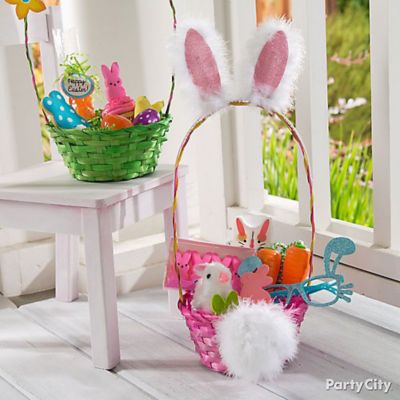 Idea 4: Get them hopping for a bunny basket!
This Easter basket is perfect for your little funny bunnies! Fill your basket with bunny-themed treats like candy, a jump rope with carrot handles and Easter bunny glitter glasses complete with ears and whiskers. Add a rabbit ear and fluffy cottontail set to the wicker for a basket that practically shouts, "Hoppy Easter!"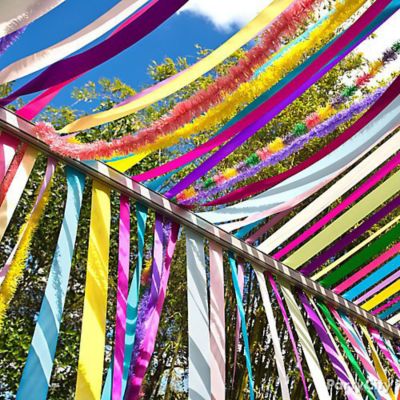 Idea 5: Create a colorful canopy with paper streamers
Transform your backyard patio into an Easter playhouse with rolls of crepe streamers! Rent a tent frame or construct your own (lightweight PVC tubing works well), or use a tree branch. Throw rolls of paper streamers over the "roof" so the tails hang from both sides. Mix sleek satin ribbon in with the crepe rolls for more visual interest – then smile in the sunshine that filters through your ceiling of streamers!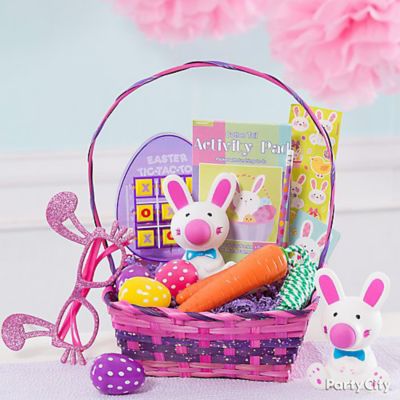 Idea 6: Keep them hopping on Easter morning
Fill a vibrant pink basket with cute bunny goodies, and be sure to include lots of fun games and activities to keep them moving. A carrot jump rope is sure to make them jump for joy, along with sparkly rabbit glasses and special Easter toys!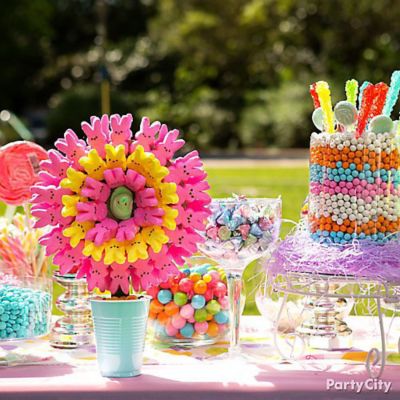 Idea 7: A colorful Peeps topiary? Very Pinterest-ing!
Wow them with a sweets station filled with Easter candy and pretty cake stands to add height. For the fabulous Peeps® topiary, you'll need a Styrofoam ball, toothpicks and a blue cup filled with jelly beans as the base. Put bunny Peeps®, and one chick Peep, onto the ends of toothpicks and place in cascading circles onto the ball. Stick a dowel into the bottom of the topiary, with the other end in the blue cup "flower pot." Fun to make and even more fun to nibble on!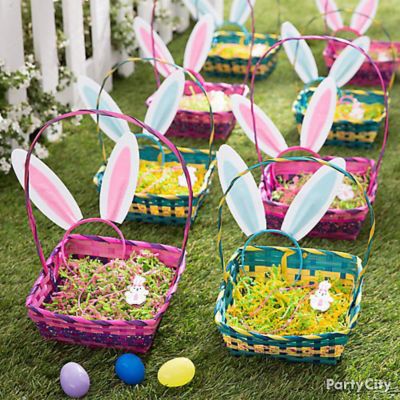 Idea 8: Dress up and hop to it!
For many little bunnies, the egg hunt is the most exciting part of the Easter party! Help them get in the spirit by setting out bunny ears and Easter Bunny necklaces along with their collecting baskets.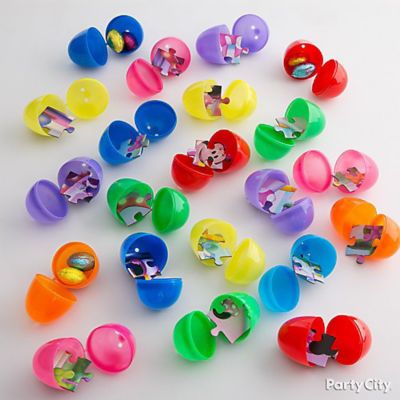 Idea 9: You'll love this idea to pieces
Place puzzle pieces inside fillable eggs as an alternative to candy. When the kids think they've hunted all the eggs, they can put together the puzzle to see if there are any left to find!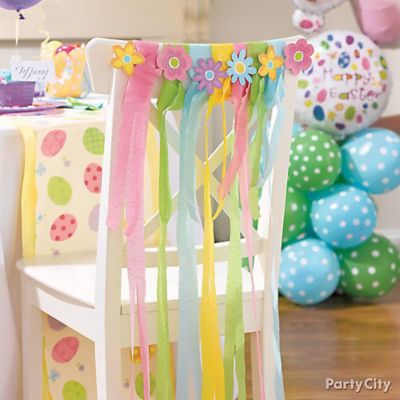 Idea 10: Adorn the seat with streamers and flowers
Sweet little touches make the party more magical – like decorating the chairs with airy streamers in pastel colors, crowned with matching glittery flowers. All you need is a pack of spring-themed paper cutouts and a few rolls of crepe paper in pink, blue, yellow and green. Jump on this fun DIY project for the little bunnies in your house!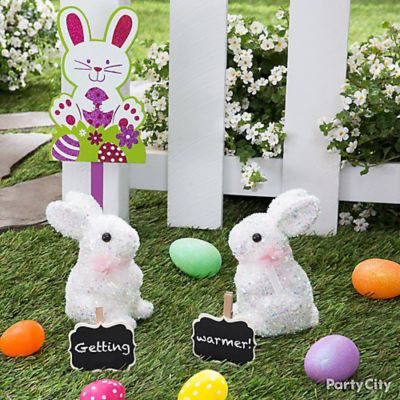 Idea 11: Use clever chalk signs to point the way to treats!
Your youngest egg hunters might need hints to help them find their share of the Easter egg bounty! While the older kids work on a more challenging course, tell the littler ones to look for bunnies to guide their way. Set up special "little bunny" zones for easier hunting, with cute signs or tinsel bunnies to tell them they're getting warmer.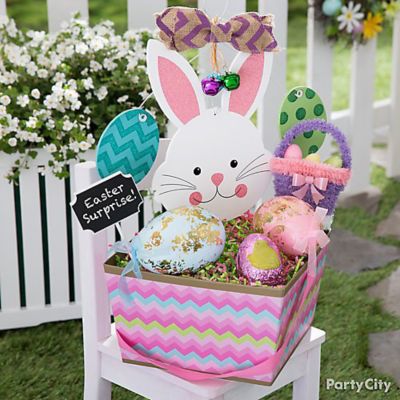 Idea 12: Leave somebunny a neighbor basket on the porch!
An Easter decorating or treats box is a wonderful way to surprise a friend this springtime, or might even make you a new friend in the neighborhood! Fill a pretty Easter basket-inspired box with signs for their yard and wrapped treats, or hide treat-filled eggs for them to find!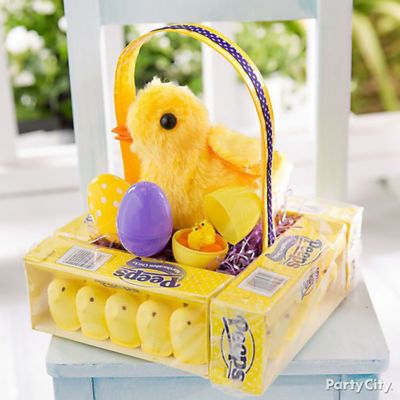 Idea 13: DIY an egg-stra-special Easter basket
Wait 'til you set your peepers on this darling DIY Easter basket! It's easy to make with boxes of Peeps®, yellow duckling tape and purple polka-dot ribbon. Arrange four boxes into a square, hot glue the boxes together and make a basket handle with a strip of duck tape and ribbon. Fill the "basket" with grass and nestle Easter eggs filled with candy and mini chicks with a giant wind-up plush to watch over them.
Idea 14: A tutu-cute basket for girly-girls
Create a unique Easter basket for your darling diva with just a few simple touches. Craft a mini tutu out of a tulle skirt and hot-glue it around the bottom of the Easter basket and accent with a strip of polka-dot ribbon. Pop in a woven purse and matching bonnet with a collection of Easter chicks, bunnies and eggs.