Make it a night of terror under the Big Top with these scary circus Halloween ideas. Get inspiration for a freak-show mantel with a DIY marquee, a scary entrance and of course, clowns! Make it a night of terror under the Big Top with these scary circus Halloween decorating ideas.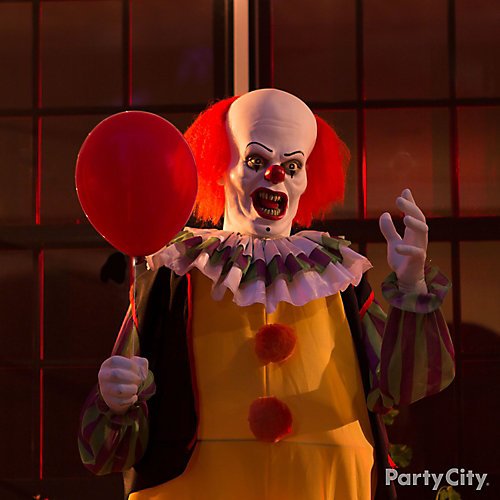 Idea 1: Want a balloon?
He's already the star of your nightmares, now Pennywise will be the main attraction of your creepy carnival! This life-size replica of the monster clown from "It" will come alive and speak disturbing phrases to anyone who dares to walk by. Be careful about putting him by the front door – guests may be too afraid to enter!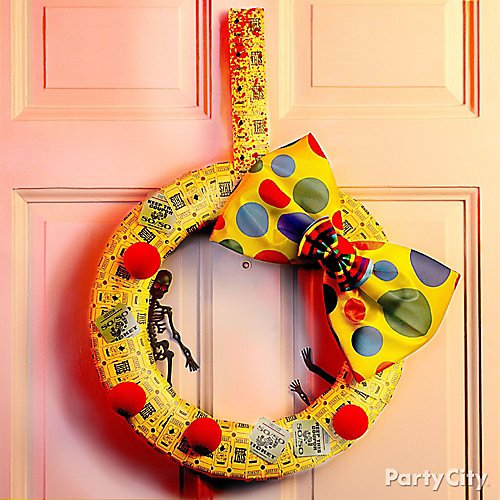 Idea 2: Clown around with a creepy wreath!
Let arriving guests step right up to this carnival-inspired wreath with a creepy twist. You'll need a wreath form, a roll of raffle tickets, fake blood, mini skeletons and clown accessories. Cover the wreath in tickets and spray with fake blood. Get creative with clown noses and an oversized bow tie, then place a couple creepy skeletons in the center to smirk at guests as they walk in.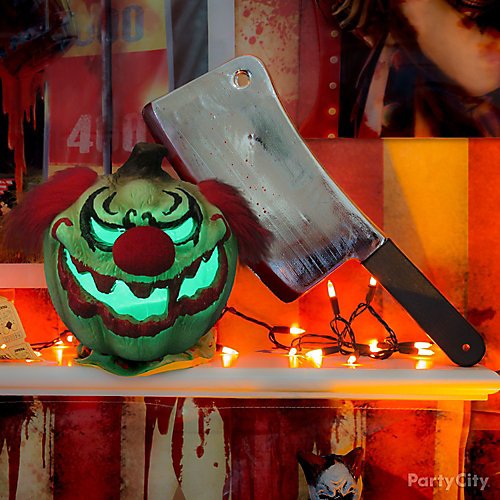 Idea 3: He was clowning around when he lost his head!
Add little details to the mantel for an "all's well that screams well" scene. Use this clown head prop and cleaver prop in front of a string of lights and a bloody banner and add a little orange mood lighting to make his smile even more sinister. You can take the clown out of the circus, but you can't take the circus out of the clown!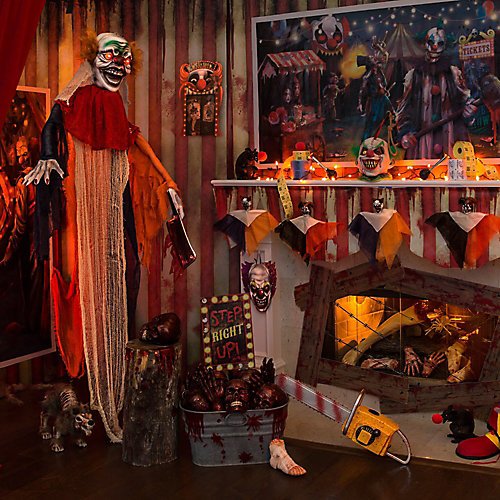 Idea 4: He loved the carnival to death!
Step right up to the deadliest show on earth! With a cleaver in one hand and a sinister glow in his eye, this clown will give the audience the creeps. Pair him with a bucket of bloody props and an undead canine. The show must go on!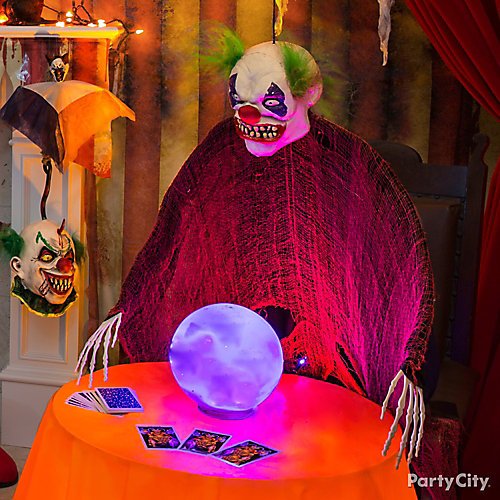 Idea 5: Your future is dark and full of clowns
This fortune-telling clown will terrify the audience, so re-create this look with a hanging clown at a table with tarot cards. Light the table from underneath to give it that eerie glow, and either use our crystal ball or DIY your own with a clear glass globe and purple string lights. What an ominous sideshow!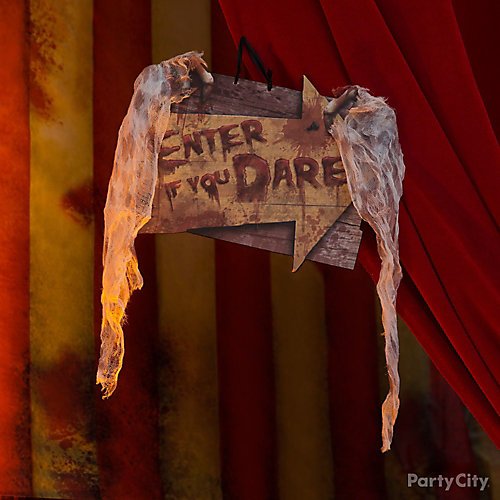 Idea 6: This way to a bloody-good show!
Hint to a gory show with an "Enter If You Dare" sign at the "tent entrance." Create this faux tent flap using a room roll for the stripes and a red fabric table cover for the curtain, and then hang the bloody sign for all to see. When the lights go down the really frightful fun can begin!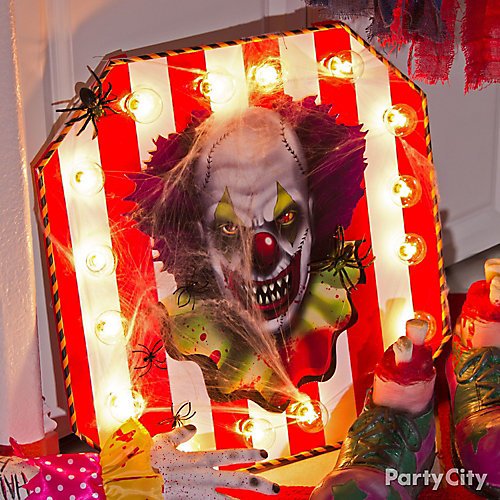 Idea 7: DIY a madcap marquee!
Create a carnival atmosphere with a DIY clown marquee made of poster board, red and white duck tape, clear globe string lights and a creepy clown cutout. Cut the poster board into an octagon shape and make circus stripes with red and white duck tape. Remove the globes from the lights in order to poke through the foam board, then reattach them and hot-glue the lights in place. Attach the clown face to the center with spiders, cobwebs and a border of twisted-stripe paper straws – carnival chic!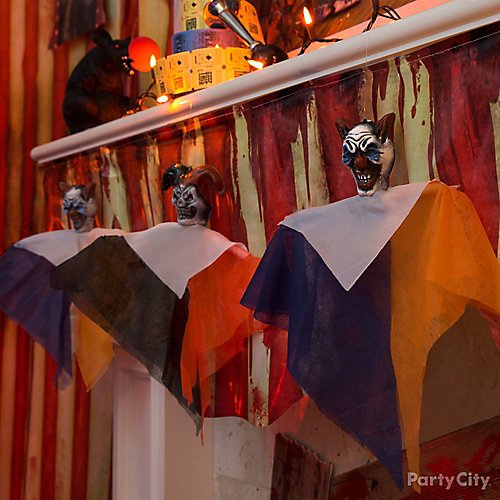 Idea 8: A string of ghostly clowns? Surely you jest!
Don't mind the clown ghouls; they're just dying to hear you shriek! Hang a garland of creepy little clowns and jesters across the mantel. Arrange them in front of bloody bunting and string lights for the creepiest freak-show garland!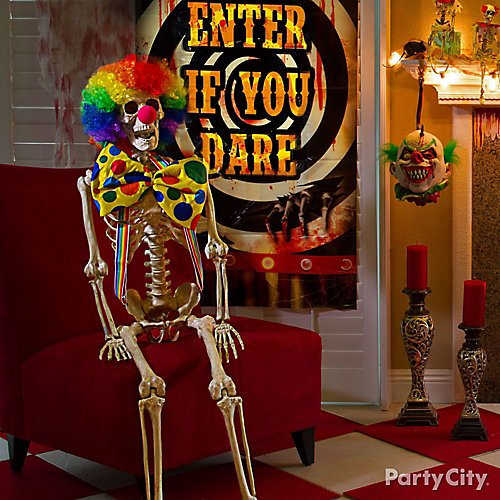 Idea 9: He's still waiting for a laugh…
Step inside the Not-So-Fun House for a picture with Bone-ZO the Clown! In a rainbow wig, oversized bow tie and striped suspenders, this skeleton clown will make you laugh until it hurts. For the perfect photo op, hang a circus poster behind him with an ominous message like "Enter If You Dare"!