This Captain Marvel birthday party is coming in hot. Now that they've seen the movie (and fallen in love with Goose the cat), your little one's probably feeling inspired and (super) powerful. Celebrate all that super hero power by throwing an action-packed birthday with Captain Marvel party supplies! We've got Captain Marvel party ideas for birthday activities, food, DIY decorations and more—all inspired by our new favorite hero. Higher, further, faster!
Birthday invitations and favors
First things first (and last things last) – invitations and favors. The invitation sets the tone for your party, and asking guests to RSVP helps you know how much food and how many favors to prepare. Add a little touch of birthday magic to the invites to get the kids excited: attach a party horn to the envelope and a pinch of confetti inside.
Rather than leaving favors to the last minute, prepare them a week or more ahead of time and store them away; you'll thank yourself on the day of the party. Start with a patterned reusable cup and fill 'em up with favors and candy.
Look the part: Captain Marvel costume
If your child wants a special outfit to wear to their birthday celebration, consider making this a costume party. Invite guests to come dressed as their favorite super heroes! To make sure everyone has the chance to participate, be ready with simple felt masks for any guests who comes without a costume.
Since this is a Captain Marvel party, an outfit is easy to choose. We're super excited about this exclusive Party City Captain Marvel costume, which lights up! Total wow-factor.
Captain Marvel activity ideas
After the birthday party classics are covered—the cake, the presents, maybe a pinata—how else do you keep the little heroes entertained? We find that busy kids are happy kids, so brainstorm some party activities!

Ever played Balloon Stomp? Before the party, blow up balloons with air—at least one per guest, plus a few extras. Cut ribbon or string into 15-inch strips and tie one end to a balloon. Each participant ties a balloon to their ankle. The kids try to break other players' balloons while keeping theirs intact. Last one with an unpopped balloon wins!
For older kids, a photo scavenger hunt is always a hit. Each team gets a phone (protective cases recommended) or Polaroid camera along with a list of photos they need to take. Include a variety of easy tasks ("something red") and more difficult challenges ("team posing as statues").
Keep reading for our themed Captain Marvel party activities!
Paper airplane activity
Since Carol Danvers was an Air Force pilot, we thought a paper airplane activity would be a fun connection to the film. Set up a "design your own jet" station with lots of art supplies and blank paper to fold!
Make sure you look up a quick refresher on how to fold a basic paper airplane before the party (you'd THINK it'd be like riding a bicycle…) and consider learning a more advanced design to teach older kids. Once their aircrafts are folded, let 'em loose on the crayons, markers, stamps and stickers. They'll have a blast customizing their airplanes and learning which designs are best for flying long distances.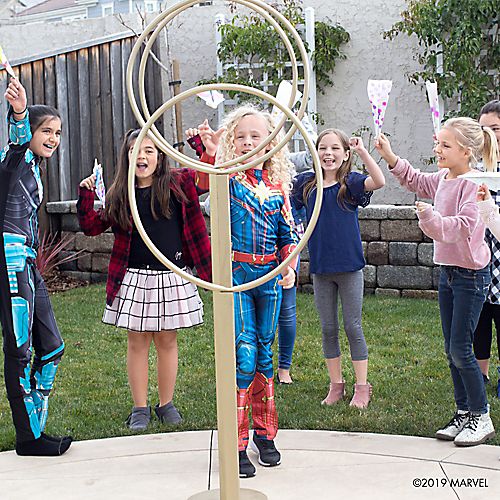 Target practice activity
Now that the paper airplanes have been folded and decorated, it's time to test how they fly!
We created these DIY targets using hula hoops, and we promise you don't even need to be a regular at the hardware store to create them.
For each target, you'll need a hula hoop, a 2x2 piece of lumber (ask for pieces to be cut 3' and 4' high), a heavy wooden circle or block for the base, a drill and 1 ½" wood screws. Drill a wood screw through your circular base and into your pillar of wood. Once secured, drill down through the hula hoop to attach it to the top. Finish by spray-painting the whole thing in gold to match your theme.
Captain Marvel food ideas
There are plenty of prepackaged snack options to feed the birthday girl and her squad of heroes, but we love serving treats that reflect the party theme.
Even adding one or two of these Captain Marvel snack ideas to your birthday menu will delight your guests. Cake pops inspired by Goose the cat? Check. Air Force cookies, sweet candy sippers and adorable Jello treats? Roger, over and out.
Say "cheers!" with Captain Marvel drinks
To make fizzy sippers the birthday girl will love, pour clear soda over red or blue rock candy. The color of the drink will change depending on the color of the candy! If you want to offer a variety of "mocktails," combine clear sodas or lightly colored sparkling juice with gummy bears or the birthday girl's favorite hard candy!
Goose the cat cake pops!
Goose is definitely a fan favorite, so why not invite the lovable cat to your party in the form of these adorable cake pops? Cake pops have been around long enough that they're less of a trend and more of an obsession. There's just something so appealing about cake you can pick up and take with you without being looked at sideways. You can make your own cake pop by mixing cake crumbs with icing, use a cake-pop maker, or use our favorite time-saving hack: use donut holes instead.
Check out our Goose cake pops how-to to learn how to make these too-cute treats.

Captain Marvel Air Force Cookies
If you're thinking "cookies aren't for birthdays," you have been gravely misinformed. Our only rules for birthday treats: they must look cute, and must be delicious. If you're worried about sugar overload, pack up some of the treats in favor bags or boxes and give them to guests at the end of the party.
In preparation for the Captain Marvel film, Brie Larson visited Nellis Air Force Base and flew with actual Air Force pilots. These cookies were inspired by the Air Force fighter jets featured in the film!
All it takes is a jet-shaped cookie cutter and your fave sugar cookie recipe. After they're cooled, cut white fondant using your cutter and layer it on top, then spray with silver Color Mist. Ready for takeoff!
Captain Marvel Crispy Star Treats
Make a batch of soft and sweet crispy rice treats and spread the mixture out to cool on a sheet pan. Use a cookie cutter to cut out the Captain Marvel star symbol. Spray each treat with gold Color Mist and immediately cover with gold sprinkles. You can also mix up the recipe by incorporating different breakfast cereals for your crispy treats.
Captain Marvel Jello Treats
These two-toned Jello treats may look super fancy, but they're surprisingly easy to make. Whip up a batch of blue Jello and evenly distribute the mixture into clear tumblers. Use a muffin tin to balance the tumblers on their sides so the Jello cools and solidifies at an angle. Once the blue is completely cooled, make a batch of red and pour over the top. Chill in the fridge until party time and serve with a spoon!
Captain Marvel Sweet & Salty Popcorn Treat
These drizzled popcorn treats are a hit with both kids and adults. Fill treat cups or cupcake liners with your favorite popcorn. Melt and drizzle red and blue Candy Melts over the top, then add a helping of sprinkles.
We used pieces of large confetti from a Captain Marvel decorating kit to create these chic dessert toppers, which could also be used to create custom cupcakes. Cut out circles of glitter cardstock slightly larger than the confetti to create the pretty gold border and attach them to a toothpick using tape or hot glue.
Captain Marvel birthday decorating ideas
We just LOVE how the decorations for this party turned out. If you had to choose just one of these to execute, we appreciate that the backdrop also doubles as a photo booth…but let's be honest, you're gonna want to do them all.
As you're shopping for decorations, consider your color scheme. Try to stick to dark red, royal blue and gold to match Captain Marvel's uniform. To differentiate this party from other Super Heroes with similarly-colored outfits, we put a lot of attention on key phrases from the movie and Captain Marvel's iconic star emblem.
Captain Marvel tableware
Easiest decorating choice of the day: deck out the cake table with Captain Marvel tableware.
Add touches of metallic gold to round out the look. We layered Captain Marvel plates over premium gold border plates to get that shine we wanted. We also love these gold-trimmed tumblers with a striped blue straw. If you're still missing something, throw around the gold confetti!
Captain Marvel Balloon Arch
A nice balloon arch is always a winning decoration for a party, but what really makes this one special are the 3D stars inspired by Captain Marvel's symbol.
Each pack contains three 3D stars. Assemble two of the stars as directed, then take the smallest star and cut it in half down the seam. Assemble each half as single-sided separate stars and use a hot glue gun to attach them to the front of the large assembled stars. If you want to create six Captain Marvel stars to match our look, you'll need three packs.
Captain Marvel Pennant Banner Idea
To create this eye-catching garland, we layered red and blue pennant banners over blue and gold tassels. The Captain Marvel cutouts are from a pack of swirl decorations. We amplified the look with gold glitter tulle. Sometimes the cutest ideas are also the easiest!
Captain Marvel Photo Backdrop
This backdrop is a cheap and easy way to make an impression at your party, and the girls will love when you turn on the tunes for their photoshoot!
To make the backdrop, you'll need one red and one royal blue table cover. Cut them into sections so you can alternate the colors based on how big of an area you want to decorate.
Unroll a long piece of red duct tape along the floor. Pinch up sections of table cover and attach halfway up the tape. When all of your table cover is secured, attach the duct tape at your highest point. (If attaching directly to your wall, make sure to start with a layer of blue painter's tape.) With a pair of scissors, cut from the bottom to create strips. To get the complete look pictured, add a layer of gold door fringe and hang air-filled letter balloons to spell out "Higher," "Further" and "Faster." We flanked the backdrop with 24" latex balloons in party colors, then added various air-filled latex balloons to the ground. Some will inevitably be popped, but the girls will have so much fun playing and posing with them!
The party pictures are going to be *so* cute. And don't forget the photo props!
We hope these ideas have you feeling inspired to throw your own Captain Marvel bash! Make sure to explore all of our Captain Marvel party supplies and show us your ideas with #PartyCity!