Have a gup-gup-guppy party with our Bubble Guppies party ideas! From invitations to party favors, these Bubble Guppies ideas will make your school of fish want to dance and sing and play guitar. Rockin' bubbles for all!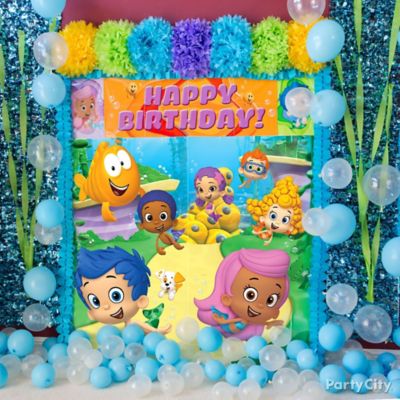 Idea 1: Create a bubbly under-the-sea scene!
Swan dive! Jump right into an underwater adventure with a Bubble Guppies scene setter, balloons, streamers and floral sheeting. It's fantastic for a game corner or as a background for snapping photos. Everyone will feel like they're on a deep-sea Bubble Guppies adventure!
Idea 2: Give the birthday girl an o-fish-al birthday outfit!
She'll be flipping for joy! Help your guppy feel extra special on her big day with a Bubble Guppies hat, accessories and award ribbon that let her know she's your number one sea-star!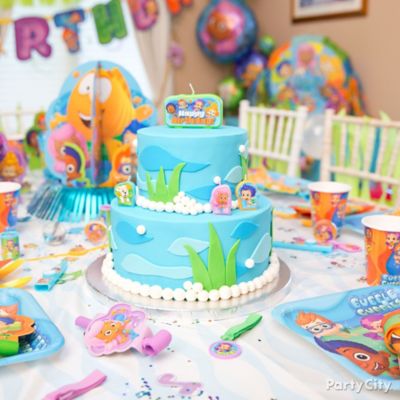 Idea 3: Make a candy-rific Bubble Guppies cake!
Create a beautiful two-layered cake for all of Mr. Grouper's class to share! Top it off with Bubble Guppies birthday candles and serve on themed tableware for a sea-sational sweet!
Idea 4: Decorate chairs with underwater flair!
Look, a kelp forest! These chair decorations are simple and fun to put together. Twist green streamers before attaching them to the back of the chair, and attach blue Bubble Guppies swirl decorations on top. Lastly, add half-inflated clear balloons for a bubbly finish!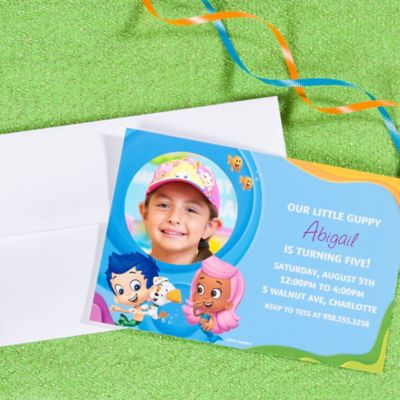 Idea 5: Create custom invites with your child's best side!
Generate fin-terest in the upcoming party by creating a Bubble Guppies custom invitation with your child's picture and a personal message. "It's a gup-gup-guppy day!" Customize in store or online, and the invites will be ready to ship to your house in five days.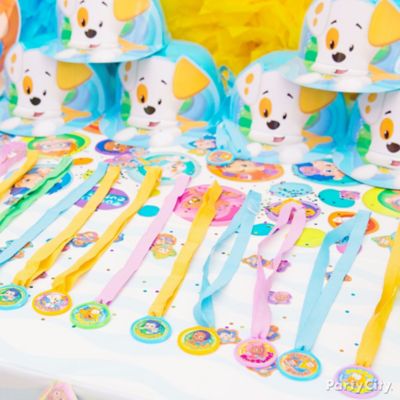 Idea 6: Go fishing for medals!
Give out awards like "Best Silly Singer" and "Most Like Molly," then hand out a Bubble Guppies medal to each of the children. Save the best and biggest ribbon for your birthday guppy!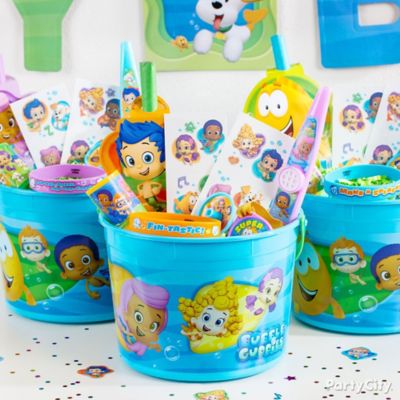 Idea 7: Make sea-sational favor buckets!
They'll swim away with smiles when you hand out these marvelous mer-favors. Stuff Bubble Guppies favor buckets with adorable favors like stickers, bubbles, kazoos and crayons – they'll be a splashing hit!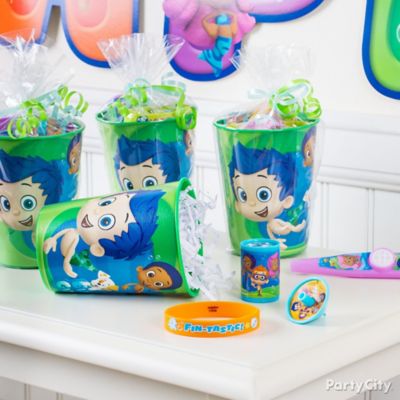 Idea 8: Little guppies will flip for these cups!
As the party starts to fin out, give everyone a favor cup filled with fun. They can dive into Bubble Guppies favors, piled on top of paper shred and wrapped up in a clear plastic bag with a bit of curling ribbon.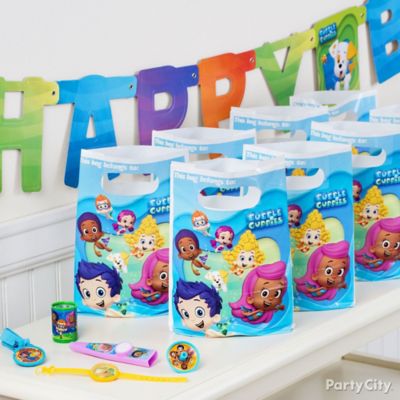 Idea 9: Let the guppies sail away with loot!
If you're busy getting ready for a school of party guests, check favors off your list with a Bubble Guppies favor pack and matching favor bags. Filling the bags is quick and easy and they'll put a grin on your guppies' faces.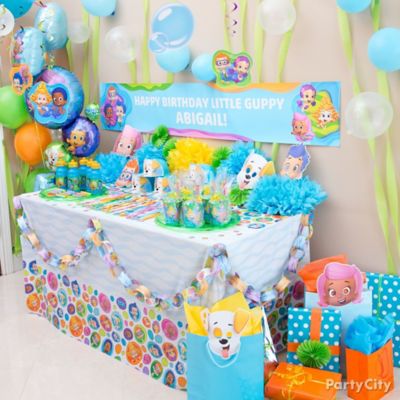 Idea 10: Make the gift table as colorful as an octopus's garden!
Look, a favor reef! Use balloons and streamers to imitate bubbles and kelp to make the perfect party background. Display the favors and other goodies on a table decorated with a table cover and chain garland printed with Bubble Guppies characters. Finally, hang a custom Bubble Guppies birthday banner above the table to tie it all together – bubbly and beautiful!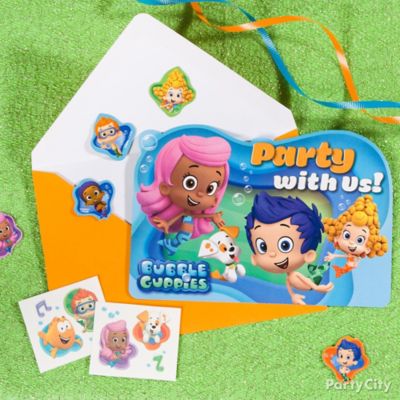 Idea 11: Make a splash with tattoos in your invites!
Are you ready to party? Sprinkle in Bubble Guppies tattoos and confetti for a bubbly surprise. Tell the kids to wear the tattoos on the big day as a special party pass!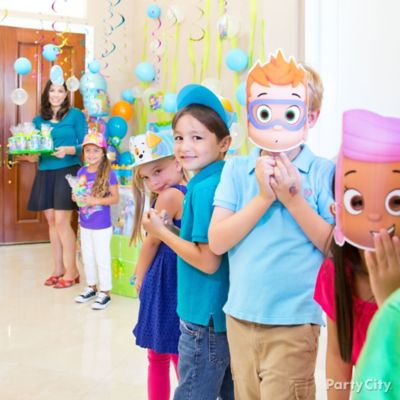 Idea 12: Hand out Bubble Guppies gear!
Get all the guppy pals in on the dress-up fun with Bubble Guppies hats. They'll be ready to break into song when they wear these cute favors featuring their favorite guppies – like Bubble Puppy!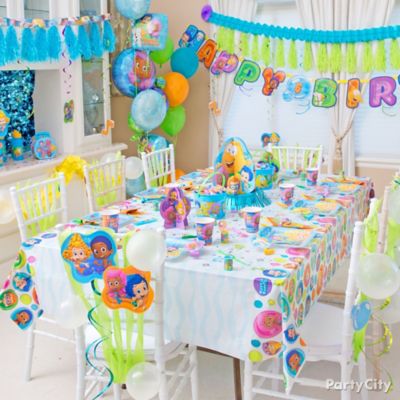 Idea 13: Look, a kelp forest!
Use Bubble Guppies banners to make your little swimmers feel like they're underwater! A birthday banner, streamers, balloons and swirl decorations are sure to make a splash.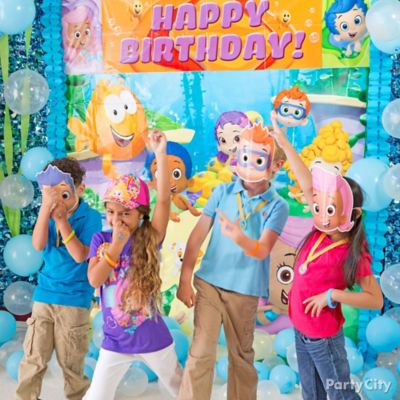 Idea 14: Set up a Bubble Photo Booth
They're sure to love bright accessories like masks, award medals, temporary tattoos and wristbands. Set up a variety of accessories near a Bubble Guppies scene setter so your young guests assemble their look. Then, get your camera ready — pose, smile and say, "Bubble Guppies!"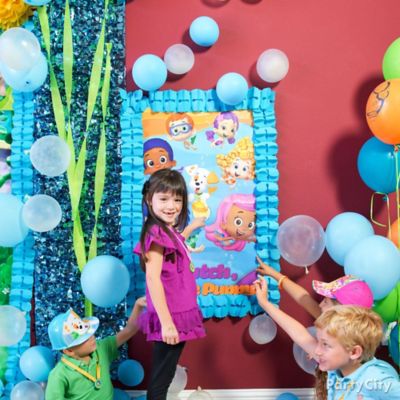 Idea 15: Help Bubble Puppy catch the ball!
Hand out ball stickers and the blindfold each guppy and see who gets the ball closest to Bubble Puppy's paws with a Bubble Guppies party game. Make it even more swimtastic with a blue garland border and some balloon "bubbles." Don't forget to give the winner a fin-five!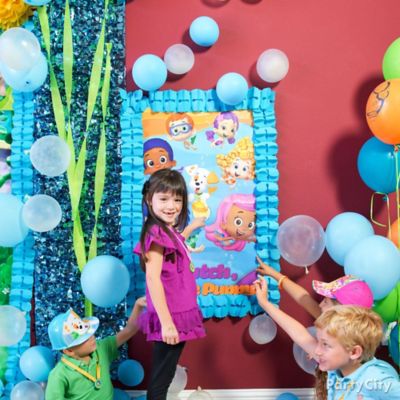 Idea 16: Pop the bubble pinata!
It's pinata time, so ready, set, swim! Have the children step up one by one to the pull string Bubble Guppies pinata and pick the piece of ribbon that will release all the goodies. Give them themed favor buckets to scoop up their well-earned loot.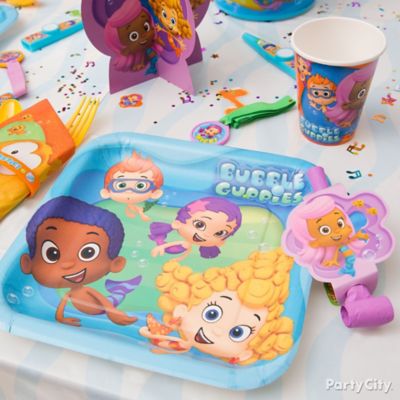 Idea 17: What time is it? It's time for lunch!
What time is it? It's time for lunch! Set out a Bubble Guppies table cover and centerpiece, with themed tableware and favors for a table that's oceans of fun. Sprinkle confetti over the table for a little extra sparkle.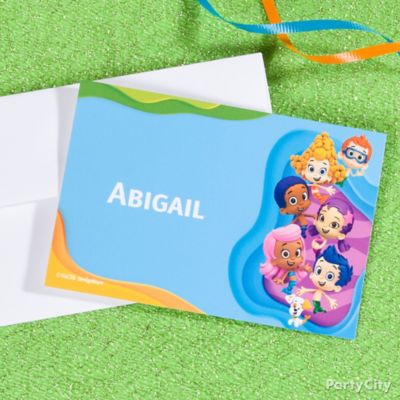 Idea 18: Send a wave of thanks with a custom thank you!
After a day of fun, take the time to send a custom Bubble Guppies thank you note to the friends who made it possible. We'll inscribe your personal message or the name of the birthday star and have them ready to ship to you in five days.