Get ready to rumble! Your little racers will feel like they've rolled into the Monster Dome when they see these ideas in action. Our quick tips for decorating, snacks, party games and more are perfect for moms and dads moving at the speed of light!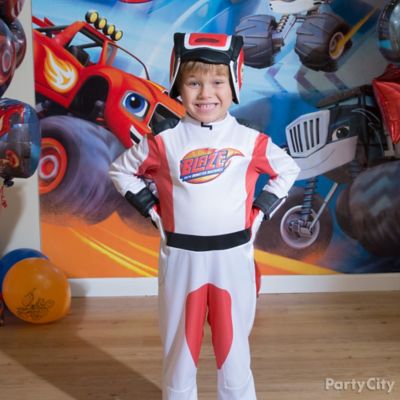 Idea 1: He's ready to jump in the driver's seat with this AJ costume!
The birthday boy's ready for adventure in a racing outfit just like AJ wears. He'll be so excited for his friends to arrive and start racing!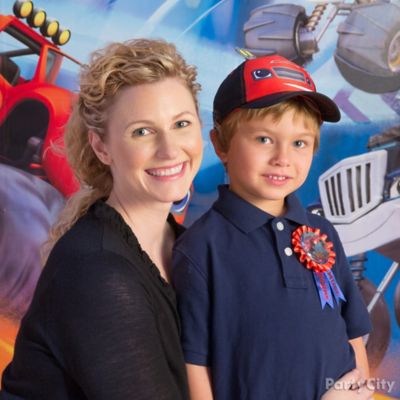 Idea 2: Make any outfit blazin'!
His face will light up like high beams when you surprise him with new Blaze gear for his big day! You can rev up any outfit with a Blaze award ribbon and Monster Machines hat.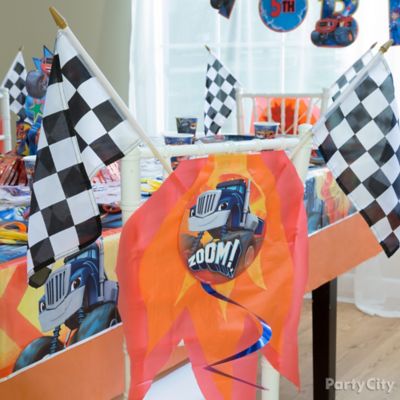 Idea 3: Engineer fun flame decorations!
Tablecovers are inexpensive and so versatile— use them to make these finish line chair decorations! Cut flames out of red, orange, and yellow tablecloths, making sure each colored flame is a little smaller so they fit together. Use tape to adhere the layers and finish it off with a cutout from the swirl decoration kit. Too cool!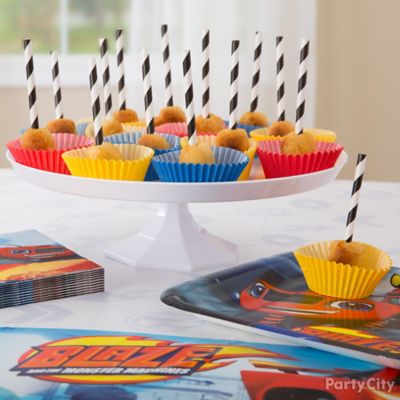 Idea 4: Fun food to fuel your party!
The birthday crew will be a crowd of cheering fans when you roll out these corn dog bites! Cook up a tray of store-bought mini corn dogs (easy!), and pop in cool striped straws so they can gobble them up without a fuss. Display them in colorful baking cups for a treat Blaze, AJ and Gabby would love!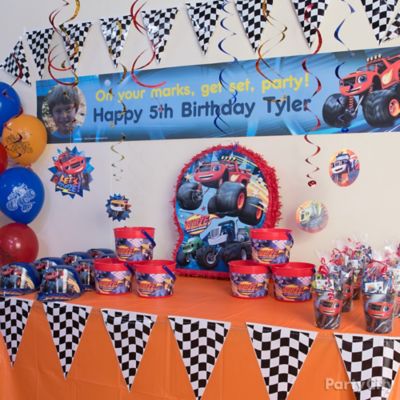 Idea 5: Press the accelerator and start the party!
Put the party in gear by creating a custom banner printed with your little racer's picture and name right next to Blaze! On your marks, get set, party!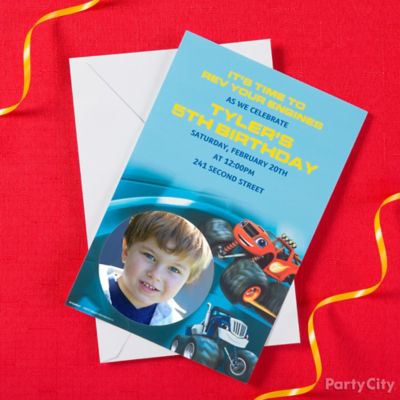 Idea 6: Ready, set…you're invited
What's more exciting than a birthday invitation? A cool Blaze invitation with your friend's face right on the front! Your guests are sure to start dreaming of race day.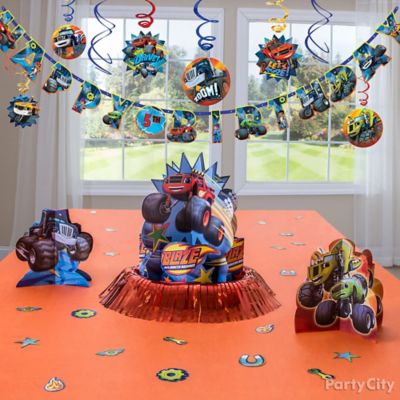 Idea 7: Roll out the flashy Blaze centerpieces!
To fit out your table in true Blaze style, display centerpieces showing Blaze and his friends springing into action. Scatter little paper wrenches, fireballs and gears to inspire adventures, and hang a birthday banner featuring AJ, Gabby and the Monster Machines!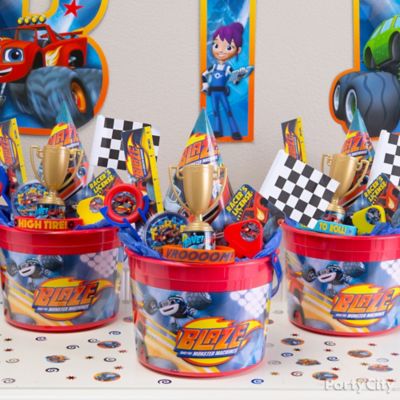 Idea 8: When they see these favors, they'll do a victory lap!
Gabby would be proud of how we've fixed up these treat buckets! Fill colorful Blaze buckets with tissue paper, then top off with treats and Blaze toys.
Idea 9: Everyone's a winner with reusable favor cups!
Load treats and Blaze party favors into cups that guests can use again. If you want to send home something other than candy, include toys that will remind them of their time at the party, and get them excited for more adventures: Blaze whistles, mazes, rulers, and disc shooters!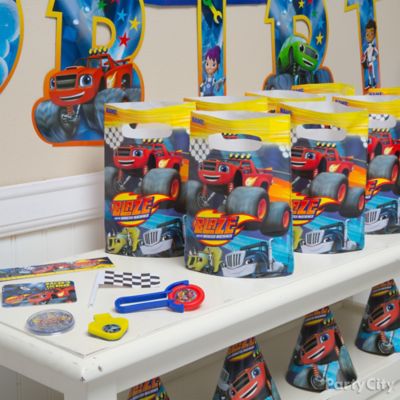 Idea 10: Don't exhaust yourself! Use an easy favor pack
Be a favor-packing Monster Machine! Favor packs make it easy to whip up enough favors in Blaze bags for eight guests, with none of the stress of buying goodies individually.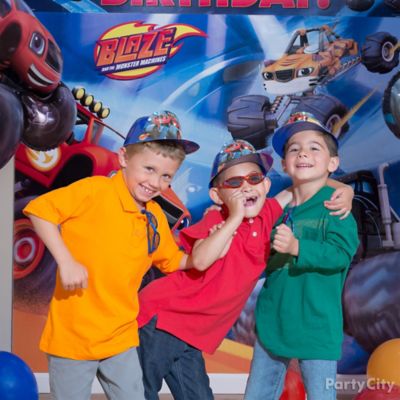 Idea 11: Hand out wearable favors to deck out the whole crew
Accelerate into action by passing out colorful hats and sunglasses at the beginning of the party. The kids will be eager to try on their new gear!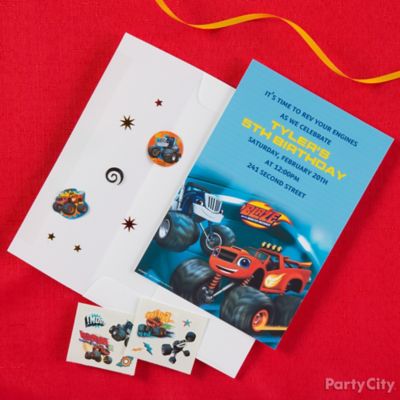 Idea 12: Invite your guests with a blazin' surprise
Invitations set the tone for your little guy's party, so it's good to start with an exciting surprise! Sprinkle in Blaze confetti and a snazzy Monster Machines tattoo they can wear to the party.
Idea 13: A muddy treat for monster truck racers!
This classic snack is sure to please the hungry racers. Whip up your favorite chocolate pudding and serve in Blaze treat cups with a crumble of sandwich cookie crumbs on top. Press a sandwich cookie "tire" into each cup and serve with a bright red spoon. The kids will race right over to these party treats!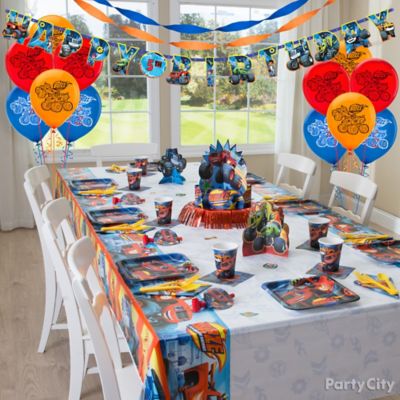 Idea 14: Tune up your party table
Emblazon your party table with eye-catching colors and table settings featuring the whole Monster Crew! Blaze balloons and streamers create the perfect backdrop along with a cool Blaze birthday Banner. To really drive home that it's time to celebrate, set a Blaze blowout at each place setting!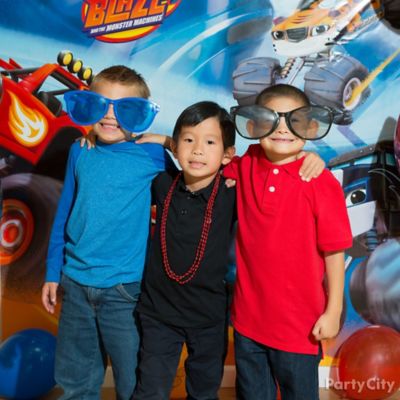 Idea 15: This photo op idea is a snap!
During all the Monster Machine mayhem, it might be hard to snap photos. Ensure you'll have time to capture those memories by setting up a photo booth and encouraging the kids to pose together in the Monster Dome! Put out silly costumes and accessories so they'll all want a turn.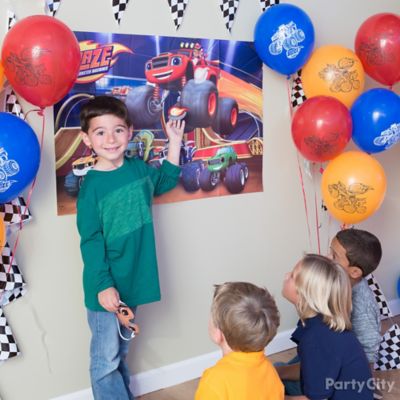 Idea 16: Help Blaze turn on the boosters!
This game is a revved-up version of Pin the Tail on the Donkey. Have the racers put on the mask, do a spin and try to stick Blaze's fire back in place. The mask is printed with AJ's eyes, which also makes for funny pictures!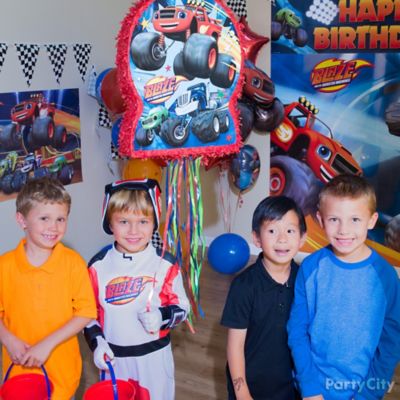 Idea 17: Race on over, it's pinata time!
Older racers can smash this pinata like Zeg, while smaller drivers can take turns pulling the pinata strings! Whichever way you play, the best part is when the treats fall out! Fill the pinata with Blaze favors and treats of your choice, or pick up an easy favor pack.
Idea 18: A high-speed room transformation
To refashion your space into Axle City, hang a scene setter to surround the kids with their favorite Monster Machines, or choose a checkered flag pennant so they can see the crowd cheering. Balloons are a party favorite for a reason, so inflate eye-catching Blaze balloons and see how the kids are magnetized to them!
Idea 19: Thank them for blazin' by!
After all the fun is over, help guests remember their time in the Monster Dome by including a party photo with their Blaze thank you note.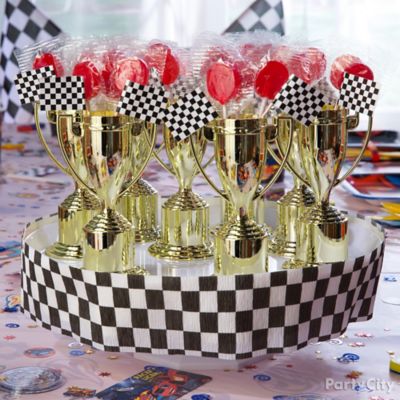 Idea 20: Blaze would be proud to win one of these trophies!
These favors look great as a centerpiece until the end of the party, when the racers take them home! Get the winning look by affixing red lollipops and checkered flags to the inside of these adorable mini trophies using tape so they peek out the top. Display on a cake stand encircled by a checkerboard streamer.