Amaze your guests with balloon decorations you create yourself! DIY balloon garlands are popular party decorations that can be used for any and every occasion, including birthdays, baby showers, weddings, and more. These decorations make a huge statement and are an easy way to enhance your party space. Whether used as a photo backdrop or as entryway décor, the possibilities for customizing balloon garlands are endless. Since no helium is needed, you can make balloon garlands the day before your event to save time and make day-of party set up a breeze.
We'll show you two basic balloon garland techniques: latex balloon garlands made with balloon decorating strips and classic party balloons, and foil balloon garlands that are created using fishing line and round balloons. Once you're feeling ready to create, shop all balloons and garland kits to match your party theme.
Latex Balloon Garland
Assemble Time: Est. 1 hour
We know this looks intimidating but trust us, you've got this! With the help of our balloon arch decorating strip you'll be able to create this balloon garland in no time. The clear plastic strip acts as a template for your garland, holding up to 12 latex balloons per foot which makes assembly easy. To make a full garland, you'll need 85 latex balloons in a variety of colors. Keep reading for details on how to create your own.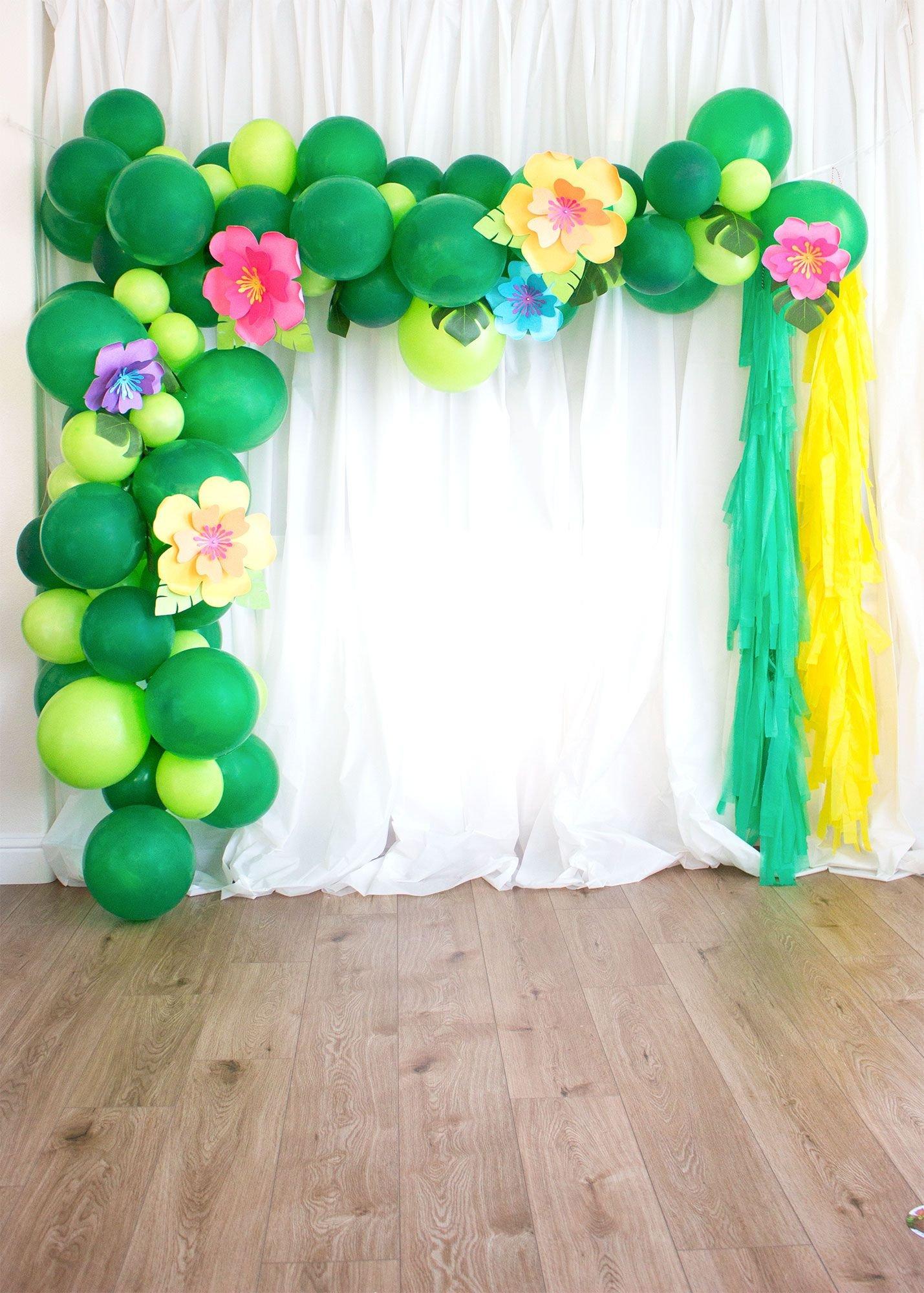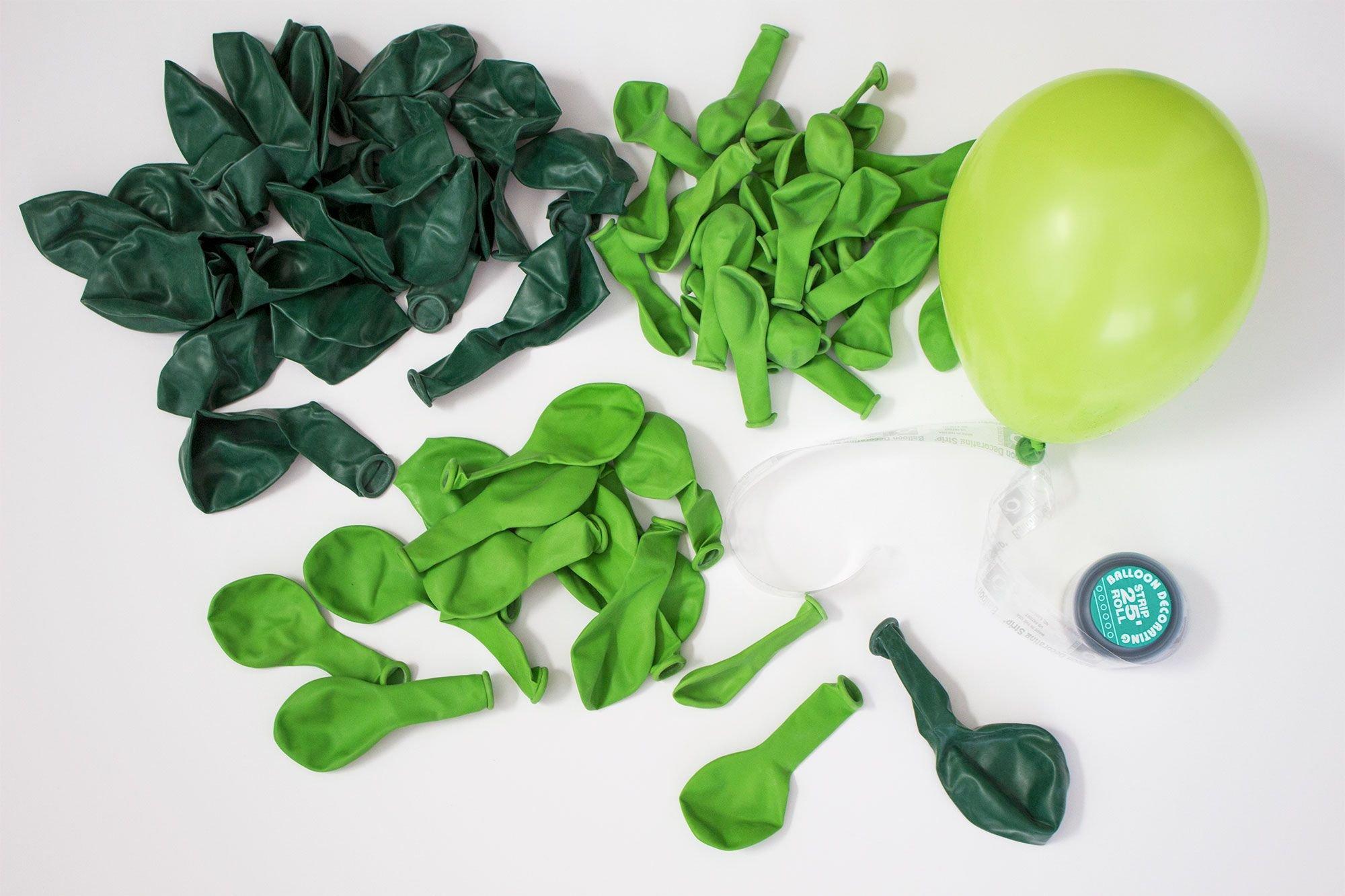 Step 1: Inflate balloons & attach to decorating strip
The easiest way to create an extra long garland is to create two shorter garlands and attach them at one end. Begin by inflating all the necessary balloons with air and securing them with a knot. Then measure out your decorating strips according to where you plan on hanging the garland, plus additional length on either end for attaching. One section of the garland will hang horizontally and the other vertically.
Once your decorating strips are measured, you can begin inserting the knotted ends of the balloons into the holes in the strip and gently pulling them through to secure. Alternate balloon colors as you move down the strip for variation. Remember to leave a portion of the balloon strip unused on either end for attaching later.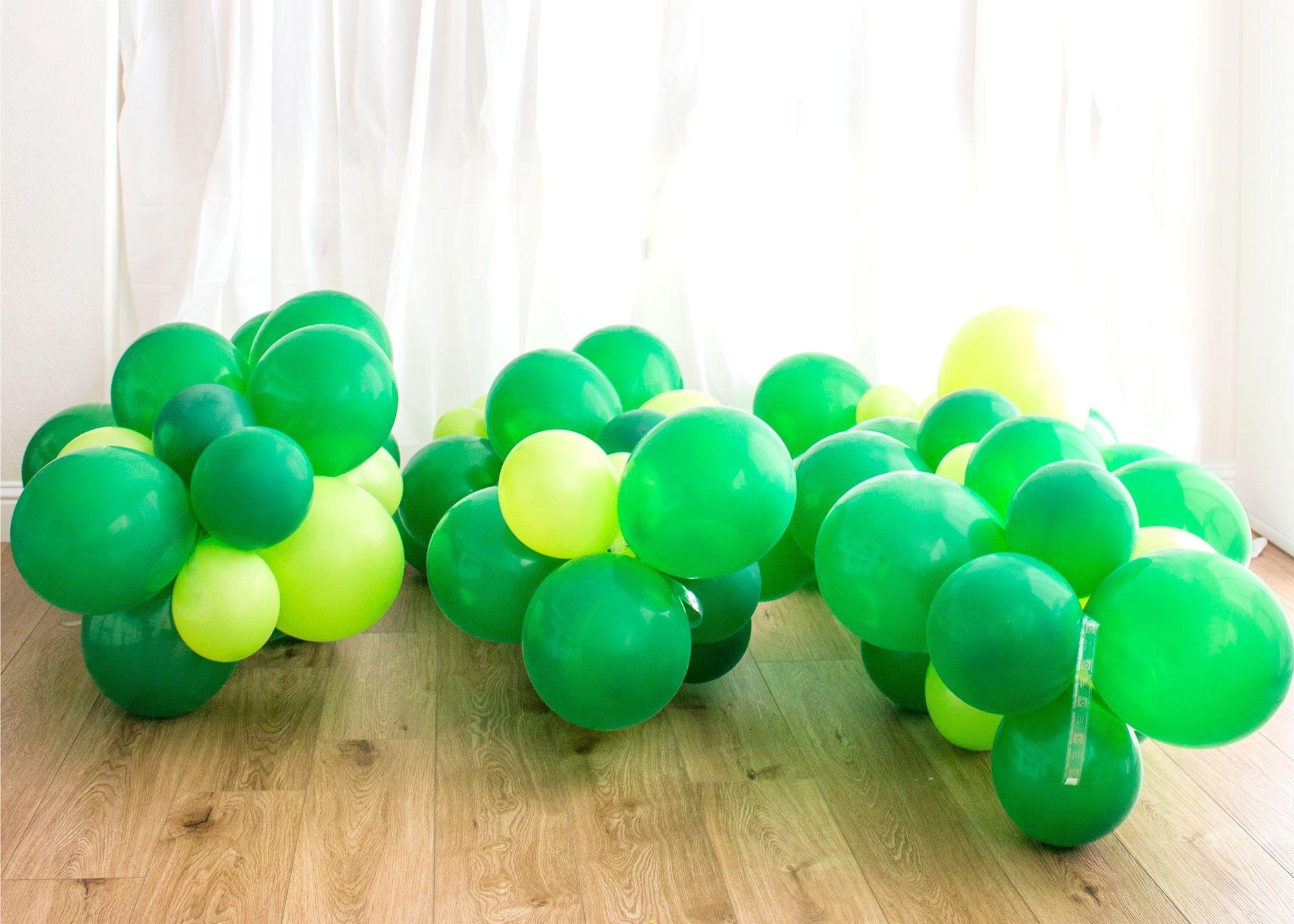 Step 2: Hang first garland
Get a friend to help determine the ideal position for the garland on the wall. Since you left a little extra length of decorating strip on either side of your garland, you can hang the balloon strip directly onto Command hooks using the empty holes.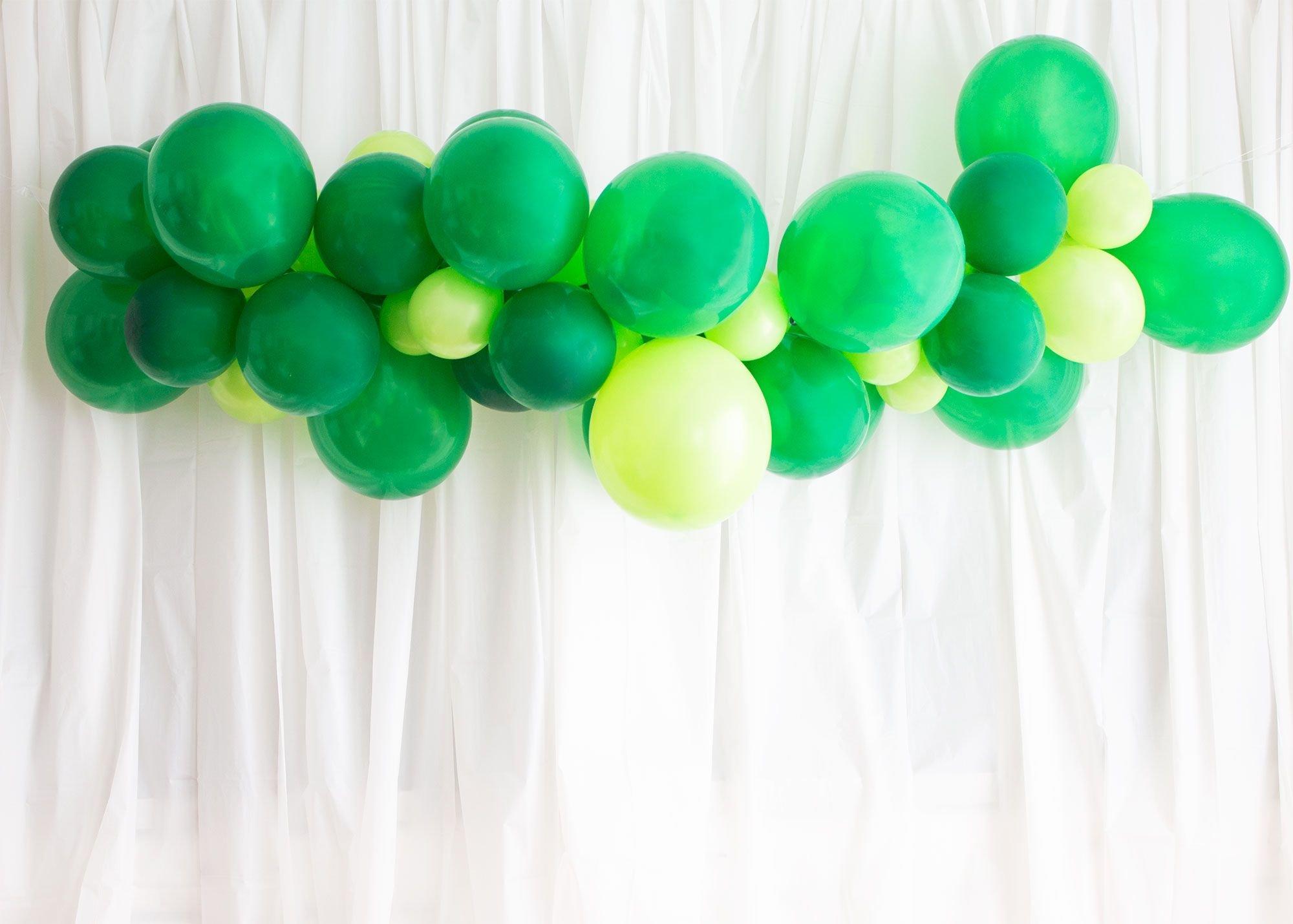 Step 3: Hang second garland
Use two more Command hooks to hang your second garland vertically. Make sure the garlands overlap to create the effect that this is a single garland! Cover any holes with additional green balloons using double-sided tape.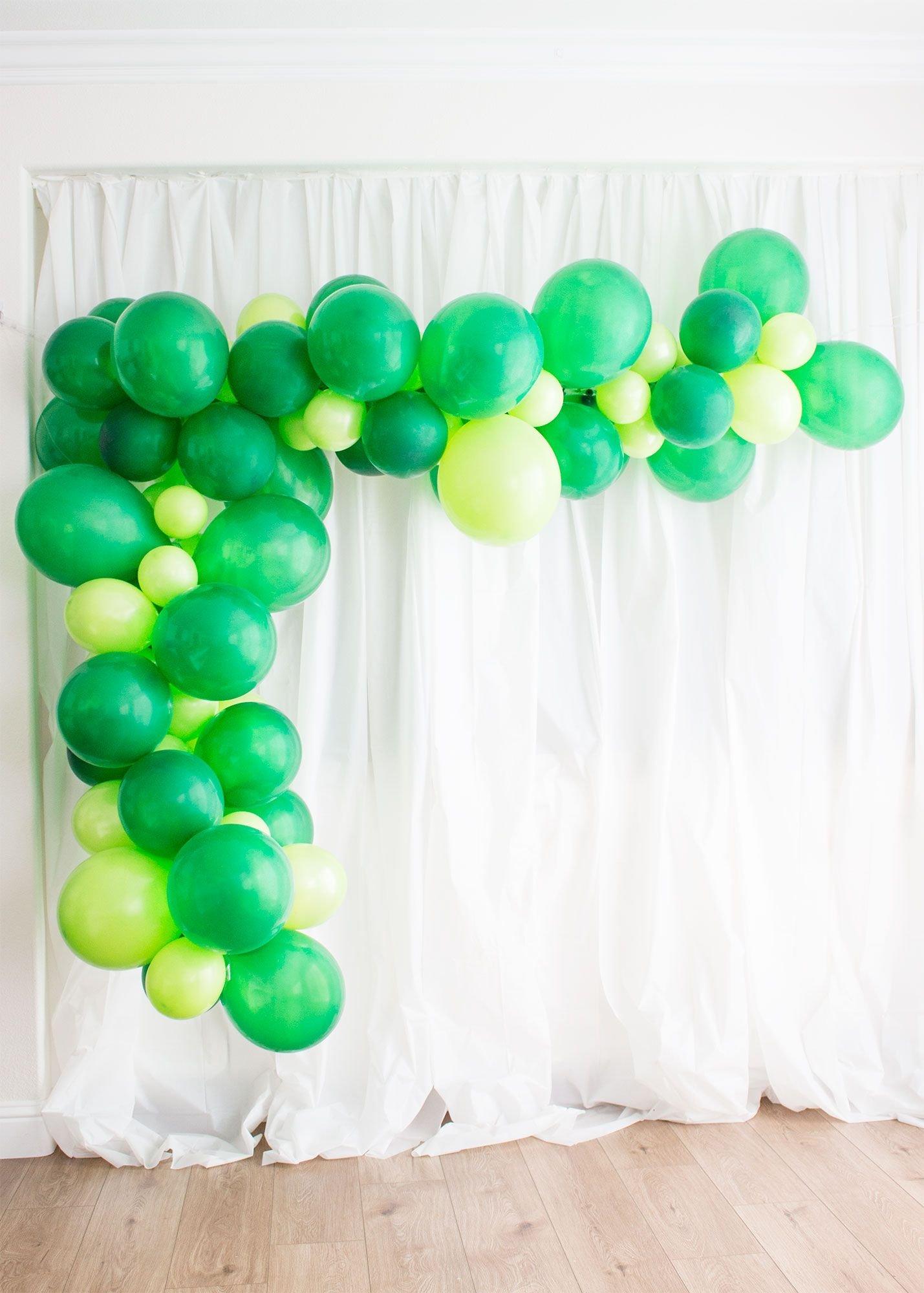 Step 4: Add thematic details
Cut long strips of table cover to achieve the cascading colors on the opposite side of your garland. Top it off with decorations that match your theme: we used these ultra-cute paper flowers for a pop of tropical color! Use double-sided tape or Sticky Tack to attach. If you're making this garland for a different theme, you can use letter balloons to finish your garland.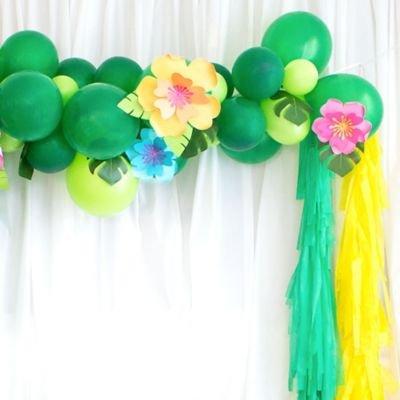 Foil Balloon Garland
Assemble Time: Est. 1 hour
We're totally swooning over our new foil balloon garland. This trendy take on the classic balloon decoration really takes your party decorating to new heights! For this balloon garland you'll need 30-40 round foil balloons. Elevate the metallic garland with a phrase balloon and decorations that match your theme. Make your own using the instructions below.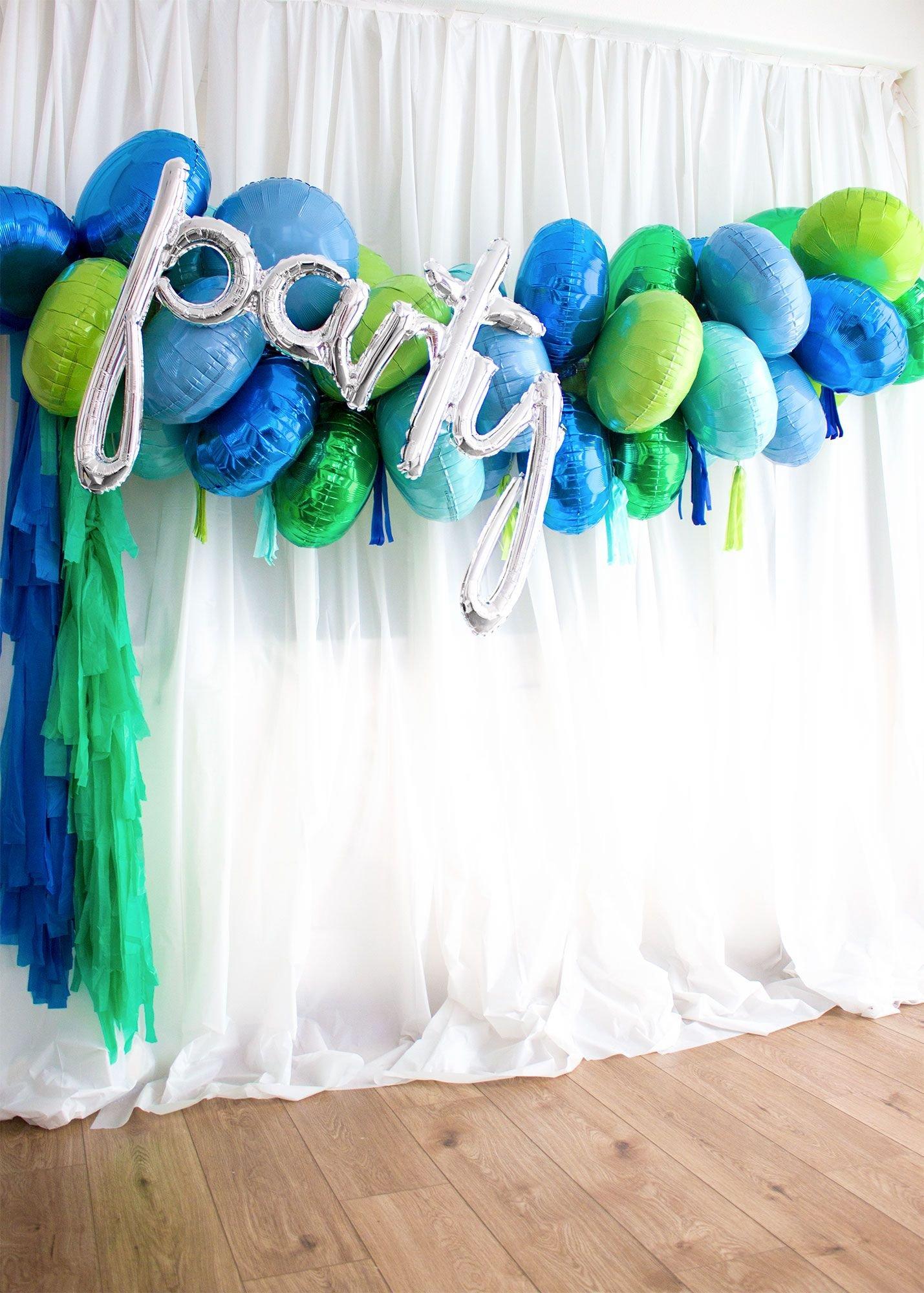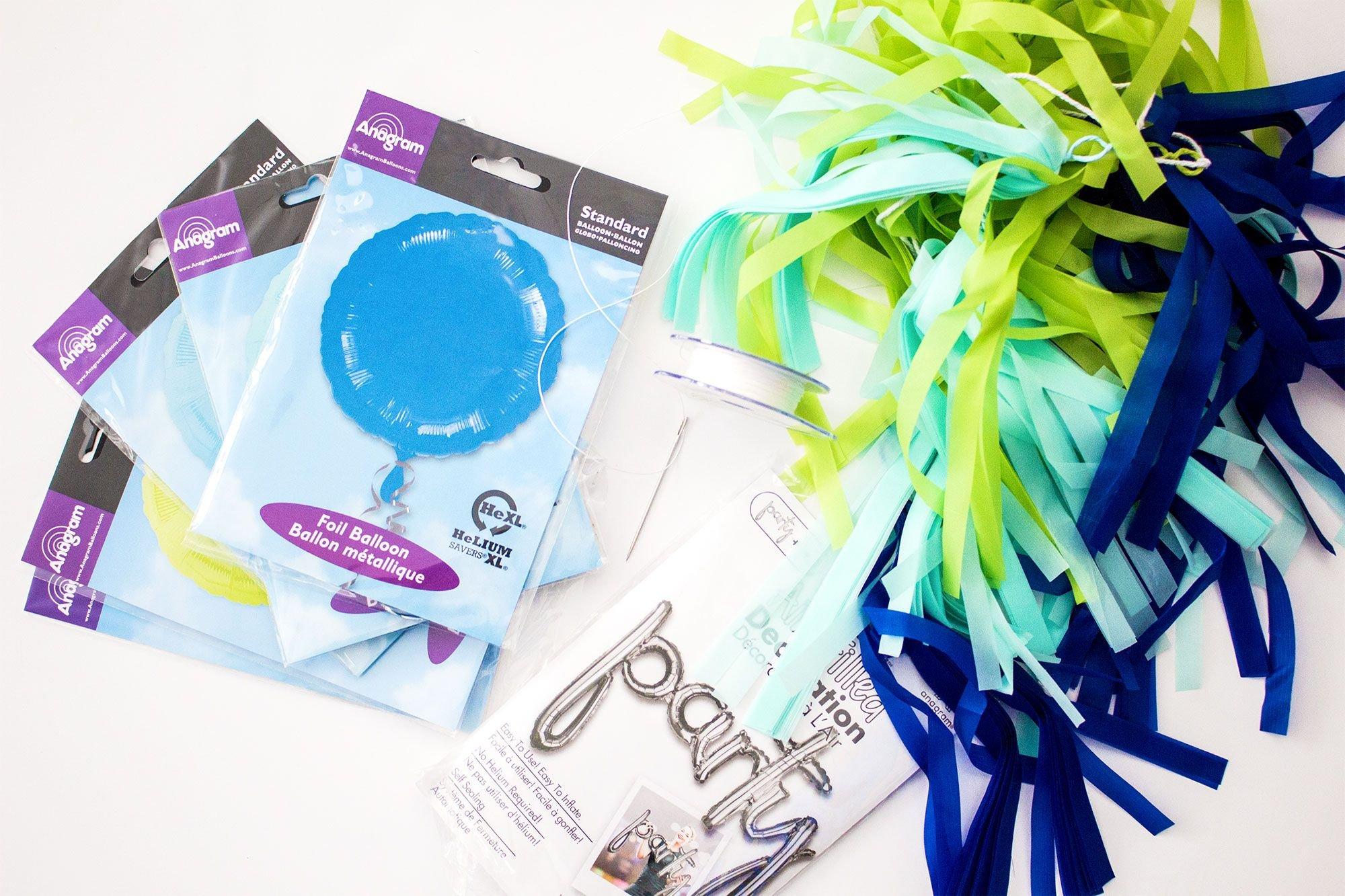 Step 1: Inflate balloons
Inflate 36 round foil balloons with air. You may find you like how your garland looks with a different number of balloons once the garland goes up, but it's always nice to have a few extra to fill in any gaps. Now's the time to invest in an air pump (you'll thank us later)! Choose balloons in shades of blue and green, or any color scheme that matches your party.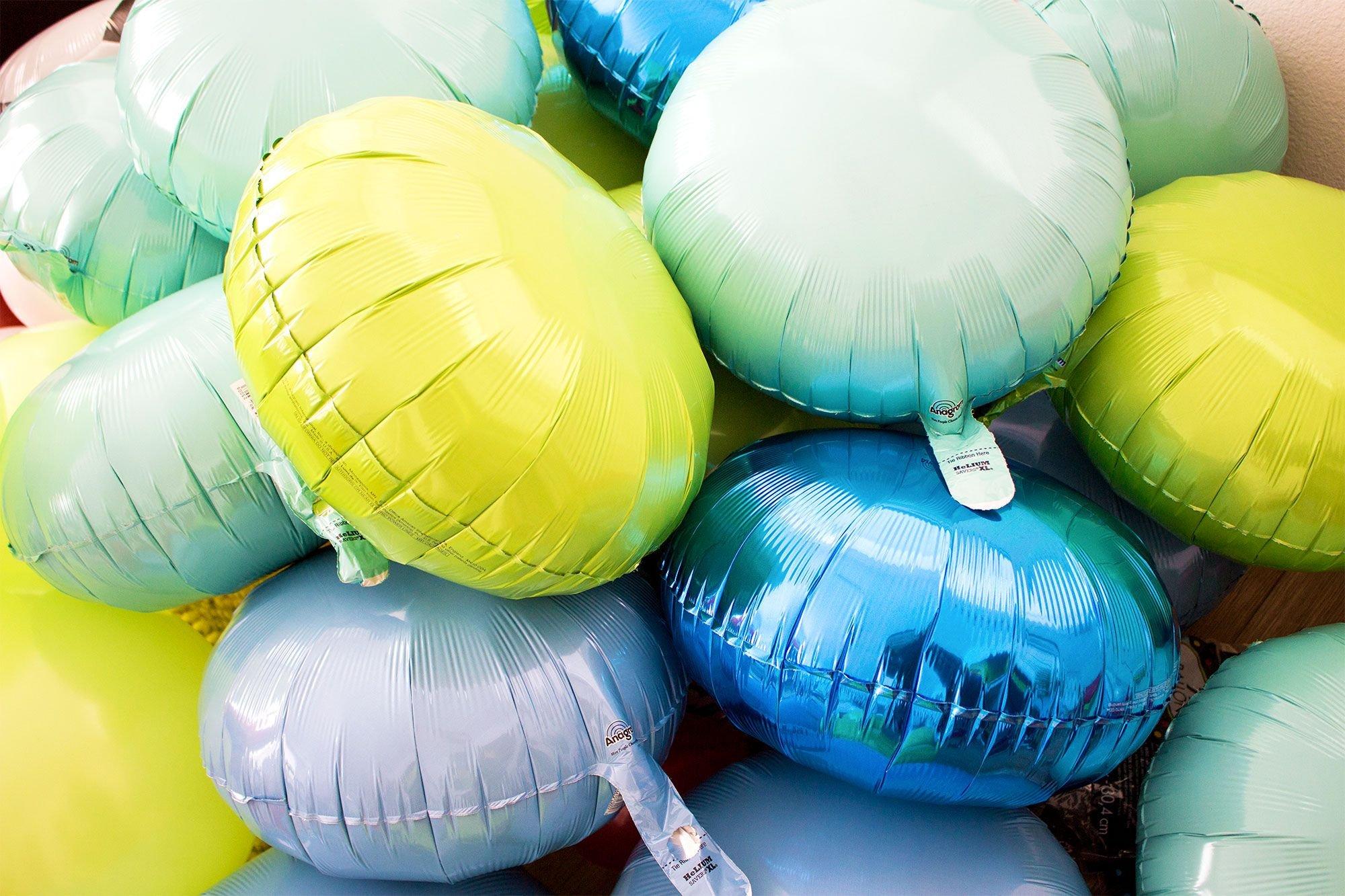 Step 2: Tie ends together
Tie all of your balloons into pairs by color. These round balloons have long ends, so it's easy to knot two balloons together.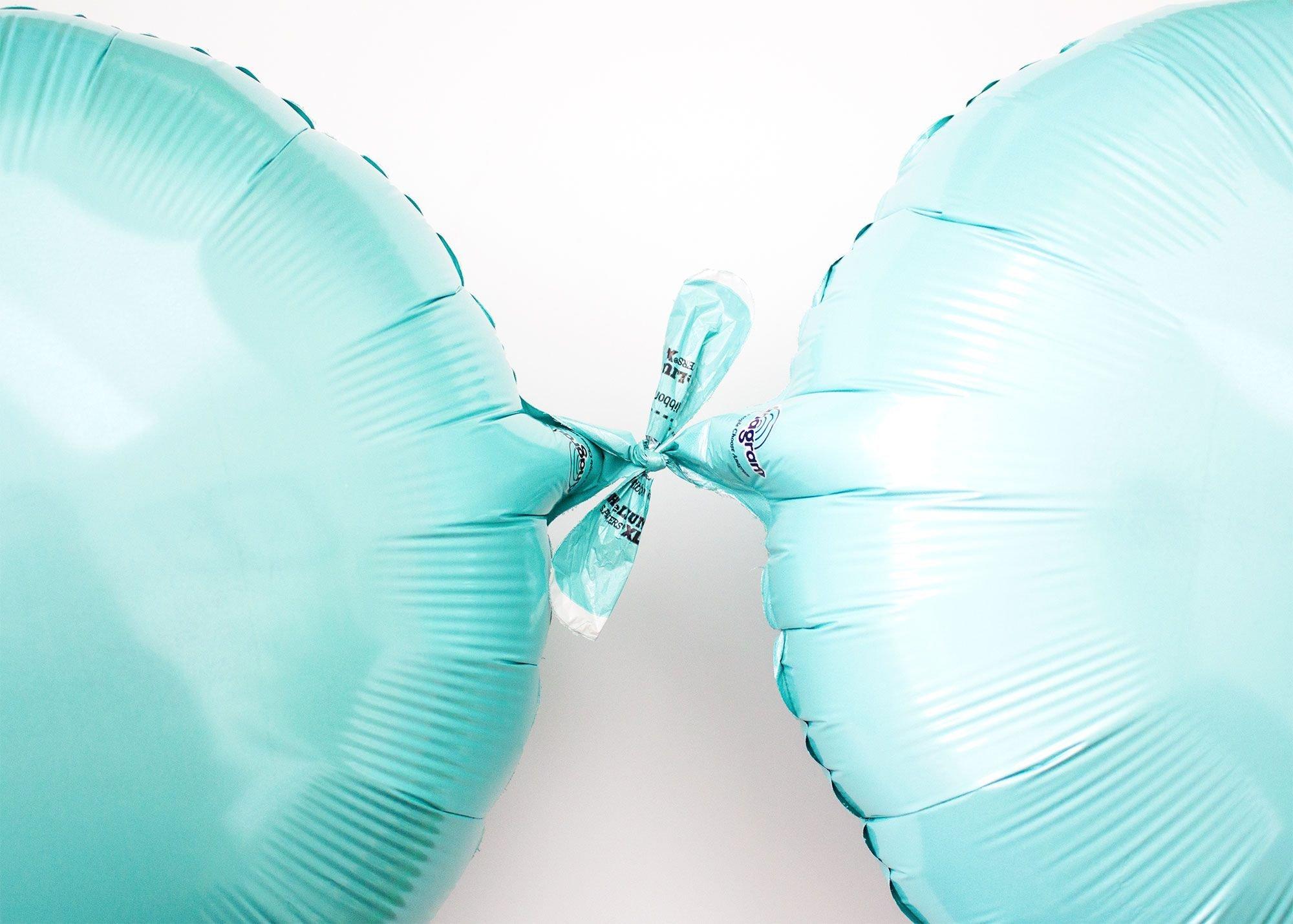 Step 3: Hang your garland
Thread your sewing needle with fishing line. Don't pre-cut the fishing line—leave it on the spool. Push the needle carefully through the connected pairs of balloons. Continue until all balloons are threaded onto your fishing line. When you're finished, tie off the end.
Attach three Command hooks to the wall (these only stick once, so be careful with your placement!), and tie your fishing line to the Command hooks. Bunch your balloons together to create your desired shape.
Inflate phrase balloon and attach to the balloon garland using double-sided tape. Accessorize the garland with additional decorations that match your theme.
Pro tip: Buy extra Command hooks in case you need to relocate or reposition your garland.