Best New Year's Party Ideas
What a year it's been! Say goodbye to 2022 and keep the positive momentum going by ringing in 2023 with your type of party. Whether that's a night of glitz and glam, a family-friendly "Noon Year's Eve" party during the day, a simple and relaxing cozy night in, or just an at-home movie night, Party City has just what you need to set the scene. Here are some great New Year's Eve party ideas to get your creative juices flowing and the celebration going.
A Night of Glitz & Glam
A night of glitz and glam does not have to be overly complicated. Touch up your space with some lavish and sparkly décor, stack the house bar with fancy glasses and cocktails to match, get the NYE party music playlist queued up, and you're ready to ring in the new year. Here are some suggestions on how to create a night of glitz and glam without needing a party planner.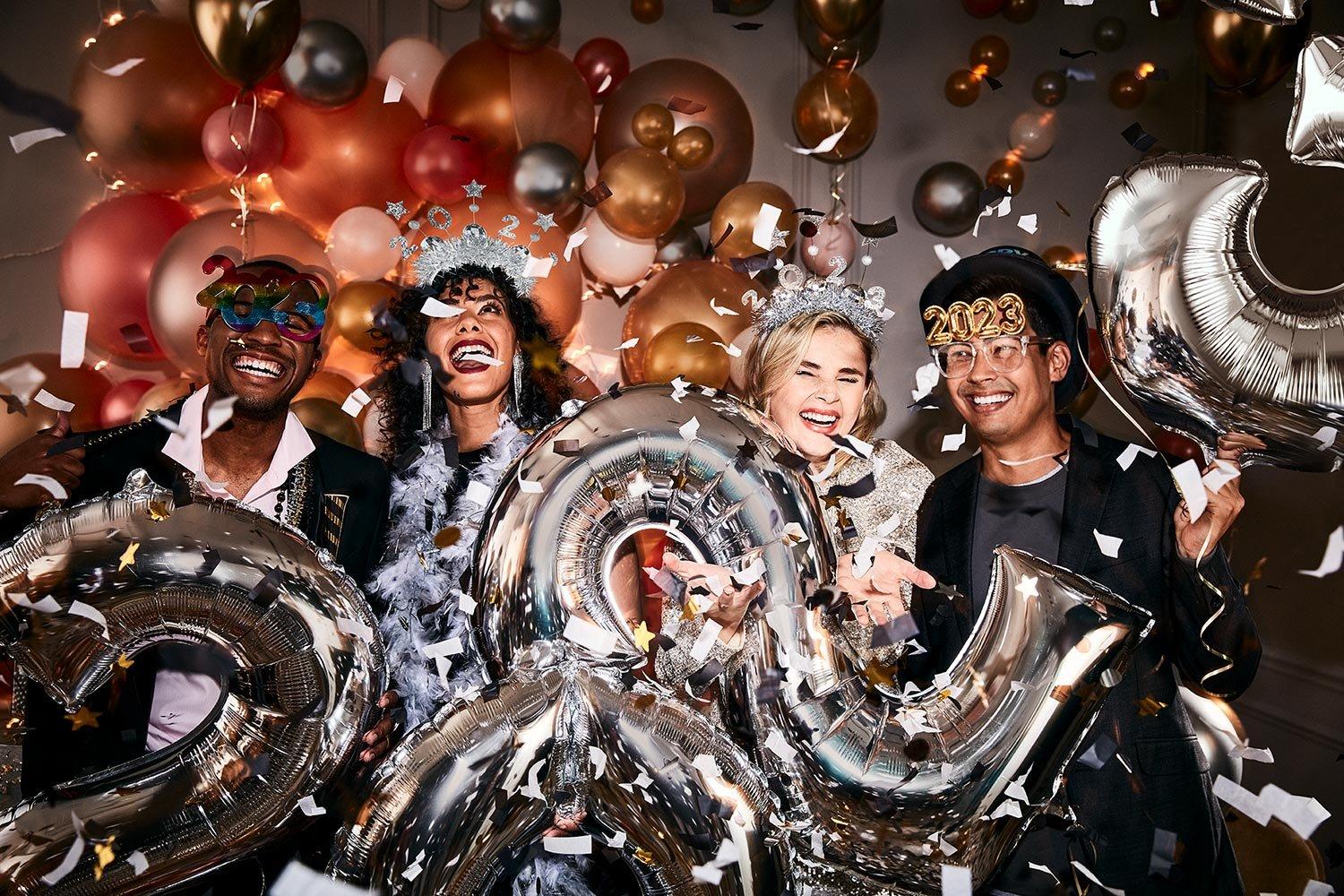 Create a Festive New Year's Eve Photo Backdrop
Make your NYE party legit and equip your celebration with a festive photo booth. You can create a glitzy photo area with a New Year's backdrop and provide NYE photo booth props for guests to hold up. Or ditch the props and keep it simple with just the backdrop, allowing your guests to strike their best poses for the camera in their fancy attire. Pro tip: set up a tripod to hold guests' phones or cameras. That way, they can snap their pictures without having to ask someone else to be their photographer.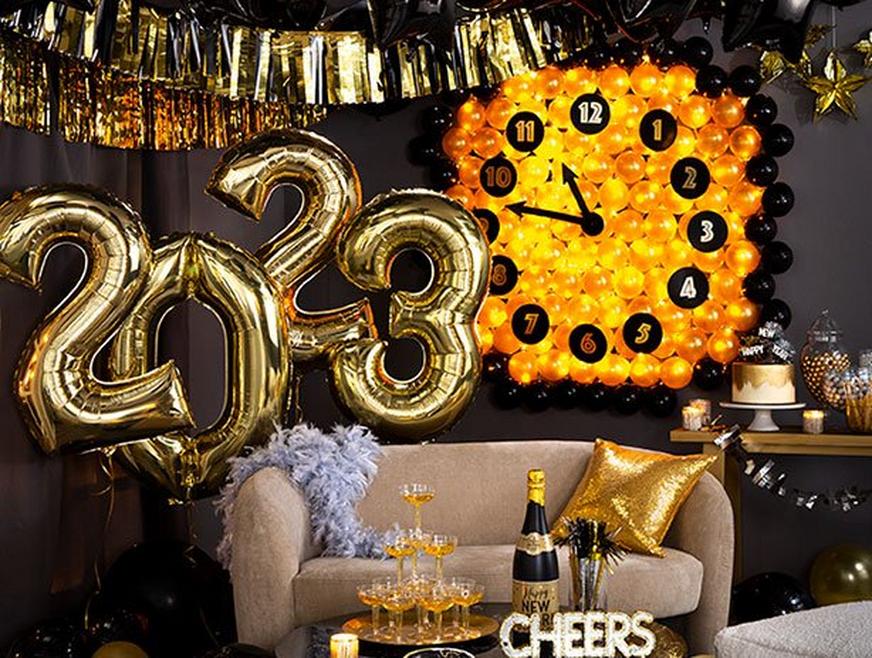 Champagne Bar & Mixology Station
A solid drink station is a sign of excellence at any NYE party. Set up a spot where guests can build cocktails—or even better, hire a personal bartender to shake and stir drinks all night long. With black, gold, or silver tableware and glassware setting the tone, take it to the next level with a metallic bar decorating kit, bar caddy, champagne balloons, and cocktail napkins. You can pick and choose each piece to build out your New Year's Eve party vision or make it easy by getting an all-in-one Bubbly Bar Decorating Kit.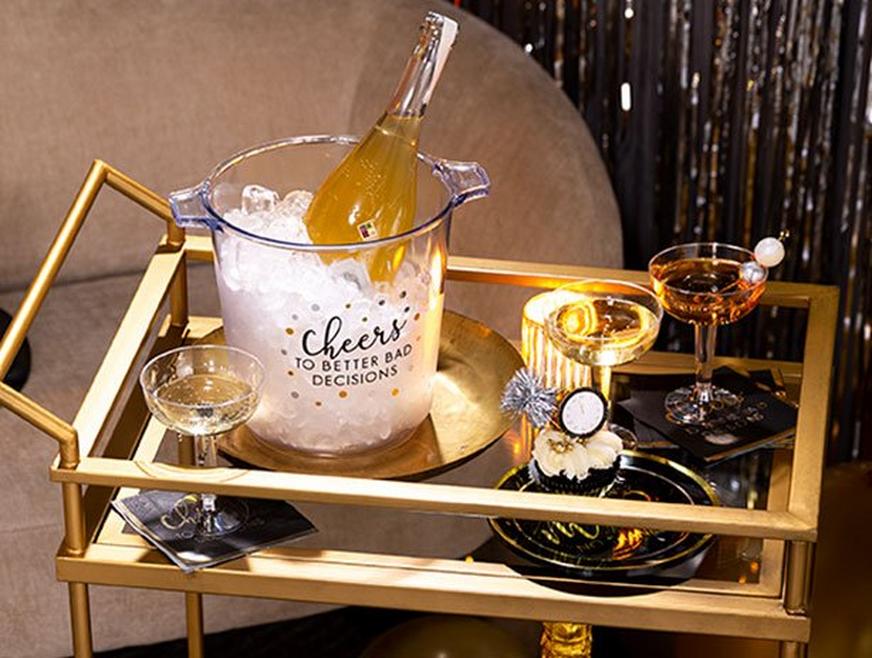 Music that Moves
A good playlist is important for any social gathering. We've curated the ultimate NYE party playlist that features top 40 hits, upbeat dance classics, and throwbacks. This way the pressure's off you to create your own list of tunes. Spend more time focused on the menu, decorations, and games to create the perfect atmosphere for ringing in the new year. All you need to do is hit play and let the good times roll.
Daytime Family Fun Kid-Friendly New Year's
Celebrating New Year's Eve isn't just for adults. Make it a family affair by throwing a daytime NYE party for the kids. These ideas will make for a family-friendly and fun "Noon Year's Eve" to close out 2022 with your loved ones.
Countdown with a Candy-Filled Piñata
Instead of counting down to midnight and watching the ball drop, count down to noon with the kids and celebrate with a candy-filled clock piñata. Piñatas are a fun and engaging activity that gets everyone participating. When it finally busts, the candy and confetti make for the perfect way to ring in the new year. If you have little ones learning how to count, there are lots of New Year's Eve elements that could be used as teaching moments. For example, counting down during "Noon Year's Eve," or taking time to practice patience (as others swing at the piñata) makes learning even more fun.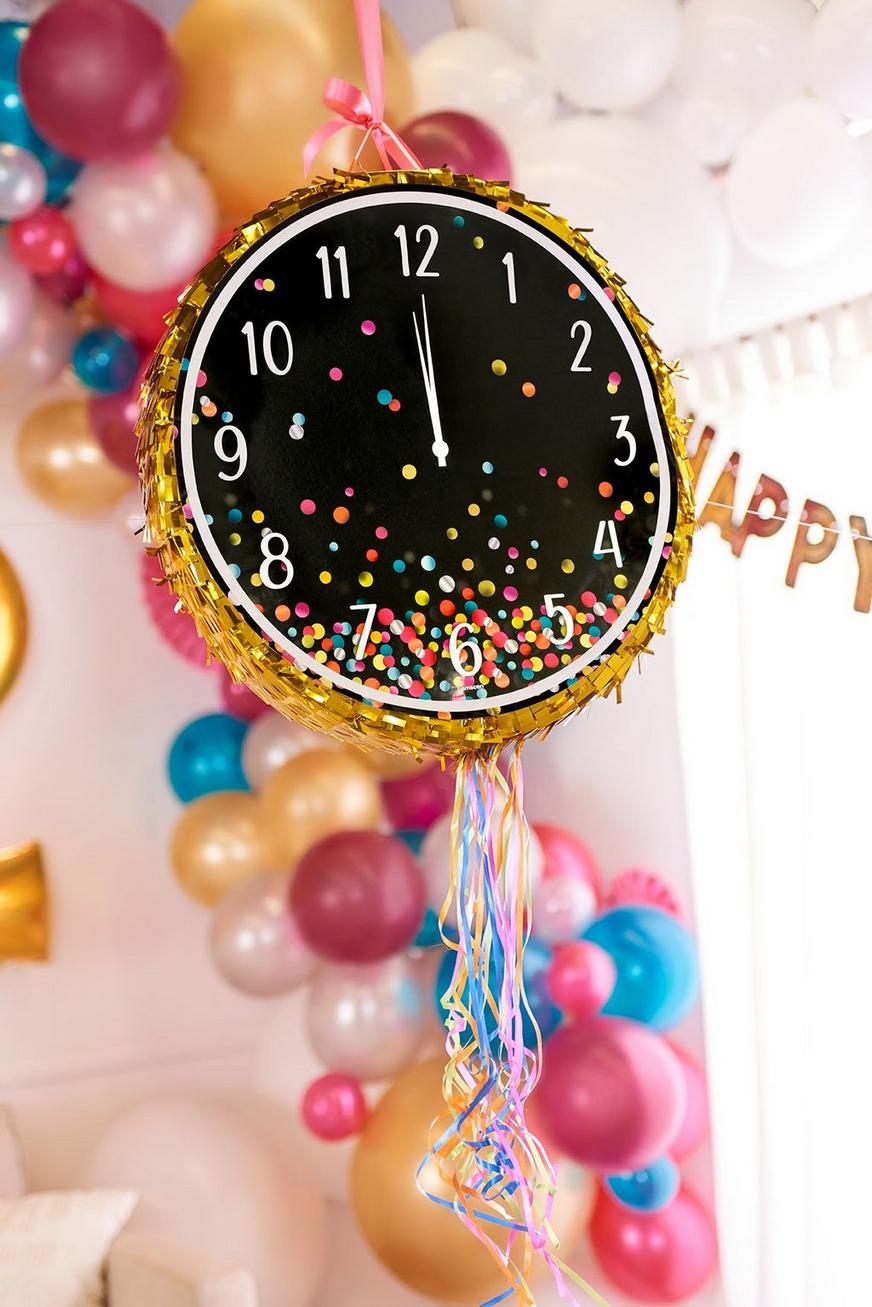 Party Time Can Also Be a Game Night
New Year's Eve games are a great way to pass the time as your family waits for the clock to strike noon. You can play New Year's BINGO and give out NYE party favors as prizes, have the kids do placemat coloring activities, or round up the family and go through a deck of Best of the Year New Year's Conversation Cards.
Kids' Music Favorites
Whether it's a sing-along kids' favorite or kids' dance songs, play the suggested tracks we've put together for a kid-friendly Happy Noon Year's celebration.
Cozy Celebration with a Pajama Party
If you prefer a low-key New Year's Eve celebration, we have budget-friendly New Year's Eve party ideas that beat out a packed, high-ticket event anytime.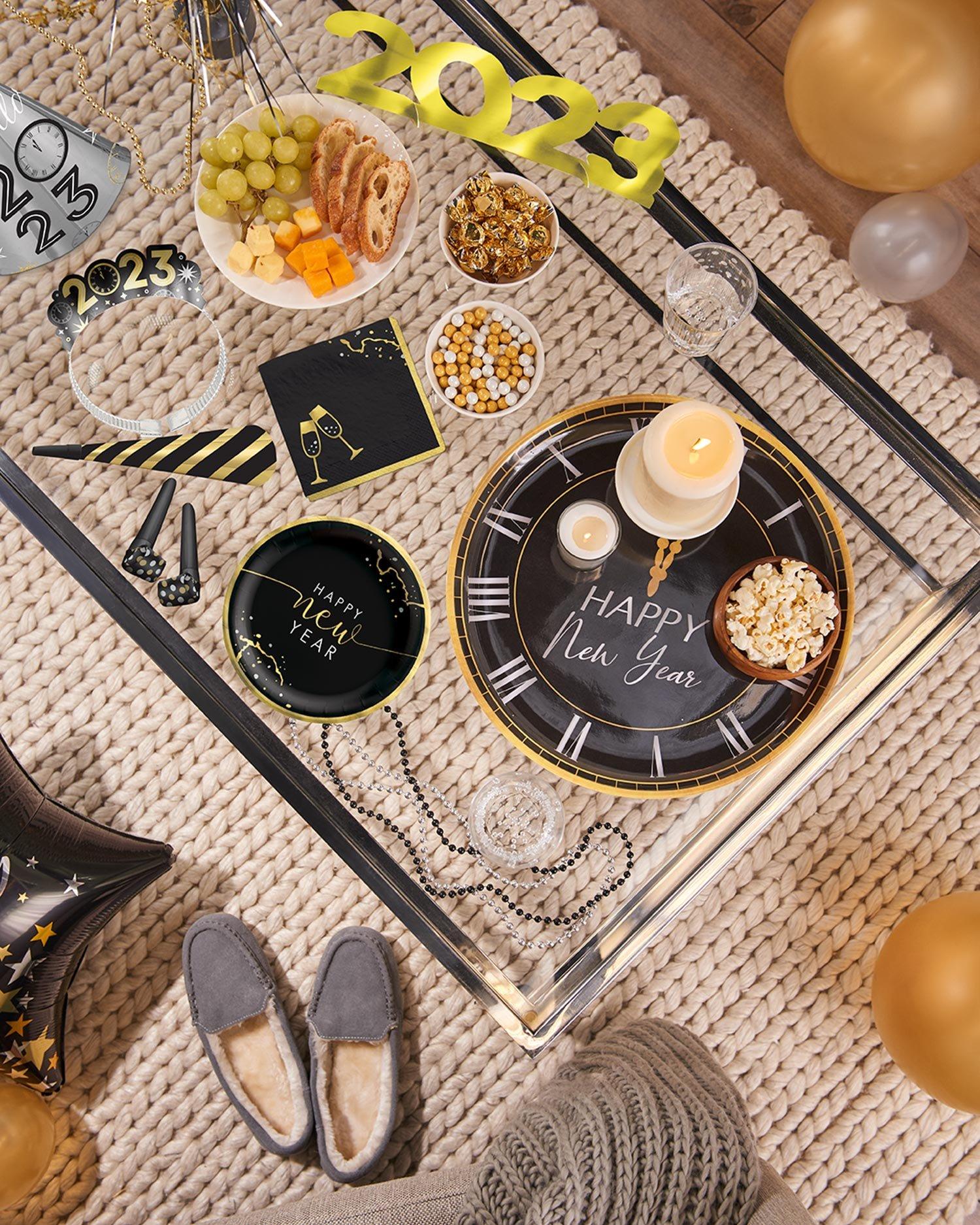 The Value of Done-For-You
These new party kits have all the essentials that help you ring in the new year. The value of them can't be beat—you can host an easygoing get-together with friends by simply picking up a party kit that costs as little as $7.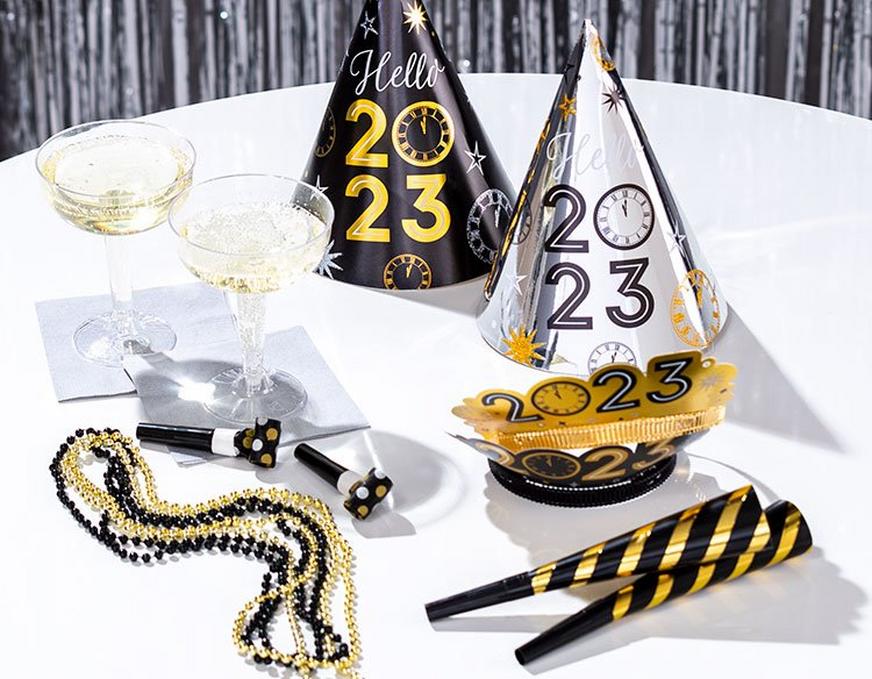 DIY & Personalized
We can help you make this NYE comfy, cozy, and memorable by covering the little decoration details that make all the difference. Mix and match tableware and cutlery, add confetti or garlands, and finish with centerpieces to tie it all together.
Beats Before Tuning into a Virtual Event
If you're planning to tune into a classic NYE telecast, you can set the mood with our curated chill NYE playlist playing in the background. Be sure to have big bowls of snacks around for guests to munch as they enjoy the show, as well as party accessories within an arm's reach to get people in the spirit as the clock strikes midnight!
At-Home New Year's Eve Dinner Party
Want to have an unforgettable party without the dancing and music? Host a New Year's Eve dinner party. Send out invitations, cook, prepare the table, and enjoy a warm dinner for you and friends or family. Here is the perfect plan for hosting and executing the best New Year's Eve dinner party.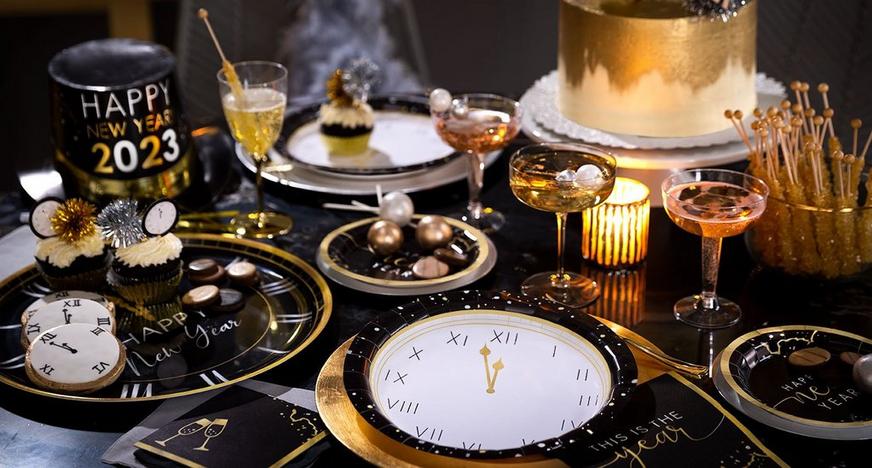 Creating and Sending New Year's Invitations
It's a special occasion, so forgo the texts and get your guests all the party details with personalized invitations. Make sure your invitation has the address and start time of the party, key details like what food is being served, and a note for how to dress. Check out this extensive selection of invitations to get the ball rolling on your New Year's Eve dinner party!
Making the Perfect New Year's Dinner
Now that all your guests have the party info, the next step is a successful dinner. To make sure everything goes smoothly, follow these New Year's Eve dinner tips:
1. Check with guests to make sure there are no food allergies.
2. Provide appetizers to make sure no one gets too hungry waiting for dinner.
3. Over-estimate portions. All your New Year's guests should leave with full stomachs.
Following these 3 simple tips can help you from making easy dinner party mistakes!
Setting the Dinner Table for New Year's Eve
A New Year's Eve dinner party isn't complete without table settings that pop! Pick a theme and stay consistent with tableware (plates, napkins, forks, knives, etc.). Browse Party City's assortment of stylish tableware assortments for your New Year's Eve dinner party. Something like tie-dye or metallic leopard can be an awesome alternative to black, gold, and silver.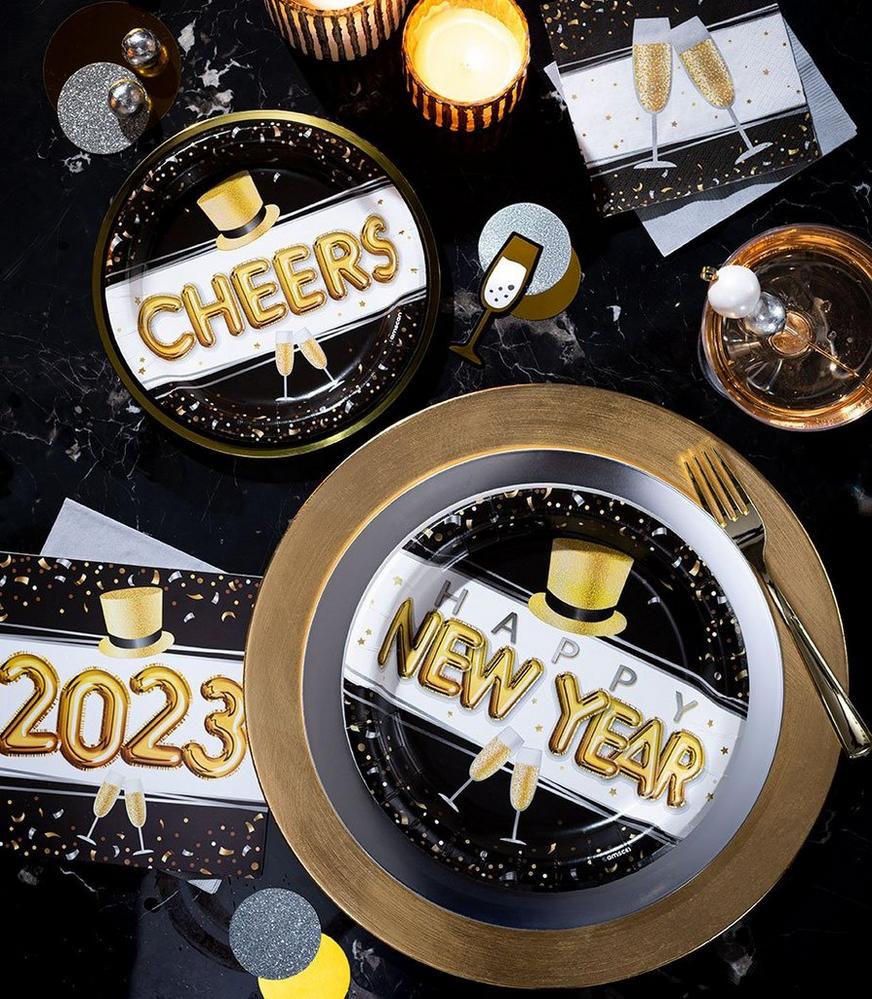 New Year's Eve Movie Party
Hosting a movie night for New Year's Eve is an awesome alternative to going out and saves you the effort of hosting a full-scale party. Decorate your home to make it feel like the movies, pick a movie (or two), and create a snack assortment for your night of entertainment.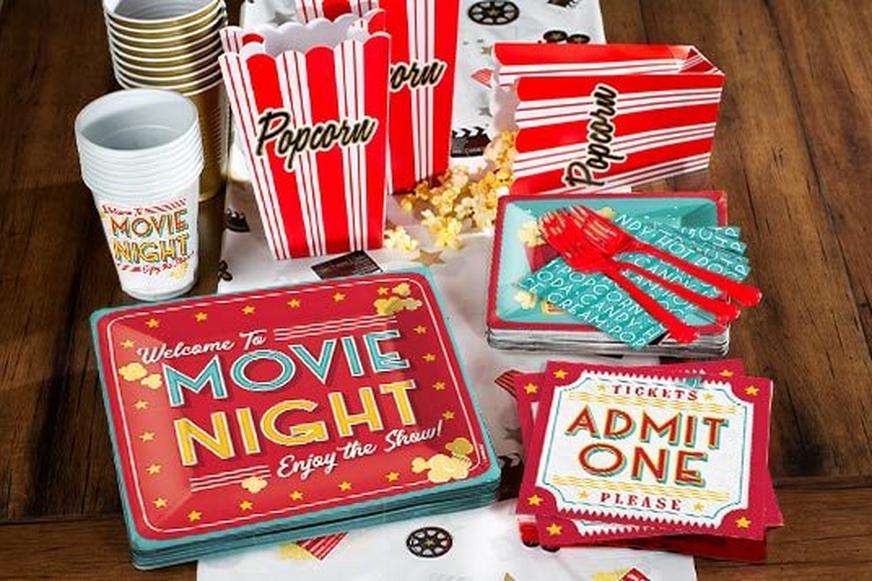 Decorating for a Movie Night
Before you can even pick a movie and snack assortment, you are going to have to decorate! Order your popcorn buckets, red carpet, and movie marquee sign to get your home feeling just like the movies. Once you have a movie selected, you just need to figure out the snacks.
Picking the Right Candy & Snacks
You've decorated your home to create an at-home movie theater for your New Year's Eve movie party, and you have a movie (or two!) picked out. All that's left is the snacks! Make sure to have a variety of textures and flavors, including sweet candy, salty party snacks, and gummies. Once you have all your candy and snacks prepared, you are ready to press play and enjoy your New Year's movie party.
Best New Year's Party Ideas
Families with kids, homebodies, and party people alike can look to us for the perfect New Year's Eve party ideas to match their tastes. Whether it's glitz and glam, a Noon Year's Eve family affair, or a simple and cozy NYE night in, we've got the décor and accessories you need to kiss 2022 goodbye and say hello to 2023 with a bang!