Prance your way into party planning perfection with a magical unicorn theme. Unicorns provide a shimmery, pastel color palette that is gorgeous for birthday parties. Create this visually stunning theme with balloons, decorations, favors, candy, and a themed table setting. Try these easy DIY tips that will make your party guests flip!
Unicorn Balloon Ideas
1. Unicorn Balloon Garland
Begin with a giant unicorn foil balloon to create the head of this magical balloon garland. Then use various pastel and confetti-filled latex balloons to comprise the body. Cut strips of paper streamers to create a voluminous tail and add a touch of shine with a few strips of silver door fringe. Once assembled, it makes a statement venue décor piece and a professional-looking backdrop for all the party photos to come.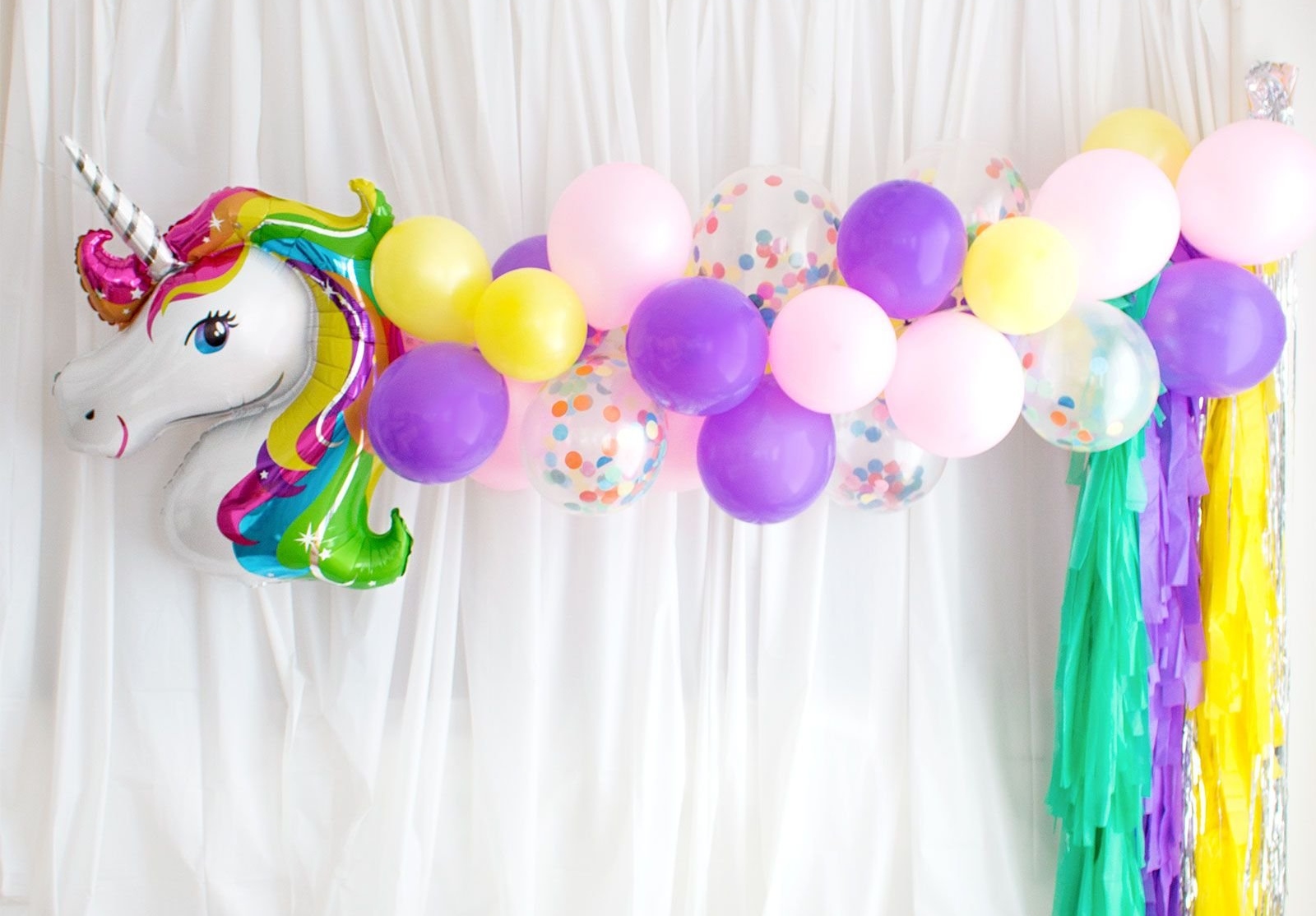 2. Bring the Magic to Life (Size)
This large, free-standing unicorn balloon is an eye-popping decoration, a precious photo prop, and a keepsake for the birthday kid that'll hang around even after the party ends. Put the "extra" in extravagant décor with an Air Walker balloon.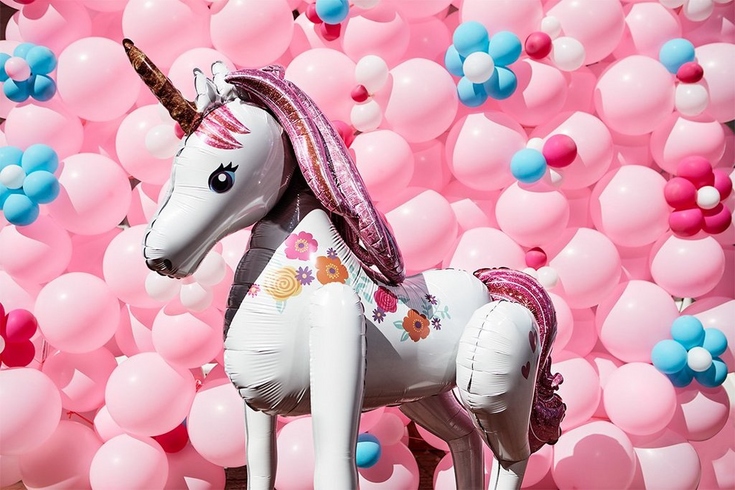 3. Unicorn Balloon Backdrop
Unicorns are fanciful creatures, so feel free to go wild with your child's party design. Create a uniquely-them backdrop with a bevy of balloons in various sizes, colors, materials, and shapes of their choosing. With a focus unicorn foil balloon in the center, the mix of textures results in an explosion of whimsy and delight.
To create the balloon swirls, wrap a twist & shape balloon (the kind you use to make balloon animals) around a pole or broom before inflating with an air pump. There are no rules and no limits to how you configure your unicorn balloon backdrop. With unicorns, too much is always a good thing!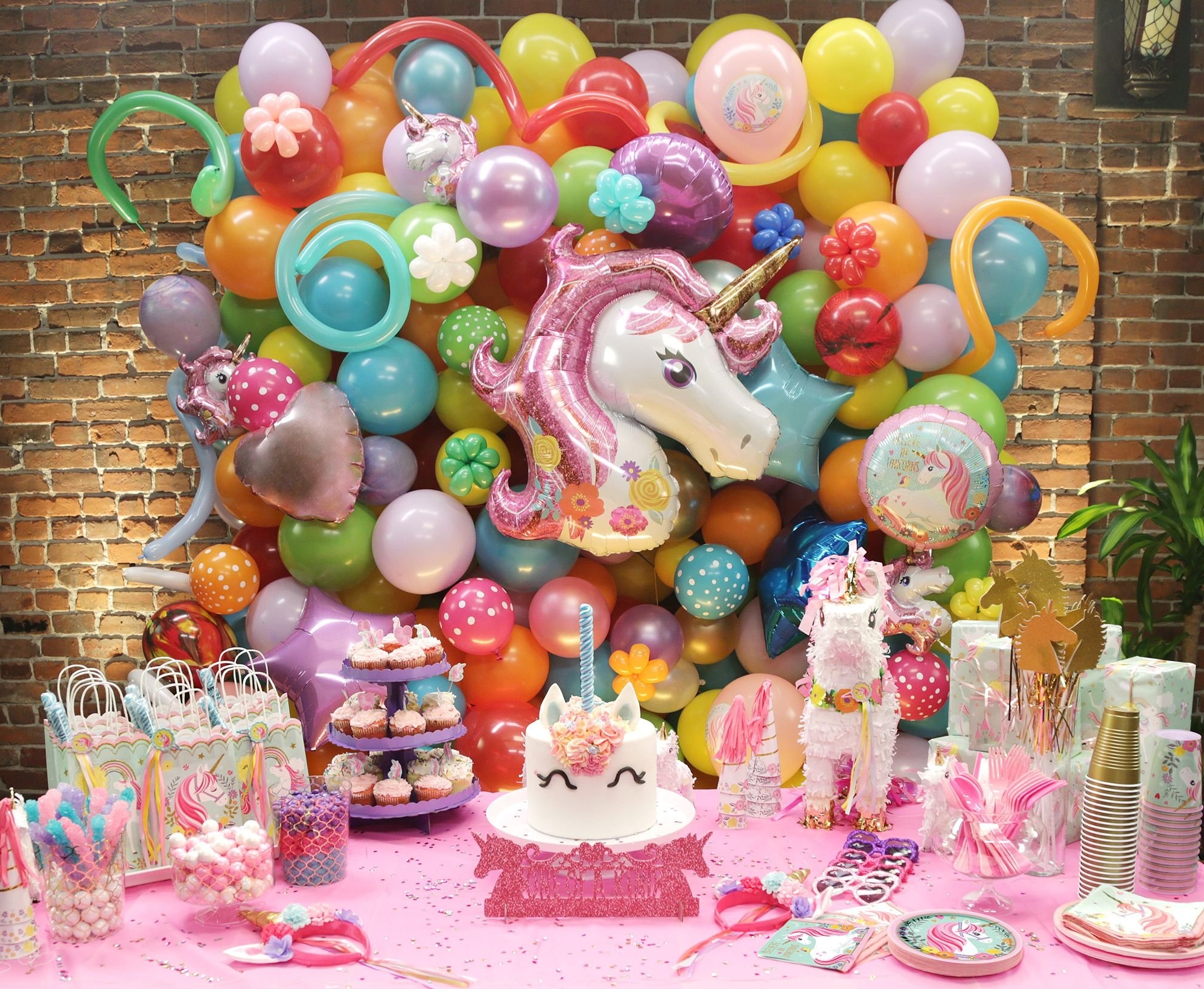 4. Unicorn Balloon Columns
A balloon column is an impressive sculpture of color and whimsy. Regal in stature, a balloon column gives your party that professional event planner look. With a balloon column kit, you can get that pro look without the heavy price tag. DIY a cloudy or mylar unicorn column using your choice of white latex balloons or colored mylar balloons as your base, a unicorn foil balloon as a head, and party streamers to add a flowing tail. Follow this step by step guide to build your balloon column.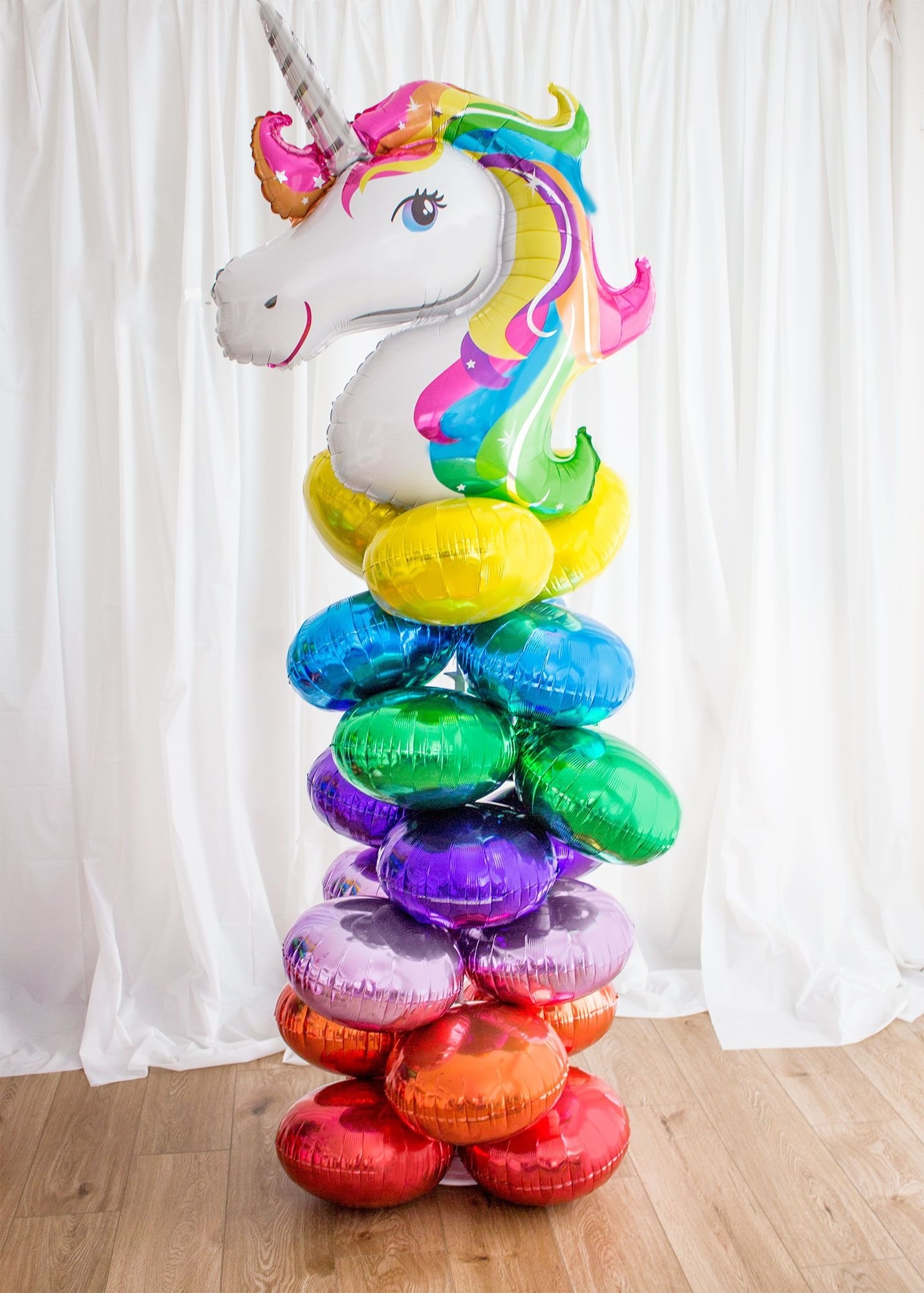 Unicorn Party Decorations
5. Set a Fairy-Tale Table
Create a magical tablescape with plates in your child's favorite unicorn design and solid-colored napkins, cutlery, and cups to match. Set it all upon a blank table cover to allow your place settings pop, and bonus points because it'll make post-party clean-up a breeze. Finish the look with a pastel balloon table runner down the center to give your décor a pop of color and a fun texture.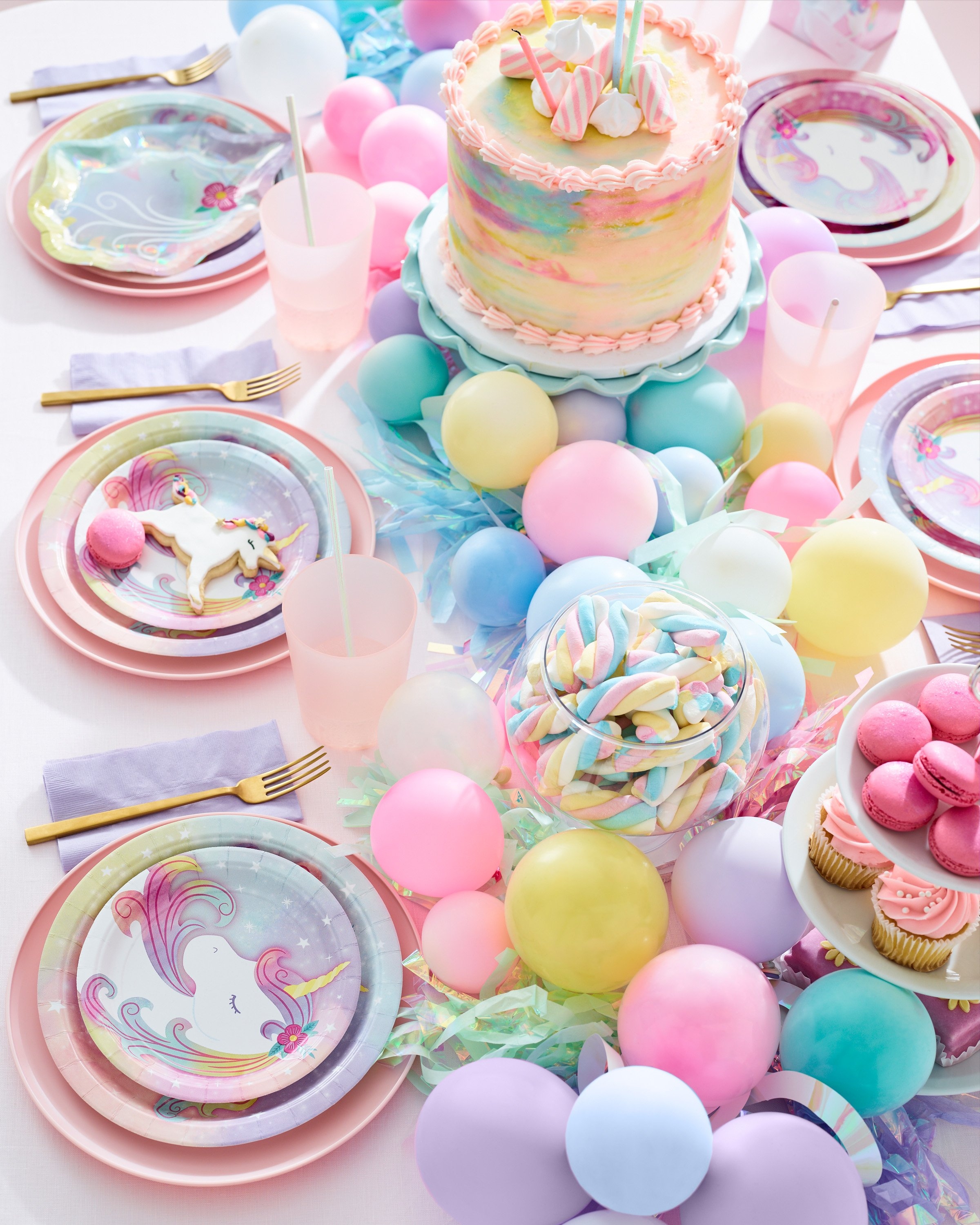 6. All Things Iridescent
Make sure your treats look as good as they taste with an iridescent treat table. A shimmering color scheme creates an air of fantasy and the treats are a sweet delight. Mix and match iridescent decorations, plates, cups, napkins, cutlery, and of course balloons to bring your treat table to life!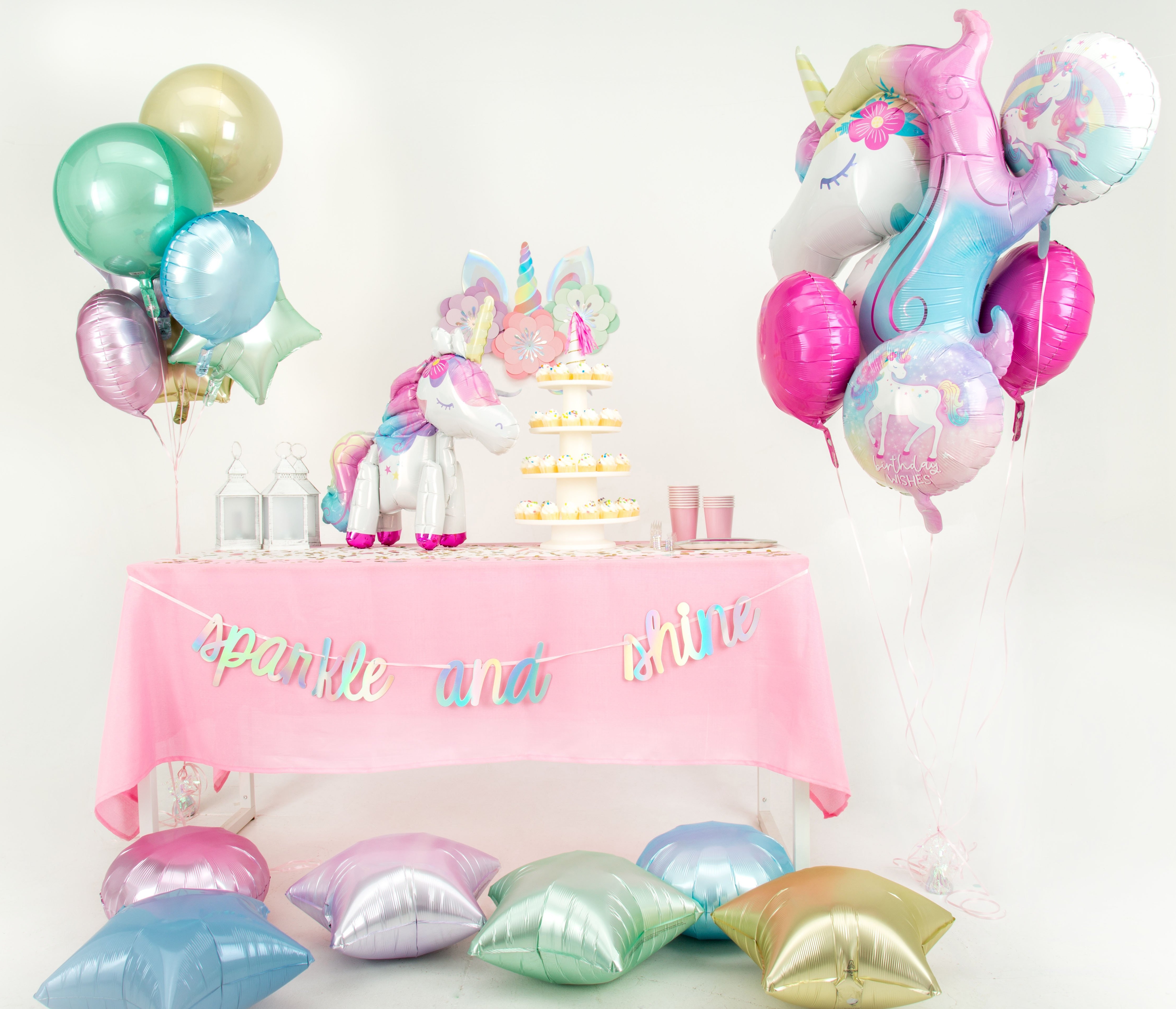 Unicorn Party Food Ideas
7. Unicorn Candy Buffet
What's as sweet and upbeat as a unicorn? Candy, of course! A candy buffet in bright colors is a natural fit for your unicorn themed party table. Pretty in pink, a candy buffet doubles as a party decoration and a tasty treat. Choose your candy by color, then add a few containers for displaying the candy. Guests can serve themselves, making this easy to set up and visually stunning party snack a no-brainer.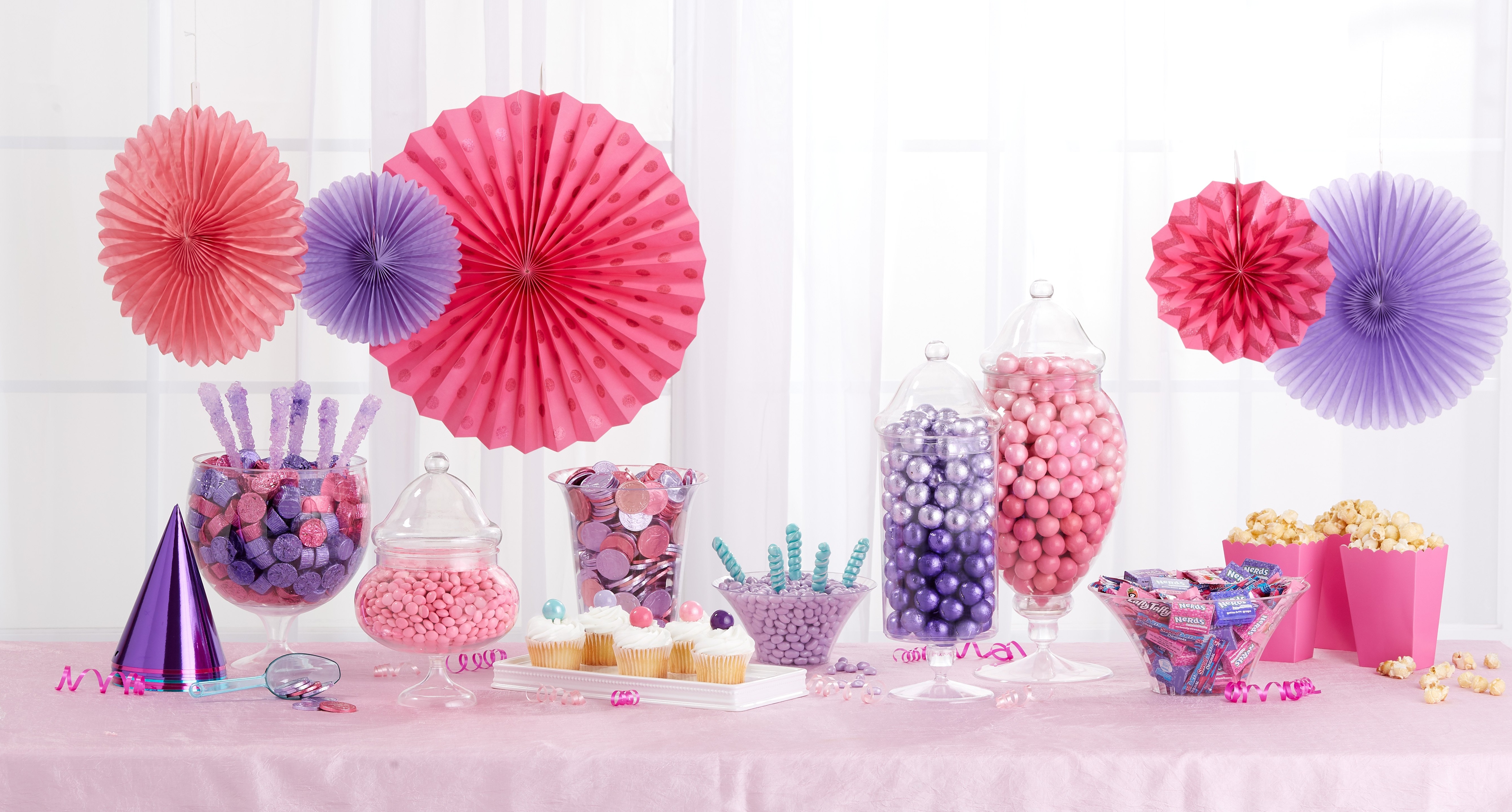 8. Go Wild With Unicorn Cakes
What's better than a breathtaking table centerpiece? A stunning centerpiece that tastes as amazing as it looks! Get a custom unicorn cake that's covered in pastel colors and topped with "unicorn poop" meringues or even sprinkle-filled cupcakes with rainbow swirl frosting. Either of those (or both) on a treat stand makes an easy centerpiece that's sure to please.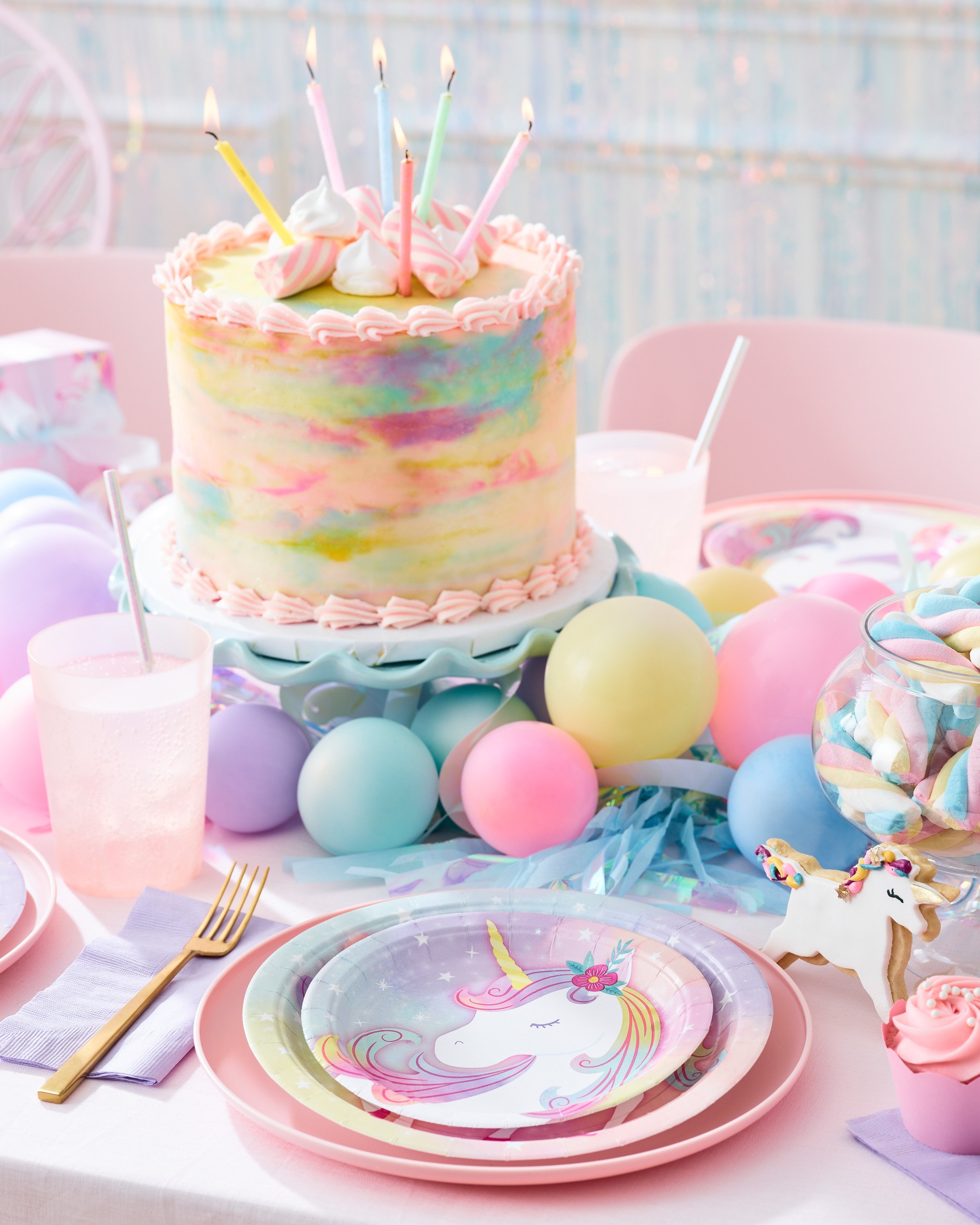 Unicorn Party Favors
9. Send Them Off With Magical Memories
Give your guests some unicorn magic to take home in the form of party favors. They double as both a thank you and a keepsake. With good reason, favors are a favorite with partygoers.