Raise the scare factor of your undead zombie look with special-effects makeup! Transform into a gruesome member of the walking dead with bloody bite marks, flesh wounds and gnarly teeth. Stand out from the crowd in your spook-tacular costume with our Halloween Makeup & Face Paint! Note: some makeup products may cause an adverse reaction in people who have latex allergies.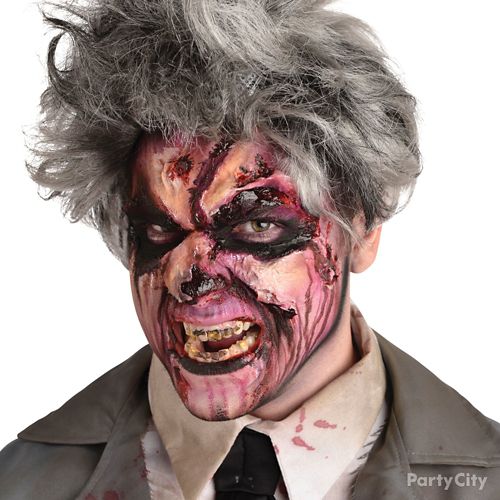 Supplies:
Special effects prosthetic scars
Liquid latex
Single-ply tissue paper
Zombie Makeup Kit
Setting powder
Black lipstick
Teeth paint
Zombie blood
Makeup sponges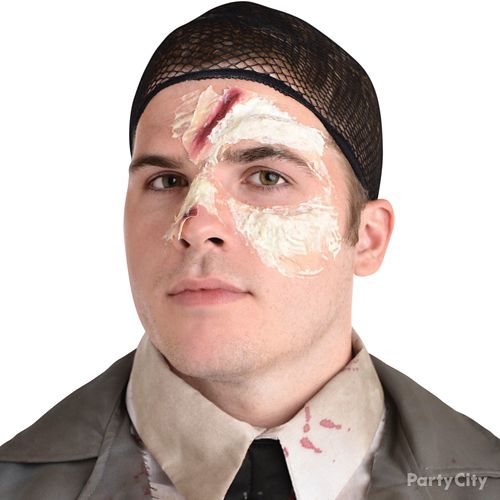 1) Break Out the Scars!
A blank face is a blank canvas, so pick your theatrical scars and bullet holes to go from living human to gruesome zombie! Apply the scar and bullet holes according to package instructions. Once the wounds are done, dab a thin layer of liquid latex with a sponge over the areas of the face that you want texturized.
2) Apply the "Rotted" Skin
While the latex is still wet, rip up single ply tissue paper and press onto latex. Cover up the tissue with more liquid latex, and continue to layer until desired "rot" is achieved. The more layers, the more you look like you want brains for candy!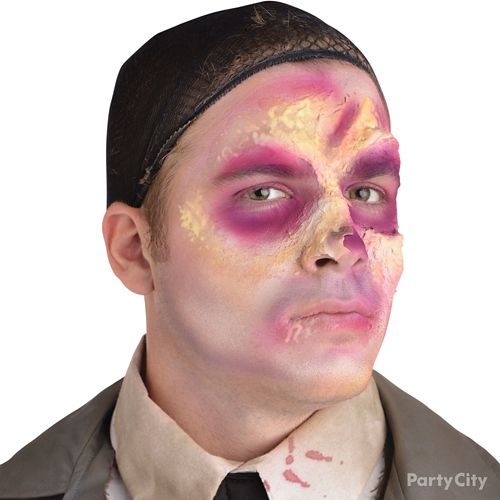 3) Bruise the Skin
The undead bruise in striking colors! Use burgundy makeup from the gothic kit to create a deep bruise look around the eyes, mouth and forehead (be sure to check package instructions for use around the eyes). For the texturized skin, cover it with flesh-toned or yellow makeup, and blend the burgundy and yellow colors together. It will look irregular like a massive bruise!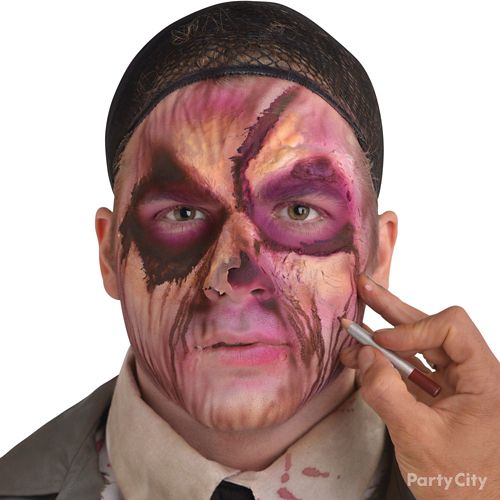 4) Add Zombie Dirt
Zombies have no use for cleaning up after they shamble out of the grave, so why not add "dirt" to this look? Smear the zombie dirt around the cut, below the eye and running down the cheek. The darker spots of dirt will also mark where to put sickly black zombie blood later on.

5) Set the Makeup
Look at your face and add any more dirt or bruising to look sufficiently undead. Once all the final touches are made, set the makeup with powder to keep everything in place while you're hunting for brains!
6) Finish the Costume!
Add details like black lips, tooth paint and, last but not least, dribble black zombie blood around the wounds and below the eyes. You'll look fantastically gore-smattered while you're marauding for braaaiins!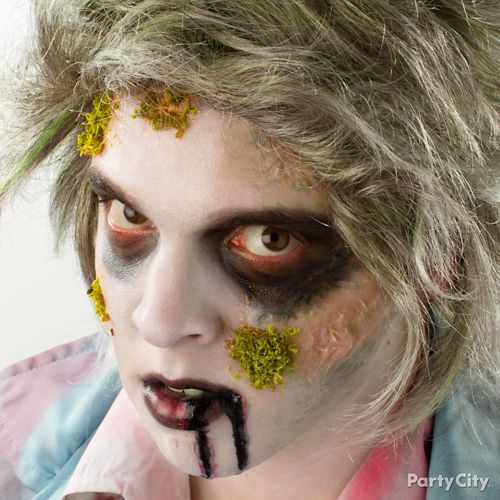 Supplies:
Deluxe Zombie Makeup Kit
Black lipstick
Biohazard Green Zombie Makeup
Makeup sponges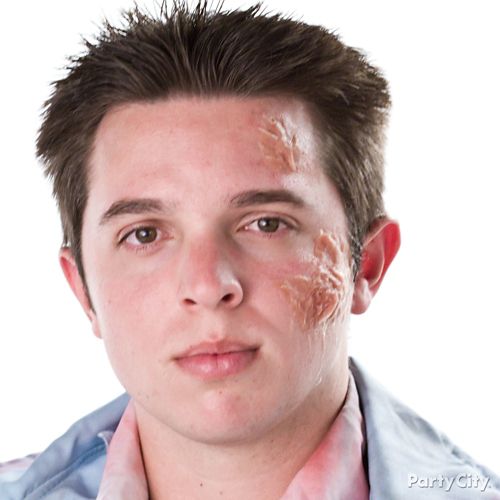 1) Prep Skin and Add Wounds
Shave, wash your face and moisturize, then apply a bite with Gory Flesh from the Deluxe Zombie Makeup Kit. Knead the faux flesh to soften; then apply to skin and shape to form a bite. Or use Flesh Liquid Latex to create peeling "skin"; or Chomped Makeup to add a bite.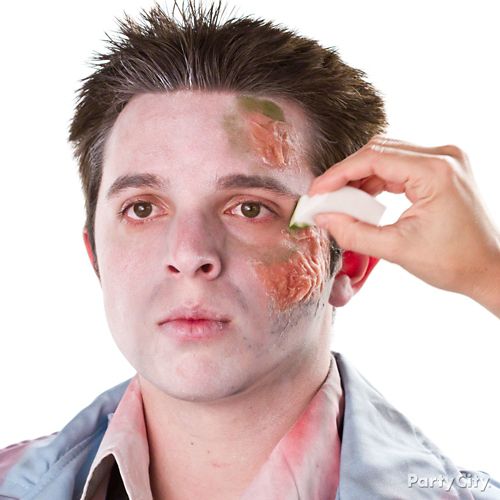 2) Make Your Skin Pale
Since zombies are dead, they're pretty pale. Using a Stipple Sponge or Makeup Sponge, add a zombie pallor with a thin layer of white face paint from the Deluxe Zombie Makeup Kit, working around your bite wounds.

3) Add Contour with Gray and Green Makeup
Now use your sponge to add grey hollows under your chin, along your cheekbones and around your bites. Follow up with some green, so it looks like you're bruised near your bites and decaying.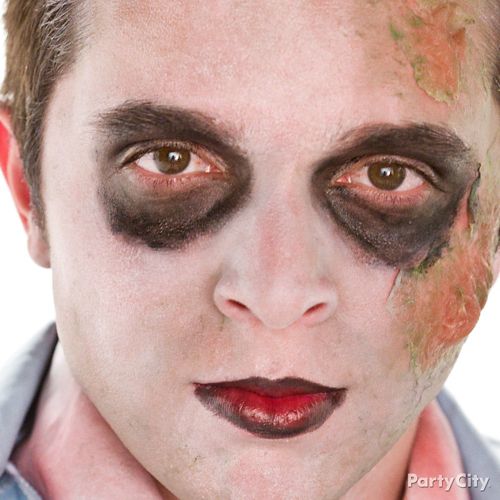 4) Create Dead Zombie Eyes
Deep dark eyes are a signature of the zombie look. Make your eyes look dramatically sunken and hollow by drawing black circles around them, following your natural eye socket.

5) Draw On Gory Zombie Lips
Zombies eat gory stuff, so their lips are a combination of red and black. First outline your lips in black lipstick, then fill in the center with red. Smudge your lips together to blend the colors.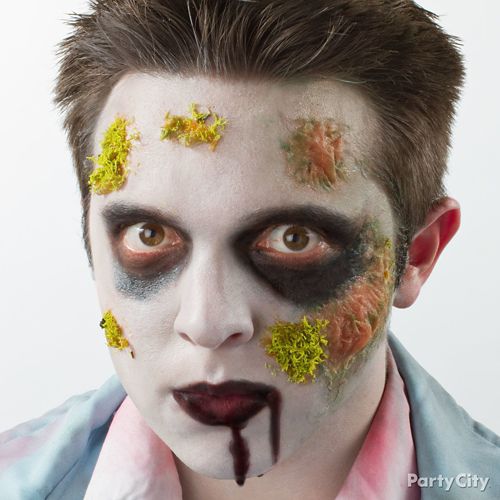 6) Add Some Blood Drips
Now bite into one of the Black Zombie Blood Caps or drip some Black Zombie Blood from the corner of your mouth and down onto your chin so it looks like you just ate something disgusting. Dab some on your bite wounds too.

7) Add Some Biohazard Wounds
Take your undead look over the top by adding some oozing green zombie scars. Create revolting radioactive wounds with some fluorescent green slashes so you look like you were caught in a biohazard blast. Add some bits of fake moss for a zombie-rot effect.
8) Put On Your Wig, Then Go Terrorize the Town
Now that you're made up, add the Graveyard Zombie Wig. It will go on a lot easier if you slip on a Wig Cap first. Now you're ready for a Night of the Living Dead.
Check out these deadly transformations for more inspiration!