Win Halloween with a gory zipper face
Prepare to creep out your squeamish friends with this crazy makeup effect. Everything you need comes in the kit! Check out our how-to below to see how easy it is.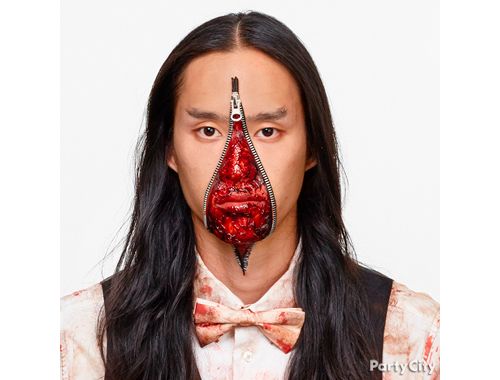 How-To
Supplies:
Zipper Makeup Kit
Stipple sponge
1) Step One
Apply Spirit Gum to back of zipper using included brush. Be sure to spread evenly and thinly so glue doesn't protrude over sides of zipper. Hold zipper against face for a few seconds to ensure it fully adheres.
2) Step Two
Use makeup sponge to apply liquid from the "Bloody Scab" tube inside of the zipper. The more layers you add, the more realistic it will look! Use a stipple sponge to create additional texture.