You've Been Elfed - something my friends and I have shared in over the years, but has recently become my kiddos favorite tradition as well! It started in our twenties, when we couldn't necessarily afford to gift each other all the things. We'd leave a bottle of wine and chocolates on each other's doorstep to help get us through the wrapping, the family functions, and whatever else the holidays threw at us. The best part was trying to figure out just who Elfed us. With Ring cams and other high tech features these days… it can get quite interesting to say the least. However, I still have never guessed who has Elfed me. Since welcoming little ones into our bunch, we now add some gizmos and gadgets for them too, plus nothing is sweeter than some homemade goodies!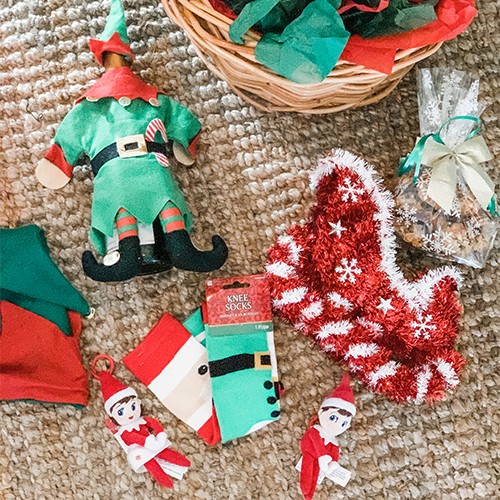 Supplies:
3D Tinsel Sleigh Decoration
Mismatch Elf & Santa Christmas Knee Socks
Felt Elf Hat
Elf Suit Wine Bottle Cover 2pc
Tinsel Santa
Red Tinsel Wreath
Green, Red & White Christmas Balloons 15ct
Zipster Elf One Piece Costume
Green & Red Tissue Paper 40ct
White Snowflake Treat Bags 20ct
Clip-On Elf Plush
Party City has all the elf themed supplies for this year's You've Been Elfed drop off. My all-time favorite thing I found is this comfy and adorable Elf Costume. I just might be wearing it all season long. Easy to jump in, zip on and move about your holiday business. I also picked up some Elf hats to get my kids in the spirit! Wouldn't you love to open your front door to a wonderful surprise? OR just imagine just who you could Elf this holiday season!