No witch costume is complete without green skin and a warty nose! Conjure up a spellbinding disguise with these witch makeup tutorials. Practice your evil cackle, find the perfect pointed hat and follow the steps below to create a wicked-cool witch look. Browse all our Halloween Makeup & Face Paint to complete your Halloween costumes. Note: some makeup products may cause an adverse reaction in people who have latex allergies.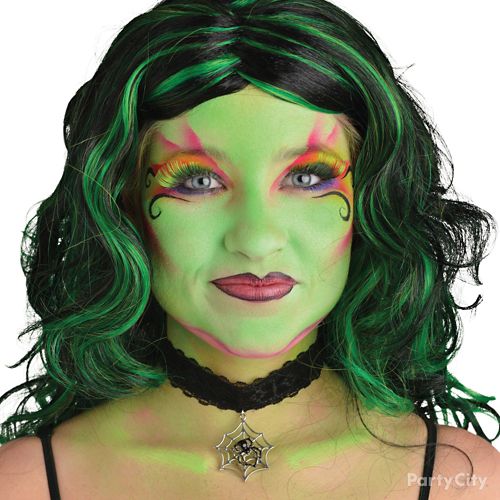 How-To
Supplies:
Green face paint
Makeup crayons in orange, pink, and blue
Black eyeliner
Neon green false eyelashes
Black lipstick
Setting powder
Makeup sponges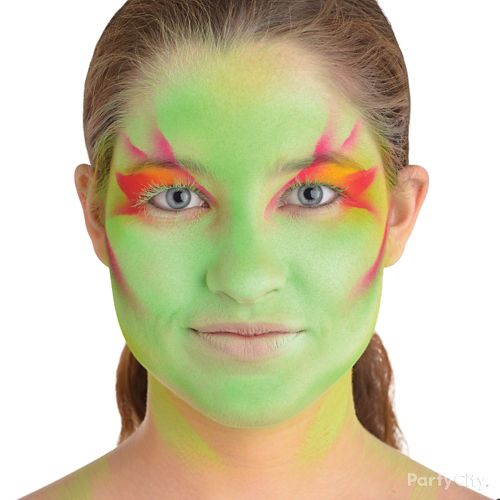 1) Apply green makeup
Go from flesh to fabulous with neon green face paint! Dab on the paint with a sponge and blend until desired green intensity is achieved, but be sure to leave the lips and eyes clear for later steps. You're closer to looking positively wicked!
2) Add bewitching color!
Cast a spell with enchanting makeup! Use the orange and pink makeup crayons to create the "wings" off the eye as shown, and extend past inner eye. Use pink to contour cheeks. Blend lightly with a makeup sponge. Tip: allow green face paint to dry before layering color.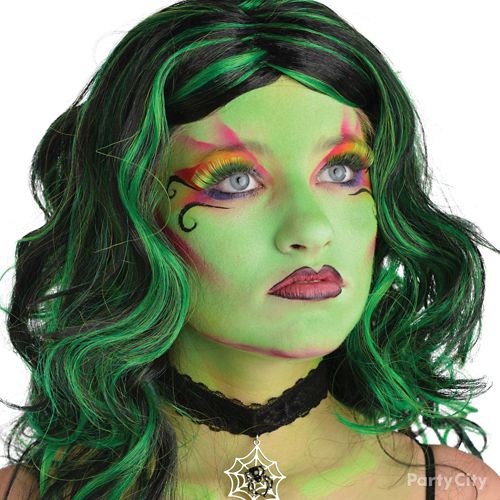 3) Shadow the eyes in blue
With the blue makeup crayon, shadow the upper and lower eyelid and use pink to contour the hollows of the cheeks and jawline. For more wicked dimension, bring the green colors down into the neck to contour.

4) Add magical details
Time for lips, evil eyeliner and fabulous neon lashes! Paint the lips red and use a black lipstick or crayon to line the lips and create swirls beneath the eyes. Set the makeup with setting powder, and pull the whole look together with electrifying green lashes — how charming!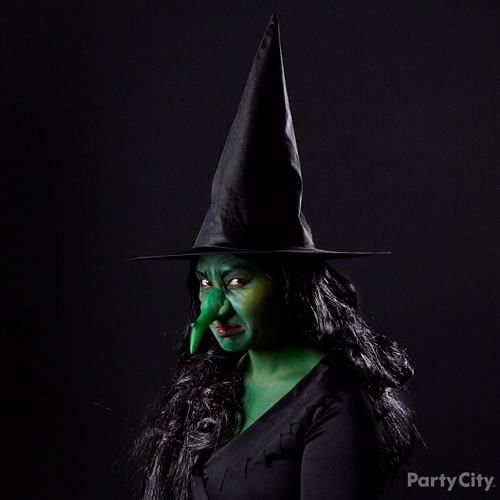 Supplies:
Green, black and yellow face paint
Witch Nose
Black wig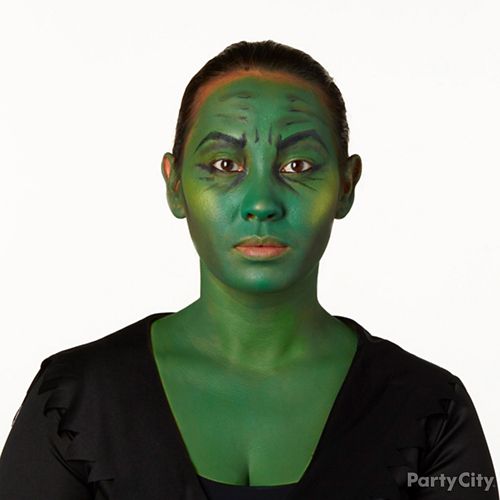 1) Step One
Smooth on green face paint.
2) Step Two
Create accents with black face paint. Use yellow face paint to highlight cheekbones.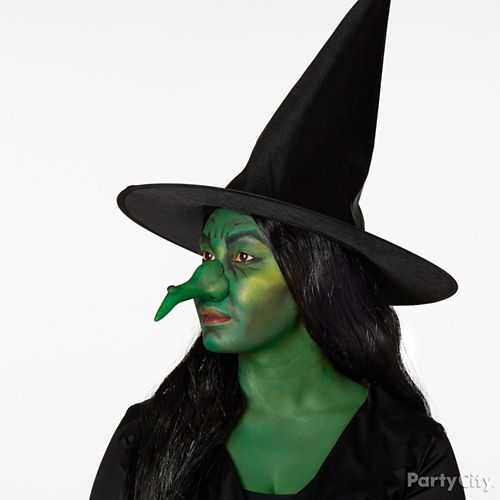 3) Step Three
Top off the look by adding a wig, fake nose and a witch hat.
Shop Witch Accessories & Makeup