Get your glitz and glam on with a trendy white and gold color scheme! Your last celebration of the year deserves to go out with a bang! Bring on the bling! A white and gold theme gives your New Year's Eve party a regal and festive flair! From centerpieces to table settings, this classy color pairing transforms your event into a magical celebration. So get inspired to go for the gold—and white—with our decorating and party ideas gallery.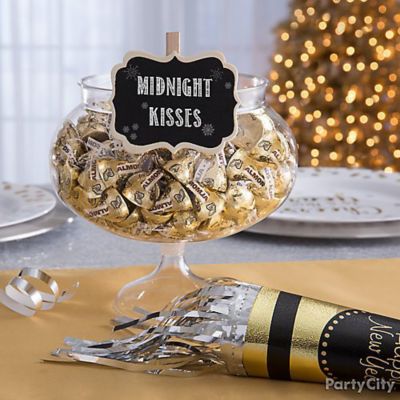 Idea 1: Pass around midnight kisses!
No need to save that kiss for midnight! Gold-foiled Hershey's Kisses with almonds in a clear pedestal bowl make it easy to share a kiss—a chocolate candy one—at any time! This idea offers a decorative and sweet take on the gold and white theme!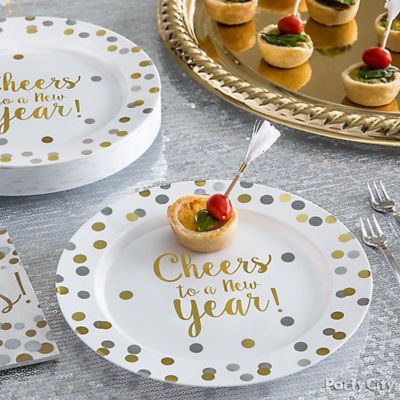 Idea 2: "Quiche" the year goodbye!
"Quiche" and tell your New Year's Eve party guests about this tasty appetizer. Place premade pie crusts into mini cupcake pans, and fill them with your favorite quiche mixture. Make these savory bites a bit more festive by topping them off with a cherry tomato, basil leaf and a fringe toothpick!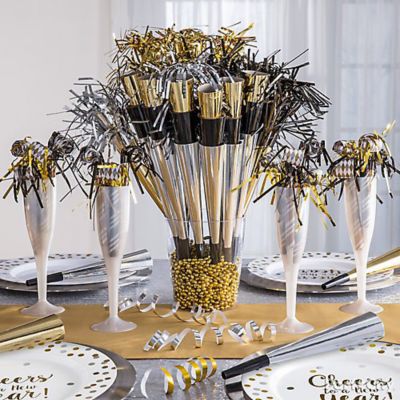 Idea 3: Make some noise with your table decor!
At a New Year's Eve celebration, it's not just the champagne that goes pop! Create a poppin' centerpiece by layering gold-foiled horns on top of beads. The display not only adds a pop of color but also makes it easy for your guests to grab a noisemaker at the stroke of midnight! Complement the centerpiece with champagne flutes filled with striped party blowers.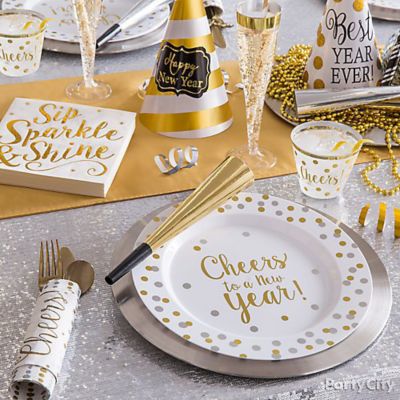 Idea 4: Get your table setting in on the festivities!
A simple place setting stands out when using plateware adorned with celebratory greetings. Play up the metallic sheen of the plate's design by pairing the plateware with chargers and gold-foiled horns. Napkins and cups with gold-letter imprints also offer a bright and fresh take on a New Year's table setting. Cheers!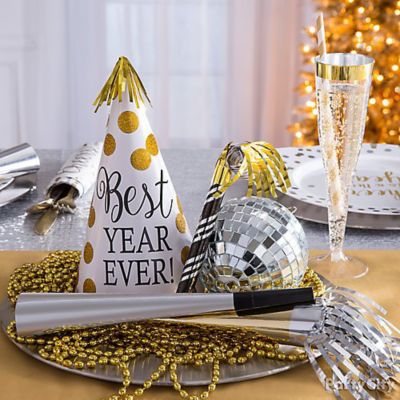 Idea 5: Gather guests around plates filled with New Year cheer!
Spread cheer with party favors that do just that! Party blowers, horns or hats are a must at a New Year's celebration, so make them into a decoration that's both posh and practical. Use gold beads as a base and layer on the cheery noise makers. Add a disco ball to your centerpiece arrangement for some extra glam. Make sure to pass around the plate of cheery favors so guests can spread the cheer at midnight!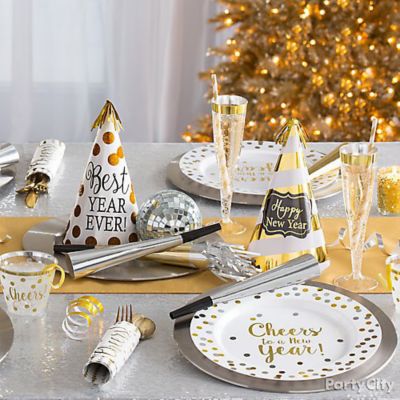 Idea 6: Plateware with celebratory sayings make a statement!
Whether you're reminiscing the old year or ringing in the new, a gold and white color scheme transforms your New Year's Eve into a timeless celebration. Metallic-hued horns, party blowers and party hats are perfect for complementing the golden sheen of celebratory sayings on plateware, napkins and drinkware. The glimmering tablescape is the perfect setup for a bright outlook on the new year!