When life gives you lemons, make limoncello! Actually, we are going to make a delicious limoncello cocktail and fruit-infused water, and serve them on an elegant lemon-themed refreshment table. For the centerpiece we've made a delicious semi-naked lemon cake topped with fresh blackberries.
Supplies:
Lemon Table Runner
Lemon Wreath
When Life Gives You Lemons Beverage Napkins
Big Party Pack Clear Plastic Cups
Clear Plastic Carafe
Yellow Plastic Spoons, Knives, and Forks
Lemon Candle
Napkin and Utensil Basket
Lemonheads Candy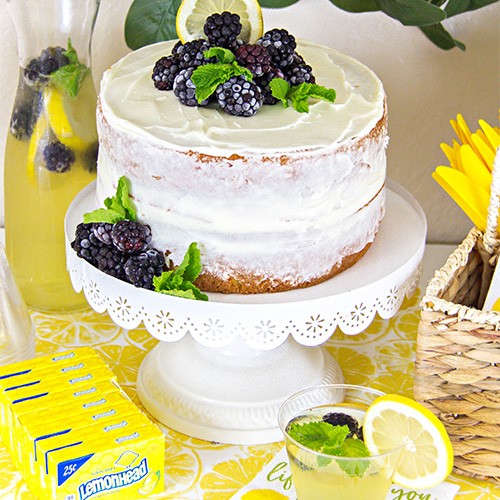 Semi-Naked Lemon Cake with Blackberries:
Make two lemon cakes from scratch or from a cake mix.

Place the first cake onto your cake tray sand add vanilla frosting to the top. Place the second cake on top of that, and again, frost the top. Frost around the outside of both cakes leaving gaps where the cake will show through.

Finally, top your cake with fresh blackberries, lemon, and mint. Only add the blackberries and lemon slices when you're ready to serve the cake, otherwise their juices will leak onto the frosting.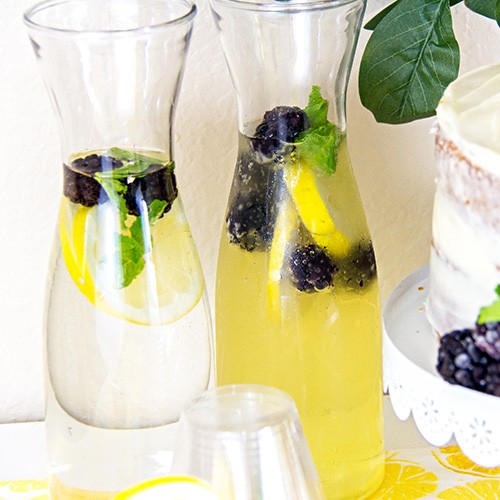 Limoncello Prosecco Cocktail:
For this cocktail, we're using frozen blackberries, so make sure to set some blackberries in the freezer the day before your party.
Note: I used the clear plastic cups to measure ingredients.
To the carafe, add 4 cups of Prosecco and 3/4 cup of limoncello. Top with frozen blackberries, lemon, and fresh mint.